Cult of Netanyahu Compels Zombie-like Knesset to Terminate Itself
The only reason for the demented decision to hold new election is the prime minister's frantic frenzy to avoid prosecution — but the lunacy might be contagious
FILE PHOTO: Israeli Prime Minister Benjamin Netanyahu arrives ahead of a planned address at the Muni World 2018 conference in Tel Aviv, February 14, 2018.
Credit: \ NIR ELIAS/ REUTERS
Wednesday, just before midnight, was the Knesset's witching hour. Possessed by a dybbuk bearing an uncanny resemblance to Benjamin Netanyahu, the Israeli parliament went bats, bonkers, berserk, bananas, bazonka, bitchcakes, balmy, barmy and what have you. A whopping majority of over 70 lawmakers voluntarily terminated themselves, less than two months after getting elected, in order to accommodate Netanyahu and his quest to avoid the long arm of the law.
By doing so, they consigned Israel to another 110 days of election campaign division, strife and incitement before the September 17 ballot.
Israel's Arab voters can decide it all. Do they want to? LISTEN to Election Overdose
Subscribe
They obligated their country's coffers to cough up another half a billion shekels (nearly $140 million) in direct costs and untold billions more as a result of the extended government paralysis. They left most of their constituents — from both ends of the political spectrum — disturbed, appalled and nauseous: Turns out their already low regard for politics and its practitioners hadn't reached the absolute bottom, as they'd assumed.
Netanyahu and his Likud party tried to pin the blame for their self-induced debacle on Avigdor Lieberman. Lieberman was indeed responsible for Netanyahu's failure to set up a new right-wing government that would cater to the prime minister's wish to change Israeli law and constitutional norms to suit his personal needs. The brash and controversial Lieberman instantly became public enemy number one for Netanyahu and his disciples: An angry prime minister described him immediately after the vote as a "leftist," which is, given Lieberman's record, pretty nutty in and of itself.
>> Netanyahu just suffered one of the biggest losses of his political career | Analysis ■ There are things much worse than Netanyahu - for example, Lieberman | Opinion
But it was Netanyahu who painted himself into the corner in which his former aide and current rival could mug him. Netanyahu's efforts to finagle his coveted "Get Out of Jail" card nixed any possibility of teaming up with Benny Gantz's Kahol Lavan and whittled precious weeks off of the six allotted to him by law in order to set up a government.
Netanyahu tried to change course at the very last minute, offering Labor's Avi Gabbay and his five colleagues a disproportionate chunk of his ministerial kingdom, along with a commitment to forego his effort to neuter the Supreme Court so it wouldn't nix his parliamentary immunity. It was an insane proposal — but given the animosity of his faction toward the prime minister, one which Gabbay could only refuse.
The vote proved that the once-proud Likud, once considered the liveliest and most polemical political party of all, is now a cult. Ideology is out, replaced by blind worship of Netanyahu and anything he touches. He convinced his disciples that a widespread deep-state conspiracy was out to get him and ordered them to drink the political equivalent of the cyanide-laced Flavor Aid favored by Jim Jones in Guyana. He promised they'd come out the other end in even greater numbers after a new election is held, and they believed him.
Expecting the lawmakers to honor the norms of Israel's proportional and distinctly nonpersonal election system — which would have allowed President Reuven Rivlin to pick another candidate to form a new government — may have been misplaced. But they could have easily safeguarded their Knesset seats, retained their hold on power and saved their own souls simply by picking another Likudnik to lead them. Instead, they walked to their Knesset seats like zombies and voted to terminate themselves.
In this topsy-turvy environment, it was only natural — but nonetheless peculiar — for the center-left opposition led by Gantz to vote against new elections. Gantz and his supporters railed against Netanyahu's successful efforts to deny his political nemesis, Rivlin, the satisfaction of giving the premier's main rival a chance, however slim, to form an alternative coalition. It's also unclear whether the makeshift Kahol Lavan, cobbled together at the last minute as an ad-hoc force to stop Netanyahu, can stay united for the next election in September.
But in another Bizarro World twist in the plot, Arab lawmakers split with their supposed comrades in the opposition and voted with Netanyahu and the right. MK Ayman Odeh said they did so in order to block Netanyahu and only after being told by Kahol Lavan officials that Gantz would be unable to form a coalition. Coming only days after Odeh was welcomed at Saturday night's mass demonstration, in which he expressed his wish to join forces with the Jewish opposition to Netanyahu, the Arab vote nonetheless dismayed Jewish leftists and cast fresh doubt on the possibility of forming a joint Jewish-Arab front.
The dispersal of the Knesset does give Gantz or whoever emerges as his replacement a fresh and unexpected chance to refight the April 9 election, rekindling hopes of defeating Netanyahu. For that to happen, one must assume, or at least pray, that the contagion of Bibi's cult of personality hasn't spread from the Knesset to a majority of the population as well. Early polls belie such assumptions, but hope springs eternal.
Noted psychologist Carl Jung wrote over a century and a half ago: "It is becoming ever more obvious that it is not famine, not earthquakes, not microbes, not cancer but man himself who is man's greatest danger to man, for the simple reason that there is no adequate protection against psychic epidemics, which are infinitely more devastating than the worst of natural catastrophes." English writer and science fiction supremo J.G. Ballard linked such madness to modernity: "People are bored, even though they don't realize it. There's one thing left that can put some energy into their lives, give them a sense of direction: Madness. A willed insanity, the sort that we higher primates thrive on."
One can only hope that we're dealing here with temporary insanity of the sort cited in criminal defense, a singular outburst of parliamentary madness that Israeli voters, in their infinite wisdom, will bring to an abrupt end on September 17.
But as long as Netanyahu is around, with his increasingly delusional sense of l'état, c'est moi, his frenzied efforts to avoid prosecution and his apparent ability to cast his demagogic spell far and wide, there is a distinct possibility that the dementia will deepen and the craziness become so entrenched that Wednesday night's lunacy will one day seem completely tame and sane in comparison.
Click the alert icon to follow topics:
ICYMI
Ken Burns' Brilliant 'The U.S. and the Holocaust' Has Only One Problem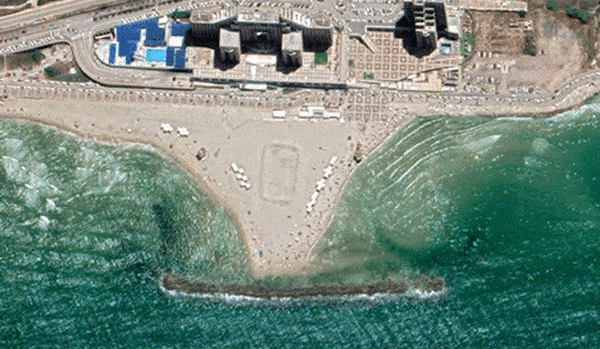 Facing Rapid Rise in Sea Levels, Israel Could Lose Large Parts of Its Coastline by 2050
As Israel Reins in Its Cyberarms Industry, an Ex-intel Officer Is Building a New Empire
How the Queen's Death Changes British Jewry's Most Distinctive Prayer
Chile Community Leaders 'Horrified' by Treatment of Israeli Envoy
Over 120 Countries, but Never Israel: Queen Elizabeth II's Unofficial Boycott