Israel's Election: What Happened to the Once Dominant Israeli Left?
The left is forecast to take only around 25 seats in Tuesday's election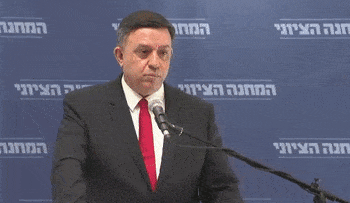 Labor Chairman Avi Gabbay speaks at a press conference on January 1, 2019.
When Israeli Prime Minister Benjamin Netanyahu wants to undermine his strongest election challenger, Benny Gantz, he calls him a "Leftist".
Israel was founded by the left, which dominated politics in the early years of the state. In 1992 it took 61 of the 120 seats in the Knesset, or parliament.
Nearly 30 years on, the left is forecast to take only around 25 seats in Tuesday's election.
Here is Anshel Pfeffer's profile of Labor leader Avi Gabbay: Piss Off the Left, Seduce the Right: Avi Gabbay Wants to Replace Netanyahu, and Claims He's Found the Formula
The left has been reeling after a series of setbacks - the assassination of Prime Minister Yitzhak Rabin in 1995, the failure of his 1993 and 1995 Oslo accords to deliver peace with the Palestinians, many rounds of failed negotiations and years of bloodshed that have made both sides bitter and mistrustful.
Now, only 12 percent of Jewish Israelis identify themselves as left-wing, according to the Israel Democracy Institute. It was around double that a decade-and-a-half ago. Fifty-six percent now describe themselves as right-wing, up from 40 percent over the same period, and the amount who say they are centrists is little changed at 26.5 percent.
A look at how the Israeli left has fared in this last campaign:
>> Election Poll Shows Gantz Will Struggle to Form Coalition Despite Lead Over Netanyahu
Benny Gantz's Kahol Lavan party is neck and neck with Prime Minister Benjamin Netanyahu's Likud ahead of Tuesday's election, though the right-wing bloc still leads overall, a poll published Friday by the daily Yedioth Ahronoth shows.
>> How Gantz may end up erasing the Israeli left
The leftist's dilemma is pretty strange this time around: People who oppose the occupation, anti-Arab racism and the criminalization of left-wing organizations with all their hearts are debating between Meretz, which ought to be their political home – and ultimately their strategic choice as well, since if Meretz doesn't make it into the Knesset, the pipe dreams of a revolution will evaporate with it,
>> Labor Primary: Three Women and an Openly Gay Man Make It to Top 5 as Party Seeks Revival
Itzik Shmuli reached the first place in the Labor Party's primary on Monday ahead of the April 9 election, followed by Stav Shaffir, Shelly Yacimovich, Amir Peretz and Merav Michaeli.
>> Israel's Arabs Could Kick Netanyahu Out of Office. There's Only One Problem
Turnout among the Arab community could dip below 50 percent on April 9. It's like 'a soccer game in which the Jewish right and center-left are the two teams and the Arabs are the ball. Everybody's kicking us and neither team wants us' says one expert
>> No Merger on the Left: Labor Head Tells Meretz Alliance Off the Table
Meretz chair Tamar Zandberg said the two parties had a "historical opportunity to build a large left-wing party against the Likud-Kahanist government. Unfortunately, Gabbay claimed he didn't see the big chance and that there's a procedural difficulty within the Labor Party.
>> Tzipi Livni Quits Politics as Polls Show Plummeting Support
Lawmaker Tzipi Livni announced in February she is retiring from politics and that her party, Hatnuah, won't run in the April 9 election in order to prevent the center-left bloc from losing votes.
>> Labor Head Gives Livni an ISIS-style Farewell. It May Cost Him Dearly
What Avi Gabbay did to Tzipi Livni on Tuesday was reminiscent of ISIS. He slit her throat in front of the cameras after several minutes of verbal torture. Those present at the Zionist Union faction meeting had a tough time dealing with what they were seeing.
Reuters contributed to this report
Click the alert icon to follow topics:
ICYMI
Three Years Later, Israelis Find Out What Trump Really Thought of Netanyahu
The Rival Jewish Spies Who Almost Changed the Course of WWII
What Does a Jew Look Like? The Brits Don't Seem to Know
'I Have No Illusions About Ending the Occupation, but the Government Needs the Left'
Russia-Ukraine War Catapults Israeli Arms Industry to Global Stage
Israel Should End Gaza Operation Now, if It Can