Analysis |
Seven Issues That Will Decide the Israeli Election
Or it could just be weed
Labourers hanging up a Likud election campaign banner depicting Prime Minister Benjamin Netanyahu with his party candidates, Jerusalem, March 28, 2019.
Credit: \ AMMAR AWAD/ REUTERS
Prime Minister Benjamin Netanyahu's angry side has rarely been so visible. As he walked across the tarmac toward his plane at Andrews Air Force Base on Monday, he was besieged by Israeli journalists demanding to know what he intended to do about the situation in Gaza — the reason he had just cut his visit to Washington short. He was enraged that they weren't asking about his meeting with President Donald Trump and the U.S.' recognition of Israel's sovereignty over the Golan Heights. "The fact you aren't covering it for more than a minute is something you will be held accountable for," he rebuked them.
This is what Netanyahu looks like when he's lost control of the news agenda.
Israel's Arab voters can decide it all. Do they want to? LISTEN to Election Overdose
Subscribe
Likud's election campaign was supposed to consist of the trashing of Kahol Lavan leader Benny Gantz, all while highlighting Netanyahu's statesmanship and close friendship with the most powerful man on the planet, along with toxic dosages of anti-Arab racism.
But instead of following his dog-whistles, over the past week the insubordinate Israeli media has focused instead on new allegations against Netanyahu in the submarines affair and has had the temerity to ask the man who has been prime minister for the last 10 years — and is now defense minister as well — why he still has no coherent policy on Gaza.
It was an uncharacteristic misreading of the public mood by Netanyahu. There was no question that on a day that had begun with a family's home in central Israel being destroyed by a rocket fired from Gaza, this would be the main issue dominating the headlines.
His effusive reception at the White House had obviously dulled his news-sense. His team has since been working overtime to seize back the initiative, using the footage from Trump's declaration in D.C. and compiling videos of "The Worst of Benny Gantz. "
With just 12 days to go, it feels as if all sides have lost control of the agenda — partly thanks to Hamas. As things currently stand, these are the seven issues that will influence wavering Israeli voters in the campaign's final stretch (with perhaps one additional wild card issue)…
Gaza
The beleaguered coastal enclave, home to nearly 2 million people the world has forgotten, remains Netanyahu's nightmare. Back in November, he decided not to hold an early election in order to put some space between a controversial cease-fire and agreement that the Qataris would pay Hamas $15 million a month to maintain the quiet. But just as he hoped the voters had put Gaza from their minds once more, the rockets are flying again.
Netanyahu's inaction over Gaza opens him up to attacks from both right and left. But does it help Kahol Lavan? Benny Gantz's record as Israel Defense Forces chief of staff during two Gaza operations in 2012 and 2014 is far from stellar. He was criticized then for not preparing the army for intense urban and underground fighting. Netanyahu, however, has more to lose since he is now in charge (he is also defense minister) and any warfare in Gaza on the eve of the election erodes his Mr. Security image.
The Golan Heights (and Area C)
The rocket from Gaza rained on Netanyahu's White House parade this week and stole the thunder from Trump's Golan Heights announcement. Israelis are already fully aware that Trump has Netanyahu's back, they didn't need another reminder. They also didn't feel anyone was questioning Israel's control of the Golan Heights either, so most of them are not so excited about the sovereignty issue.
But on the flight back to Israel, a "senior source on the prime minister's plane" (a euphemism for Netanyahu) had a new spin: The Golan recognition could serve as a precedent for other territories captured in a "defensive war." This clearly meant Area C, as the Israeli-controlled territory covering some 60 percent of the West Bank was defined in the Oslo Accords.
Netanyahu has never shown much appetite for annexation in the West Bank. He much prefers the pragmatism of the status quo. But elections are the season for rash promises, and annexing part of the West Bank is a cherished dream of the far right — a tantalizing prospect that could draw nationalist voters from the governing coalition's satellite parties back to the Likud mother ship.
Submarines and corruption charges
Likud's greatest success so far in this campaign has been pushing Attorney General Avichai Mendelblit's recent decision to indict Netanyahu for bribery, fraud and breach of trust (pending a hearing) off the agenda. Four weeks after that announcement, it barely warrants a mention now. The campaign's pivotal moment already feels like ancient news.
However, another cold case has just resurfaced and is haunting Netanyahu: The submarines affair from which Mendelblit previously exonerated him.
The latest revelations — that Netanyahu made nearly $4 million in 2010 from the sale of shares in a company that supplied the German company ThyssenKrupp; and his admission that he hadn't consulted with security chiefs before telling the German government that Israel had no objection to it selling submarines to Egypt — has placed the most damaging corruption case back on the agenda, at the worst possible time for the premier.
The opposition will continue hammering at this for all it's worth until April 9. The only drawback for them is that the murky and complex financial details may not be intelligible to many voters, who are also no doubt tired of hearing about allegedly corrupt prime ministers.
Netanyahu's 'racism'
Does the prime minister really think Mizrahi soldiers in the Golani Brigade need "white officers," as he allegedly told a British journalist over 40 years ago? Was Miri Regev kept out of a photograph of (Ashkenazi) Likud leaders just because her parents were born in Morocco? Did Sara Netanyahu actually say to the prime minister's residence housekeeper that Mizrahim overeat? And does any of this matter in today's Israel?
Whether it does or not, the main opposition Mizrahim — Labor's Avi Gabbay and Kahol Lavan's Gabi Ashkenazi — have been trying to make the most of Netanyahu's supposed racism against Jews of Middle Eastern or Arab origin. And Netanyahu seems rattled by it.
You can see why. For decades, it was Likud that used the left's disdain for Mizrahim to rally the base. If the opposition can turn that back on Netanyahu, he's in trouble.
Gantz's sanity
A couple of stuttering interviews on television and recordings from a closed meeting where Gantz complained that Netanyahu would like to have him killed or at least use the Russians to spy on him, have furnished Likud with their latest attack line: Gantz doesn't have the stamina to be prime minister (and, yes, if this reminds you of the Republicans going after Hillary Clinton in 2016, you're not wrong). After all, he complained that the past month has been the most difficult of his life — and he wants the most difficult job in the world.
Can such a smear stick to a man who not only commanded the IDF for four years, but was actually appointed to the post by Netanyahu? Is there a limit to how much Likud can plagiarize from the Trump campaign? The Gantz phone-hacking scandal proves there is no limit.
Gantz's phone
After a couple of initial missteps, Gantz seems to have weathered the news that his phone was hacked by the Iranians. He even managed to joke about it in his AIPAC conference speech this week. Three weeks ago, when the story was first leaked, there was a sense that the wave of innuendo and lurid rumors being fanned by some of Netanyahu's closest allies might bury Gantz. It was the low point of his campaign and he is certainly stronger for having come through it. But it remains a cloud that hovers over him.
At any point in the next 12 days, especially during the last hours of voting, all kinds of damaging details — true or false — could spread online or through WhatsApp groups, purporting to come from Gantz's hacked phone. At this point, it's impossible to predict whether they would have any credibility. It may even boomerang on Netanyahu, who will automatically be accused of being behind any dirty tricks campaign.
Anti-Arab racism
Four years ago, in the final days before the 2015 election, Likud sent millions of anonymous text messages with false reports of promises being made by Zionist Union leader Isaac Herzog to Israeli-Arab politicians and of Hamas calling upon Arab citizens to go out and vote. Then came Netanyahu's "The Arabs are voting in droves" Election Day video, resulting in a last-minute surge of Likud voters to the polling stations.
This time around, from very early on racism has been a near-constant feature of Likud's election messaging. Gantz, we are told, is planning a coalition based on the Arab parties "that oppose the state's existence." To prevent this from happening, the untouchable Jewish supremacist Otzma Yehudit party, along with its small but crucial bloc of voters, has been brought into the fold.
If Netanyahu's coalition ends up winning by a sliver, this will prove to have been a masterstroke. But can he go further in the last few days? Is there any juice left in the putrid, racist lemon? You can be sure he'll try to squeeze out a few more drops.
Legalizing weed
The most bizarre twist of this election is the rise of the far-right libertarian Zehut party. Nearly all the polls in the past three weeks have the party crossing the electoral threshold. Indeed, in a couple of polls it is tipped to claim six seats. By April 9, this may prove to have been a passing fad, but there's clearly a significant proportion of disaffected voters looking for something else — and Zehut leader (and former Likud lawmaker) Moshe Feiglin's campaign to legalize marijuana is a major part of his appeal.
Even if it ultimately fails to cross the threshold, Zehut will have taken votes away from parties across the political spectrum, and could well decide the final result between the two main blocs. To try to prevent this, you can expect to see more politicians hint in coming days at their openness to pot being legalized. (Netanyahu has already said he may consider it — though due to his patron Dr. Miriam Adelson's lifelong crusade against all drugs, it's out of the question.)
Still, it would be fitting if, in an election that has focused solely on whether Netanyahu or Gantz are fit for office, the legalization of weed becomes the only policy issue of consequence.
Click the alert icon to follow topics:
ICYMI
Ken Burns' Brilliant 'The U.S. and the Holocaust' Has Only One Problem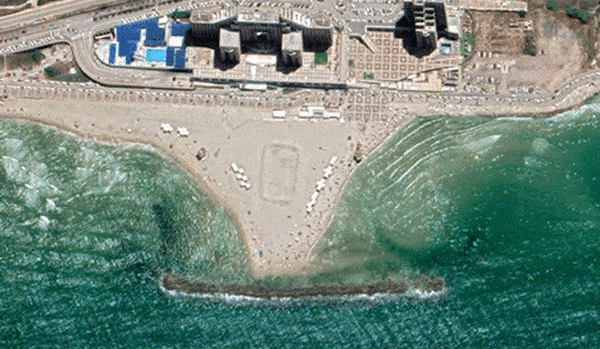 Facing Rapid Rise in Sea Levels, Israel Could Lose Large Parts of Its Coastline by 2050
Lapid to Haaretz: 'I Have Learned to Respect the Left'
The Mossad's Fateful 48 Hours Before the Yom Kippur War
As Israel Reins in Its Cyberarms Industry, an Ex-intel Officer Is Building a New Empire
How the Queen's Death Changes British Jewry's Most Distinctive Prayer