Analysis |
Sex, Lies, Videotapes, Foreign Intervention and Dirty Tricks: The 2019 Netanyahu Elections Finally Have It All
The Benny Gantz Iran-hacked phone scandal marks a new low for Netanyahu and a dangerous descent for the election campaign as a whole
Benny Gantz, head of Blue and White party, speaks to the media in Kibbutz Nir-Am near the border with Gaza, on March 15, 2019.
Credit: \ AMIR COHEN/ REUTERS
The growing scandal over Benny Gantz's hacked cellphone eerily echoes events of the 2016 U.S. elections campaign, which are currently under investigation by Special Counsel Robert Mueller.
A foreign power carries out targeted cyber-burglary, its plunder somehow make its way to the right-wing candidate, who then uses it to bash and spread salacious rumors about his rival - and to draw attention away from his own shortcomings. Sounds vaguely familiar.
Israel's Arab voters can decide it all. Do they want to? LISTEN to Election Overdose
Subscribe
Of course, no one is accusing Benjamin Netanyahu of actually "colluding" with Iran, the alleged hacker of Gantz's cell-phone. No one in his right mind could believe that Iranian agents were in actual contact with Netanyahu's campaign staff about the damaging hack to its number one nemesis, Gantz. So no one expects a smoking gun like the June 16, 2016 meeting with Russian agents in Trump Tower.
The Islamic Republic hasn't been authoritatively identified as the perpetrator of the cyber-theft. Even if it was, there is no evidence that Tehran wants to intervene in the Israeli elections, as the Kremlin did in the U.S. in 2016. But to make sure no one gets the wrong impression from the fact that his aides are gleefully sharing the fruits of the Iranian cellular harvest, Netanyahu pummeled social media on Saturday night with the claim that Iran "openly supports" Gantz and his colleague Yair Lapid.
Netanyahu added, in what my parents would describe as chutzpahdik, that Tehran, in fact, is blatantly intervening on behalf of Gantz. Perhaps it's a trick Netanyahu learned from his friend Donald Trump: To assert that the earth is flat and to rest assured that his entire loyal base and at least 33% of the population will salute and stand at attention and then come to hate all the Soros-funded, round-earth radicals.
Nonetheless it is Netanyahu who stands accused of exploiting the alleged Iranian hack of Gantz's phone for his own benefit. It is the prime minister who is the prime suspect in the leak of the hacking to Channel 2's Amit Segal, who broke the story on Thursday.
>> How Iran hacking scandal could end Gantz's chance to be Israel's next leader | Explained
And it is definitely Netanyahu's aides and media lackeys who briefed the press about the supposedly devastating and embarrassing information now possessed by Tehran, including an alleged sex video of Gantz with a woman other than his wife. It's so bad, the prime minister's aides told the press, that Gantz has been effectively disqualified as a potential prime minister.
On Friday, Gantz acknowledged the hack but curtly and emphatically denied that his hackers had accessed any sensitive security information or any personal details that could expose him to extortion. The disseminators of the sex-video claim also started to backtrack and to cover their tracks as well. And while the exact details of the entire affair remain murky or censored, at the start of the new week it seems that the reports of Gantz's imminent demise because of his hacked phone were, as Mark Twain said, greatly exaggerated.
The spotlight, in the meantime, is turning to the far more critical question of the possible misuse of privileged secret information by Netanyahu or his assistants in order to undermine the prime minister's main rival in the April 9 elections. The Shin Bet, which informed Gantz of the break-in into his phone, asserted in a rare public statement that it had not informed Netanyahu of the incident, a questionable decision given the sensitivity of cyber-espionage and increased awareness of the ability and intent of foreign countries to interfere in the democratic process.
Nonetheless, the possibility that sensitive personal information gathered by Israel's intelligence agencies could be turned into a political weapon is, or should be, nothing less than terrifying. It is one of the defining characteristics of authoritarian and dictatorial regimes. And if it can strike down Gantz, then no Israeli politician can feel himself safe and immune.
To really understand Israel and the Middle East - subscribe to Haaretz
And given that the major intelligence agencies – including Mossad, Shin Bet and the more recent National Cyber Security Authority – all report directly to the prime minister, an unscrupulous or desperate leader could, theoretically at least, stifle any dissent and crush any opposition, on a whim and at a moment's notice.
No less distressing, as well as repugnant, was the organized peddling of Gantz's intimate affairs, with the suffering it must entail for his family. The enthusiastic dissemination of lurid rumors about Gantz by Netanyahu's spin doctors is also the height of hypocrisy, given that Netanyahu's own political career was once threatened by an alleged video recording of his extra-marital affairs.
In what came to be known as the "hot tape" affair, Netanyahu showed up in Israeli Television studios during his ultimately successful bid to capture the Likud leadership in 1993 and said he was being blackmailed with a video recording of him with another woman. His blackmailers, Netanyahu asserted, are demanding that he quit the race or they'll make the tape public. Netanyahu then shocked Israelis by confessing to the illicit liaison, not so much because of their concern for family morals as by what seemed like Netanyahu's agitated state and rush to confess.
No one knows what was on Gantz's phone, but we know whom the scandal benefits | Analysis
In any case, the incident did not block Netanyahu's way to the top. The tape was never found and the alleged extortionists never exposed, leading some to suspect that it was all a Netanyahu sting operation. In the 25 years that have passed, Netanyahu must have forgotten his warning then that "If the phenomenon is not uprooted I won't be the last.
More will follow." Which isn't really surprising, given that Netanyahu has also forgotten his stern admonitions only a decade ago against the morally bankrupt rule of a prime minister, such as Ehud Olmert, who is suspected – never mind indicted – of corruption. In Netanyahu's lexicon, what's good or bad for the goose has nothing to do with the gander.
Netanyahu's rivals believe that the timing of the leak about the Iranian hack of Gantz's phone and the ensuing spread of reports about its contents were actually aimed at deflecting attention away from Netanyahu's own troubles: Criminal indictments, a damning State Comptroller report about the dismal state of Israel's transportation system and his decision to make do with one night of aerial bombings of Hamas targets in Gaza in retaliation for the firing of two Grad-type missiles on Tel Aviv on Thursday. For the right-wingers biting on his fringes, Netanyahu's restraint – by Israeli standards – was prime steak.
If that was the plan, it was executed perfectly, with the enthusiastic assistance of most of the Israeli media, which bought the leak and the Netanyahu-inspired briefings hook, line and sinker. They intimated that Gantz had committed an unforgiveable breach of security and suggested that his phone was a virtual Pornhub. The breathless news reports largely ignored the moral, ethical and constitutional issues surrounding the scandal.
That's the way it works: Netanyahu relentlessly attacks the so-called "leftist media", which is conducting a "witch hunt" against him, but the journalists themselves are bored with Netanyahu's endless list of misdeeds and escalating disregard for the truth – Thanks, Trump. They are chomping at the bit, on the other hand, to have a go at Gantz and his centrist colleagues.
Netanyahu, meanwhile, can hardly afford to rest on his laurels. He had his own can of worms to deal with. Roni Mana, a Tel Aviv real estate dealer who used to be the BFF of Benjamin and especially Sara Netanyahu – during one of her probes by the police, Mana hired a plane to fly over Tel Aviv with the slogan "Sara Netanyahu. Be strong. The people are with you" – went on a popular Friday night television program to reveal all he knows about the couple.
His twenty minute tell-all monologue included hair-raising allegations of the Netanyahu's endemic corruption, the couples' greediness – which is only matched by their miserliness – and, in what may turn out to be the most damaging allegation of all: That they are rabidly racist in their attitude towards Moroccan Jews, who overwhelmingly vote Likud.
All in all, this weekend marked the steep and swift descent of the election campaign into the netherworld of cybercrimes, computer hacking and foreign interference - and from there to the slimy mud of innuendo, character assassination and anything goes. The deterioration is part of a global trend deriving from the lethal mix between populism and social media, but it is magnified many times over by the specific circumstances of the April 9 elections.
Both sides have come to regard a victory by the other as a national catastrophe, which justifies taking any and all means needed to avert it. Sordid and discomfiting as this weekend has been, we ain't seen nothing yet. There are only 23 days left before Israelis head to the polls but at this rate, they could begin to feel like an eternity. Not in a good way, to say the least.
Click the alert icon to follow topics:
ICYMI
Ken Burns' Brilliant 'The U.S. and the Holocaust' Has Only One Problem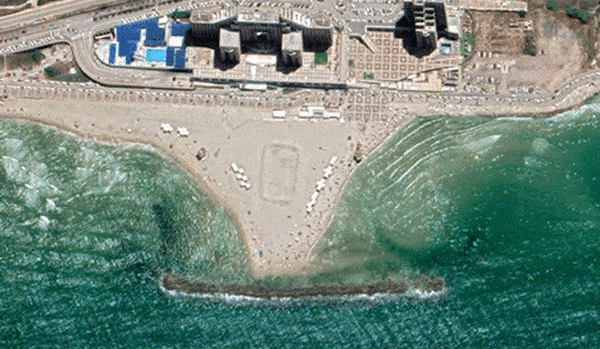 Facing Rapid Rise in Sea Levels, Israel Could Lose Large Parts of Its Coastline by 2050
As Israel Reins in Its Cyberarms Industry, an Ex-intel Officer Is Building a New Empire
How the Queen's Death Changes British Jewry's Most Distinctive Prayer
Chile Community Leaders 'Horrified' by Treatment of Israeli Envoy
Over 120 Countries, but Never Israel: Queen Elizabeth II's Unofficial Boycott