Analysis |
There's No Line Netanyahu Won't Cross on His Way to a Fifth Term as Prime Minister
With a week remaining for the parties to finalize their slates, Gantz hits Netanyahu where it hurts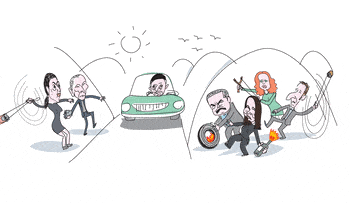 The election campaign will get underway in earnest at the end of next week, once the contours of the political map are more clearly drawn. All the tedious questions, conjectures and guesses will end at 10 P.M. on February 21, when the final party slates will be presented with great pomp and circumstance to the Central Elections Committee.
No longer will we have to wonder who's going to hook up with whom, or tortuously follow the eternal agonizer, that contemporary Prince Hamlet, Gabi Ashkenazi. What's past will be prologue, the doubts will vanish. The wait for the final party slates will be replaced by the wait for decisions by Attorney General Avichai Mendelblit on the three investigations involving Prime Minister Benjamin Netanyahu.
Israel's Arab voters can decide it all. Do they want to? LISTEN to Election Overdose
Subscribe
The shifts in Knesset seats recorded this week in the polls did not upset the basic assumption underlying campaign 2019: Netanyahu will be the next prime minister. The Likud-right-ultra-Orthodox bloc is maintaining its advantage over the center-left-Arab bloc. And with Likud ahead of Hosen L'Yisrael by at least 10 seats – there's no question of who President Reuven Rivlin will charge with the task of forming the next government.
In such a situation, Netanyahu could, if he so wishes, reincarnate the outgoing coalition plus Yisrael Beiteinu, as he in fact declared he would do at a meeting with religious reporters this week. But he added a demurrer: "First of all, I will form a right-wing government" – and then asserted that he will not sit in a government with Benny Gantz. The message was aimed at the voters of Hayamin Hehadash: They needn't worry, they can vote Likud and rest assured that Naftali Bennett and Ayelet Shaked will retain their status as education and justice ministers, respectively.
The veto on Gantz took me back to the 2013 election campaign. Two weeks before Election Day, Netanyahu promised – in an on-the-record conversation with this reporter, for quotation and for attribution – that he would never allow Tzipi Livni, the leader of Hatnuah, to conduct diplomatic negotiations with the Palestinians. He had convincing reasons, too, but they all evaporated two minutes after the election, when he launched secret talks with Livni, at the end of which he gave her not only the negotiations portfolio but also the Justice Ministry and chairmanship of the Ministerial Committee for Legislation.
In short, all such promises should be taken with a dose of healthy skepticism. Some of those in Netanyahu's close circle are talking specifically about reaching out to Hosen L'Yisrael after the election. Netanyahu will also need Gantz in order to "water down" the rightists in the next coalition in advance of President Donald Trump's promised unveiling of his peace plan after the election. Moreover, Gantz is leaving the door open and not ruling out the possibility of joining a government led by a prime minister who is undergoing a judicial hearing involving criminal charges. That was one of the clearer things Gantz said in his interview last Friday in the daily Yedioth Ahronoth. Another, vaguer declaration by him, made three weeks ago, about the nation-state law, is still a major subject of conversation among both journalists and leaders of the Druze community: Will that law be amended if Gantz becomes prime minister, or not? A simple yes-no matter turned into a philosophical issue as thorny as the eternal question of what the meaning of life is.
Life as a selfie
Hardly a day goes by that Hosen L'Yisrael doesn't have to issue a clarification about something the Boss said, or that was uttered by someone on the emerging slate – for example, Zvi Hauser's promise of a building boom in the settlements under Gantz as prime minister. Basic tenets such as "campaign discipline" and "unity of messages," which are the heart of every election battle, seem to be AWOL in Gantz's party. The flimsy explanation offered by Hosen L'Yisrael: "Our people aren't robots." And, "If we're attacked from both the right and the left, then obviously we're in the right place."
Instead of making excuses, they'd be better off putting their house in order if they don't want to become a joke even before the election. Their hyper-eclecticism doesn't bode well for the resilience and cohesiveness of the future Knesset faction.
The ticket is okay, but no more than that. In 2013, by contrast, Yair Lapid brought along two successful mayors, Yael German from Herzliya and Meir Cohen from Dimona, a retired Shin Bet security services chief, Jacob Perry, journalist Ofer Shelah and Rabbi Shai Piron.
What's holding together those who remain in Yesh Atid is self-nullification before the leader and total relinquishment of the views and opinions they previously espoused. But that's not what Ya'alon, No. 2 in Hosen L'Yisrael, projects: He is a big bag of bitterness, convinced that he should have been leader of the new party by dint of his seniority and experience. The partnership between him and Gantz, his former subordinate in the Israel Defense Forces, is hanging by a thread.
Where is the North Korean-style discipline of Yesh Atid? Gantz has to contend with the political agenda of Hauser, a firm supporter of the nation-state law and someone who is to the right of Ayelet Shaked in everything related to the required handling/emasculation of the court system. Then there is Yoaz Hendel, who has expressed enthusiasm for the cultural-loyalty bill introduced by Miri Regev. They are not going to just line up and salute the commander. Rather, they will try to convert him. It's just by chance that they happen to be in Hosen L'Yisrael. They could just as easily have joined Habayit Hayehudi, Hayemin Hehadash or Likud.
Hosen saw its momentum blocked this week, as its support among potential voters, according to three recent polls, dropped by the equivalent of two Knesset seats. But the party also has some successes this week. Its copyrighters uploaded a few clips aimed at Likud's soft belly. They dealt with the Gaza Strip pullout – which Netanyahu voted for at every stage of the legislative process until a week before its implementation, in August 2005 – and with the monthly transfer of funds to the Hamas government in Gaza.
The clips spoke unadorned, crass Likud-ese. They attacked Netanyahu from the right, which is an unusual experience for him, and on security issues. They even forced him to go on the defensive, which he doesn't like to do. Gantz is the only person in the political arena capable of waging an unapologetic, head-on fight against Netanyahu. His campaign checked and obviously found that cracks in Netanyahu's status as "Mr. Security" surfaced after the latest round of fighting in Gaza, last November. He's getting higher grades among voters as prime minister/foreign minister than as "guardian of Israel's security," the title he'd like history to remember him by. That relative weak point is the challenger's target.
On Wednesday, in an address to party activists, Gantz accused Netanyahu of endangering soldiers' lives, after the prime minister boasted, on the way to Warsaw, that Israel had attacked Iranian targets in Syria the day before. Gantz is right: The sacred ambiguity on such subjects that once served Israeli interests well, has become a joke. These days, we wouldn't be surprised to see Netanyahu doing a selfie in the IDF war room in the Kirya in Tel Aviv as air force planes and UAVs carry out their missions.
The cynical use the prime minister/defense minister is making of Israel's soldiers – both those who are alive and well, as seen in the PR photos he produces for himself, in mocking disregard of the attorney general's instructions, and those who are no longer living, as in the despicable allegation that Gantz in 2000 abandoned the soldier Madhat Yusuf and let him die in an incident at Joseph's Tomb, in Nablus – all this confirms the working assumption: There is no boundary or restraint that this desperate person will not ignore, no norm he won't trample and no principle, not even Israel's security or the sensitivities of a bereaved family, that he won't decimate on the way to the polling station.
The Old Histadrut
It's not hard to understand why Gantz has approached Histadrut chairman Avi Nissenkorn, and why he apparently promised to appoint him a minister in the next government, whatever government that is. He needs the well-oiled – and sometimes palm-greasing – apparatus of the labor federation: the activists, the fleet of hundreds of vehicles, and the years-long experience in managing election campaigns and getting out the vote. The Gantz party has zero organizational or strategic expertise, and the election is just around the corner. During the past six years, Yair Lapid has put together an efficient force of volunteers and field workers with experience. Gantz doesn't have a network that is anything close to that.
Nissenkorn, who, it was eported on Thursday (by Channel 12 News' Daphna Liel), is on his way to Hosen L'Yisrael, will bring the troops. He's not the natural or obvious acquisition for a party such as Hosen. On the contrary. Gantz, after all, previously ruled out the participation of serving MKs on his list, on the grounds that he wanted to create something new, fresh, outside-the-box. The man at the helm of the Histadrut (though not in the Knesset) over the past five years is the antithesis of those qualities. In certain circles, he also arouses antagonism, and if not him personally, then certainly the organization he leads. But, as noted, he comes with battalions, he answers the requirement for a "socially minded" candidate, and unlike Orli Levi-Abekasis, he's not accompanied by a demand that five slots be set aside for his people in the first 20 places on the Hosen list.
Booby prize
What rapture descended upon the Labor Party when the first post-primary poll, conducted by Channel 13, showed a 60-percent surge in its support, from five to eight seats. The party was in a dither: Should they continue to pray that they reach the double-digit realm of 10 seats – touch wood! – or try not to anger the gods, and make do with a more modest wish for the eight to remain intact?
The additional 100,000 votes arrived by nonstop flight, from Hosen L'Yisrael. They're the shifting sands in the bloc. Once they belonged to Labor/Zionist Union. After being disappointed by Labor Chairman Avi Gabbay (after being disappointed, in turn, by Isaac Herzog before him), these voters defected to Lapid's Yesh Atid. Afterward, they were enchanted by Gantz, and now they've finished their tour around the world in 80 days and have returned home.
Will they stay on the mother ship? That's far from certain. They are the "strategic voters," who lack any sense of tribal fealty. Political couch surfers. If they're persuaded, on the eve of the election, that Gantz has a chance to win or at least to challenge Netanyahu, they will leap back to Hosen with the agility of mountain goats. If they conclude that there's no way, that the battle against Netanyahu is lost – they will vote Labor. Out of pity, mostly.
Gabbay took pride and joy in his team. He hugged and kissed them, and the day after the primary did a victory lap on radio and television stations.
The slate is definitely impressive and high-quality. A boutique list. Very leftish. Itzik Shmuli, who won the most votes, is the relative hawk.
Still, not one Labor MK feels any real commitment to Gabbay. On the contrary: They are all, without exception, dying to be rid of him. His refusal to announce that he's forgoing the power he was granted by the party convention to name a person or two of his choosing to the second and/or 10th place on the ticket, is driving them crazy. They're determined to liquidate him, even though their hands are tied procedurally. But they have other options.
Gabbay is very stressed out, say people who spoke with him this week; he's aware of the looming revolt against him. The party's MKs have interests of their own, he's telling interlocutors, whereas I, in contrast to them, see the broader picture and am working for the good of the party.
His top supporter and loyalist, Shelly Yacimovich, along with Shmuli, presented Gabbay publicly with three conditions under which he can reserve slots for his own people – all of which must be fulfilled before they let him do so: 1. The person must be clearly identified with the security realm; 2. He or she must identify with Labor and not view the party as a political springboard; 3. It has to be proved beyond any doubt that the person is worth his or her place on the slate. That means having the potential to draw four or five Knesset seats, not just two or three that will evaporate by Election Day.
That amounts to an iron veto in a velvet glove. There's not a single star out there who meets those threshold demands, certainly not the third one. Apart, perhaps, from Gabi Ashkenazi.
Meanwhile, an "insane power struggle" is how Gabbay's obsession to insert people of his choice is being viewed in the party, an obsession that's creating embittered MKs who will be lying in ambush for him on April 10.
The enemy within
Labor's surge in the polls is due to the slate that was elected, the MKs say (correctly) and not due to the party leader, none of whose candidates made it to top places in the primary: neither television presenter Emily Moatti, his admiring confidante, whom he pushed for, nor journalist Enrique Zimmerman, with whom he visited one of the Gulf states and with whom he crisscrossed Israel.
Zimmerman was defeated by Yaya (Yair) Fink, who is Yacimovich's protégé and an interesting character in himself – liberal, left-wing and religiously observant. Fink was elected to the eighth slot (and will end up 12th if Gabbay inserts two people of his choosing, after party secretary general Eran Hermoni, who is No. 11), with Zimmerman some 10 slots below him.
On primary night, when Fink beat Zimmerman, Yacimovich did a little jig on stage. She was conveying a double message: joy at Fink's achievement and schadenfreude at Gabbay's defeat. The next day, in a radio interview, she sent him an additional message: While she doesn't intend to run for the party leadership again after the election, she won't sit idly by, either. She will support one of the contestants, maybe one of the younger ones, maybe an outside candidate, maybe Gabbay (well, probably not him).
Other candidates pushed by Gabbay also lost. In the kibbutzim district, his aide, Ilan Lederer, was defeated by Gavri Bar-Gil. In the Druze community, Shadi Kabalan, who had the party leader's backing, was beaten by Salah Sa'ad, Amir Peretz's man. In the moshavim, Ran Shusterman, Gabbay's candidate, lost to Lili Ben-Ami, who is also identified with Yacimovich.
This meager harvest presents a dilemma for Gabbay. On the one hand, his need to bring in a person who will be "his" is now more pressing than ever; but at the same time, the slate is solid and satisfactory, and it's not like there's some amazing, charismatic personality waiting for Gabbay's call. Inserting someone into the second slot could have the result of bumping Peretz, Merav Michaeli or Omer Bar-Lev from the Knesset, depending on how many votes Labor gets. That's no joke. Peretz, who intends to run for president in summer 2021, has to be in the House, rubbing elbows and backslaps with the "voters": the 120 members of the Knesset.
The name Ehud Barak is hovering above the party like a doomsday spaceship, as though the hatch is going to open in another minute and the man will step out, spraying deadly laser beams in every direction. And actually, who is more identified with security than Barak, along with being an experienced statesman and a razor-sharp, effective opposition fighter? But Gabbay doesn't intend to bring him in. He's not prepared to pay the price of the resulting conflagration. You weren't here when Ehud dismantled the party and signed on with Bibi, Gabbay is being told by Yacimovich and Peretz (the latter also jumped ship afterward, into Livni's party).
Gabbay was picked up by a Channel 12 microphone this week saying something about "collective suicide." He was responding to something Itzik Shmuli had whispered to him at a meeting of the party's Knesset faction. Speculation was that they were discussingthe possibility of bringing Barak in as No. 2. But neither the whisperer nor the responder was referring to that. The scenario Gabbay was referring towas a merger of Labor, Meretz, Livni's Hatnuah and Barak. Yes, even an option as off-the-wall as that can emerge from the abysses of desperation.
Such a move would spell the end of both Labor and Meretz, Gabbay believes. And as for Livni and Barak, he doesn't understand what people are longing for. From his perspective, both are figures whose time has passed. It's thanks to them that we've had 10 years of Bibi. There would be some hype if they joined up with Labor, but it would disappear after the first week, and then the troubles and the digs and the machinations will emerge.
Click the alert icon to follow topics:
ICYMI
Ken Burns' Brilliant 'The U.S. and the Holocaust' Has Only One Problem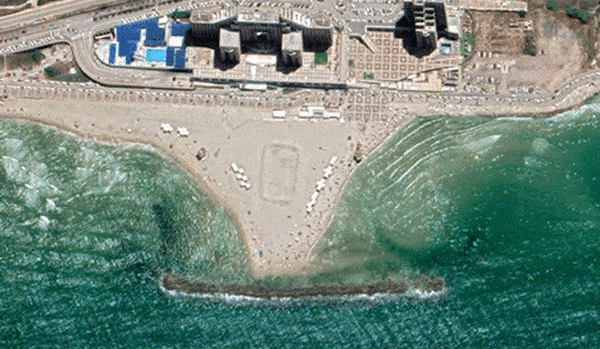 Facing Rapid Rise in Sea Levels, Israel Could Lose Large Parts of Its Coastline by 2050
As Israel Reins in Its Cyberarms Industry, an Ex-intel Officer Is Building a New Empire
How the Queen's Death Changes British Jewry's Most Distinctive Prayer
Chile Community Leaders 'Horrified' by Treatment of Israeli Envoy
Over 120 Countries, but Never Israel: Queen Elizabeth II's Unofficial Boycott