Analysis |
Trump, Adelson, Bennett, Barkat and the Right-wing Plot Against Benjamin Netanyahu
The New Right's shock recruitment of Israel's foremost female sports icon strikes at the vulnerable underbelly of ruling Likud
A walks past a giant election billboard showing Israeli Prime Minister Benjamin Netanyahu and U.S. President Donald Trump shaking hands, in the Israeli coastal city of Tel Aviv, on February 3, 2019.
Credit: JACK GUEZ / AFP
Alona Barkat is largely unknown outside of Israel, with the possible exception of Silicon Valley, where she and her hi-tech entrepreneur husband Eli lived during the 1990s, as well as Jewish organizations, which have showcased her financial and philanthropic activities.
For Israelis, however, Barkat is nothing less than a national icon: The first female owner of a major-league soccer club. Barkat transformed her team, Hapoel Be'er Sheva, from minor league loser to Cinderella story champion of Israel's Premier League for three consecutive seasons.
Israel's Arab voters can decide it all. Do they want to? LISTEN to Election Overdose
Subscribe
Which is why Barkat's decision to accept the third spot on the Knesset list of the New Right party (Hayamin Hehadash), set up by Habayit Hayehudi ministers and deserters Naftali Bennett and Ayelet Shaked, sent shock waves throughout the political arena this week.
Nothing in Barkat's past, especially her courageous decision to pack the starting lineup of a team from largely right-wing Be'er Sheva with no less than five Israeli-Arab players, seems to connect her to Bennett and Shaked – offspring of Israel's far-right national religious party, lobbyists for Israel's Jewish settlers, enemies of Israel's Supreme Court, opponents of any peace deal with the Palestinians, and, according to their critics, unabashed Jewish supremacists.
>> Netanyahu lost big this week. Here's what it means for the next government | Analysis
But politics makes strange bedfellows, which often turn out to be a formula for success. Barkat's recruitment, which has sparked bitter resentment among her leftist critics, is a daring political coup for Bennett and Shaked, which challenges conventional wisdoms. If the outgoing ministers of education and justice represent "the right" part in the party's name, the addition of Barkat justifies their use of the word "new" as well.
Barkat, dubbed "Queen of Be'er Sheva", connects the New Right to Israel's periphery, hitherto known as the Likud's arsenal of sure voters. Her football credentials provide a populist veneer to Bennett and Shaked, just as her Yemenite origins will offset their elitist Ashkenazi image. And her addition as the second female seat in the New Right's leading triumvirate stands in stark contrast to the overwhelmingly male slate elected on Tuesday by members of Likud.
Likud officials tout their new list as their strongest ever, a claim repeated by most of Israel's mainstream media and the apparent cause for the party's subsequent rise in the polls. Nonetheless, a party that claims to represent the vox populi couldn't find even one woman worthy of being included in its top five candidates – who now, by virtue of their top spots, are considered leading candidates to succeed Benjamin Netanyahu, if and when he leaves office.
There are only two women in the party's top ten – outgoing ministers Miri Regev and Gila Gamliel, who also happen to be the only non-Ashkenazi members in the top tiers of a party that has traditionally commanded the overwhelming allegiance of Israel's Sephardi community.
>> Likud members prove to Netanyahu: We're not a flock of sheep | Analysis
Women comprise only 15 percent of Likud's first twenty candidates, less than a third of their actual proportion of the population. Unlike Arabs, whom Likud mostly ignores, or the ultra-Orthodox, who cite religious edicts to justify their female-free Knesset lists, the Likud purports to be a secular party. They even asserted in the 2015 elections that under-representation of women "in the centers of power and decision-making" is one of the main obstacles to achieving ostensibly desired gender equality.
The addition of Barkat, especially if other surprise candidates with similar credentials and prestige join her, is a clear attempt by Bennett and Shaked to strike at what may be the Likud's vulnerable underbelly. Barkat, sister-in-law of former Jerusalem mayor and new Likud candidate Nir Barkat, could serve as a bridge to Bennett for potential Likud-defectors, including disaffected right-wing women, disgruntled residents of Israel's periphery and disillusioned Likudniks who have lost faith in Netanyahu's denials of the myriad corruption charges currently being considered by Attorney General Avichai Mendelblit.
At the same time, a perceived strengthening of the New Right could spark renewed pressures in the Likud to head off the threat by incorporating Bennett and Shaked in their party's list. Such a move, however, would most certainly collide with a veto by Sara Netanyahu, whose relations with the Bennett and Shaked soured over a decade ago, during their joint service in her husband's bureau.
The Adelson connection
The timing of Thursday's announcement of Barkat's recruitment helped to soften the coincidentally concurrent blow to Bennett by Israel's Council of Higher Learning, which reversed its earlier approval of a new medical school at Ariel University in the West Bank. But the decision didn't just undermine one of Bennett's landmark achievements for Jewish settlers, it was also a slap in the face to the school's main benefactor, who happens to be casino-magnate Sheldon Adelson, Netanyahu's once-solid supporter, founder of Netanyahu's once adulatory Yisrael Hayom and prominent whisperer in the ear of Netanyahu's BFF, Donald Trump.
In fact, last summer's inauguration ceremony for the medical school – which turned out to be premature – provided the backdrop for a public demonstration of Miriam and Sheldon Adelson's shifting affections from Netanyahu to Bennett. The prime minister wasn't even invited to attend. This is a sure sign of Adelson's displeasure in the wake of revelations of Netanyahu's connivance with his hated rival, Yedioth Ahronot publisher Noni Mozes, which aimed to curtail the threat of Yisrael Hayom's surging circulation, in what is widely known as criminal file 2000, one of three cases currently awaiting Mendelblit's decision.
Adelson, in fact, is rumored to be the driving force behind Bennett and Shaked's decision to bolt from Habayit Hayehudi and set up the New Right. A solitary media report on the purported alliance, which appeared in December in the ultra-Orthodox news outlet Ha'Modia, hasn't been followed up or corroborated. But the backing of a billionaire who has emerged as the Republican Party's most generous financier would certainly provide a reasonable rationale for Bennett and Shaked's otherwise dubious decision to abandon their established power base in Habayit Hayehudi and strike out on their own.
According to he Hamodia report, Adelson believes that Netanyahu's end is nigh and that the staunchly hawkish and adequately conservative Bennett and Shaked are worthier successors than the numerous would-be heirs in the Likud. Moreover, the incongruous addition of Barkat to the New Right just happens to coincide, intentionally or not, with Adelson's worldview and wishes.
The Sands owner may be a fervent Jewish nationalist, Muslim-hater, rabid hawk and right-winger in the extreme, but he is also an avowed secularist. He disdains the messianic fervor of Jewish settlers and is no fan of the Orthodox monopoly that has alienated so many of his fellow American Jews, from the loony left to the radical right. For him, the settler-dominated Habayit Hayehudi, a ranking member of the Orthodox hegemony, is excess baggage that Bennett and Shaked needed to shed before taking off. Barkat, in this view, marks the start of their acceleration down the runway.
In Netanyahu's perennially paranoid view, Adelson's purported involvement with the New Right, even if it consists of passive backing alone, is sufficient cause for alarm. The prime minister is more cognizant than most of Adelson's ability to move mountains and bulldoze his opponents into submission. The purported Bennett-Adelson alliance, real or perceived, also casts a different light on Netanyahu's decision to use Trump as one of his main props in the election campaign.
Trump may have reposted Netanyahu's photo of the giant posters of both shaking hands, which were put up by Likud on Tel Aviv's Ayalon Highway, but his enthusiasm might be dampened when he finds out that Netanyahu's spin-masters photoshopped the U.S. president down to the prime minister's height and changed the color of his shirt from blue to white, to match Netanyahu's, as the Israeli correspondent of the London Telegraph, Raf Sanchez, discovered last week.
By the same token, the widespread assumption that Trump would go all out to help Netanyahu's re-election now comes with the caveat that Adelson, his main donor and informal adviser, may be advocating a different approach. Anyone scheming to anoint Bennett and Shaked king and queen of the Israeli right could reasonably conclude that Netanyahu's early departure, even if it entails a temporary loss of right-wing rule, is a price worth paying.
The enormous posters, which would fit in naturally on the streets of Pyongyang, are meant to accentuate Netanyahu's clear advantage over his political rivals in managing Israel's foreign affairs.
A Haaretz poll published on Monday showed that the public trusts Netanyahu to handle Israel's foreign policy over his closest rival Benny Gantz by a whopping 60-20 percent margin. One American Jewish acquaintance told me that while the posters tout Netanyahu as being in "a league of his own," for most American Jews it proves that he is living on a planet of his own, one in which close ties to Trump are a towering achievement rather than an ongoing embarrassment.
Netanyahu, however, is casting Trump as the jewel in his crown. Just as he has manipulated Israeli public opinion regarding support for the 2005 Gaza disengagement, which he supported, or the two-state solution, which he endorsed, or further withdrawals in the West Bank, which he repeatedly assented to from the Hebron Agreement and Wye River accords of his first term to his detailed talks with Secretary of State John Kerry five years ago – as tantamount to defeatism and disloyalty, so he has silenced any questioning of the wisdom of his unabashed romance with Trump.
Netanyahu's foreign policy, in fact, will hardly be mentioned in the upcoming campaign. No serious contender will dare question the rationality of his U.S. policy, which has distanced large parts of the Democratic Party and alienated the bulk of American Jews, from the reneged deal about prayers at the Western Wall to Netanyahu's strategic decision to sideline them in favor of messianic evangelicals.
Netanyahu forgets that he didn't get Trump elected in 2016 – his name hasn't come up, at least, in the leaks from Robert Mueller's investigation – and he won't be able to save him, should Trump fail to be reelected, as currently is foreseen.
Netanyahu's reckless handling of relations with the U.S. is worthy of the famous saying attributed to Madame de Pompadour, mistress to French King Louis XV: "Après moi, le deluge."
Whether he is ejected from office on April 9 or prolongs his excruciating exit from the scene, Netanyahu will leave the fallout from his famous friendship with Trump behind him, for his heirs to handle. The creation of the New Right, now turbo-boosted by Barkat's recruitment, is meant to place Bennett and Shaked, with or without Adelson's blessing, at the head of the line of succession.
Click the alert icon to follow topics:
ICYMI
Ken Burns' Brilliant 'The U.S. and the Holocaust' Has Only One Problem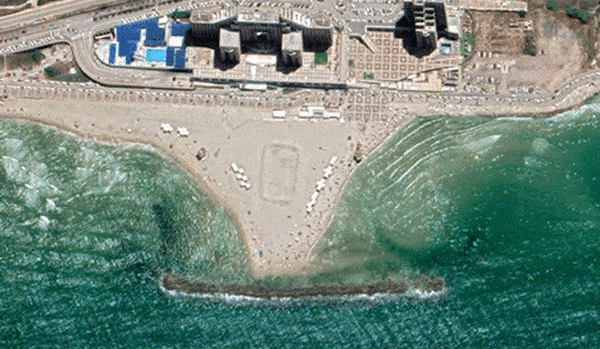 Facing Rapid Rise in Sea Levels, Israel Could Lose Large Parts of Its Coastline by 2050
As Israel Reins in Its Cyberarms Industry, an Ex-intel Officer Is Building a New Empire
How the Queen's Death Changes British Jewry's Most Distinctive Prayer
Chile Community Leaders 'Horrified' by Treatment of Israeli Envoy
Over 120 Countries, but Never Israel: Queen Elizabeth II's Unofficial Boycott