Analysis |
Israeli Paradox: Why Gantz's Right-wing Extravaganza Anoints Him as the Left's anti-Netanyahu
His campaign launch had the hallmarks of a jingoistic junta with neo-fascist tendencies - but these didn't deter Netanyahu's detractors one bit
Benny Gantz, a former Israeli armed forces chief and head of Israel Resilience party, delivers his first political speech at the party campaign launch in Tel Aviv, Israel January 29, 2019.
Credit: \ AMIR COHEN/ REUTERS
A stranger with minimal knowledge of 20th century history who might have happened on Benny Gantz's campaign launch in Tel Aviv on Tuesday would have been rightly appalled. The event, with its militaristic khaki-colored flags and balloons, posters adulating the one and only leader, hawkish army generals embracing to wild applause, a belligerent keynote speech and disturbingly familiar nationalistic slogans – "Israel before anything," "The state over the individual," "One people, one state, one nation" - had all the hallmarks of a jingoistic junta with neo-fascist leanings, which has adopted Benito Mussolini as its role model.
Our flabbergasted observer would have been doubly dumbfounded the next day to discover Israel's liberal left drooling over Gantz and the right blasting both his speech and campaign launch as irrevocable proof of his thinly-disguised, weak-kneed, vaguely-disloyal leftism. Welcome to Benjamin Netanyahu's bizarro Israel of 2019, where the complex and existential issues facing Israel have been reduced to one question, and one question alone: Are you with him or against him?
Israel's Arab voters can decide it all. Do they want to? LISTEN to Election Overdose
Subscribe
>> Benny Gantz, The general coming to end the Netanyahu era ■ Wiping out top competitors, Gantz demonstrates he could succeed Netanyahu | Analysis
Gantz, somewhat reluctantly, is against him. Although he never mentioned Netanyahu by name, Gantz's depiction of a divisive and inciting leadership "with the mannerisms of a French royal court," along with his strong rejection of "a prime minister under indictment" staying in office, left no doubt that he aspires to be anointed as the anti-Bibi, the only true contender for the throne.
Based on the pundits' plaudits - even in left wing enclave Haaretz - along with the hysterical reactions from Likud and the right, the deafening silence from Yair Lapid, who could be squashed by Gantz in the limited electorate of the center right, as well a quick poll conducted by Walla that recorded a steep rise for Gantz's "Hosen L'Yisrael Party" and a commensurate fall for both Lapid and Likud – Gantz's debut was a smashing success that went beyond his supporters' wildest dreams and his rivals' worst nightmares.
A star was born on Tuesday night in Hall Number 10 of the Tel Aviv Exhibition Grounds, a formidable rival to Netanyahu was christened and a potential prime minister emerged, virtually out of nowhere.
>> No, Netanyahu, Gantz is not left-wing – he's the old right | Analysis ■ An alternative to Netanyahu | Editorial ■ Benny Gantz, Netanyahu rival, gives campaign launch speech - full English transcript
It's hard to reconcile the enthusiasm of committed peaceniks and die hard liberals from Gantz's performance and especially his inaugural speech, which combined hawkish militarism that bordered on chauvinism and meaningless platitudes about everything else under the sun. Once upon a time, in a Bibi-less world, the left would have railed against the emergence of a right-wing party that will cannibalize the center-left electorate with pretenses of honesty and integrity. In the Bibi-world, the one and only measure of a candidate is whether he is theoretically capable of defeating the prime minister on April 9. Gantz is now the clear frontrunner for the job.
His qualifications are readily apparent: He is salt of the earth, a son of Holocaust survivors, who grew up on an agricultural moshav; a former army chief of staff who could walk in the footsteps of his predecessors Yitzhak Rabin and Ehud Barak, who provided the center-left with its two lonely electoral victories in the past 40 years. He is seen as honest, up-front and plain speaking, which casts him as the polar opposite of the image associated with the man he seeks to unseat.
Gantz's seemingly belligerent, overtly militaristic stance weren't all they seemed, either. They convey internal Israeli codes, which our astonished foreign observer could be forgiven for missing. Gantz's sanctification of "Israel" and "Israeliness" is admittedly a nationalist appeal, but is also meant to counter both Netanyahu's Jewish ethnocentrism as well as his as assault on the democratic institutions that underpin the modern Israeli state. These include, first and foremost the Israeli army, the great equalizer of Israeli society that has emerged in recent years as an island of sanity in a rising sea of nationalism, intolerance and retrograde religious fundamentalism.
>> Cast your ballot for Benny Gantz | Opinion ■ The willing suspension of disbelief | Opinion
When Gantz embraced his former commander, predecessor at the top and newfound partner Moshe Yaalon, a true and blue right-winger, he was signaling not only security toughness but also old-fashioned Israeli values, which Netanyahu and his colleagues seem bent on eroding.
Some leftists console themselves with the thought that his hawkish, take-no-prisoners plank is but a ploy to lure moderate right-wing voters away from the right. Once elected, they believe, Gantz will reveal his true liberal colors. But even if he doesn't, even if his rejection of Tzipi Livni as a potential partner too leftist for his taste is an indication of his true leanings and even if his embrace of Yaalon and the other right-wingers in his recently founded Telem party is more than simple expediency, Gantz would still be lauded as a savior-in-waiting.
In a public arena that essentially ignores the occupation and peace with Palestinians, for a political camp that yearns to elect "anyone but Bibi" and for all Israelis who fear the demise of their democracy more than Netanyahu's future indictment, trial and possible incarceration, Gantz passed his baptism under the media's harsh spotlights with flying colors.
It doesn't hurt that he's handsome as well, with looks typecast for the role of knight in shining armor galloping to the rescue of an Israel in distress. The crowd of about 500 founders, funders and activists that came to Exhibition Gardens for Gantz's launch was mixed, but included prominent contingents of balding men over 50 for whom politics is either hobby or profession, as well as younger women, who, at the risk of sounding sexist, combined their support for Gantz's positions with their admiration for his attractive features.
By the same token, Gantz has embraced the chauvinist slogan "Be pretty and shut up" – or at least speak only in platitudes and generalizations - and turned it into a winning political formula that turned his party's inauguration into a genuine game-changer.
Thus, on the morning after the night before, the political arena is rocked by turbulence that could emerge as tectonic shifts. Gantz's confirmation as Netanyahu's chief rival will effectively rule out any consideration on his part of a political merger that would remove him from the top spot. That would seem to scuttle talk of a centrist union with Lapid, which polls indicate could provide the most lethal one-two combination against Netanyahu.
Lapid seems just as determined to be number one on any combined list, with the caveat that Gantz's occupation of the moderate center-right grounds hitherto held by Lapid could send Yesh Atid into a tailspin in the polls and possibly compel its leader to reconsider.
That leaves Gantz with the option of joining forces with Labor, whose beleaguered leader Avi Gabbay has already announced his willingness to part with the top spot: A Gantz-Gabbay alliance would galvanize the left and provide Gantz with the organizational experience and political infrastructure he sorely needs. But it would also "tar" his party with the leftism associated with Labor and burden him with its historical baggage, thus thwarting his effort to appeal to the right and to present himself as fresh, untainted and willing to break with the past in order to restore it.
That leaves Gantz with the option of adopting the popular Orly Levy, the daughter of former foreign minister and Likud icon David Levy who is planning an independent run: A union with her would confirm Gantz's social credentials, and, according to a poll published on Wednesday in Walla!, add another five seats to Gantz's list, bringing him within striking distance of the Likud.
Alternatively, as some believe, the February 21 deadline for parties to submit their Knesset lists, which could very well coincide with the announcement of Attorney General Avichai Mendelblit's decision on Netanyahu's indictment, could combine to a perfect storm of public pressure that would facilitate a last-minute creation of the grand alliance, incessantly advocated by Ehud Barak, between all the major parties to Netanyahu's left. Barak's wish to be summoned to head such a super-list, which some view as his main motivation, also suffered a blow, however: It depended on no single politician emerging as uncontested leader, a situation that seems to have changed overnight.
The clearest sign of Gantz's new preeminence is the overwhelmingly and universally shrill reaction of Netanyahu and the Likud, who continued to brand Gantz as a leftist even though his statements proved he was anything but. The dream of defeating Netanyahu is still remote and seemingly unrealizable, but for now his opponents are happy to see him sweat and to conjure his worry-wracked sleepless nights. While they fantasize about an election night victory party and concurrently dread a resounding defeat, Netanyahu's detractors are replenishing themselves with copious amounts of schadenfreude, courtesy of their new hero Gantz.
Click the alert icon to follow topics:
ICYMI
Ken Burns' Brilliant 'The U.S. and the Holocaust' Has Only One Problem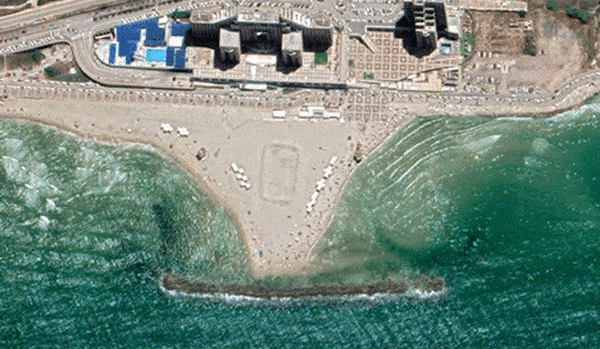 Facing Rapid Rise in Sea Levels, Israel Could Lose Large Parts of Its Coastline by 2050
As Israel Reins in Its Cyberarms Industry, an Ex-intel Officer Is Building a New Empire
How the Queen's Death Changes British Jewry's Most Distinctive Prayer
Chile Community Leaders 'Horrified' by Treatment of Israeli Envoy
Over 120 Countries, but Never Israel: Queen Elizabeth II's Unofficial Boycott