Analysis |
Gabbay's Mission Impossible: Revive a Despondent and Divided Labor Party in Time for Election
The party's unusually raucous party convention offered naked strife and open rebellion that belied the advanced age of most of its activists
Avi Gabbay in the Labor Party convention, January 10, 2019.
Credit: Tomer Appelbaum
In days of yore, before Benjamin Netanyahu seized total control, Likud conferences were renowned for their bloody battles, harsh debates, inflamed emotions and perpetual pandemonium. Their rivals at Labor, with the notable exception of the fierce feud between Yitzhak Rabin and Shimon Peres, preferred to draw blood and to settle accounts in discrete backrooms.
Nowadays the Likud resembles a tough military academy in which no one dare speak without raising a hand and receiving dispensation from Netanyahu the Eternal. Labor, on the other hand, staged a raucous party convention on Thursday night in Tel Aviv that was a cauldron of whistles, heckles, boos, profanities and an unusually savage personal attack on party leader Avi Gabbay by popular and arguably overwrought Member of Knesset Eitan Cabel.
Israel's Arab voters can decide it all. Do they want to? LISTEN to Election Overdose
Subscribe
But the switch in personalities doesn't necessarily mean a reversal of fortunes. Quite the contrary. According to the polls, backed by a random sampling of delegates to Labor's Tenth Conference at Exhibition Gardens in north Tel Aviv, Labor has not only lost its stature as a serious contender in any elections, many are now concerned about its very survival. It's bad enough that reaching double digits increasingly seems like a fanciful dream for the Labor list but its far worse when the curve of the trend shows Labor hovering perilously close to the threshold of 3.25%, below which a party gets no representation at all, on or about election day.
>> How Israel's grandest political party can save itself from destruction | Analysis ■ Save the Israeli Labor Party. It deserves it | Opinion
Which is why, when delegate Arye Menda from Ramle tells me he's convinced Gabbay will rake at least 15 Knesset seats, an outcome once seen as unmitigated disaster, he does so with a twinkle in his eye and with the self-satisfied smile of someone who has mustered up the courage to shoot for the sky. His very willingness to commit was an exception. Many of his fellow delegates preferred to keep their projections to themselves, because these would be seen in one of two ways: Outrageously optimistic or depressingly realistic.
The approval of Gabbay's preferred guidelines and rules for Labor during the upcoming election campaign was supposedly the last internal hurdle he needed to face before the party primaries on February 11 and the start of his race against Yair Lapid and, presumably, former chief of Staff Benny Gantz for the title "most likely next prime minister if the unthinkable happens and Netanyahu isn't reelected." But the intensity of emotions and mutual acrimony on display at the party conference on Tuesday indicate that such a scenario could be no more than wishful thinking. Cabel's intensely emotional onslaught against Gabbay included a melodramatic brandishing of what he described as results of a polygraph test that proved he was telling the truth and, as he stressed repeatedly, that Gabbay was a liar.
The dispute between the two erupted after Cabel had called for Gabbay to resign or be forcibly replaced following his unilateral break up of Zionist Union and the shabby manner in which he announced the divorce, in front of live TV cameras, with Tzipi Livni, flabbergasted by a decision she had no inkling of, squirming by his side. Cabel asserts that in a private conversation last week, Gabby threatened to "bring house down on me and on the party" if his rules won't be adopted by the Convention. Gabbay denied the allegation, though many would testify that it sounds just like him. In an election campaign, one should remember, truth isn't the first casualty: It never makes it onto the battlefield in the first place.
Gabbay did tell cheering delegates that he accepts with love "dispute and criticism" but Cabel's hostile challenge was of a different order. It was open rebellion; a call for mutiny, at a most inopportune time and Gabbay cannot afford to let it stand. If he doesn't clip Cabel's wings in the upcoming party primaries he will have to contend with a permanent and popular rival and, in due course, contender for his throne. Cutting Cabel down to size, however, carries its own risks of yet another split in a party that seems out of breath even when everything is normal.
It should be noted, however, that Cabel's pathos-filled Jeremiad against Gabbay's trampling of Labor's core values and of the doom and gloom that await Labor under his continued leadership stemmed from a dispute over who will be placed where on the party's Knesset lists. What enraged Gabbay's critics the most was his demand to name three personal candidates who will circumvent party primaries and will be parachuted onto the Labor's on Knesset list; two of the three are to be placed among the first ten candidates. The addition of three more reserved seats further constricts the prospects of current MK's to be reelected and crushes those of party activists who wanted to get into the game. But a stranger who happened on the convention on Tuesday would have concluded, based on the explosion of emotion, that Labor was discussing separation of church and state or the very future of Zionism.
There was also some discrepancy between the pandemonium in the convention hall and the decibel level of the whistles and boos that reverberated around its walls and the advancing average age of the audience, in which elderly silver-haired men were the clear majority. "It's a geriatric ward here," noted Reuven's spouse, Yehudit Mande. "Younger people don't commit. They judge everything by expedience. That's why we're the only ones left stuck here." She glanced at the convention posters that proclaimed, "We commit to change", which might strike some as ironic as well, given that it was being held up by people for whom change, more often than not, is bad news.
But it is what it is, or in an Israeli version from the world of sports 'These are the players we have, and with them we're going to win." Gabbay must now lift the spirits of a party demoralized by internal turbulence and dwindling public appeal, convince it that all is not lost, drum up motivation and rekindle belief in victory or at least a respectable performance, - and hope that he's not preaching to a dead corpse. His critics say Gabbay's not up to the task but the general consensus is that it's a mission impossible anyway.
Outside the convention hall there was a long table laden with iPads on which people were asked to volunteer for the campaign or Election Day. It was mostly empty. "The hordes inside aren't exactly trampling each other in order to be the first in line," I noted. The young man tending the stall didn't bat an eyelid. After a suitable pause, he asked, drily "Oh, and outside they are?"
Click the alert icon to follow topics:
ICYMI
Ken Burns' Brilliant 'The U.S. and the Holocaust' Has Only One Problem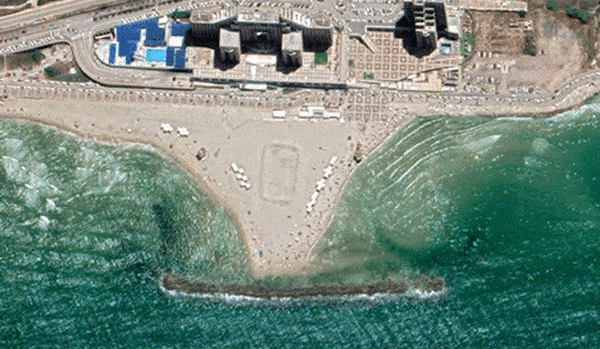 Facing Rapid Rise in Sea Levels, Israel Could Lose Large Parts of Its Coastline by 2050
As Israel Reins in Its Cyberarms Industry, an Ex-intel Officer Is Building a New Empire
How the Queen's Death Changes British Jewry's Most Distinctive Prayer
Chile Community Leaders 'Horrified' by Treatment of Israeli Envoy
Over 120 Countries, but Never Israel: Queen Elizabeth II's Unofficial Boycott