This ultra-Orthodox Woman Is Looking to Make History in the Israeli Election
Michal Zernowitski, 37, is hoping to become the first ultra-Orthodox MK for the Labor Party in April, standing on a platform of equality, social justice and peace. There are hundreds of thousands of Haredi voters just like her, she says
Michal Zernowitski, who is hoping to become Labor's first ultra-Orthodox lawmaker in the April 2019 election. "What's happening in the ultra-Orthodox community is nothing short of a revolution."
Credit: Tomer Appelbaum
Labor, the party that ruled Israel for its first three decades, appears headed for disaster in the upcoming April election. If recent polls prove correct, it could lose more than half of its current number of parliamentary seats – and with them its longtime standing as the biggest party in the center-left bloc.
Needless to say, the race for a realistic spot on the party slate is getting crowded. Who ultimately gets in will be determined by its primary election on February 12 and the party's performance on Election Day, April 9.
Israel's Arab voters can decide it all. Do they want to? LISTEN to Election Overdose
Subscribe
So to step forward for the first time now, you'd have to either be a little bit crazy or truly believe in the party.
Michal Zernowitski is a true believer.
The first ultra-Orthodox woman to run for a Labor Party parliamentary seat, her campaign slogan sums it up best: "Breaking Conventions."
Born and raised in the predominantly ultra-Orthodox city of Bnei Brak, near Tel Aviv, this 37-year-old proud socialist is a graduate of the Beit Yaakov network of schools for religious girls.
She was a member of the inaugural class of women to attend the Jerusalem College of Technology – the first Israeli institute of higher education to serve the ultra-Orthodox community. After receiving her bachelor's degree in computer science, she spent 15 years working as a project manager and developer in high-tech.
Zernowitski lives with her lawyer husband and their four children in Elad, a religious city in central Israel. As is customary among ultra-Orthodox (or Haredi) women, she covers her hair with a wig and wears long skirts.
She officially launched her campaign late last week with a video on social media. Introducing herself to the public, she said she speaks for "hundreds of thousands of ultra-Orthodox [Israelis] who no longer vote automatically for ultra-Orthodox parties, who want change and who believe in equality, social justice and peace."
In an interview with Haaretz in her brand-new campaign headquarters in south Tel Aviv, Zernowitski brushes aside suggestions that she chose a bad time to announce her run. "There's never an ideal time," she says.
Asked to respond to those who say her party has already run its course in history, she says: "Nonsense! Nothing dies that quickly. People forget that Likud also once shrunk down to 12 seats [in 2006] before it rebounded."
As the election campaign heats up, Prime Minister Benjamin Netanyahu and his colleagues have seemingly been using the term "leftist" to mark out any candidate who poses a potential threat. Zernowitski wears the badge proudly, though.
"The fact that people are afraid to use the word is the reason it's become so problematic," she says. "The solution is not running away from it, but rather, explaining to people what being a leftist means – because many simply don't know. When you run away from it, you are essentially collaborating with those who've marked you."
Conflict resolution
The youngest of three children, Zernowitski grew up in what she describes as a "very political" family.
"There were always political discussions going on in the house," she says, "and as a young teenager I remember myself volunteering during one of the elections for an ultra-Orthodox party, calling voters to make sure they went out to cast their ballot."
It was around this time, the early 1990s, that the Oslo Accords – meant to pave the way to an independent Palestinian state – were signed. "I was on the other side of the political map back then," Zernowitski recounts. "I'd actually participate in demonstrations against Oslo, which was not at all common among girls in my community."
But something shifted when she was in her early twenties, she says. Her transformation into a leftist began with a reassessment of her views on the Israeli-Palestinian conflict.
"It started to really bother me that there are a few million Palestinians, living in areas we control, who have no real status," she says. "So, it all began for me out of a concern for human rights."
From there, she says, she found herself drawn into social activism, particularly issues pertaining to women's and workers' rights.
Her views having crystallized, it was time to find a "political home" – in other words, a party that fit her political and social agenda. Initially, that party was Meimad, a now defunct, dovish religious party that ran in several elections but never succeeded in galvanizing the masses. A few years later, while participating in a political training workshop, she by chance met Amir Peretz, who headed the Labor Party from 2005-2007.
"He came up to me and said, 'Why don't you join the party?'" she recounts. "My first thought was, 'Why would I join Labor? There are no religious people in the party. It's a bunch of kibbutzniks, secular Ashkenazi Jews, and lots of veterans of secular youth movements. That's not me.' But Amir reassured me. He said, 'It's not what you think.'"
She became a member in 2011. "It wasn't because I finally saw the light," she says. "I'd held the same views for quite a while – it was just that now I had found the right political home for them."
With the help of Peretz, who became her political mentor, Zernowitski set up a first-of-its-kind ultra-Orthodox division within the Labor Party two years ago. Since its establishment, she says, several hundred ultra-Orthodox Israelis have signed up.
'Terrible exploitation'
Along with her political work, she became active in causes aimed at righting wrongs within her own religious community.
Zernowitski joined a high-profile movement of ultra-Orthodox feminists known as Not Elected, Won't Vote. Its key mission is fighting the ongoing ban on women running for office in ultra-Orthodox parties. In 2013, she ran in Elad's municipal election as head of an all-women's party but failed to gain enough votes for a seat on the city council.
As part of her social activism, Zernowitski heads a movement that fights for the rights of ultra-Orthodox men and women in the workforce. "Ultra-Orthodox workers, especially women, are subject to terrible exploitation," she says. "They are among the lowest-paid workers in the country."
Lack of education is a big reason, she says. Indeed, core subjects like math and science are often neglected in Israel's privately run ultra-Orthodox school system. A key objective of the movement Zernowitski heads is moving more ultra-Orthodox children into the state-run school system. Growing numbers of ultra-Orthodox parents are interested in transferring their children into the state system, she says, but there are not enough spots available to accommodate them all.
"It's important to understand that what's happening in the ultra-Orthodox community in recent years is nothing short of a revolution," she observes. "Many more than you would imagine want to integrate into Israeli society."
For the past two years, Zernowitski has also served on the board of the Israel Women's Network, the country's main feminist lobbying organization. In this capacity, she helped establish a legal hotline for ultra-Orthodox women in the workforce. "In our first year of operation, we received more than a thousand calls," she reports.
The question of whether to create special gender-segregated classes for ultra-Orthodox students at Israeli universities – as a means of encouraging them to pursue higher education – has sparked considerable debate in Israel lately. Zernowitski is fiercely opposed to such segregation. "We can't allow it in the public sphere because it's a slippery slope," she warns. "You start with separate classrooms and you end up with separate sidewalks."
On the issue of the Israeli-Palestinian conflict, she supports a two-state solution and a return to Israel's pre-1967 borders. "Everyone knows it's the only solution," she says. "The question is how much blood will have to be shed on both sides until it happens."
She does not believe the Chief Rabbinate, which controls marriage and divorce in Israel, should be shuttered. On the other hand, neither does she believe its monopoly should be sustained. "There are many people who want to receive their religious services from the Rabbinate, so there's no reason to close it down," she says. "But at the same time, there should be no coercion. Everyone who wants to get married should be able to get married the way he or she wants – and that includes members of the LGBT community."
Surprising as it may sound, there are many other ultra-Orthodox Israelis who think just like her, she says. "I'm talking about the hard-core ultra-Orthodox as well. They were never interested in setting up a state run by halakha," she adds, referring to Jewish religious law.
If she makes it to the Knesset (Labor is currently forecast to win only eight seats), Zernowitski would not be the first ultra-Orthodox woman to represent a left-wing party. That precedent was set in 2008 by Tzvia Greenfeld, who briefly served as a lawmaker for the left-wing Meretz party and is now a columnist for Haaretz.
Before the last election in 2015, Labor joined forces with Hatnuah, a party headed by veteran politician and hawk-turned-dove Tzipi Livni, to form the Zionist Union. Last week, party leader Avi Gabbay fired Livni during a live TV broadcast, accusing her of trying to undermine him. A major bone of contention was whether the party campaign in the election should focus on the cost of living (Gabbay's position) or on the peace process (Livni's position).
Whose side of the debate is Zernowitski on? "Why take a side?" she asks. "The cost of living and peace aren't mutually exclusive. Why not make both part of your platform?"
Click the alert icon to follow topics:
ICYMI
Ken Burns' Brilliant 'The U.S. and the Holocaust' Has Only One Problem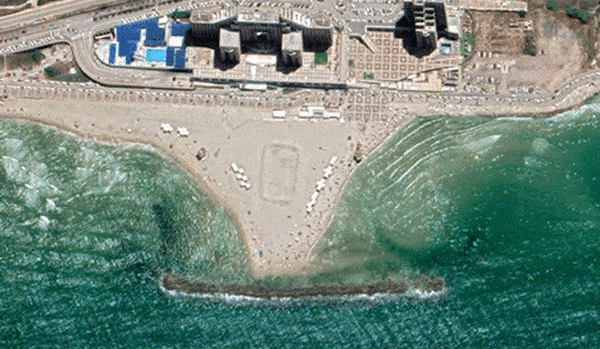 Facing Rapid Rise in Sea Levels, Israel Could Lose Large Parts of Its Coastline by 2050
As Israel Reins in Its Cyberarms Industry, an Ex-intel Officer Is Building a New Empire
How the Queen's Death Changes British Jewry's Most Distinctive Prayer
Chile Community Leaders 'Horrified' by Treatment of Israeli Envoy
Over 120 Countries, but Never Israel: Queen Elizabeth II's Unofficial Boycott