Analysis |
Labor Head Gives Livni an ISIS-style Farewell. It May Cost Him Dearly
Gabbay's cruel humiliation, unprecedented in contemporary politics, could cost him dearly among women voters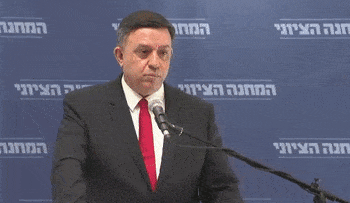 Labor Chairman Avi Gabbay speaks at a press conference on January 1, 2019.
What Avi Gabbay did to Tzipi Livni on Tuesday was reminiscent of ISIS. He slit her throat in front of the cameras after several minutes of verbal torture. Those present at the Zionist Union faction meeting had a tough time dealing with what they were seeing. They averted their eyes and some of them even blurted out words of protest. Immediately afterward they went back to their daily routines.
This cruel humiliation, unprecedented in contemporary politics, is liable to cost Gabbay dearly among women voters. Livni hastened to capitalize on this mood and at the press conference she held later, stressed how touched she was by the admiring and supportive responses she'd already received from women. It's likely she'll play this card down the road; she doesn't have too many aces up her sleeve.
The hookup between Hatnuah headed by Livni – a concept with which we will have to reacquaint ourselves for now – and Labor led by Gabbay didn't work from the get-go. There was no chemistry there. Livni had a hard time hiding her lack of regard for the man who succeeded Isaac Herzog. But forget the sympathy: There were no additional Knesset seats in the offing from this union; on the contrary, seats were being lost. Her appointment as opposition chairwoman, which she forced upon Gabbay when she threatened to bolt from Zionist Union, didn't improve their relationship or the situation of their Knesset faction. Instead, tensions continued to mount on all fronts.
Gabbay interpreted her energetic efforts to forge "connections" in the center-left camp as an attempt at a putsch, aimed at removing him from the Labor leadership to which he had been duly elected. He wasn't mistaken. He saw her close ties with Ehud Barak as an act of treachery. Her mantra about "setting egos aside" drove him crazy. He kept taking it and taking it, until he finally decided to adopt part of the mantra – and set Livni herself aside.
He didn't even look at her when he wished her luck – that's how upset she had made him. He sent her off with a "recommendation" that painted her as subversive, condescending and lacking in integrity and collegiality. The message to any future partners of hers was: You've been warned.
The last straw for Gabbay was on Monday last week when a new election was declared. He convened a press conference in the Knesset and announced that Zionist Union would not sit in a government headed by Benjamin Netanyahu and that the upcoming election amounted to a choice between the current prime minister and himself. That night Livni gave a speech somewhere and again called for setting egos aside.
Gabbay decided to bide his time for eight days, until the legal deadline had passed for any group of MKs to split off and take any of Zionist Union's party funding with them. That deadline was Sunday night at midnight. He did not commission a poll to examine the ramifications of this extreme step – even though Livni has public standing, and among the left-wing "base" is considered more of a leader than he. Getting rid of her might give him some personal satisfaction but won't necessarily bring him victory.
From his perspective, Gabbay was taking a calculated risk. If we had continued this way until the election, he told close associates Tuesday, a collapse was certain. This won't hurt us, it will make us sharper, he said. It won't halt any moves, it will accelerate them. Livni, he believes, was a barrier to rejuvenation, not a catalyst. He was thus tossing a broad hint to Benny Gantz, who, according to various reports, has already nixed teaming up with Livni because he thinks she's too left wing.
Click the alert icon to follow topics:
ICYMI
What if the Big Bang Never Actually Happened?
Why Palestinian Islamic Jihad Rockets Kill So Many Palestinians
'Strangers in My House': Letters Expelled Palestinian Sent Ben-Gurion in 1948, Revealed
AIPAC vs. American Jews: The Toxic Victories of the 'pro-Israel' Lobby
'This Is Crazy': Israeli Embassy Memo Stirs Political Storm in the Balkans
Israel Rewards Hamas for Its Restraint During Gaza Op