Israeli Arab Actor Finds Quiet, and a Booming Career, in Europe
Yousef Sweid, who in his latest role plays an Israeli army officer on a fictional soap opera, says that unlike Israel, in his new home in Berlin 'the political thing and my national identity are not the main subject'
A scene from Zoabi's 'Tel Aviv on Fire.'
Credit: Courtesy of Patricia Peribáñez
"You know how, when you're in a room where the air conditioner is always on, you don't hear it until the moment you turn it off? Only then do you realize that this is really the right kind of quiet," says actor Yousef Sweid, who moved from Israel to Berlin six years ago. Financial considerations were the main impetus for his move, he says, but still, as an Arab born and raised in Israel, it was only when he moved abroad that he suddenly grasped the intensity of the background noise, of the constant rumbling that was part of his life here – the sort that is always hammering away at the peace of mind of too many second-class citizens.
"I discovered that it was just like the air-conditioner noise. Suddenly, whenever I went abroad, I would hear the real quiet, and I would understand how much noise always accompanied my life in Israel," says Sweid, speaking via Skype from Vienna, where he is working on a new play.
"And when I got to Berlin, it was really euphoria, like falling in love – I fell in love with the city, with the languages I hear there, with the people from all over the world there, with the cosmopolitanism," he adds. "Now I realize that like every other place in Europe, Berlin has its problems too, but still, for me, there's no comparison. Here I feel as if I have 'political quiet' in my head."
Haifa-born Sweid, who will turn 43 later this month, moved to Germany in 2013 when his (now ex-)wife, theater director Yael Ronen, received a job offer there. They moved to Berlin with their son, but then separated two years later. Had he been in Israel rather than Berlin when his subsequent relationship with Israeli TV presenter Adi Shilon began, and when they decided to marry, the noise from the air conditioner would have been deafening. As in the case of Lucy Aharish and Tzahi Halevy showed, tolerance for mixed marriages isn't our strong point in this country.
Sweid: "The truth is we didn't really want to get married. I'm not such a big believer in weddings, I don't really get it. I believe that children can make a family, not a wedding. It's a very nice ceremony, and I find weddings very moving, but I don't think it's so relevant today, unless you come from a religious or traditional family. We wanted to get married because we wanted Adi to be able to get a visa. Ultimately, it turned out that it didn't help but we still had a wonderful time. It was fun wedding, just the two of us. At least no one else got involved."
"No one" is a relative term, though. Naturally there were still some righteous folks who couldn't refrain from expressing their horror, on social media, over this "appalling" marriage of an Arab and a Jew. In a post from March 7, not long after it was reported that she is pregnant, Shilon wrote: "Who would have ever believed that I'd be called an enemy of the Jews or a **** of Arabs, just because I chose to love the most amazing man I've ever known in my life. Who would have thought that I'd wake up one morning and decide to try to have a family in a different country, just to be able to feel wanted?
"We've been together for four years, and the more our love grows, so does the darkness and violence back home, which will always be home for both of us. Who would have thought that I wouldn't be able to raise my children who will be the fruit of this love in my own country, without dooming them to a life of hardship, humiliation and violence?"
This experience may be relatively new for Shilon, but Sweid, who lived in Israel for decades, is already used to confronting racism and its nasty side effects. He was casually dismissive of the hateful reactions to their wedding on social media. At times, he was even amused.
"You just block them out and go on with your life," he says. "I remember someone said that people like us are guilty of a Holocaust – that people assimilate in a Holocaust, something like that; it was wild. I find it amusing. I can't believe there are people like that."
He and Shilon are expecting a girl and, not surprisingly, are not planning to return to Israel anytime soon.
"As long as this is the situation, I don't feel we're very wanted there. Not that I'm asking anyone, but as long as I have the option to raise my children in a place where they don't have to deal constantly with their national identity, and can grow up in a place that's a bit more sane – then why not? I could survive in Israel and be okay somehow, but my kids? Why give them that hostile environment when I can give them something much better? I guess my haters will back me up too – 'Yeah, stay there!'" he laughs. "It's not that I'm 'spitting into the well I drank from.' I just think that the well is polluting itself."
Pressure cooker
Opening in Israeli cinemas on Thursday (June 6), and featuring Sweid, "Tel Aviv on Fire" (2018) is a new comedic drama by Sameh Zoabi, a Palestinian director born in a village near Nazareth. The film is about Salam, a novice Palestinian screenwriter who joins a crew that's shooting a soap opera in the West Bank city of Ramallah. His insecurity leads him to take ideas for his work – especially about an Israeli army-officer character – from experiences at the checkpoint he passes through each day. Besides demanding a steady supply of hummus as payment, the officer he met there wants him to skew the plot a bit in favor of the Zionist viewpoint. Meanwhile, Salam's uncle, an advocate of violent Palestinian resistance, is pressuring him in the other direction. Salam has to maneuver somehow within this pressure cooker.
In the movie, which premiered at the 2018 Venice Film Festival and won the award for best film at last year's Haifa Film Festival, Sweid plays the Israeli officer character who stars in the soap opera – pretty ironic considering that in the past he's spoken of being frustrated at almost always being offered Arab roles, hardly ever Jewish ones.
"But even in this case, you've got an Arab actor playing the role of an Israeli general in an Arab soap opera," he smiles. "It's a pretty exaggerated character, with all manner of hard-to-believe improvisations, but it was very funny and I had a lot of fun with it. I could do it in a credible way, of course, but it was fun to see how I see the general – any general, not necessarily a Jewish one – as a character in a soap opera."
The character played by Sweid is a high-ranking officer and part of the establishment but he also flirts with a female Palestinian spy in disguise, who tries to extract military secrets from him. In keeping with the soap-opera genre, he's a macho and charming hunk who's also pompous and extreme.
"The idea was to make it exaggerated, to do it as a joke but also to take it seriously. He's a lover on the one hand, and a general out to seize and conquer, on the other," says Sweid. "I actually wasn't thinking at all about the Israeli aspect, because aside from the attire and the language, nothing gives him away as that. It's not like there's a different personality: Generals don't have a different personalty that's dependent on their nationality. National identity doesn't have much to do with it. But it was amusing to play with the accent, because he's an Arab actor so it's a little hard for him to act in Hebrew. The most fun of all was getting to act the behind-the-scenes bit: of being an actor in a lead role who's unsure of how to portray his character and is totally insecure, but the moment the director says 'Action!' – he becomes incredibly charming and a big commander."
Director Zoabi was Sweid's roommate for two years in the dormitories at Tel Aviv University, when Sweid was studying theater and Zoabi was studying cinema. The idea of making a film about the political pressure cooker in which a Palestinian screenwriter finds himself was based on Zoabi's own experiences and those of colleagues. Is Sweid also familiar with this kind of pressure as an actor?
"No one is pressuring me from outside, do this or do that, but I am familiar with this kind of pressure in my own mind. If a director gives me a part, especially if it's playing an Arab, then I have to think about the kind of statement this character and this script is making. And if it's a racist script, or one that portrays Arabs the way the media always does, in a way that's not too endearing – then I have to turn down the offer," the actor explains.
"There were times when I didn't say no, because I needed the money, and then I ended up betraying myself and what I believe in. These things still haunt me. I won't give examples, but it does happen; it's problematic. I know it also happens to my Jewish friends, when they're asked in Europe or America to play Jews and the parts have a little something anti-Semitic about them. When you get an offer like that, you really agonize. My colleagues tell me things like, 'We came to act in Hollywood, but this part is a little anti-Jewish or anti-Israel.' This internal political dialogue is very present and they have to make a decision: remain loyal to their humane views or compromise. So, actors also have to grapple with a lot of political deliberations."
Could you give one example of something you did that you didn't feel right about?
"I appeared in this stupid Hollywood movie – which didn't do well, which I'm glad about. It was called 'American Assassin' and I had a very small role as a member of the terrorist cell that killed the hero's wife. After his wife's murder, the hero embarks on a quest for revenge. I'm not Muslim, but it bothers me how the portrayal of Islam in these movies is always tied to terrorists and criminals. That's the Western world's view of this world. It doesn't matter that the Americans wrecked an entire country because of their lust for oil, and it doesn't matter that no one fought America for the crime it committed there. No matter what, the Muslims are always shown as the criminals and the Muslim countries as terrorist states. So even if I have nothing to do with that world, I still had a hard time with that role. Not that I mind playing the bad guy, not at all, but when I participate in a film that promotes such shallow and unjustified points of view – I feel like I'm betraying myself. But it was just a small part, and it was at a time when I hadn't been working, and they paid pretty well, so I said: Okay, let's do it. I have a wife and kids, and I have to feed them."
Soon to become a father for the second time (he has a son from his previous marriage), Sweid works at the Maxim Gorki Theater in Berlin and is currently in Vienna, rehearsing the play "Birds" by Lebanese-Canadian writer-director Wajdi Mouawad. The production is being directed by another Israeli who left for German: Itay Tiran. Sweid says that working in Europe has not only shut off the background noise and freed him from the trap of playing one Arab character after another: It has also reminded him that his Arab identity is just one part of him, and not necessarily the most prominent or important one.
"In Israel, every interview I do is always somehow connected to me being Arab. And in Berlin, when I'm interviewed about a new play, it might be mentioned very briefly, but then we just talk about the character, about the work, about what it's like working with the director, about the theater, about life in Berlin. The political thing and my national identity are just a small part of things, not the main subject. It's a part of me just like the fact that I am a man, I'm 42 and married. But it's not the heart of the matter. And it's very refreshing to have something else to talk about," he says with a smile, "and not always have to be dealing with the issue of my national identity. Yes, it's a part of me, but I'm kind of tired of dealing with it at this point."
ICYMI
Ken Burns' Brilliant 'The U.S. and the Holocaust' Has Only One Problem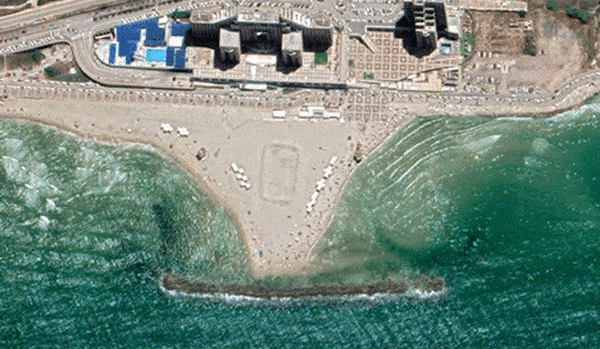 Facing Rapid Rise in Sea Levels, Israel Could Lose Large Parts of Its Coastline by 2050
Lapid to Haaretz: 'I Have Learned to Respect the Left'
The Mossad's Fateful 48 Hours Before the Yom Kippur War
As Israel Reins in Its Cyberarms Industry, an Ex-intel Officer Is Building a New Empire
How the Queen's Death Changes British Jewry's Most Distinctive Prayer