The Dark Story of the Film 'Demon' and Its Director's Tragic Suicide
A violent home, an exorcist father, a city with a dark past - these informed Marcin Wrona's life.
Itay Tiran and Agnieszka Zulewska in "Demons." Poland is already independent in the film, but not liberated from its past demons.
Credit: No credit
Two years ago, on his way to the location where he was filming his movie "Demon," Polish director Marcin Wrona's navigation device broke down.
"Our GPS misled us and we ended up in a small town we didn't know," he said in an interview to the daily Dziennik Polski in October 2014. "It was the middle of the night. All of a sudden a huge synagogue appeared before our eyes. We got out of our car and couldn't believe we were in such a mystic environment," he added. "I interpreted this as an omen signifying that I had to make this movie, not forgetting that we were touching upon a very sensitive and haunting topic."
"Demon," a joint Israeli-Polish production, was filmed in a small village near the town of Bochnia in southern Poland. Wrona later admitted that the hard work and the emotionally charged subject matter inspired a "suicidal atmosphere." He was invited as a guest of honor to the film's debut in Israel last fall, at the Haifa Film Festival, but he never arrived. Ten days earlier, late one night, Wrona's partner and one of the film's producers found him hanging in the bathroom of a hotel room in Gdynia, where he had been a guest at a local film festival.
Polish media reported that the director's suicide was related to alcohol abuse, depression, stress and disappointment over the fact that "Demon," which had been screened earlier at the Toronto Film Festival, had not won a prize at the Gdynia festival.
A review of Wrona's life story and of the interviews he gave to Polish media outlets reveals a disturbing connection between the film's topic – a new take on the old Jewish legend about a tormented, wandering soul – and the life of its creator.
"Demon," now being screened locally, raises anew the old Jewish motif of the dybbuk; in fact, in Hebrew the movie is called "Dybbuk." But in contrast to the famous dybbuk S. Ansky's famous play, the 21st-century screen version doesn't depict a soul separated from the object of its love, which enters the body of the bride – rather a soul murdered in the Holocaust that is bogged down in the blood-soaked soil of Poland and enters the body of the bridegroom.
Israeli actor Itay Tiran portrays a young British man who arrives in a remote Polish village to marry the Polish woman he loves. Shortly before the wedding he discovers human bones in the earth, a disturbing remnant of Jewish life that had been severed a few decades earlier. The bones haunt him, entering his body and turning his merry, vodka-soaked wedding into a horror spectacle – albeit partly comical.
Promising career cut short
Director Wrona was born in 1973 in Tarnow, Poland, half of whose population was Jewish on the eve of World War II; they were murdered in Auschwitz, Belzec, Plaszow and in forests near the town. Wrona's violent father, who beat his wife and tormented his children, made his living as an exorcist. As a child, Marcin used to watch him in action.
Wrona studied film in Poland, and early on became a promising director. Famous for his TV series and movies, he was apparently overly competitive and aggressive if he felt people underestimated him. His first full length feature, "My Flesh My Blood" (2009), deals with a dying Polish boxer who wants a child. He has one with a Vietnamese migrant, who agrees to do so in exchange for Polish citizenship, and they fall in love. Wrona said this was the first movie to deal with migrants, an invisible community in his country. His next effort, "The Baptism" (2010), is about a criminal whose past haunts him as he comes to Warsaw to be a godfather to his good friend's child.
The dybbuk that takes hold of Itay Tiran in "Demon" is a metaphor for the dybbuk that has taken hold of Polish society in recent decades. Jews have almost completely disappeared from there, but the country's Jewish past continues to haunt it.
A tangible example of this surfaced last week when infrastructure work in Warsaw uncovered a Torah scroll and other Jewish artifacts that had been buried for dozens of years. Weeks earlier, at the inauguration of a museum in the village of Markowa, honoring Poles who saved Jews during the Holocaust, Poland's president talked about the courage of those countrymen, but didn't mention the Poles who murdered their Jewish neighbors or who handed them over to the Nazis.
There are other, even more surreal examples. In the Warsaw neighborhood of Muranow, erected on the ruins of the ghetto, residents talk from time to time about objects in their homes moving around, strange sounds and other bizarre occurrences; some have even been documented in YouTube clips.
Still, the Jewish-Polish dybbuk is mainly a metaphor. One can wander in Krakow's Kazmierz quarter, where the Jewish community used to live, to get a sense of this prevalent phenomenon. Local restaurants pretending to be Jewish businesses, the sound of Klezmer music, signs in Hebrew inviting one to "a Jewish restaurant" or Israeli meal – all testify to the obsession that's gripped the place, to the preoccupation with the culture and the lives that have disappeared. The annual Jewish festival in Krakow and the Jewish Museum that opened recently in Warsaw are also evidence of this restless pursuit.
Polish movies in recent years have also joined this trend. The classic example of this was "Ida" (2013), the Oscar-winning movie by the British-Polish director Pawel Pawlikovski about a Polish nun who discovers that her real name is Ida Loewenstern and that her family was murdered in the Holocaust by locals. Here too there are human bones in the ground, embodying the tragedy of Poland's Jews – in this case those murdered by their neighbors.
Public discourse surrounding the part Poles played in the annihilation of European Jewry, reflected in "Ida," has been rocking Poland ever since the publication of "Neighbors," written by Polish-American historian Jan Tomasz Gross in 2001. Gross exposed a massacre committed by Polish villagers against their Jewish neighbors during the Holocaust, and his book was turned into a 2012 movie called "Aftermath," directed by Polish director Wladislaw Pasikowski. Then came "Run Boy Run" – a 2013 German-Polish-French co-production based on a story by Israeli author Uri Orlev, about a young Jewish Pole who escapes from the Warsaw Ghetto and survives the Holocaust under an assumed identity.
As for "Demon," Itay Tiran's character is inspired by the wedding motif so deeply embedded in Polish culture since the production of the play "The Wedding" by Stanislaw Wyspianski, at the turn of the 20th century (the film version by Andrzej Wajda appeared in 1972). There, too, a marital ceremony was charged with seminal national events – namely, the struggle for Poland's independence. At Tiran's wedding in the film, Poland is already independent and liberated from the burden of foreign domination and dictatorship. But physical liberation did not rid the Polish spirit of its past demons. As Jan Tomasz Gross explained to Haaretz recently, "In order to free themselves from this curse, all Poles have to do is say that terrible things happened in our grandfathers' or great-grandfathers' generation and shed a tear over those who were killed. That's all."
"Demon" is one more step, definitely not the last, on the road to liberation.
So was it the demons of the past that persecuted the tormented director or more recent, local circumstances? We'll probably never know. His young widow had to come to the Haifa Festival alone, accepting in his name a prize in the category called "Between Israeli and Jewish." "The judges and the festival management offer their condolences to the family," the jury announced, "and are sorry at the loss of a rising talent in Poland's cultural scene."
Click the alert icon to follow topics:
ICYMI
Ken Burns' Brilliant 'The U.S. and the Holocaust' Has Only One Problem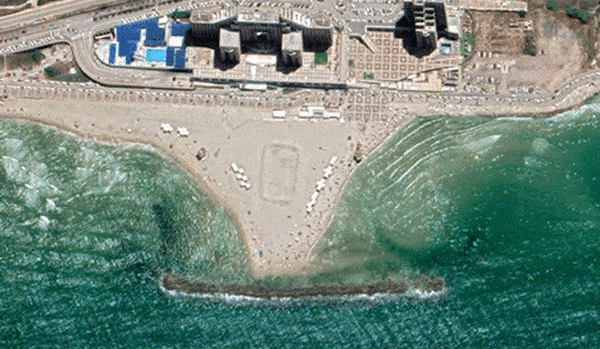 Facing Rapid Rise in Sea Levels, Israel Could Lose Large Parts of Its Coastline by 2050
As Israel Reins in Its Cyberarms Industry, an Ex-intel Officer Is Building a New Empire
How the Queen's Death Changes British Jewry's Most Distinctive Prayer
Chile Community Leaders 'Horrified' by Treatment of Israeli Envoy
Over 120 Countries, but Never Israel: Queen Elizabeth II's Unofficial Boycott