'Do I Really Want to Die for a Graphic Novel?'
Cartoonist Asaf Hanuka has every reason to believe his collaboration with 'Gomorrah' author, Roberto Saviano, puts his life at risk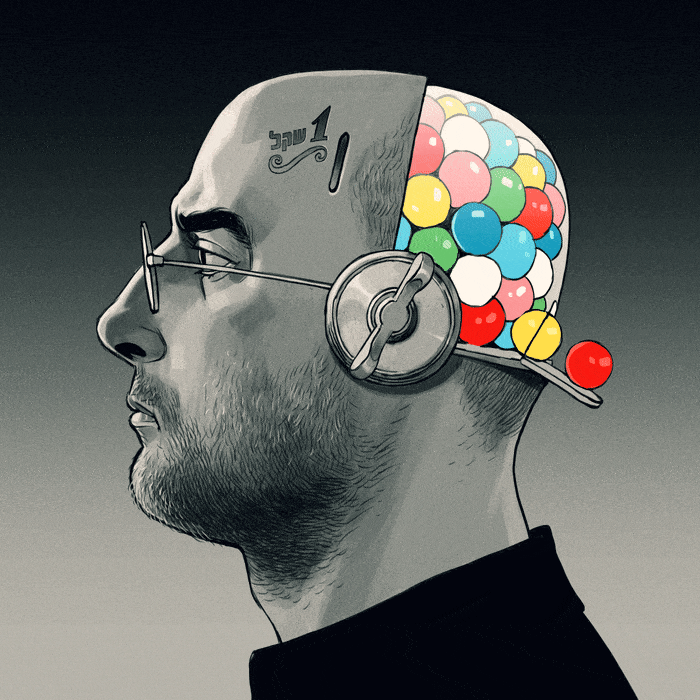 Illustration: Asaf Hanuka
The place: The offices of a publishing company in Milan, Italy. The year: 2016. Cartoonist Asaf Hanuka is sitting in the offices and waiting. At some point, it's suggested that he approach the window in order to see the arrival of his "date" for that day. Hanuka is curious, approaches, and when he looks down into the street, he notices two big black vehicles, heavy and armored, braking one after the other alongside the building. The doors of the cars open and eight police officers stream out, glancing quickly to the sides, looking for possible threats.
Immediately afterward, a bald man with stubble, the reason for all this commotion, exits one of the cars and enters the gates of the publishing house. He is apparently not overly bothered . He is already accustomed to this routine. He is mainly hurrying to meet the Israeli cartoonist waiting for him.
Before we started working on it I told myself, why should I get involved in a project of working on a book now, so that someone will kill me?

Asaf Hanuka
Thus, already in his first meeting with Roberto Saviano, Hanuka got a glimpse of the way the Italian's author's life has been for too many years. In 2006, when he published his book "Gomorrah" – which became a best seller, and which was followed by a successful film that won an award at the Cannes International Film Festival an admired TV series that lasted for five seasons – Saviano was only 26, an investigative journalist who was determined to tell the truth about the Mafia in the Naples area.
But since he published the book, the constant threat hovering over him has determined his daily routine. He doesn't move without a group of policemen safeguarding him, he frequently changes his residence, and he occasionally uses a false identity.
The heads of the crime syndicates in Italy were so angry that he dared to reveal their cruel and murderous methods of operation that they decided to do what they know how to do well: to make anyone who crosses them live like a shadow of themselves, to crush their sense of confidence, and to ensure that the basic human freedom to do the simplest and most everyday things would become a distant memory for them, a persistent longing.
Saviano turned to to Hanuka after he decided to tell the world what it's like to live under heavy guard and with death threats for such a long time. He thought the best way to convey his experience of the past 16 years would be a graphic novel, and after being profoundly impressed by "The Realist" – Hanuka's book, which was awarded the prestigious Eisner Prize in 2016 – proposed to the Israeli artist that they collaborate.
After seven years of work, the graphic novel "I'm Still Alive" was recently published in Italian, French and Spanish, and will soon be released in English and German.
In the book, Saviano recalls how as a child, he witnessed Mafia assassinations in the street in broad daylight; how his book's huge success included the denial of his personal freedom; how he was promised that being closely guarded would last for only a few weeks, which in the end became an eternity; and how he was once sent to stay on a desert island when the threats against him intensified, and another time to live under a false identity in New York.
Here on earth, in the lowest place, there's a battle between Ashkenazim and Mizrahim, at least in terms of culture.

Asaf Hanuka
Particularly powerful are the moments in the book when Saviano affords us a glimpse of his wounded soul, his pain, despair the fear of death. These are the moments when Hanuka's art comes to the fore: a huge bullet hanging over the head of Saviano the child, hinting at the future awaiting him; the adult Saviano imprisoned inside an aquarium in a large, prominent and colorful panel, after he is sent to sleep with the fishes; the courageous writer who manages to maintain a façade every day, constantly, but is physically shattered when someone hurts him in an especially sensitive place and who sinks in an ocean of tears stored deep inside him, in a threatening, sad and beautiful blue, with a silent shark swimming above him.
Although the Hebrew edition of "I'm Still in Alive" is not yet in the planning stage, one can get an impression of one of the book's chapters in Holon, at the Israeli Cartoon Museum. It is displayed in the exhibition "The First Mizrahi Astronaut," which opened last week and is dedicated to Hanuka's work. This is the first comprehensive exhibit covering selected episodes from the career of one of the most talented, productive and interesting cartoonists working in Israel.
Eight months after he illustrated the last column of "The Realist," his personal and autobiographical weekly comic, which was published for 12 years in the daily business newspaper Calcalist, Hanuka agrees to pause and assess the situation. "This exhibition is a retrospective, a kind of summary of my life," he says, and immediately that neurotic cloud that is so familiar to readers of "The Realist" comes down and envelops him.
"That means that I'm dead and have to be reborn. Now something really exciting has to happen, otherwise I don't know what will happen. It's impossible simply to continue. There has to be some happy final chord. Especially since the end is near; after all, I'm almost 50."
He's already disturbed by this round number, although he's only 48, travels freely all over the world without security guards and without threats to his life, will soon be completing two years as the head of the Department of Visual Communication at the Shenkar College of Engineering, Design and Art, and has under his belt two of the most desirable awards in the world of cartoons: the Eisner Award for "The Realist" and the Gold Prize the International Manga Award, awarded to manga creators working outside Japan, for the graphic novel "The Divine."
Another graphic novel is already in the works ("The Arab Jew," which was published in installments in Calcalist), an option for an animated film is on the table (an adaptation of Saviano's book), and an NFT project he initiated with his brother, renowned comics illustrator Tomer Hanuka is taking shape, because after all, it's 2022.
Let's begin with a Mizrahi prime minister, and we'll go on from there

Asaf Hanuka
At the exhibit, you can find a chapter from the new graphic novel he created with Saviano and several dozen columns of "The Realist." But you can also find a sampling from "The Divine," which he created along with his twin brother Tomer and with Boaz Lavie, and a short graphic novel he created with his old friend Etgar Keret, "Streets of Rage" – the first graphic novel written by the two in 1997, one of the finest classics of Israeli comics, and which was published again three years ago in a new edition.
When Hanuka talks about this story, his face lights up. "It happens again and again, Etgar writes a cool story and I don't have time to illustrate it, because my life has somehow become filled with tasks," he says. "But on the other hand, I really like his stories, and when I read them I really want to illustrate them. We started working together at a very young age, and he convinced me that if you combine a drawing with a text and arrange it in sequence, and it works, an experience on the level of magic is created. It's a pipeline where if you enter it, you exit a bit different."
Portrait of a brave man
Superhoes appear in his comics again and again, and it's no accident. They in Kiryat Ono where his family lived, in the 1980s and saved his life. A devoted aunt from the U.S. would pack superhero comics in bundles, his father, who worked for El Al, made sure they arrived in Israel, and the pair of identical twins, Asaf and Tomer Hanuka, who were born in 1974, fell upon the illustrated adventures of the larger-than-life heroes with great enthusiasm. They pulled the two boys out of the sleepy suburban reality that surrounded them into a parallel universe of exciting adventures, secret identities and huge battles. The twins started to draw these heroes obsessively, and to dream that one day they would also be able to tell their own stories by means of this magical combination of words and pictures.
This dream started to come true already during Hanuka's military service as a graphic artist for the Israel Defense Forces newspaper Bamahane. He eventually received permission from his editors to publish comics on the back page of the weekly, and invited a long series of cartoonists – Rutu Modan, Yirmi Pinkus, Michel Kichka and others – to publish their own columns there.
Once, he dared to publish some of his own comics there, such as adaptations of Etgar Keret's stories. A meeting with Keret convinced the two to decide to work together, which is how they collaborated on "Streets of Rage." It proved that even in Israel, it was possible to create complex and intelligent cartoons for an adult audience, and they used Keret's name in order to spread the news to new audiences.
In 2000, Hanuka published "Bipolar" with his brother Tomer. The book was highly praised in the United States, and four years later came "Pizzeria Kamikaze," his lovely graphic adaptation of Keret's story "Kneller's Happy Campers," about a young boy who sets out on a journey to the next world in search of his girlfriend, who killed herself. This time, the combination of Keret's original story and Hanuka's expressive illustration reached the height of the comics world: "Pizzeria Kamikaze" was a candidate for the Eisner Award for the best foreign-language book.
Because earning a living from comics in Israel was a distant dream in those years, or even a sad joke, Hanuka – who after his military service went to study illustration in Paris – made a living for years by drawing illustrations and caricatures for leading foreign newspapers, including The New York Times, Time Magazine, and Rolling Stone.
At the same time he taught at Shenkar, worked with Ari Folman on the film "Waltz with Bashir," and in 2009 accepted an offer to publish a weekly autobiographical cartoon on a regular basis in financial newspaper Calcalist. He didn't know that this column would survive for 12 years, lead him to drawing about 500 pages, and most of all help him to develop his own unique language. He poured his daily life into "The Realist," telling stories from his own life and that of his family (his wife, illustrator Hilit Shefer, and their two children) and seasoned it with the atmosphere of Israel in general, and Tel Aviv in particular.
The peeling Middle Eastern city served as background to Hanuka's illustrated routine, his daily struggle to survive the bureaucracy, the wars, parenthood, his relationship, the cost of living, the ethnic rift. "The Realist" was also the place where Hanuka created and revealed a courageous self-portrait as someone dealing every day anew with the Sisyphean challenge of managing to be a man, a father, a husband, and an island of family stability, and at the same time an artist with a deadline who had to deliver the goods every week."
"What I do comes out best if I manage to peel off the automatic mechanisms, in other words, how to draw, how to draw nicely, what to write, what to say," he says. "Because when I work, the first things that usually emerge are a bunch of clichés. Often it looks nice, but it isn't real. I think that in autobiographical work something authentic has meaning, and this authenticity can't be created without giving up the automatic defenses of how do I present myself, what do I want people to think of me, what do I really think."
As the years passed and "The Realist" progressed, Hanuka's language gradually became more sophisticated; his work became more distilled; he became an expert at combining fantasy and realism, reality and imagination, text and illustration; and used this alchemy to create cartoons that, at their best, managed to be thought-provoking and beautiful at o the same time. This magic worked abroad, too.
His works have been compiled into books published in 12 languages. When the U.S. edition of "The Realist" won the Eisner Award, Hanuka suddenly became one of Israel's leading cartoonists, and along with Modan became the most familiar and successful Israeli cartoonist outside the country. But in October, he decided to bring "The Realist" to an end. In his last strip, he drew himself as a circus performer who sticks his head into a lion's jaws, as a human target of a knife-thrower, and as a magician who pulls a bleeding heart out of his hat and saws himself into two parts. That's how he chose to conclude.
"I feel that as a magician I've kind of run out of tricks, I used the entire box, I was afraid that I'm starting to repeat myself and that I'm already identifying patterns in the way I do things, and that means that I'm actually creating clichés," he says, explaining his decision to end the comic.
The interview with him takes place in his office in Shenkar. Manga books are scattered around the room; Alan Moore's classic graphic novel "Watchmen" peers out from one shelf; editions of "The Realist" in various languages stand nearby, as does the Italian version of "I'm Still Alive." His appointment as head of the Department of Visual Communication influenced his decision to end the prolonged adventure of "The Realist."
"I've been teaching here for the past 20 years," he says. "For years I was mainly a lecturer on comics and illustration, and at some point this opportunity arose. It wasn't my childhood dream to be a department head, I dreamed of being a cartoonist. So all the time I have that little boy in my head, who wants only to draw comics and cries if he doesn't get what he wants, but now I've decided that the time has come to tell him, 'Here, you got what you wanted, and now it's the turn of the grown-up Asaf.'"
In the line of fire
At his first meeting with Saviano in Milan, at the publishing house, they sat for several hours and talked, says Hanuka. Saviano told him about how he walked around in his city of Naples when he was a 26-year-old student, amongst all kinds of crime and murder, documented everything, and then wrote a book that was a combination of journalism and prose.
"And then he told me that this book was too successful, and because of that policeman asked him to come to hide at the police station for two weeks, but what happened was that he stayed there for 16 years," he recalls. "The threat to his life was never removed. He became an important figure in Italy, appeared frequently on television, gained popularity in the social media, writes and argues about things and is involved in endless legal battles with the Mafia heads. But he doesn't have a normal life. He can't go outside, he has no family, he has no ties. And that suits cartoons, because in comics the characters are closed inside frames, just as he is closed inside rooms.
"Saviano explained to him that always, everywhere, he and his bodyguards have to travel in two cars. "It turns out that most assassination attempts mean blowing up the car, so they always travel like that in order to reduce the chances of success by 50 percent," says Hanuka. "After we spoke a little, he told me: 'Come, I want to show you something.'"
The Italian writer wanted to give the Israeli cartoonist a taste of his life, and so they went out for a walk in the park, surrounded by eight bodyguards. Occasionally someone approached Saviano, wanting to tell him something or to shake his hand, and the bodyguards stopped every such person, checking that he didn't pose a risk to the isolated author.
"We sat in a café in the middle of the park and the policemen sat at tables around us, drank coffee wearing their earphones, and each time a different person approached Roberto and shook his hand. I had to understand this character in order to understand how to draw the situation. In the end I drew it very dry, very simple, not decorative drawing. After all, it's not a story of superheroes. There are no battles or big punches, so all that's left is my ability to cause the reader to feel something in the pace of the reading. That's when I decided that I had to draw it as practical and non-aesthetic as possible."
Why the least aesthetic as possible?
"Because then, very easily, the illustrator becomes the subject. How well I drew, how many details I drew, what lovely shading I did. When the illustration is more practical, it comes across better. In comics, there's always a battle between the illustration that wants to be aesthetic and the fact that in the end, it's only one unit in a sequence of drawings, a unit with a role to play, and it's more important for it to play its role than to be a pretty picture in itself. So I tried to narrow it as much as possible. My real challenge was to draw his face. I feel that if I could, I would redraw all the faces."
As far as that?
"Yes, because it's not uniform enough. Nor am I sure that it resembles him enough."
In your meetings with Saviano, with all this security all around and the knowledge that there are threats to his life, how did you feel? Were you afraid? Were you nervous? Or did you feel as though you were in a bad spy film?
"More a Mafia film, but a true one, a documentary. Because they all have weapons and I know that he's a target, and I know that in some way I resemble him a bit, because I'm also bald and don't shave much and it's possible that some assassin will come later and not notice my glasses, and then I'm in the line of fire. But very soon I'm over that, because after all we're sitting in a restaurant and everything is great."
"There's something very direct about him, he has a lot of stories, he's a fascinating conversationalist. He's very familiar with Israel, so that moment of fear was over quite quickly. Before we started working on it I told myself, why should I get involved in a project of working on a book now, so that someone will kill me? Do I really want to die for a graphic novel? But in the end there was something so powerful about this person and his story that I simply couldn't say no to this project."
The secret identity: Mizrahi
Hanuka chose to call the museum exhibit "The First Mizrahi Astronaut," like the subhead of the second volume of "The Realist," which was published last year. "It's a kind of paradox. After all, an astronaut is something terribly external. I believe that in space there aren't really Ashkenazim and Mizrahim, so it means looking at planet Earth from outside and seeing everything beautiful and blue.״
״Whereas here on earth, in the lowest place, there's a battle between Ashkenazim and Mizrahim, at least in terms of culture. It seems to me something central in Israeli society and culture. And for me personally, this matter of my Mizrahi identity – like the secret identity of the superheroes – is something that I've dealt with a great amount and written about, so it's something significant in the development of my understanding of who I am. As far as I'm concerned it's the local conflict, between Israel and my childhood in this place, and some attempt to look at everything from a distance, from a place of American pop culture, from an imaginary place without any gravity."
We still haven't had a Mizrahi astronaut.
"Let's begin with a Mizrahi prime minister, and we'll go on from there."
There are almost no Mizrahim on the comics scene in Israel either. At least among the old guard.
"True."
Do you feel a bit like an astronaut, a bit like an outsider, there too?
"A cartoonist is a tribe in itself. When I travel to a festival in France and meet a Japanese cartoonist there, I'll feel some connection to him, because although we're from a different religion and a different culture, and barely understand each other, in our daily lives we do the same thing, so the closeness is automatic.
"The Israeli illustrators next to whom I grew up are like my family, like a tribe. The issue of Ashkenazim and Mizrahim is related to something else. To where and how I grew up, to the questions I asked myself as a child when I tried to understand my place in Israeli society. In the 1980s, no matter where I looked in the public arena – at the government or on television or in positions of power – nobody looked like the people from my family.
So what's our place in this place?
"There was some kind of crisis there, when I told myself, 'I don't really belong here, but there are those cool people who jump between buildings and have colorful clothes and superpowers, and that seemed really nice to me, so maybe I live there, because I'm more suited to there.' But it's more complicated than that. I don't know whether there's a Mizrahi identity today, there are many intermediate hues, there's a complex and broad history, and there's baggage and hard feelings, and there's still discrimination.״
"I don't represent the Mizrahi majority and I don't speak in its name, so the best thing I can do from my unimportant place as a cartoonist is to speak honestly about my experience. Maybe that will change something and maybe not. It's the most I can do."
Click the alert icon to follow topics:
ICYMI
What if the Big Bang Never Actually Happened?
'Strangers in My House': Letters Expelled Palestinian Sent Ben-Gurion in 1948, Revealed
AIPAC vs. American Jews: The Toxic Victories of the 'pro-Israel' Lobby
'This Is Crazy': Israeli Embassy Memo Stirs Political Storm in the Balkans
Israel Rewards Hamas for Its Restraint During Gaza Op
Gazans Are Tired of Pointless Wars and Destruction, and Hamas Listens to Them