Genius, Sex Symbol, ultra-Orthodox: Revisiting an Israeli Icon
Uri Zohar, one of the most prominent Israeli directors of the 1960s and 1970s and once a symbol of wild Tel Aviv, has returned to the screen – after decades as an ultra-Orthodox rabbi
Uri Zohar in a photo from the 1960s.
Credit: Yakov Agor
"Sometimes I suddenly feel as though I'm living back in Tel Aviv, and then I look around and say, 'Hold on, what are you doing here, anyway? Who are these religious guys? What are they doing here with me? Now, apparently, in my old age, it's coming from some deep place in my subconscious, and suddenly it leaps out at me, like a kind of reflex."
Uri Zohar (from "Zohar – The Return")
Four decades after he put an end to his romance with the gods of film, exchanging it for a relationship with other deities, Uri Zohar, one of the most prominent Israeli figures of the 1960s and 1970s, has returned.
The former actor, director and entertainer, who for several decades now has very much avoided the spotlight, agreed to star in a new documentary film in which he tells his life story and speaks with impressive frankness about the way in which he – today an ultra-Orthodox rabbi of 83 - reflects on his past.
Zohar's movies captured the essence of 'Israeliness': anyone wishing to understand Israeli culture and society must become acquainted with Zohar's work. In the new documentary he talks openly about his secular days, the seminal films he made, the wild period he spent with his buddies from the wild 'Lool' Gang, about his surprising turn to religion and also about the question of whether he ever longs for that tempestuous, secular past.
The most fascinating moments in "Zohar: The Return", made by Dani Rosenberg and Yaniv Segalovich, are in fact the ones that hide behind the words. They are moments that reveal the inner conflict with which Zohar continues to contend, his struggle to rid himself of the old god with the camera, who still pursues him, and the remnants of his passion for the art of cinema, which refuse to disappear. Despite his determined attempts to release himself from them, and bury them – his success in this task has been only partial.
This is obvious, for example, in an amusing sequence that takes place in a cemetery. A small camera crew, led by Zohar, goes out to film a scene for a short feature film he directed about 10 years ago for a chain of ultra-Orthodox schools. Rabbi Zohar shows up at a large cemetery with a number of recent film school graduates. They need a funeral scene for the film and for budgetary reasons they have decided to hitch a ride on a real funeral, instead of staging one. Zohar reasons it will be no problem to plant his actor within a real funeral – and to film that.
The novice filmmakers are not really comfortable with this decision. After all, the funeral participants are mourners, people deep in sorrow. But when it comes to concerns like these – Zohar has no God. "No one knows what you are filming," he says, as he puts them all to work.
He sends his crew running around the cemetery, urges the cameraman to grab good angles for his shots and seeds his actor among the dozens of mourners who are accompanying the anonymous deceased on his final journey. When the actor expresses his apprehension that his presence will not be welcome, Zohar reassures him. "No one here knows who's who and what's what. We are all Jews, Rabbi, and we all mourn," Zohar says to him.
His ultra-Orthodox garb may help him blend into the crowd, but Zohar does not manage to conceal his professionalism and his cinematic determination. He is prepared to bend the world to his will in order to obtain one small scene for a short film.
Finally, when the filming ends, Rabbi Zohar makes a reappearance: "In these dead people there is more vitality than there is in that," he says pointing at the camera. "That's for sure. That is total death. That is the embodiment of death. Really."
Impressive frankness
Zohar's first picture, the modernist "Hor Balevana" ("A Hole in the Moon"), released in 1964, was one of the first local films to disregard the Zionist ethos, and helped pave the way for personal Israeli filmmaking.
Over 12 years, Zohar directed 11 full-length films, as well as a number of short movies and a television series, "Lool" ("Chicken Coop"), and also had acting roles in a number of movies from other directors. A gifted actor as well, Zohar appeared in many of his films, and recruited his friends – including the great singer Arik Einstein – to star alongside him.
he popular films he made – "Moishe Aircondition," "Fish, Football and Girls" ("Hashekhuna Shelanu"), "Every Bastard a King," "Take Off" and "Boys Will Never Believe It" ("Hatarnegol") – did well at the box office and enabled him to finance a series of more personal films. In fact, he was one of the most prolific Israeli directors of that era.
His 1967 film "Three Days and a Child" had its premiere at the Cannes Film Festival, where its star Oded Kotler was awarded the prize for best actor. His Tel Aviv trilogy – "Peeping Toms" ("Metzitzim"), "Big Eyes" and "Save the Lifeguard" – captured a Tel Aviv reality that was based in part on the bohemian life of the "Lool gang," the group of artists and musicians that coalesced around Zohar and Einstein in the late 1960s and appeared in the TV show. Zohar was able to convey the dilemmas that bothered many of his generation onto the big screen, and was one of the few Israeli directors capable of using cinema as both an artistic and commercial medium.
In the mid-1970s, he started to become religiously observant, and gradually began to cut himself off from local cinema and the cultural scene in general.
The spark that was ignited
"Then I did an experiment on myself for a few years. I said, 'Maybe I'm deceiving myself? Maybe I really did have it good there?' So I wasn't embarrassed and I phoned all my friends. Maybe let's meet up at Avigdor's shack on Sheraton Beach?' Everyone was very glad and they came. Hugs, kisses, we start drinking, smoking, it's all good. Talking and that. The talk was the same talk, the laughs were the same laughs and I'm participating, I'm not cut off. But gradually I begin to feel that I don't really miss it. It's not making me feel good. I'm no longer there. After about a quarter of an hour, I felt that I wanted to go back to Jerusalem. It was a feeling of a widening gap."
Uri Zohar (from "Zohar – The Return")
More than a decade has passed since Rosenberg and Segalovich began work on "Zohar – The Return." It started with a telephone call to Rosenberg from Renen Schorr, director of the Sam Spiegel Film and Television School in Jerusalem, who told him that Zohar wanted to make a short film and was looking for someone to help him. Rosenberg set up a meeting with the rabbi, who told him he had volunteered to direct a short film. The plot, related Zohar, followed a dancer who finds God and tries to decide whether to leave the world of the stage she loves so much for the world of religion. It was impossible not to see the resemblance to Zohar's own life story, and Rosenberg he would be glad to help. "But I have one request," he added. "I want to accompany you through this process, document it and talk to you in front of the camera."
Zohar agreed, Segalovich joined the project and together the three of them set out to make Zohar's first film in the 30 years since he cut himself off from the movie world. "Just as in 'Big Eyes" and 'Peeping Toms,' he didn't look for actors, but rather for people whose lives were close to those of the characters," relates Segalovich. "They were all non-actors, most notably the principal actress, who was a student at a school for newly religious girls. His work method, the way he directs, was very impulsive and intuitive. You can see the actor in him because he demonstrates to the players what they should do, he writes the script while acting, he changes the words – it's all dynamic and alive and tempestuous."
As the camera documents Zohar directing, instructing his actress, showing her what to do and how to speak her text, his ambivalence about film inundates the frame. On the one hand, it is impossible to miss the gleam in his eyes, the spark that has been ignited there, the incredibly talented actor and director that bursts out of him. On the other hand, it doesn't take very long for this to reverse itself. "I'm discouraged," he says, approaching the camera, looking straight at it and confessing: "It looks as though I am active and happy but inside – a vacuum."
Don't say you're discouraged, it's delightful, says Rosenberg.
"Sure it's delightful, wasting our lives is delightful," replies Zohar sarcastically.
He recognizes the magical power of cinema, explains Rosenberg in an interview. "He is attracted to it like a moth to a flame and therefore he is also afraid of it, afraid that the demons that once emerged from him might re-emerge. Therefore he relates to film as real death, he attributes magical meanings to it because for him film is a destructive force," he says. "At the same time, he still believes in film, lives the whole scene. In his secular period he worshipped the gods of cinema, and in this film he explains that for him the cinematic work was the be-all and end-all, and that for its sake he sacrificed all he had."
Inner demons
Rosenberg and Segalovich, both of them 39, studied together at Sam Speigel. Among his other credits, Rosenberg made the films "Homeland" ("Beit Avi"), a Yiddish-and-Hebrew-language feature, and the documentary "Susya," and was a partner in the making of the TV series "Johnny and the Knights of the Galilee" (together with Tom Shoval), for Yes Drama, and "Queens," which premiered this week on Hot cable TV.
Segalovich wrote and directed the short film "An Average Story," which was nominated for an Ophir Prize, and in recent years he has been working mostly as an editor. Nearly a decade has gone by since the two of them helped Zohar make his film and documented the work on it but they have maintained a continuous relationship with him. Every two or three weeks they go to Jerusalem to visit him and together read the writings of the 18th-century Rabbi Moshe Chaim Luzzatto.
"Zohar – The Return" proceeds along two planes: The one is based on the "making of" format, which captures the production of the movie about the dancer who becomes religious, while lthe other revolves around conversations between the filmmakers and Zohar in a car, on the way to and from the filming. Some of the conversations were recorded back then, and others at later stages. In any case, the filmed materials were shelved shortly after they were made, and for years no one even looked at them.
"After we finished filming, we edited the scenes but then the dancer became religiously observant, and asked that we not show the material, and Uri also asked us to keep it under wraps because he felt uncomfortable with it," relates Rosenberg. "So we complied with their request, and that's how a half-hour version of 'the making of' lay in a drawer for a number of years. "
For years, though, Segalovich felt the urge to do something with the film. Rosenberg was less keen on the idea. "For me, the friendship with him was the great reward I had. The scenes that document him directing – I felt that they could stay in the drawer. However, the rumors about a shelved film about Uri Zohar who had gone back to directing started to spread among his admirers and at a home screening of his films about two years ago in Tel Aviv, the organizers asked Rosenberg and Segalovich to screen their film. They did.
"The screening was overwhelming, maybe in part because of the enthralled audience. And afterwards everyone came up to me and said that we were sinning against Israeli culture by having decided to shelve the film," relates Rosenberg.
After that, they obtained funding from Hot Channel 8 and the New Fund for Cinema and TV, and began to interweave the footage of the filming and the conversations with Zohar. Since he told his life story in those conversations, they filled the screen with (many) images from his films and (a few) archival shots.
"This stemmed from the realization that in most of his films there is one protagonist, a male, who is in a destructive batle with the evil impulse. That is, Zohar tells his own story in nearly each of his films," notes Rosenberg. "This shows up not only in 'Peeping Toms,' 'Big Eyes' and 'Save the Lifeguard," in which he filmed himself and his friends, but also in 'Three Days and a Child,' and 'Boys Will Never Believe It." When we realized that in all of them there is a man who is battling his inner demons, we decided to edit Uri Zohar's movies into his last film."
Gradual collapse
The result is spellbinding. "Zohar – The Return" not only enables viewers to join Zohar as he looks back on his life and his work from the perspective of an ultra-Orthodox individual in his 80s. The film also reveals the way Zohar depicted in his films the abyss that gaped within him right when he was at his peak, greatly admired, successful and tremendously popular.
Rosenberg and Segalovich bring viewers into a renewed and enjoyable encounter with Zohar's films, which have attained the status of Israeli classics, but at the same time they lead the audience to read those films in a different light, one that reveals the gradual psychological collapse of the person who made these classics.
The person who became famous thanks to the narcissistic question "Am I handsome?" and whose films contained quite a number of scenes in which women, young people and others are exploitated and humiliated, says of his own "Peeping Toms": "The story doesn't have any development. There's no tragedy, no crying, no murder, no forbidden love. But when you look hard and grasp this texture, you grasp how much loneliness is in there, how much depression. The depression and purposelessness are concealed by jokes, but that didn't bother me. So there's no purpose. If you were to ask me whether or not this depresses me, I'd say no, I'm off to the side and I am filming a funny or sad reality, and then I run straight to the next film. There's no problem at all."
In the meantime, on the screen, scenes from "Peeping Toms" are running in which Gutte, played by Zohar, is needling the adolescent younger Altman (Moti Mizrahi) and humiliating Dina, played by Mona Silberstein. "What are you doing? Why are you being beastly?" asks Rabbi Zohar in a voice-over. "It's an Israeli way of being that began then and continues to this day, in exploitiveness, terrible loneliness and it's also this Gutte's frustration. Not out of evil, out of loneliness."
When he finishes telling the story of his life, and after confessing to the passion for cinema that sometimes strikes him and describing what happens when the symbol of secularism Tel Aviv hedonism gets up and becomes pious, Zohar gets out of the car and takes his leave of the two young filmmakers to whom he has agreed to open his heart. "God has taught me a lesson here. True mortifications," he smiles at them. "It was a pleasure being with you. It's a greater pleasure to be leaving you."
Click the alert icon to follow topics:
ICYMI
Ken Burns' Brilliant 'The U.S. and the Holocaust' Has Only One Problem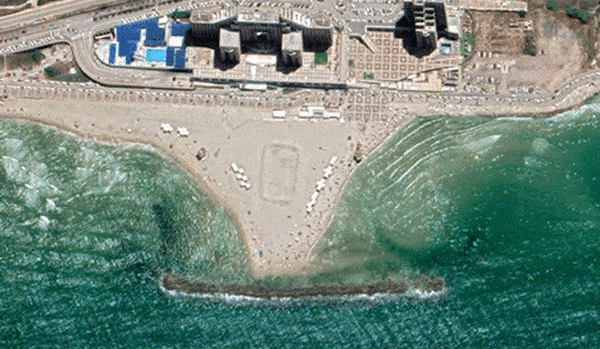 Facing Rapid Rise in Sea Levels, Israel Could Lose Large Parts of Its Coastline by 2050
Lapid to Haaretz: 'I Have Learned to Respect the Left'
The Mossad's Fateful 48 Hours Before the Yom Kippur War
As Israel Reins in Its Cyberarms Industry, an Ex-intel Officer Is Building a New Empire
How the Queen's Death Changes British Jewry's Most Distinctive Prayer