At Long Last, Israelis May Be Reading Arabic Literature
More than ever, Arabic-language books are being translated into Hebrew. Is Israel, winner of the European Cup and three Eurovision song contests, finally daring to crack open a peephole into the neighborhood where it lives?
From left to right: Youssef Ziedan, Rajaa Alsanea Elias Khoury and Alaa Al-Aswany.
In a wonderful and illuminating article she wrote in the online magazine Jadaliyya, in 2012, Yael Lerer, the founder and editor of the Andalus publishing house, tried to imagine a situation in which a visitor from another planet comes to our region and explores the land stretching between the Jordan River and the Mediterranean Sea, that is: Israel/Palestine. Presumably this visitor would form the impression that nearly half the inhabitants of this land are Palestinian Arabs who speak Arabic, and also that nearly half the Jewish population has roots in the Arabic language and Arab culture.
However, added Lerer, if that visitor were to go into the bookstores of Tel Aviv, for instance, she might well be surprised to discover that, while she could find books in English and in Russian – in addition to Hebrew, of course – she'd be hard-pressed to find books in Arabic, though it's still an official language in Israel, at least as these lines are being written.
To extend the same idea, it is likely that this same tourist from outer space would also be surprised to discover that even the number of translations of books from Arabic into Hebrew is far smaller than the number from European languages. The Andalus website there contains the following astonishing datum: From the 1930s until the publishing house was established, at the end of the 1990s, fewer than 40 titles had been translated from Arabic into Hebrew.
Within less than a decade, Andalus issued more than 20 titles, the vast majority of them translations from Arabic into Hebrew. Most of them are novels but there are also quite a few books of poetry, including works by Mahmoud Darwish and Taha Muhammad Ali. Lerer swiftly discovered, however, that Israeli readers were not interested in the various Arab cultures and especially not in Arabic literature and poetry. She found herself hanging on by the skin of her teeth, investing all her energy and resources – economic, physical and psychological – to keep her project going, until she threw up her hands. In part, that is.
Andalus Publishing did not shut down and Lerer is still holding on to the many copies of the books that remain in stock and is happy to sell them to all comers. However, the translation activity she initiated came to a halt in 2009, since which date Andalus has not published any new titles.
During the five years since Lerer wrote her piece in Jadaliyya (a site devoted to Middle East issues), it seems that there has been something of a change in the interest evinced by Israeli readers in Arabic literature in translation. Perhaps it is just my imagination that is at work here, due to my ardent wish to see such a change occur, but it is impossible to ignore that during this period about 20 new titles translated into Hebrew from Arabic have appeared on bookshop literature shelves.
Most are works of contemporary Arabic fiction, although some are volumes of poetry. There are also short-story collections, like those in the bilingual, Arabic-Hebrew anthology "Shtayim/Athnaan" (Keter, 2014), as well as translated Arabic stories published in journals like the Hebrew edition of Granta or on the multi-language online "Ma'aboret," at shortstoryproject.com. Moreover, for the first time in many years an Egyptian novel, "The Yacoubian Building," by Alaa Al-Aswany (Toby Press, 2016), translated by Bruria Horowitz from the original Arabic, made it onto the Hebrew bestseller list and even spent several weeks there.
Just this past week the Maktoob series, published by the Van Leer Jerusalem Institute, brought out "I Own Nothing Save My Dreams: An Anthology of Yazidi Poetry in the Wake of a Genocide, 2014-2016," translated into Hebrew by Idan Barir; at Kinneret they are working on translations of two new Egyptian novels, and Yehouda Shenhav-Sharabi is translating Lebanese writer Elias Khoury's novel "Children of the Ghetto."
The question, then, is, hang on, what's happening here? Is there indeed a trend? And this question of course gives rise to further questions: Is it possible that Israeli society has at long last opened a crack in the defensive wall we long ago erected to insulate us from the Arab cultures? Could it be that it is in fact our neighbors who have dared to leap over the boycott wall they have shored up for so many years.
Is Israel, winner of the European Cup (in basketball) and three Eurovision song contests, and which went OCD over joining the OECD countries, finally daring to crack open a tiny peephole into the neighborhood where it is situated? Is it possible at long last to uncork a bottle of bubbly (non-alcoholic, of course) with a loud pop, clink our goblets and say that that this is not Europe, and we really are in the Middle East?
Mountain or molehill?
Perhaps I got a bit carried away. This happens to me rather frequently, thanks to a vision problem I have, which leads me to see a mountain when I'm looking at a molehill. Not that there hasn't been any change. There certainly has been. A slight change. I've demonstrated that above. But the question is raised: What, if anything, does this change indicate? And the answer, as the cliché goes, is: It depends on whom you ask.
Tami Chapnik, an editor of Arabic literature and translator of nonfiction books, edited the Hebrew edition of Aswany's "The Yacoubian Building," as well as other titles translated from Arabic and published by Kinneret, which distributed the Aswany book. According to her, "There has been a clear increase in publication of titles from the Arabic language in Israel since the 'Arab Spring' broke out.
"The movement goes in two directions. On the one hand, Arab writers of the first rank are more willing to have their works translated into Hebrew. On the other hand, the Israeli reader is showing interest in these works. A book will be published here, it sells well, and that success feeds into the next titles. It's been a very clear trend since 2011-2102."
If Andalus Publishing operated during the years of the second intifada, the shake-ups in the Arab countries that began optimistically in 2011 created a somewhat different atmosphere. "Yael Lerer's translation project was exemplary," says Chapnik, "but it's also a question of timing."
In her view, the publishing reality has changed for the better. "There is a dynamic of change. It doesn't take place overnight, and sometimes there are steps back, but there appears to be a trend. Up until 20 or 30 years ago, Egypt held the undisputed hegemony over Arab culture. When Cairo led a boycott, it was very hard for others to break it. As we well remember, among other things, that was a world that was run by leaders like Saddam Hussein, Muammar Gadhafi and Hafez al-Assad. In a reality like that, who exactly would dare to allow translation of his book into Hebrew? Only the brave or expatriates."
In recent years, however, except in the case of Aswany, the translation of whose book into Hebrew raised a storm in Egypt, the publication in Israel of novels translated from Arabic has been relatively tolerated by the public in the countries of origin.
Queries from Saudi Arabia and Iraq
True, a boycott remains in effect and many writers are still prevented by it from replying in the affirmative to offers from Israeli publishers. It is also the case, however, that there are sometimes it is the Arab publishers who approach their counterparts in Israel about translation. This has happened at Kinneret and to Chapnik herself. "Among others," she relates, "there have been queries from Saudi Arabia, Lebanon and Iraq."
Beyond that, there is a question of whether there is indeed an awakening of interest in Arabic literature among Israeli readers and how that should be understood. Chapnik suggests: "This awakening is a direct manifestation of the struggle for freedom of expression. Possibly it also shows a slow process of the Arab countries getting closer to Israel, or at least a weakening of Israel's despised image. It must also be remembered that the Arab Spring, which highlighted social protest and social values more than political issues, had an echo in Israel – the tent protest in the summer of 2011. This faded but it sharpened Israelis' awareness of social gaps, relations between the public and the regime and the distress of the individual – all of which are ideas and materials of which current Arabic literature is made."
According to her, "It is possible to see a number of trends in the new Arabic literature that are also manifested in the current translation project." Thus, for example, she identifies "a flourishing of social literature," which deals increasingly with domestic problems, such as poverty, oppression, lack of governmental transparency, domestic violence and the like. In this respect, the 2009 Egyptian novel "Azazeel," by Youssef Ziedan, which came out in 2013 in Bruria Horowitz's Hebrew translation, is a wonderful example of a sharp polemic against the distortions in the religious establishment.
Though the plot is set in the 5th century, B.C.E., and deals with the life of a monk, according to Chapnik it is a metaphor for the struggle against Islamic fundamentalism. This also holds true for works by two Iraqis: Taha Hamid al-Shabib's "Homeless Angels" (2016) and Ahmad Saadawi's "Frankenstein in Baghdad" (2013 in Arabic), both in Hebrew translations by Horowitz, which, says Chapnik, "pick intensively, in an almost necrophiliac way, at the sores of the civil war." Another trend in contemporary Arabic literature makes women's voices heard and deals with their status. "The Girls of Riyadh," a novel by Saudi writer Rajaa Alsanea, which was published in 2013 in a Hebrew translation by Guy Herling, is an outstanding example of this.
A secondary trend, which is not dominant but is definitely felt – is treatment of Jews. "It is very prominent in the book 'The Handsome Jew" by Yemeni writer Ali al-Muqri that was published this year in Yehouda Shenhav-Shahrabani's translation. "It is there in 'Frankenstein in Baghdad,'" says Chapnik, "in which the plot is set in a formerly Jewish neighborhood, and also in works by Youssef Ziedan and other Egyptian writers. In both countries, Egypt and Iraq, they reflect a longing for days gone by, of stability, prosperity and a variety of faiths and identities.
In her view, these literary trends can to some extent explain the awakening of Israeli readers' interest in Arabic literature. Many Arab writers, both women and men, she says, are writing nowadays "about tyranny, corruption in society, the gender struggle, terror and the existential horizon that is closing. These are issues with which the average Israeli identifies."
Identify, but with a catch. The writers who are translated into Hebrew, she says, also provide the Israeli reader with "escapism from the Palestinian problem, and there is a whiff of romanticism about them: masses that toppled the reign of fear and rebels against their regimes. These are regimes that fanned hostility toward Israel and the average Israeli abhors them. Though the road to Arab democracy may be long, but in the meantime the reader in Israel can get a purely Arab world, complete with its terrible problems, but which do not necessarily have to include Al-Aqsa and the right of return."
As for translations of Palestinian literature into Hebrew, Chapnik says, "Palestinian literature is a branch of its own, and in recent years, interesting, frank and challenging books have been published in this arena." The professionals in the field, she says, "also look for and examine works by Palestinian writers, on condition they give their agreement for us to publish them in Israel. This, even though it's sometimes hard for the Israeli public to digest them. It is a lot easier to read about other people's politics and social issues."
And indeed, if there are "average" Israeli readers, most of them don't understand why "politics has to be introduced into everything." It is so pleasant and nice and comfortable here without politics, which after all is being constantly blasted at us from every news broadcast; can't we keep it out of the literary arena, at least? Convinced that it is truly possible to separate culture from politics, or literature from politics, we may choose to escape in the framework of "Cairo and Baghdad first," before turning to home. Nonetheless, this is a indeed a framework that in and of itself serves us as a kind of peephole, whether into a world that frightens the reader and from which he wants to distinguish himself along the lines of "here's the difference between us and them," or whether into a world that stirs the reader's orientalist imagination or inflames his exotic fantasies.
Not so fast...
Beyond all this, however, to what extent is Arabic literature really successful here? According to the Kinneret publishing house, "The Yacoubian Building" has sold about 15,000 copies, a very impressive figure. "Azazeel," however, has sold 2,400 copies, "Homeless Angels" about 1,300 and "The Girls of Riyadh – 1,100 copies.
Yael Lerer is in no hurry to clink a goblet of non-alcoholic sparkling wine with me. "I don't think it's possible to talk about a change or a trend. These are very small numbers. Between 2000 and 2005, a similar number of translations were published and then too it wasn't accurate to look at it as a change in the field of culture or a cultural phenomenon."
Yehouda Shenhav-Shahrabani also believes that this is "an optical illusion. Among the books translated in Israel today, about 80 to 90 percent of them are from English. Arabic is nearly in last place after Russian, Spanish, German, French, Italian and even Swedish." He too, like Lerer's visitor from outer space, sees this as a strange phenomenon, considering that Arabic is the language of the region and that half the Jewish population is from a Judeo-Arabic tradition.
He notes that in a survey conducted last year, it emerged that only 0.4 percent of Jewish Israelis are able to read a novel in Arabic. And, offhandedly, he adds that among them, "the number who are Ashkenazi is four times greater than the number who are Mizrahi. Grossman reads Arabic and Miri Regev does not," he notes, referring respectively to novelist David Grossman and the minister of culture, who is of Moroccan origin.
Together with translator and Arabic language scholar Yoni Mendel and the late writer Salman Natour, who died last year, in 2014 Shenhav-Shahrabani founded the Translators' Forum at the Van Leer Jerusalem Institute. The forum aims to provide a professional home to everyone engaged in the work of translating from Arabic into Hebrew, and its member include more than 50 editors, translators and literary scholars, Jews and Arabs, women and men. In addition to the volume of Yazidi poetry mentioned above, the Forum's Maktoob series also includes Yoni Mendel's translation of Salman Natour's novel "Walking on Winds" and Shenhav-Shahrabani's translation of Khoury's "Children of the Ghetto."
Shenhav-Shahrabani, who himself has translated 11 novels and many short stories from Arabic into Hebrew in recent years, says he has no illusions. "The Jewish public," he says, "is not interested in Arabic literature, does not know that Arabic literature exists and does not consume it." The novels he stubbornly and diligently translated have not sold in significant numbers and have not made any best-seller lists.
I am well acquainted with the things Chapnik and Shenhav-Shahrabani are saying. At almost every lecture or encounter where I have spoken about popular culture in Egypt, or electronic music in Lebanon, or other cultural aspects of the Arab world, there is always someone who stands up and asks or comments: "It would be interesting to know if they are at all familiar with our literature / cinema / music." This comment-cum-question seems strange to me.
Strange, neither because of the expectation of reciprocity in a non-reciprocal situation, nor because Hebrew culture addresses a far smaller audience than Arab culture. Nor even because the Jews who dwell in Zion are living in an Arab expanse and not even because the Palestinian citizens of Israel are far more familiar with Hebrew and its culture than its Jewish citizens are familiar with Arabic and its culture. Not because of any of these things, but rather because an aroma of haggling arises from the question. If they read one of "our" stories, then we will read one of "theirs." If they don't read – we won't read. Not an interest in literature in and of itself, but rather negotiations. Or war.
On the list of the 196 books "every cultured person must read" that was recently published in (Hebrew) Haaretz – not a single title was from Arabic literature. Not even the poems of Al-Mutanabbi, the great 10th-century poet. Not even "The Cairo Trilogy," by Naguib Mahfouz. Zero Arab presence.
In the past, Lerer has cited Mahmoud Darwish, who said that to his regret, Israelis read him "either in order to know their enemy or in order to make peace with him, but not simply in order to read poetry." It seems that to a large extent, this observation still holds true today. Nevertheless, all those with whom I spoke, those who are more discouraged and those who are less so, by the simple fact of their activity, should be a cause for hope. They are evidence that there are those who are willing to go to all lengths to part the Red Sea of the world of publishers and readers in Israel.
And then there are always the readers, even if they are few in number. And perhaps ultimately Israeli readers will discover a whole, fascinating and wise world of literature, one from which – heaven help us – there is even something to be learned.
Click the alert icon to follow topics:
ICYMI
Ken Burns' Brilliant 'The U.S. and the Holocaust' Has Only One Problem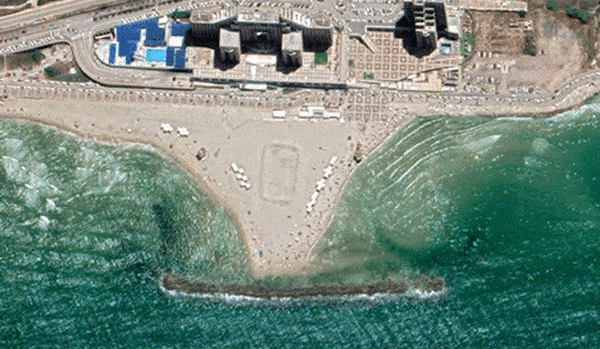 Facing Rapid Rise in Sea Levels, Israel Could Lose Large Parts of Its Coastline by 2050
As Israel Reins in Its Cyberarms Industry, an Ex-intel Officer Is Building a New Empire
How the Queen's Death Changes British Jewry's Most Distinctive Prayer
Chile Community Leaders 'Horrified' by Treatment of Israeli Envoy
Over 120 Countries, but Never Israel: Queen Elizabeth II's Unofficial Boycott