Fearless Young Actor Refuses to Become Poster Girl for Israeli-Ethiopian Community
Oshrat Ingedashet is not your average young actor. As happy on the stage in a Shakespeare production as in a popular tween TV series, she's more likely to cite the words of Rabbi Nachman of Breslov than Stanislavski as an inspiration.
Oshrat Ingedashet, photographed at Hotel Montefiore, Tel Aviv, September 2016.
Credit: Daniel Tchetchik
When Oshrat Ingedashet was an eighth-grader at a religious high school for girls in Ashdod, she decided to rebel. She'd heard there was an afternoon theater class at the local community center, so she quickly swapped her long skirt for pants and headed out. Unfortunately, the rabbi of the ulpana saw her on her way there. A week later, he called her in for a talk and expressed his disappointment. He explained that a theater class in which boys participate is out of bounds; Ingedashet was pained to hear this from a person she admired.
"I knew there was a theater program at a secular school," Ingedashet recalls, "but I gave up on the dream for six months. Then I woke up one morning and told my mom I wasn't prepared to give up what I love or to attend a school feeling upset. I said I was transferring to the secular school. I don't know where I got the strength and courage to say that. My mom was in shock and she insisted — but I was more insistent. After two weeks during which I stayed home, my mom got up and said we were going to the secular school.
"It was a sharp transition, maybe too sharp, because during the first month I was in a state of shock. I came to school wearing a skirt and the kids looked at me strangely. I would address the teachers as 'the Teacher,' and they would get annoyed and tell me to call them by their first name. There were huge gaps."
How did you adapt to the new school?
"When I arrived at the secular school, we went to the guidance counselor and she heard that I wanted to go into the theater track. She looked at my report card from the ulpana, saw that all my grades were high and immediately suggested that I go into the science class. She saw my potential, but I insisted on theater. I remember the tears in my eyes and my mother and the counselor recommending that I think about my future. I sat there, a girl of 14 and a half, and my future didn't interest me. The only thing that interested me was my dream — to stand on a stage."
This tenacity, along with her courage and assertiveness, has taken Ingedashet much further than she dared dream. Today, she is an actor at Habima — National Theater of Israel (with two nominations for the Israel Theater Prize under her belt), and has a fan base of devoted young fans thanks to her role as the fearless Lilush in tween Israeli TV show "Neighborhood" ("Schuna").
The part of Lilush proved a real springboard for Ingedashet. Proof of this can be found this Hanukkah, when she appears in the annual, all-singing, all-dancing Festigal holiday show alongside other teen idols.
Born in Ashdod in 1990, almost a decade after her family made aliyah to Israel from a small village near Addis Ababa, Ingedashet comes from a musical home. Her mother, who divorced Oshrat's father 15 years ago, sent the sisters (five in all, including professional singers Malka and Ayala) to music classes from an early age. And their ultra-Orthodox background has not stopped the girls from continuing to develop their talents and explore new horizons.
When asked from where her tremendous confidence comes from, Ingedashet says it probably has something to do with the mother who raised her and her sisters alone.
"Never in her life did our mother make us feel like we had to be ashamed about whether we had a little or a lot," says Ingedashet. "She was always a person who worked, who moved ahead and achieved. She always told me I should walk with my head held high and that I would get what I want. How can you see a crazy life story like that of a woman who immigrated from Ethiopia with three children [Oshrat and another daughter were born in Israel], without anything, gets told to convert to Judaism, gets put into an absorption center in a new country without having the language and with many difficulties, and nevertheless goes ahead and pushes her children to have the best education and the best values? It's amazing. How could I not be a lioness?"
Avoiding stereotyping
Ingedashet demonstrably has everything it takes to be a winner. Upon completing the high-school theater program, she did her national service as a surgery appointment coordinator at Ichilov Hospital, Tel Aviv. After that, she was accepted to the Yoram Loewenstein Performing Arts Studio, also in Tel Aviv. She also had to fight to get the roles she wanted there, and none were given to her on a plate.
The color of her skin, she says, has not been a significant barrier so far, but she's aware of the automatic labeling that accompanies her as someone of Ethiopian origin.
When you chose an acting career, weren't you concerned it would be hard to cast you in leading roles because of your skin color?
"I think that, ultimately, it's all about what we get the audience accustomed to. We can't go along only with what the audience is used to — that's not the way to perform art. Even at Yoram Loewenstein, in my second year we put on a production of 'Passing the Love of Women'" — a Motti Lerner play, based on a short story by Isaac Bashevis Singer about gay love in an ultra-Orthodox setting — "and no one had any hesitation about giving me the role of the rabbi's daughter, with the rabbi played by a Russian guy called Adi Alterman. That was amazing, because they didn't try to give me the role of the neighbor or someone's friend.
"In 'Neighborhood,' for example," says Ingedashet, warming to her theme, "Giora Chamizer, the creator of the series, and Oren Shkedy, the director, did something extraordinary that was never on the screen before: an Ethiopian girl whose character isn't related to her origin. Let's say if the playwright or screenwriter hadn't written the character as Ethiopian and then an Ethiopian was ultimately cast in the role, they'd always change her name and characteristics. Giora didn't change a thing.
"At Habima, too, I've never had a role related to my skin color," she notes. "I never played the black woman or the servant. I am playing Gil Frank's wife [Virgilia] in 'Coriolanus' and Noam Frank [Gil Frank's son in real life] is my son. The audience doesn't ask how come my son is so white. No one has come out and asked because the moment you succeed in creating the right experience and scene, these things disappear. After all, theater is magic and people know they're watching a fantasy."
Actors or singers of Ethiopian origin are often asked to relate to their art through the prism of injustice and discrimination. What are your thoughts on this?
"That's exactly what I always say. Every time a journalist interviews me, the automatic conversation is about the fact that I'm Ethiopian and the discrimination against the community. Look, if you were sitting here with an Ashkenazi [Jew of Eastern European origin], you wouldn't be asking him about his Ashkenazi community or what it's like to be Ashkenazi in the State of Israel.
"Not long ago, the production crew for Guy Pines' entertainment TV show asked to film my home following my participation in the Festigal. It's great that they're taking an interest in me, but the question is how is that related to what I do?
"The question of representation always comes up, too. I didn't go into acting because I thought I was going to foment change. I did it because I had a dream of standing on a stage and because the first time I ever saw a play, I knew that's where I wanted to be. Not for anyone else. For myself."
Nevertheless, as someone who has achieved quite a lot in her own right, what did you feel when you saw the recent protest by Ethiopian-Israelis, which generated a lot of headlines?
"First of all, I don't think it should be called 'the Ethiopians' protest.' We, as a society, have to understand that there is a problem here, and that it isn't just the problem of one community or another. If there's discrimination, that's not right and it's unacceptable. Are the Ethiopians the only ones who need to stand up and shout about this? If children aren't accepted into schools or if there's a quota of up to five Ethiopian children in a school, then there's a serious problem here, which proves what I'm saying.
"Look at the recent comments by the police commissioner when he talked about immigrants. [Roni Alsheich said in August it was "natural" for police officers to suspect Ethiopians and Arabs more than others.] I don't think he had bad intentions, but it's good that he apologized — because in a country where everyone is an immigrant, you can't come along and say a thing like that. There are Ethiopians who have been here for more than 30 years now."
Who cares about the injustice?
As a successful and well-known actor, have they tried to recruit you to the cause?
"No. But I think what's stood out in regard to this struggle is that in the media they've tried to depict the demonstrators as being particularly violent. And from what I've understood from friends who were there, that is simply not true. They told me that even before someone did anything, a policeman stood in front of him with a truncheon and threatened him. They tried to depict the people from the community as being in the wrong, but that's not correct. A generation has arisen here that is hurting to see its children being discriminated against from a very early age."
Ingedashet cites the "injustice done to Yosef Salamsa," who committed suicide in July 2014 after allegedly being abused by the police. "Has anyone done anything? Is anyone bothered about this? Who cares? It's sad," she says.
You say you don't feel like becoming a poster girl when it comes to the community. But to what extent do you feel responsibility for the series in which you perform as a young star?
"What's lovely about Lilush, my character in 'Schuna,' is that she has genuine self-assurance, not something that is driven by anger. She simply knows what she's entitled to. And I see this in myself, too — that place where you're not afraid to stand up for what's yours; to say 'I deserve it'; to go after what you want and to get it. If Vicky [Omer Goldman], the main character, always falls into despair and doesn't know how she will manage to get what she wants, Lilush is the one who will offer solutions — because you can't just sit there and cry. Even if it's hard, you fall for a moment and then get back up."
And what about the Festigal, which starts in December — are you completely comfortable with the messages it conveys?
"In contrast to what happened there with 'Selfie Song' [when some disgruntled parents called for a boycott of the 2014 show], this year the producers are going with messages that are more social and important. Last year they dealt with the phenomenon of shaming on social media, and this year they want to remind youngsters that they should get away from their screens.
"We recently filmed at Tel Aviv Port and kids who watch 'Galis' and 'Neighborhood' were passing by. They didn't take their faces away from their screens because they were hunting Pokemon. Like zombies. Right in front of them are all their favorite stars and they don't even notice. It took them 15 minutes and then we heard someone say, 'Bro, bro, lift up your phone — Shiran Sendel [Yuli in 'Galis'] is here.' And then they came over to take a selfie with us!"
In a certain sense, your story fits the capitalist view that you can succeed if you want something badly enough. In reality, there are a lot of social barriers to deal with, especially when you come from a less privileged background. How do you relate to this gap?
"I also have roles that I don't get. There are auditions to which I'm not invited. But you can't think like that. If I think I'm not sure if I will succeed, then the situation will be worse. I know that as long as I work in order to fulfill my dreams, I will get ahead and get somewhere. If they don't give it to me, I'll create it for myself. And if they don't let me come in through the door, I'll come in through the window. It's a matter of motivation and true faith. Rabbi Nachman of Breslov says that if you imagine something enough times, in the end it will happen. So I do a lot of imagining."
Click the alert icon to follow topics:
ICYMI
Ken Burns' Brilliant 'The U.S. and the Holocaust' Has Only One Problem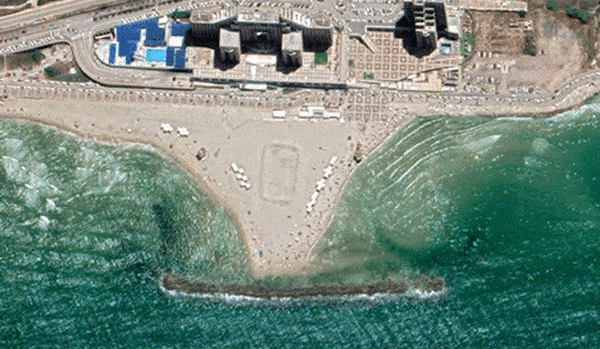 Facing Rapid Rise in Sea Levels, Israel Could Lose Large Parts of Its Coastline by 2050
As Israel Reins in Its Cyberarms Industry, an Ex-intel Officer Is Building a New Empire
How the Queen's Death Changes British Jewry's Most Distinctive Prayer
Chile Community Leaders 'Horrified' by Treatment of Israeli Envoy
Over 120 Countries, but Never Israel: Queen Elizabeth II's Unofficial Boycott