After Being Shot, This Israeli Photographer Refused to Turn a Blind Eye to Victims
Tali Mayer was hit with sponge bullet, prompting her to begin to investigate the wounds caused by police use of this ammunition – tens of thousands of which have been fired at Palestinians in Jerusalem in the last two years. She photographed victims and now tells their stories.
Series of the Year: Luai Abed, 37 years old Isawiya. victim of sponge bullets, known as the "black sponge bullet" (model 4557), made of synthetic rubber.
Credit: Tali Mayer
On the afternoon of July 4, 2014, Taysir Sandukeh, who was 31 at the time, called his wife, Haba, from Tel Aviv to tell her that he was leaving work and was on the way home. It was a day on which the entrance to the Shoafat neighborhood, in East Jerusalem, was blocked to traffic. Once in Jerusalem, Sandukeh, accompanied by his brother, started to walk from a parking lot in the nearby French Hill neighborhood to their home on Shoafat Road, the neighborhood's main street. They passed the burned-out Al-Sahel light-rail stop as they walked.
Sandukeh has been blind in his right eye since the age of 13, but with his left eye he saw the approaching funeral procession of Mohammed Abu Khdeir – the 16-year-old Palestinian who had been abducted and burned alive two days earlier (his murderers, a group of Jews, were subsequently tried and convicted). Turning his head, he looked at the soldiers and Border Policemen standing on the other side of the road, and tried to figure out how to avoid a confrontation with them. He had just turned his gaze back to the procession when a black-tipped sponge bullet struck him in his left eye – the good one.
When he awoke, in the hospital, Sandukeh was told by the physicians that his eye could not be saved. He was transferred to another hospital; there too it was explained that the situation was serious and required urgent, complicated surgery. In yet a third hospital a physician asked Sandukeh to sign a form stating that he understood that his eye was about to be removed and replaced with a glass eye. Sandukeh told him about the history of the blindness in his other eye. The doctor said he would try to save the "good" one, but couldn't promise anything.
The operation was not a success. He was left completely blind, had to stop working, and lost his house and since then he's been able to meet with his two children only once every two weeks.
Two days before the shot that blinded Sandukeh was fired, I saw teenagers burn a second light-rail stop in Shoafat. I'd been sent that morning by the Walla web portal to photograph the protests that had broken out in Shoafat after the discovery of Abu Khdeir's body in the Jerusalem Forest.
Two officers were standing at the entrance to the neighborhood, one of them a Border Policeman. I identified myself as a press photographer and they let me through. I walked toward a group of journalists standing outside the stores on one side of the street. On the other side, across the light-rail tracks, a few dozen meters away, youths were protesting Abu Khdeir's murder. Masked policemen clashed with them. We photographed for about two hours, in the course of which I sent the pictures to the news desk. My mother saw the images on the website and sent me a message about them, which I didn't manage to answer.
A videographer asked me if I'd taken pictures of the burning light-rail station, but I couldn't respond as I was no longer able to speak: A black-tipped sponge bullet had shattered my jaw and split my face open. My ears rang with a long, sharp sound. Holding my head in my hands, I bent over slowly, leaning on the window of a shuttered shop. Blood streamed from my face, down the length of my body. All kinds of scenarios ran through my head.
A paramedic rushed over and called for help to evacuate me. Another photographer who was standing nearby and filming me also collapsed to the ground. In the ER, still groggy from morphine but conscious, I heard a uniformed policewoman explain to me that I'd been hit by a stone. My cheek was cut open, so I couldn't answer. A police officer in civilian clothing arrived later and repeated what the policewoman had said. I still couldn't talk.
The 4557 model, aka "black-tipped sponge bullet," is made of synthetic rubber. Of U.S. manufacture, it entered operational use as "nonlethal" ammunition to suppress demonstrations in East Jerusalem early in the summer of 2014. The decision to use it came after Border Police forces and the Jerusalem police department's Special Patrol Unit complained that the earlier version, a blue-tipped sponge bullet, was not effective enough. Police protocol states that firing the bullet into the upper torso is prohibited and that it is not to be used against children, the elderly or pregnant women.
Since its introduction, the new projectile – whose use was intended to relieve the plight of the security forces and is supposed to cause "blunt injury and temporarily neutralize" demonstrators, has inflicted dozens of serious head wounds.
According to the website of the Association for Civil Rights in Israel, which has investigated the subject, not one of the wounded individuals was suspected of participating in disturbances. No legal proceedings
Not one of the wounded individuals documented by ACRI was suspected of participating in disturbances, and no legal procedures have been initiated against any of them.
According to police data, about 40,000 black-tipped rubber bullets had been fired in Jerusalem as of the end of 2015. According to ACRI, they inflicted about 40 serious head wounds. Half the victims were minors; 14 people lost their eyesight.
Black bullets, red peppers
Eighteen months after I was wounded – from black-tipped rubber bullet, as became clear during surgery – I met with the ACRI personnel monitoring those hit by the same projectile. I started to shoot portraits of the victims and interview them. Their number increased apace, as the atmosphere became more tense in the months following the Abu Khdeir killing. All the photos were taken in the East Jerusalem homes of the victims. I was accompanied on my visits by ACRI field worker Khader Daibes, who helped coordinate the meetings and served as an interpreter.
The first boy I met was totally blind.
At 9 A.M., on November 13, 2015, 11-year-old Saleh Sleiman and his two brothers, Mohammed and Anas, who live in Isawiyah, a Palestinian village within Jerusalem's municipal boundaries, set off for school. About an hour later they returned home, saying their teachers hadn't come to work and the gate was locked. In fact, the school didn't open that day due to a closure imposed by the Israeli authorities on one of the entrances to the village amid the recent spate of disturbances. Around midday, Saleh was sent by his mother, Yasra, to buy vegetables for lunch. The main road of Isawiyah, where the greengrocer was located, was empty. On the way back, however, the area was teeming with security forces and stone-throwing youngsters.
Saleh remembers holding a bag of red peppers and signaling soldiers that he was about to cross the road. "He [the soldier] saw me, and then he fired one [round] that didn't hit me. I saw it hit the wall. But why did he fire another one?" Saleh asks.
A black-tipped sponge bullet struck Saleh between the eye socket and the nose. He fell to the ground. He was hospitalized for 26 days, six of them in a coma. He lost his right eye, which was replaced with a glass one. He underwent eight operations, was treated for jaw fractures and had platinum plates inserted to replace shattered facial bones, He also had alternative tear ducts implanted in his face. A few months after he was discharged from the hospital, Saleh lost sight in his left eye, too, following an infection that developed in the artificial tear ducts.
Yahiyah al-Amudi was 12 when he was shot in the face with a black-tipped sponge bullet on the main street of Shoafat refugee camp, on May 21, 2015. The Palestinian Red Crescent ambulance that took Yahiyah to the hospital was delayed at the checkpoint when leaving the area, because the boy was not carrying an ID card. His condition deteriorated and he lost a great deal of blood. In the end, he lost his left eye. According to Yahiya's father, police officers were waiting for him at the hospital in order to check whether the youngster had been involved in the disturbances. They claimed that his wound was caused by a stone, but a CT scan revealed that his face had been fractured in 11 places – by a black-tipped sponge bullet.
Muhammad Abid, a 5-and-a-half-year-old from Isawiyah, lost the use of his right eye. His father, Jamal, says Muhammad was shot by a Border Police force that was on a routine patrol in the village: "The soldiers were making regular rounds – there was nothing specific, there were no demonstrations. One bullet was fired during the whole incident, and that bullet hit him." The children in Abid's class – he's now 7 – make fun of him. He's not a hero, they say, because he doesn't belong to any political organization. They call him "cross-eyed." The doctor says that in time his brain will lose control over the movement of his damaged eye.
Louis Abed, 37, a father of five, from Isawiyah, was shot in the head while standing on the porch of his second-floor home, and lost his left eye. Ahmed Abu Hummus, also from Isawiyah, was 12 when he was shot while standing in the street next to his home. A piece of his skull was dislodged, causing irreversible brain damage. Asil Mohaisen, 13, was shot in the neck while helping out in her father's restaurant in Isawiyah. Zakariya Julani and Khalil Ismail, both of them 13, were shot on the streets of Shoafat refugee camp, and each lost his left eye.
Nafez Demiri, 55, from the East Jerusalem neighborhood of Beit Hanina, who has been deaf and mute from birth, lost an eye as well when he was shot. Mohammed Sunuqrut, 16, was shot in the face and killed in Wadi Joz in East Jerusalem. The police officer who fired the bullet was not authorized to use the weapon, according to a report by the Justice Ministry department for the investigation of police officers. The case was later closed on the grounds of lack of evidence. True, an investigation was conducted, but in the vast majority of cases – mine included – there was not even a probe.
To date, not one police officer has been charged or tried in cases involving black-tipped sponge bullets.
A spokesperson for the Israel Police, asked for comment from Haaretz, gave the following statement:
"During the period under discussion, beginning in July 2014, when Mohammed Abu Khdeir was murdered, serious disturbances broke out in East Jerusalem neighborhoods, particularly Beit Hanina and Shoafat. During the clashes, bombs, Molotov cocktails, stones and fireworks were thrown at the security forces. Dozens of police officers have been wounded in the course of serious riots. The security forces, for their part, made use of means to disperse demonstrations, repulse the rioters and put a stop to the attacks on people and property. The focal points of the riots were closed off to civilian traffic and secured by the forces on the ground. At the same time, photographers and media personnel who chose to enter the area of rioting, contrary to the directives of the police officers, did so on their own responsibility, taking a personal risk. In regard to the events that were noted on the issue of the use of force, all the material has been transferred to the Justice Ministry's investigative department for examination."
Click the alert icon to follow topics:
ICYMI
Ken Burns' Brilliant 'The U.S. and the Holocaust' Has Only One Problem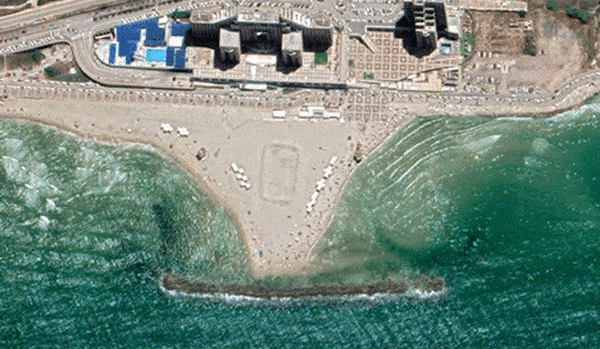 Facing Rapid Rise in Sea Levels, Israel Could Lose Large Parts of Its Coastline by 2050
As Israel Reins in Its Cyberarms Industry, an Ex-intel Officer Is Building a New Empire
How the Queen's Death Changes British Jewry's Most Distinctive Prayer
Chile Community Leaders 'Horrified' by Treatment of Israeli Envoy
Over 120 Countries, but Never Israel: Queen Elizabeth II's Unofficial Boycott