14-year-old Israeli Graffiti Artist Shows Off His Street Smarts
Shay 'Tra' Litman is railing against the way adults treat children and, worse, the way kids treat each other.
Shay Litman working on one of his artworks in Tel Aviv.
Credit: Avishag Shaar-Yashuv
My interview with street artist Shay "Tra" Litman gets off to a bad start when I tell him how much I enjoy talking to children, and that this story will appear in a kids' column for the Hebrew version of Haaretz.
"Kids' column? You don't have an arts section?" asks the 14-year-old, looking shocked. "I didn't agree to show in a youth exhibition, I don't want to be in an age category. This is exactly what I'm fighting against.
"It's my problem with myself – I hate children my age, and they hate me, because I always feel better than them," he continues. "I see them in a way that adults cannot, because I am both inside and also looking from the side," adds Litman.
Compared to most children his age, Litman is remarkably active: His street art – which includes burning monsters, distorted images and Botox syringes – adorns a large number of walls in Tel Aviv. And despite the anonymity normally involved in graffiti, his works were recently featured in a new documentary film.
He is also working on a hip-hop mix tape and has published two fanzines. The first was called "The Fanzine of a Minor" and the second one "Comparisons," which he launched last month at the Buxa club in Tel Aviv.
"In this fanzine I compared, among other things, photographs that I took with images from the internet. These are half-sophisticated works, not the smartest. It doesn't interest me to do 'smart art.' I felt the pressure to create something original that you look at for a minute and then leave," he says.
Litman seemed excited at the launch, glass of lemonade in hand. He had stuck too many temporary tattoos on his face, hugged everyone who entered and convinced them to buy a copy of his fanzine for 15 shekels ($3.90) and take a picture of him for Instagram.
Director Julie Shles sat at the bar. Her film "Don't Call Me Cute," which follows Litman, was shown last month at the Docaviv documentary film festival in Tel Aviv.
The short movie follows a week in Litman's life, mostly late at night, and shows his underground artistic activities, the launch of his first fanzine, the various signatures he uses to express different sides of his personality, the story of the first kiss he received from a girl, and the responses of passersby to his work.
Don't call him cute
"My greatest effort in life is to not be in a situation where someone will call me cute. Cute is cute, it's not a thinking person," he says at the film's climax. Litman watched the film for the first time at its premiere at the Tel Aviv Cinematheque and was really pleased – except for the soundtrack, which didn't contain nearly enough hip-hop for his taste.
Shles had noticed Tra's graffiti long before she met him, and she says he's been an inspiration for her: "Emotionally he is a child, but his thinking is very developed," she says. "He's brilliant and sometimes [says things] that leave you speechless. There's dissonance there. He's not willing to be called cute, but it's impossible not to call him cute."
"My problem is with adults who tell children how they should behave," says Litman, adding, "I realized it in music class. For example, in that movie about a music teacher who has an 8-year-old kid playing amazing jazz. The teacher said the boy seemed to have been blessed by God, and the rest of the students said he definitely had a special power. I think they simply never told this boy how an 8-year-old child needs to behave."
But society has expectations of every age.
"There is a difference – we reject every other option. Adults determine for us what to learn, in which class and how; and at exactly which stage you need to know everything, and how to think. I'm fighting against it, but society relates to 14-year-old children the way it relates to pregnant women. In the same way that they say 'It's their hormones, leave them alone,' they also say, 'Don't listen to him, my son behaves like that, too.' They don't expect me to understand things independently."
You call yourself Shay "Tra" Litman. When did you add the Tra?
"When I was 10. It's my name for art. I was really influenced by the [American] rapper Tyler, the Creator. Since I got to know about him, I don't see "Tra" as something specific. It can come from music, too, or clothes, in art. It's my stage name, and it's the opposite of art."
Standing up to bullying
Litman relates how he spent most of his childhood in isolation in northern Israel, the target of ridicule and arbitrary violence from other children his age. He recalls how they threw fruit at him, buried his hat in the sand and encouraged younger children to call him fat. He says he suffered a lot of humiliation in his life until he developed a method to deal with the bullying, which can be described as the "black mirror" effect.
For example, the last time a child picked on him in school and called him "queer," he called all his friends over to witness a homophobe in action. And when the same child then insisted on calling him fat, Litman responded, "That's true, but you're just judging people by their outward appearance – that's really dumb."
The bully tried to continue his taunts: "Your mother is so fat she..." But Litman cut him off: "You're repeating really old jokes." At this stage the bully became tense, teared up and resorted to physical violence. But Litman's friends stood with him and, for the first time, defended him.
Litman is a fearless fighter of bullying. A few months ago, after a girl apologized to him for organizing a boycott of him in the school he left in the north, he penned a "J'accuse" letter, which he asked her to read in front of the class. He then posted the letter on Facebook.
"You're so normal and haven't gone through anything, and don't have a clue about your lives, so you're sure you're the best in the world. In order for you to have friends, you must have the same haircut and think like everyone else thinks. Whoever doesn't have a girlfriend is nothing, and whoever isn't thin enough is fat. There's no middle and no different; no one can think about things differently or dress in a different way," he wrote.
"I suffered your insults like garbage and today I'm fighting against all your social conventions that turn children into clones," he continued. "They filmed a documentary film about my life and in another month it will be shown at Docaviv, which is the most famous film festival in Israel. I had two solo exhibitions and launched my art book. Today, I have a lot of friends, most of them older than 18 – because only they understand me. Because I am smarter than any child who was in my class, and my friends like me, meet me and accept me."
How did you feel after you wrote it?
"My entire body hurt from crying so much. I received 250 'Likes' and dozens of responses saying, 'You're a perfect child and I wish all children were like you.' And 'You're the prince of great light that not everybody sees because you blind them,'" he says, reading. "I didn't like it. I don't know how to explain it exactly," concludes Litman.
Click the alert icon to follow topics:
ICYMI
Ken Burns' Brilliant 'The U.S. and the Holocaust' Has Only One Problem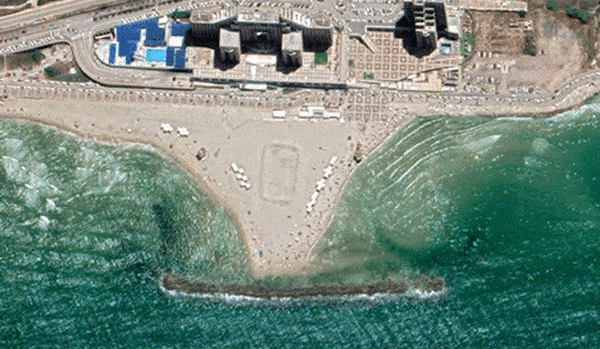 Facing Rapid Rise in Sea Levels, Israel Could Lose Large Parts of Its Coastline by 2050
As Israel Reins in Its Cyberarms Industry, an Ex-intel Officer Is Building a New Empire
How the Queen's Death Changes British Jewry's Most Distinctive Prayer
Chile Community Leaders 'Horrified' by Treatment of Israeli Envoy
Over 120 Countries, but Never Israel: Queen Elizabeth II's Unofficial Boycott