Le Monde Cartoonist Compares Internet to Nazi Occupation
Jean Plantureux, who was assigned a security detail after the Charlie Hebdo attack, on whether it's necessary to humiliate believers — and the prospects of peace in the Middle East.
A cartoon by Plantu after the Charlie Hebdo attack.
The bodyguard of Jean Plantu, 63, the chief cartoonist of France's Le Monde newspaper, sits some three meters from where we are, at the Israeli Cartoon Museum in Holon. He hears every word but pretends not to listen, even when he is the subject of the conversation.
After the deadly attack on the offices of the French satirical magazine Charlie Hebdo in Paris on January 7, a security detail was assigned to protect Plantu, as he is widely known. No one could claim that it's out of paranoia: Just 24 hours before our meeting, Omar Abdel Hamid El-Hussein tried to kill the Swedish cartoonist Lars Vilks in Copenhagen.
Freedom
It's another sad day for cartoonists.
Plantu: "Another sad day for freedom of thought."
Do you fear for your life?
"No. It does make an impression on me, and I don't sleep well at night. I haven't slept since the attack, but I think it is because I tell myself I didn't do enough, I didn't build strong enough bridges between the cultures. I think that's what disturbs my sleep."
In 2006, after the uproar that followed the publication of cartoons of Mohammed in the Danish newspaper Jyllands-Posten, Plantu and then-UN Secretary General Kofi Annan founded Cartooning for Peace. Ever since, Plantu has been flying around the world to encourage interreligious and intercultural dialogue. More than 100 cartoonists from all over the world belong to the association, including Israel's Michel Kichka, Lebanon's Stavro Jabra and the Palestinian cartoonist Baha Boukhari.
Even before this venture, Plantu endeavored (in vain, so far) to bring together disparate elements from the Middle East. In 1990 he had Yasser Arafat sign one of his drawings in Tunis, and in 1992, in Jerusalem, Shimon Peres signed the same drawing.
This week Plantu was supposed to be in Pakistan, at a meeting of local illustrators, but the visit was postponed for security reasons and he came to Israel instead. Last week he attended the Jerusalem International Book Fair.
Humiliation
Plantu, about his bodyguard: "On one hand, I am lucky there are people here to help if I have a problem. On the other hand, I feel humiliation. I feel humiliated that after all these years of trying to cultivate dialogue among the Muslim world, the Jewish world and the Christian world, I find myself in a situation where I need to be protected."
Has anything about your cartoons changed since the incident? Are there things you won't draw?
"I draw what I find necessary to the freedom of expression. When a woman was stoned in Sudan, I don't care that there was religion behind it, when Christians are massacred in Syria or in Iraq, I don't care that religious fundamentalism leads it. It is a violation of human rights and I draw it, as I did before."
And what about God? Or the prophet Mohammed?
"I draw whatever infringes on human rights. Here on earth, in daily life. That is my passion, and my choice is to prefer this kind of drawing."
Provocation
Just three months ago, Charlie Hebdo was a small magazine, with a small but very loyal readership, that battled against its high production costs. Nearly everyone who was exposed to its biting satire did so out of choice, by buying a copy at a newsstand. Charb, Cabu, Honoré, Tignous and Wolinski could go further and lower with their cartoons than their colleagues at mainstream papers, and they could — and did — annoy people more.
Muslim fundamentalists weren't the only ones who didn't like the cartoons. Feminist organizations were enraged by the explicit sexual drawings that appeared in "Charlie," as its fans called it. In Israel, some people were initially surprised at the depth of the sorrow caused by an attack on a publication they viewed as anti-Semitic.
"Provocation is a part of French cartooning, and cartoons are part of the broader French culture," said Plantu, adding that former French President Jacques Chirac used to say the French could not be ruled because they are, above all, Gallic.
"They hold strikes — even they don't know over what, but they strike," said the cartoonist. "After the separation of church and state in 1905, anyone who didn't like the clergy began settling accounts with the church. And that remained in the culture — anti-clergy and anti-religion. But that is the big problem — it is possible to be secular and to express secular values without humiliating the believers."
This was the idea that guided Plantu and Annan in founding Cartoonists for Peace, he said. "We did it so as to continue having drawings that disturb people, sharp and biting drawings, while at the same time trying to avoid humiliating people for whatever reason."
He doesn't have a yes-or-no answer to the question of whether Charlie Hebdo went too far in its satire, saying: "As an illustrator, I don't allow myself to judge the work of other illustrators."
Wisdom
While French law does not prohibit the kind of cartoons that appear in Charlie, "around 15 years ago, with the increasing growth of the Internet, we are no longer drawing for 2,000, 3,000, 50,000 people in Saint-Germain-des-Prés or in Paris," said Plantu.
"Now when we publish a cartoon it spreads to the Middle East, to Jordan, to Cairo or to Tokyo," he said. "So you have to try to be very wise, and to know that these drawings, which were originally meant for people familiar with the culture, end up reaching people in other places who don't understand a thing about drawing. Maybe they never went to school. They think they understand the picture and in fact they understand nothing about it."
Occupation
Plantu took one of his cartoons out of his bag. On the top there's Paris under the Nazi occupation and a brave man painting "Liberte" on a wall. "You could have done that under the occupation, but you would have ended the evening with them," he said, pointing to the German soldiers in the drawing.
On the bottom there's a contemporary Parisian, painting the slogan "Liberte de caricaturer" on the same wall. The German soldiers have been replaced by jihadists armed with knives, a laptop and mobile satellite dishes. The swastika on the flag flying from the lead car in the convoy has been replaced by an "at" sign.
Plantu: "I view the Internet as a kind of occupation. There are other Nazis that watch us all the time, and because of them we cannot draw what we want."
What do you think of the fact that media outlets in the United States and other countries chose not to show the cover of the Charlie Hebdo issue that was published after the attack?
"Just as the Israeli media chose not to show the Danish cartoons of Mohammed in 2006, everyone does what they see fit."
Do you think that in the wake of the shooting there is more self-censorship in the French media?
"There is media censorship, but there isn't more since the attack. There were always things that the media ignored. Some of the instances are very disturbing. When I started out in journalism, there was a lot of talk about arms dealing. Today, when information comes in about French arms sales to foreign countries rising 43 percent in the past year, it is barely mentioned. And afterward, on the television news people are upset that in some place or other in the world there's shooting and bombs being dropped... but no one talks about the arms trade because it doesn't sell newspapers. Above Mohammed there is marketing, and it is stronger."
Do you still believe in Middle East peace?
"Yes."
Why?
"It's obvious. For me it's as clear as day. When I was young and I went to Germany, people said 'What!? You're going to see the Boche?' Today, my children travel to Germany and no one tells them 'What? You're going to Berlin!?'"
ICYMI
Ken Burns' Brilliant 'The U.S. and the Holocaust' Has Only One Problem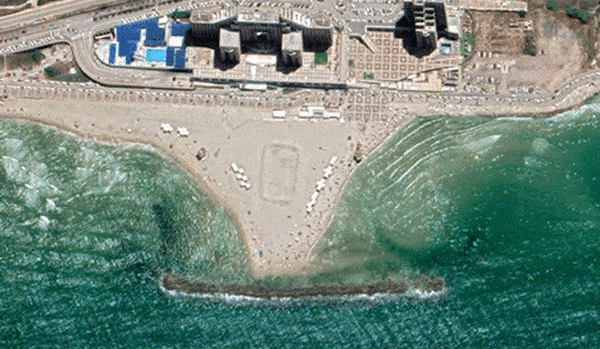 Facing Rapid Rise in Sea Levels, Israel Could Lose Large Parts of Its Coastline by 2050
Lapid to Haaretz: 'I Have Learned to Respect the Left'
The Mossad's Fateful 48 Hours Before the Yom Kippur War
As Israel Reins in Its Cyberarms Industry, an Ex-intel Officer Is Building a New Empire
How the Queen's Death Changes British Jewry's Most Distinctive Prayer