An Artist Spent a Night at the Museum - With Unexpected Results
Finding herself accidentally locked in Jerusalem's Museum of Nature, Michal Vaknin got the idea for the performance 'The Opposite of Alive.'
Two years ago, the theater artist Michal Vaknin found herself accidentally locked inside the Nature Museum in Jerusalem – and inspiration struck. She had come to the museum to plan a performance she was to stage in one of its galleries. But no genuinely intriguing idea, one that would do justice to the peculiar building with its stuffed animals and frozen-in-time exhibits, came to mind. In despair, Vaknin sat down in a corner with her notebook and soon fell asleep.
"When I woke up, it was already dark outside, and the museum was completely empty," she recalls. "It was just me and the stuffed animals in the room. The lion looked at the lioness and I looked at them."
She phoned for help. In the meantime, to offset the loneliness and the uneasy feeling that was creeping up her spine, she played a song on her phone. And then, without really being aware of it, she started moving to the rhythm of the song, and began dancing in the center of the room.
"When I started to move, I felt a powerful sense of vitality, such as I hadn't experienced for a long time, and I realized that I had myself a performance," she recalls.
That unique experience of being in the museum alone, in the dark, has been recreated in a performance conceived by Vaknin and Ilanit Ben Yaakov, titled "The Opposite of Alive," which has been "playing" at the Nature Museum every Thursday evening for the past two years. The event is intended for one person at a time – one visitor every five minutes. Each person receives a flashlight and earphones, through which an actor's voice guides him or her through the empty old building in Jerusalem's German Colony (an English version is available).
From personal experience, I can say that there is something magical, bordering on the bizarre, in the dark and dusty rooms of the museum, which has been under threat of closure for years. Before entering, at the appointed time, the visitor is asked to take a seat on a bench in the museum's garden courtyard, which helps get one in the mood for a performance that doesn't obey conventions. There is no audience, no play, no actors. In this unstructured environment, the visitor, unsure what to expect, begins to feel uneasy.
Meanwhile, sitting by a bare table, illuminated by a spot of light from a table lamp, the ticket seller (an actor who's part of the show) busies herself with a series of activities that seem to assume a ritual character. She stacks the earphones, moves the rectangular metal box that holds the money from the ticket sales from here to there. Suddenly, she hunches over the list of visitors' names as though examining something carefully, her figure narrowed into the circle of lamplight. The illuminated portico of the museum shines across the way like a destination across a border. You want to ask: When will it be my turn? What's happening now? But the ticket seller's polite visage makes it plain that even if pressed, she will not betray the museum's secrets.
One of those secrets concerns the living dead. "The oddest thing about the animals in the museum is that they are dead but aren't exhibited as such," Vaknin says. Indeed, when a visitor shines the flashlight on the bear standing at its full height, open-eyed, the thought that it might be alive runs uneasily through the mind.
"The museum is a place to learn about the world of nature and about animal life, but it's nature without movement, response or interaction," Vaknin notes. "And it also doesn't conduct the basic process that is the essence of nature: There is no development here of birth, growth, decay and death. The animals are suspended in time, positioned in a way that makes you think, for example, that the tiger is about to leap at you. Actually, the only living creature in the museum is you, the visitor."
It is, in fact, an unsettling experience to walk amid the exhibits in the dark. (There are also some surprises, which will not be revealed here.) At times, though, the text voiced in the earphones is superficial and not suited to an adult audience. But it's a unique format, and even though the potential is only partially realized, it's clear that Vaknin is a promising creative artist whose future projects will be of interest.
She is petite and has a gentle face, but there's also a determined air about her that projects creative fire and energy. This is a good time for her. Some of her works, and others in which she took part, have come in for public notice, and others will soon be on display. For example, she is the cocreator, with Yuval Hameiri, of "I Think This Is the Closest to How the Footage Looked," which won the nonfiction short film jury award at the Sundance Film Festival last January. ("A man with poor means recreates a lost memory of the last day with his mom," is how the festival's website describes the film.)
Vaknin, 26, is also a codirector and founding artist of Puppet Cinema, practitioner of a new genre that sets out to "explore a dialogue between puppetry, object theater, film, Foley [sound effects] and live feed," according to its website. The group's new work, "Salt of the Earth," by the company's director and founding artist Zvi Sahar, will premiere in Hazira Theater this May and has been invited to show in New York. "I am now beginning to grasp that this roller coaster – the transition between lots of creative noise and almost freezing silence, between a feeling that everything is interesting and possible and a feeling that I have nothing to offer and have lost the ability to create – is something that's going to repeat itself," Vaknin says.
'Dum Dum Baby'
Vaknin, who describes herself a "theater dork," grew up in a "good, regular" family, as she puts it, in the Jerusalem suburb of Mevasseret Zion, where not much goes on in terms of the arts. She was a theater major in high school and always knew she would be involved with theater, particularly its experimental and creative side. In 2006, seeking to get away from the warm bubble of her parents' home, she enrolled in the theater department of the University of Haifa, which was then headed by Dr. Atay Citron. It turned out to be a wise move: the program allowed her to direct and develop her inner creativity, and she met the people with whom she continues to work: Sahar, Dafna Karon (artistic director of the part of the annual Jerusalem Season of Culture that takes place within private homes) and Citron, who is collaborating with her on a new work, based on sign language for the deaf, which will be mounted in Haifa.
Vaknin created her first work while still a student in Haifa, and her attraction to an essentially dark form of theater was apparent even then. An object-theater piece titled "Dum Dum Baby," which she described as "a puppet show for adults and bad children," it drew on childhood memories. "One day when I was in kindergarten, I got a nosebleed," she relates. "It wasn't the first time, but it was a special event, because I felt that I had a choice. If I were to tell the teacher, she would turn it into a big drama, and because I'd quite established myself as a type of obnoxious girl who was always getting nosebleeds, I decided not to tell. I made up the first lie of my life. I wiped the blood away with my hands and held my hands closed, in a fist. One girl asked me what I had in my hands, but I kept them closed tight. I didn't tell."
Since then, she has been both the actor and director in most of her works. "To agree to be an actor is always to agree somewhat to lose control," she says.
The success of the Nature Museum show helped inspire another new work, "Hotel," which will be performed this July as part of Jerusalem's Season of Culture. The audience will come to a hotel and meet artists in different rooms. "I like the idea of foisting two experiences on each other," she says, "the experience of being a guest in a hotel, and the experience of observing the experience of being a guest.
"I don't want an audience that just sits and watches," she adds. "I am interested in the mechanism of the experience, and not only by means of provocation. I want to know who controls whom – whether it's the director who controls the audience or vice versa. 'The Opposite of Alive' is an offer to see the world the way Ilanit and I see it, but everyone can spoil the show or go where he pleases."
In the end, people usually obey and follow the preset route, because "they don't want to get stuck alone in a room filled with stuffed animals." But she wants the audience to bear in mind that the work is also about liberation. After all, she suggests that we dance, even if for a fixed time. "You can also undress," she says with an amused look. "The room is empty and no one is watching."
ICYMI
Ken Burns' Brilliant 'The U.S. and the Holocaust' Has Only One Problem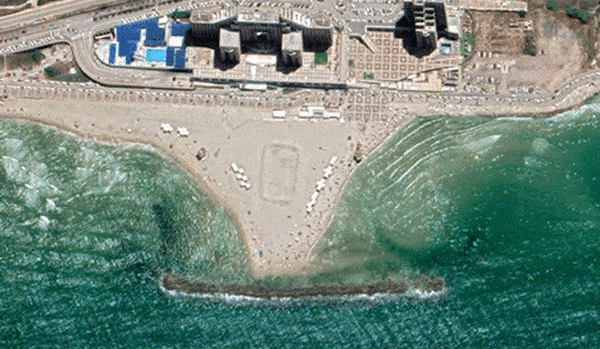 Facing Rapid Rise in Sea Levels, Israel Could Lose Large Parts of Its Coastline by 2050
Lapid to Haaretz: 'I Have Learned to Respect the Left'
The Mossad's Fateful 48 Hours Before the Yom Kippur War
As Israel Reins in Its Cyberarms Industry, an Ex-intel Officer Is Building a New Empire
How the Queen's Death Changes British Jewry's Most Distinctive Prayer