Israeli Cultural Heroes or Cursed Crazies?
In a new docudrama series, 'The Cursed,' Hagai Levi, the creator of the psychological drama series 'In Treatment' portrays four Israeli culture heroes who fluctuated between genius and madness.
A small red book on the library shelf caught my eye. Its title: "Rational Existence: The Conditions for Objective Happiness." I was in my teens. No one knew about my visit to the library in Ramat Gan. Nonreligious books were banned in my ultra-Orthodox school, but I was looking for answers. An abyss of doubts had formed in my mind, in my life. And the book I came across, written by a philosopher named Moshe Kroy, offered a possible answer. In the wake of Ayn Rand, he placed the ego and its needs at the center of life. This new faith, I thought, might dispel my guilt and fear.
In a new docudrama series, "The Cursed," broadcast on Channel 8 (Israel's Discovery Channel), Hagai Levi, the creator of the psychological drama series "In Treatment," portrays Kroy as one of four Israeli culture heroes on the fringes of the mainstream, who fluctuated between genius and madness. (The others are the writer Pinhas Sadeh, the poet Yona Wallach and the painter Aviva Uri.)
Many young Israelis of the post-Yom Kippur War period were enthralled by Kroy's assertive, lucid explication of Rand's philosophy of objectivism. But he soon moved to Australia, adopted and discarded spiritual practices at a breakneck pace – from Scientology via exorcism and Buddhism to gnosticism – until a breakdown, a tempestuous divorce, a fatal shooting and a suicide claimed him not long after his 40th birthday, 25 years ago. He now looms as a tragic hero, a Don Quixote in an alienated postmodern world.
Moshe Kroy was born in 1948, shortly before Israel's establishment. His father, who was active in Mapai, the forerunner of Labor, died when Kroy was 9. His mother, Sonia, a teacher, taught the boy how to read and piled stacks of books at his bedside. The embodiment of a dominant Yiddishe momme, she heaped stifling admiration and worry on her Moishele. He responded by rebelling against her and breaking off all ties several times.
At 19 he was a student in the philosophy department of the Hebrew University of Jerusalem. He obtained a Ph.D. from Tel Aviv University, where he also taught. Amid this precocious career, he married Geula and fathered a daughter, Talila.
Kroy quickly became a star, known far beyond the confines of academia. Students flocked to his lectures. His classes on the philosophy of Ayn Rand – the bestselling author of the novels "The Fountainhead" and "Atlas Shrugged" – had to be moved to a larger hall.
"He was a young man with astonishing learning and a fully crystallized philosophical outlook," Uri Avnery, the editor of the (now-defunct) muckraking magazine Ha'olam Hazeh, which reported extensively on Kroy, recalls. "I didn't like his doctrine, to put it mildly," he adds, "because it was the exact opposite of what I believe in, but I considered him a brilliant young man."
Kroy sounded somewhat robotic when he lectured in praise of the egocentric rationalist. But he captivated his listeners with his persuasive abilities and self-confidence. Amid the moral malaise and the general dejection that gripped the country after the 1973 war – not least because of the collapse of the ethos of the national collectivity – Ayn Rand's anti-altruistic and anti-collectivist approach struck a chord in many Israelis.
At the same time, stories about Kroy's odd behavior began to leak out. Consistent with his egoistic doctrine, he was said to have asked guests to pay for refreshments he served at home, or demanded money from his mother for a photograph of his daughter. But this was all marginal. According to Eli Eshed, an expert in Israeli popular culture, Kroy was the herald of New Age ideas in Israel. "In the 1970s, at the height of socialism, he made people receptive to anti-socialist ideas and emphasized individualism," Eshed notes.
In a conversation held a year ago, the late writer and philosopher Zvi Yanai, who edited the influential magazine Mahshavot (Thoughts), recalled an event in which Kroy shared the stage with two leading intellectuals, Yeshayahu Leibowitz and Zeev Sternhell. Yanai related that Kroy was scornful of Leibowitz's remarks and responded coolly to Sternhell. But when a member of the audience, who identified himself only as "Haim from Netanya" asked Kroy why, as a rational person, he continued to live in Israel – Kroy became so rattled that he got up and left the hall.
Later, Yanai recalled, Kroy told him that Haim from Netanya belonged to a secret society called Atlantis, whose members believed that famous people did not really die but went underground and were planning the coming global revolution in a green valley in South America. Colleagues in the philosophy department claimed that Kroy always carried an attache case, from which he would take out documents purportedly showing that the Mossad was persecuting him.
Tarnished image
Initially, with Kroy's classes drawing record numbers of students to the philosophy department, the faculty took little interest in the content of his lectures. Nevertheless, his image as an intellectual was soon tarnished and it became clear he would not get tenure at Tel Aviv University. That's when he announced that he was moving to Australia. With the assistance of the head of the philosophy department, Prof. Ben-Ami Scharfstein, Kroy received a lectureship at the Melbourne branch of La Trobe University.
Before his dramatic departure, Kroy publicly disavowed both rationalism and the State of Israel, and declared that he believed in the existence of the soul. A few years later, he promoted his new faith, Scientology, in his second book, "Logical Proofs as to the Existence of the Soul" (Hebrew, 1981).
According to Scharfstein, who befriended Kroy and stayed in touch with him in the years that followed, Kroy constantly switched spiritual paths because "he was always looking for a father figure – but it had to be a conceptual father." He himself thought Kroy was highly talented, though not a prodigy, explaining that "he never had original ideas of his own." Scharfstein also notes, bemused, that "as an Objectivist, Kroy said that love was superfluous – but how he loved his daughter!"
Kroy's letters to Scharfstein reflect his frenetic leaps from one philosophical school to another. His mind seemed to be in a constant state of restless agitation.
Later letters show an interest in mysticism and Buddhism. Kroy set forth his latest new-found truth in his book "Beyond Being and Nothingness: Introduction to Transpersonal Phenomenology," in which he discarded rationalism permanently. The world consists of infinite essences, he pronounced. He and his wife became followers of the Indian guru Sai Baba, whom they saw as the incarnation of one of these essences.
Kroy also developed an interest in spiritual and alternative healing. He and Geula gave courses in bioenergetic healing treatment. In a letter to Scharfstein, Kroy described the emotional treatment he offered relating to birth trauma and trauma from previous incarnations. "I've become a clinical psychologist in my spare time," he wrote with self-irony.
Kroy's letters ignored the deepening ruptures in his personal life. His fall was as meteoric as his rise. At Le Trobe, objections were raised to some of his practices, including exorcism. In 1984, the Kroys went to Los Angeles for a two-year sabbatical, and there, in the New Age capital, they took part in séances, consulted with mediums and met Dr. Joseph Chiappalone, an Australian physician, who would play a crucial role in their fate. Chiappalone and his wife, Anita, would later set themselves up as gurus, first in the United States and afterward in Australia. Kroy became a believer in their cult, which followed the doctrine of gnosticism and divided humanity into "the sons of light and sons of darkness."
At a certain point, however, Geula Kroy declined to follow her husband on this new path. She had had enough. "Moshe has seized on their [Chiappalone and his wife's] ideas, but I found them nauseating and refused to go along," Geula wrote in a letter to her sister, Rachel Berg. In 1986, the differences between Kroy and his wife deteriorated rapidly into a stormy divorce and custody battle, in which the Chiappalones' cult was involved. The struggle ended with the fatal shooting of Geula Kroy two years later.
According to Berg, who lives in Jerusalem, the rift began when Kroy and his daughter Talila went to India together, but instead of meeting up there with Geula, as planned, went back to Australia without telling her. Geula discovered that Talila, then 15, had decided to live with her father and sever all ties with her mother. "The cult turned Geula into some sort of monster," Berg relates. When Geula tried to contact her daughter, arrest warrants were issued against her.
To end the custody battle, Talila was married off by her father and the cult as soon as she reached the legal marriage age in Australia – 16 and one month – to a man of 30 who suffered from cancer. Geula was distraught. In 1988, when she tried to enter the house where Moshe and Talila were, her son-in-law shot her a number of times, killing her. According to Berg, the incident was a trap. Geula didn't know where they were living, until one day she found their address in her mailbox, planted as bait. The son-in-law died of his disease a few months later.
Geula had never stopped trying to get Talila back, Berg says. In a television program about the cult broadcast in Australia in 1987, Geula implores her daughter to get in touch with her. Kroy is seen in the studio, shrunken and thin but articulate. By his side is Talila – pretty, intelligent, with auburn hair and almond eyes, trying to remain calm even though she is being pushed to vilify her mother publicly. (Talila Kroy, now 42, lives in Australia, remarried and gave birth to a son a few months ago. She was not willing to comment for this article.)
Kroy returned to Israel in 1989 and tried to make a comeback. Media outlets recalled him fondly and he had no trouble arranging interviews for himself. In one such interview, on Israel Television, he spoke in a monotone about his new doctrine. Ben-Ami Scharfstein says cried as he watched. "I understood his condition," he said. "I realized there was no way back."
A day later, Kroy killed himself.
'He was swallowed up'
Michal Ben Horin, a journalist and screenwriter, was in touch with Kroy for many years. As a student, she asked Kroy questions about philosophical issues that troubled her. They remained friends for years, until he cut off relations in 1987, over ideological differences. But Ben Horin met him again before his death. In retrospect, she believes that within him there was "a yearning, a need that philosophy did not fulfill."
She adds: "Moshe was looking for the divine secret, the secret that would connect him with himself and with the universe. That's why he moved between spiritual doctrines. But he was swallowed up in them." Geula's killing finished him, Ben Horin says. It "sapped his strength," though even prior to that, "he was already in quite a brutal stage of spiritual addiction."
On February 9, 1989, Moshe Kroy locked himself within his apartment and took his life with a lethal amount of pills. He was found lying on his bed, his face tranquil, wearing headphones connected to a tape-recorder with a tape of classic Israeli songs. His suicide has been attributed to depression and paranoia, among other theories. Possibly, though, his death was a conscious decision. In one of his letters to Scharfstein, he talks about old age and dying with rare frankness and intimacy: "Time is passing, and as it does I see that my philosophical conclusions lead to a mystical religious idealist approach to existence … and at the same time make it possible for me to accept the loss of youth, even death, not as absolute changes in one's self-being, but as a phenomenon, part of some vast dream that constitutes the world, from which we might someday awake."
ICYMI
Ken Burns' Brilliant 'The U.S. and the Holocaust' Has Only One Problem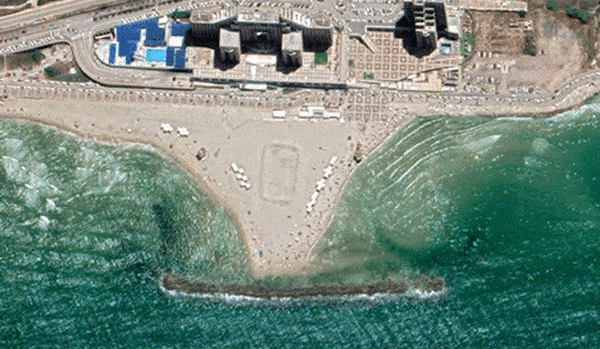 Facing Rapid Rise in Sea Levels, Israel Could Lose Large Parts of Its Coastline by 2050
Lapid to Haaretz: 'I Have Learned to Respect the Left'
The Mossad's Fateful 48 Hours Before the Yom Kippur War
As Israel Reins in Its Cyberarms Industry, an Ex-intel Officer Is Building a New Empire
How the Queen's Death Changes British Jewry's Most Distinctive Prayer