New Lease on Life |
In Tel Aviv, a Bus Station Is Reincarnated
Tel Aviv's New Central Bus Station never lived up to its promise but it's having a second life as art venue, migrant-worker hub and bat sanctuary.
It began in 1967, with a megalomaniacal idea to build the world's largest bus station as a private commercial venture. By 1993, when it finally became operational after 26 years of financial and regulatory glitches, Tel Aviv's New Central Bus Station was functionally and conceptually obsolete.
Today, it is a massive hulk of urban blight. Less than 60 percent of its more than 240,000 square meters of floor space has ever been used, according to Miki Ziv, Director General of the Tel Aviv New Bus Station Management Company, which operates the station for the Tel-Aviv based Nitzba Holding Company, its current owner.
It may no longer be the world's biggest bus station – a recently-built one in India is probably bigger. But is quite probably the only bus station in the world that boasts a massive nuclear bomb shelter, a fully-built but never-used six-screen movie theater and a bus tunnel that became a bat cave and has been declared a nature preserve.
The station was designed by Ram Karmi, who also designed Israel's Supreme Court and was awarded the prestigious Israel Prize (probably awarded despite this particular project.) It was built in the New Brutalism architectural style, based on French-Swiss architect's Le Corbusier's expressionist use of raw, unfinished molded concrete.
Urban legend says Karmi, who died in April 2013, never visited here.
It is still officially known as the New Central Bus Station, even though the old central bus station, just 100 meters away, is no longer in use. The creepy, screechy bats are apt mascots for what is definitely Israel's most reviled and repulsive edifice. The station's reputation is so bad that it has its own coterie of devoted groupies and tour guides who lead cultural expeditions through its cavernous halls.
Let's get lost
The tours are organized by See Tel Aviv, an arts group that provides expeditions through south Tel Aviv. They are sponsored by the Tel Aviv Arts Council, a nonprofit group for young professional creatives, according to its website.
This week's tour, offered in English and sold out almost as soon as it was publicized in social networks, is led by Chicago-born Yonatan Mishal, a 30-something who came to Israel as a young boy. Somewhat obsessively, he admits, he has spent 12 years studying the station's nether regions, accessible only by special permit (which he has). In his day job, Mishal is a photography and arts teacher.
Mishal greets the 20 or so intrepid explorers, most of them 30-something Israeli-Anglos. "This place is filled with mystery and wonder," he promises.
"I hate this place," mutters Daniel, an Israeli-American from Texas who lives in Tel Aviv.
A bit sheepish and a bit spooked and goofy, curious and self-conscious about the event, the group follows him closely, sticking together.
"I'm afraid I'll get lost," whispers Einat, a Ph.D. student from Tel Aviv.
"You're supposed to get lost here," responds Mishal. "There are no straight lines in the entire building. No horizon. No way to really know where you are. That's by design."
In its original PR materials, the station is called a "terminal," supposedly reminding travelers of airports and sophisticated foreign cities, an ode to cosmopolitanism in Tel Aviv, which in the 1960s was still trying to break out of its provincialism.
It was supposed to revitalize the once pastoral neighborhood of Neve Sha'anan ("Tranquil Oasis"), established by 400 Jews who moved out of Jaffa in 1922 to found an agricultural-urban community, with fragrant orange groves and small, family-based industries. A few notable International-style (Bauhaus) homes were built (some still visible today) among the largely one-story family units. But the area began to decline back in 1941, when the old central bus station was built.
The area is still called Neve Sha'anan, even though it's neither tranquil nor an oasis. The bus stations attracted crime and blight, the neighborhood deteriorated and property values plummeted. Now populated primarily by undocumented foreign workers, it is a neglected, crime-ridden, drug-infested depressed inner-city neighborhood.
The New Central Bus Station was meant to have, in addition to the move theater, some 1,500 shops, restaurants, bank branches, hair salons and service providers. It's seven stories high, two of them completely underground. A skylight on the top floor was supposed to bathe the interior in daylight, but it's been covered over due to leaks. "Israelis always seem surprised every time it rains in the winter," Mishal observes. Once inside, it is disorientingly impossible to tell if it is day or night.
Mishal stops at a "square" – one of the countless open spaces with benches, where the more than one million expected passenger-shoppers were supposed to rest their feet. (In 1967, Israel's population was less than 3 million).
Escalator from the third floor, to the third floor
An old man sleeps on one of the benches. The square is surrounded by a maze of escalators, staircases and ramps, looking more like an M.C. Escher drawing than a transportation hub. According to Mishal, only two staircases actually extend from top to bottom, and because each floor has multiple levels it's possible to take an escalator from the third floor to the third floor.
Medical care, shoes and live theater
At the top of a seemingly random set of stairs, the well-lit Levinsky Free Medical Clinic welcomes foreign workers, no questions asked. Off to the side, a cast-off sign with an old version of the Egged bus company logo directs phantom passengers to the long-defunct bus to Cairo.
This is the Philippine Quarter, where a dirty mannequin in a tattered Santa Claus suit still stands in a corner, stores advertise the best rates on calls to the Philippines, India and Nepal, and a grocery store sells Philippine foods. Nearby is a shop offering toiletries, computers and legal services. All the stores are well-stocked with masking tape, for wrapping the packages that Filipinos send home.
We meander – there seems to be no way to navigate deliberately – through the station. There are Russian, Ethiopian and Eritrean quarters, too. Rows of sex stores, cheap eateries and clothing stores with flashy brand name knockoffs are interspersed among branches of chains such as Fox and Crocs, as well as a few synagogues. There's an entire floor (or sub-floor) dedicated to shoes. On the third floor, actor-director Nico Nitai has ensconced his Karov ("Close") Theater, with an 80-seat auditorium whose audience often spills into the nearby squares. On the fourth floor, a hip-hop scene gravitates around an urban clothing shop called Mad Man. On the fifth floor, next to the Filipino church, Yung Yiddish has established a Yiddish library with more than 40,000 books and weekly programming. There are also studios rented out to artists, a few fringe theaters and the city has opened a Unitaf free kindergarten for the children of migrant workers.
On one of the seventh floors (there are two), Tel Aviv creatives have mounted an exhibition of graffiti and street art. The other is taken up with the Dan Bus Company's intra- and intercity bus platforms.
All that accounts for less than 40% of the building, the parts that we know (and usually try to avoid). Below are another few full and half-floors that are completely closed to the general public.
The abandoned second floor was intended to be a huge waiting area, although it was never clear why anyone would want to wait for so long in a bus station or whether anyone could ever find their way back to the bus platform. A long corridor of empty storefronts, one filled with beautifully carved pinball machines, leads to a down escalator to the theaters. (The way back up is by elevator, which only brings people up, never down.) A statue of Charlie Chaplin holding hands with a younger version of himself, now lit only by the tour photographer's LED lights and the shimmer of cellphone screens, watches over the escalator. The Magnificent Six movie complex still has its tiled floors, waterless fountains, faux plants and never used, perfectly preserved ticket booths.
Down here, Mishal admits, even he gets lost. Nearby, members of the fringe Mistorin Theater are practicing rappelling down from the seventh floor in preparation for a new performance.
An enormous underground parking garage was meant to double as a nuclear bomb shelter. It is still functional, with enough water, gas and oxygen to sustain tens of thousands of people for several months. It was used during the 1991 Gulf War (two years before the station opened), and an Israel Defense Forces unit deployed here last year during Operation Pillar of Defense.
We walk down a ramp, past walls that resemble a stalactite cave. The entire area could have been used as a filming location for "I Am Legend."
But thoughts of dystopia are disturbed by the squeals of the tens of thousands of bats that occupy a 200-meter-long unused bus tunnel. They moved in when construction was delayed and are so determined to stay that the Israel Parks Authority recently declared it a nature preserve. "Please don't use your flashes," Mishal says. "It disturbs the bats and they are a protected species."
Periodically, some official or entrepreneur floats the idea of selling the station. According to accountant Ehud Meiri, writing in the Globes business newspaper in September, 3,000 apartments could be built here, which would gross a conservative 2.4 billion shekels.
But with the Arlosoroff (Savidor Station) bus hub to the north scheduled to phase out over the next decade, the New Central Bus Station will be Tel Aviv's only bus station. And anyway, arguments between store owners and the station's owners keep plans from proceeding. Not to mention the protected bat tunnel/cave.
Click the alert icon to follow topics:
ICYMI
Ken Burns' Brilliant 'The U.S. and the Holocaust' Has Only One Problem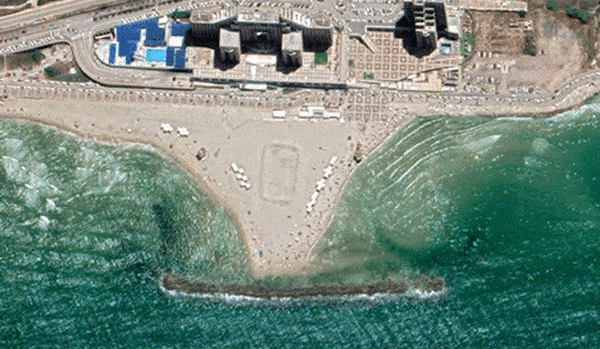 Facing Rapid Rise in Sea Levels, Israel Could Lose Large Parts of Its Coastline by 2050
As Israel Reins in Its Cyberarms Industry, an Ex-intel Officer Is Building a New Empire
How the Queen's Death Changes British Jewry's Most Distinctive Prayer
Chile Community Leaders 'Horrified' by Treatment of Israeli Envoy
Over 120 Countries, but Never Israel: Queen Elizabeth II's Unofficial Boycott