The Times They Are A-changin': The Israeli Team Behind Bob Dylan's New Hit
Interactive video-editing platform Interlude is the brainchild of Israeli musician turned start-up entrepreneur Yoni Bloch.
Bob Dylan.
Credit: Getty Images
NEW YORK "It will destroy your family, your happy home is gone / No one can protect you from it once you turn it on."
This is Bob Dylan's description of television in his "TV Talkin' Song" from 1990, which reveals the story of an impassioned speaker in London's Hyde Park who preaches to passersby to stop worshiping the "TV gods," saying it makes their thoughts shallow and "drags your brain about." Some 23 years have passed since then, and last week a new and impressive interactive clip was released that turned Dylan into a favorite of the digital crowd, ironically because of an ambivalent tribute to a medium he frequently enjoyed to disparage during his long career.
The clip received more than two million views in less than a week and was enthusiastically hailed by The New Yorker, Rolling Stone, The New York Times' ArtsBeat blog, The Los Angeles Times, Pitchfork, Wired and hundreds of websites. What many may not know is that behind the clip are a number of Israelis. First and foremost are the video artist Vania Heymann, 27, the director and editor who executed the complex artistic vision of the clip, and Yoni Bloch, 32, CEO of the technology company Interlude, which produced the clip.
Bloch is no ordinary CEO. The musician-turned-businessman rose to fame in Israel when his 2004 debut album "Maybe It's Me" was released and many of its songs became immediate hits. In the past decade Bloch recorded two additional solo albums ("Bad Habits" in 2007 and "Who Am I Fooling" in 2008), collaborated with prominent Israeli musicians in tours and live concerts, composed songs for singers such as Efrat Gosh, Shlomi Saranga and Miri Masika, and wrote original songs for TV shows including "Kochav Nolad," the Israeli version of "American Idol."
When asked if he was not afraid to leave his musical career behind and reinvent himself as a start-up company owner in New York, Bloch replies with a smile: "It's stupid not to do something due to fear. Of course I was afraid, but I also believed it was worth taking a chance."
Judging by the headlines and reviews of Interlude's newest clip last week, it was indeed a chance worth taking. After all, not every day a young Israeli musician is approached by the personal manager of none other than Bob Dylan.
"The team that works with Dylan contacted us after they saw some of the other projects we did," Bloch said in an interview with Haaretz on Friday. "During our meeting with them, his manager said that they want to reach a young crowd but weren't sure how to do it."
Bloch proposed an interactive clip, an idea Dylan's manager enthusiastically agreed to, and they decided to create the first official clip for "Like Rolling Stone" since the song was released in 1965.
The story behind this famous hit song by Dylan, crowned by Rolling Stone in 2011 as the "greatest song of all time," proves that the American singer was prescient in seeing ahead of everyone that the times were changing. In 1965, when the song was recorded ahead of the album "Highway 61 Revisited," Columbia Records refused to release it, saying that the song was too long at over six minutes, and its sound was too electric. Only after the song was leaked and became a hit at music clubs was it released as a single.
Considering its history, there is some poetic justice in this legendary song coming back into our lives as an interactive clip.
"Vania [Heymann] works at Interlude as a creative developer, and when I told him that we were going to make a clip for Dylan out of this, he returned to me within two hours with an idea," Bloch recalls. "He told me, 'let's make a clip comprised of a multichannel television that lets viewers flip through, while the entire time he is getting the same content because all the characters are singing Dylan's lyrics.'"
Bloch adds that to the credit of Dylan's team, they completely backed the idea and went with it all the way.
Heymann had directed a series of shorts called "Bekitzur" ("In Short") for Israel's most popular sketch comedy show "Eretz Nehederet" ("A Wonderful Country") and created viral video clips for companies like Pepsi and Jerusalem microbrewery Shapiro Beer. He worked on the direction and editing of the clip for two months and shot the project in California, New York and Israel. The result is a video clip composed of 16 different television channels that present a wide spectrum of genres, including a quiz show, cooking program, romantic comedy, reality show, a tennis tournament (which was shot in Israel) and a news channel staring Israel's Channel 2 news anchor Danny Kushmaro.
It doesn't matter which channel you choose all the figures look like they are lip-synching "Like a Rolling Stone," whether it is American comic Drew Carey who appears on the set of "The Price is Right" or the rapper Danny Brown who gnaws on a hot dog in what appears to be an improvised music video. After wandering around different channels, one is surprised to discover Dylan himself on Channel 121, using a recording of a live performance from 1966.
Web surfers are welcome to zap between channels by using the arrow keys or pressing buttons on the television that appears on their screen. This means that every viewer does not see the exact same clip, but creates for themselves six and a half minutes of a song to play, and every time the result will be different. And if you decide to see all the channels from beginning to end, you will have to spend an hour and a half doing so.
"In reality, channel-flipping is a very passive act. You're sitting back in your house, doing nothing," Heymann said in an interview with Rolling Stone. "We wanted to make it an active thing, re-editing the song itself to make a new version."
When Bloch is asked how the participants were chosen, he says that the production team chose people with whom they really wanted to work and when they broached the topic in meetings they received two types of responses: "Those who were really excited and immediately wanted to participate, and those who thought we were lying and asked if we really work with Bob Dylan."
Did you get a lot of negative replies?
"No. We knew more or less who we wanted to work with. NBC's current affairs program 'The Today Show,' for example, told us no and after the clip came out they repented and did a news item on it."
How did things play out in practice? How did you get to Danny Koshmaro for example?
"Danny loves to come to my performances and we are friends, so after 'The Today Show' turned us down I contacted him and asked him, 'Say, are you ready to sing a Bob Dylan song in a studio? At first he didn't understand what I meant, so he said, 'In the middle of a newscast? I don't think so.' I explained to him what it was about, and a few days later we had already shot him in Israel."
The clip is meant to promote the release of a new package of CDs comprising more than 40 albums that Dylan recorded over his career. The seasonal timing is not coincidental, coming just before Americans went out on their Thanksgiving Day shopping sprees this week and ahead of the Christmas shopping season. As written in the overwhelmingly positive New Yorker article, "Yet Dylan has consistently showed that art can spring from commerce, and this video manages to be more than just a promotional tool."
So too, Interlude specializes in the mixture of art and commerce. The company has 40 employees in New York, Tel Aviv and Palo Alto and has raised $22 million in two years from investors (including, among others, Google's Eric Schmidt). It received its first exposure when a video clip of singer Andy Grammer won an MTV award in 2011. "He was still anonymous when the clip came out, but since then he has already had an album that went platinum," says Bloch.
New way to tell stories
The platform developed by the company is called Treehouse and is described on Interlude's website as "a self-service authoring suite which lets you map, build and publish seamless interactive videos." The tool enables users to create interactive video clips, like the one with Bob Dylan.
"The general idea is to invent unusual tools for creating nonlinear stories," Bloch says. "We are trying to utilize the advantages of the Internet to create a new medium and a new way to tell stories. The idea isn't to create something interactive for the sake of interactivity, but to rethink the manner in which we create and consume stories in the digital age."
What can users do with it? To whom is it targeted?
"Several days ago we started to let individuals use Treehouse for free, and since then it has already been used for different projects such as interactive courses at prestigious universities like Stanford and Duke."
What is your business model?
"At this stage the money comes from investors. Personal use of the software is free, and it is relatively cheap for commercial use. We and our investors believe in our ability to manufacture here a new type of artistic expression. The goal is not an exit, but to focus on creative collaborations in all sorts of areas: music, television, movies, online series or anything else that can be helped by our technologies."
Bloch wants Interlude to focus more on music and says he has some partnerships in the offing.
There is a lot of audio-video editing software out there. What makes Treehouse unique?
"Most of the existing technologies in the market are linear editing software. Most of Interlude's technology patents are seamless, meaning they enable transitioning from channel to channel without the video getting stuck. The goal is to grant users the possibility of controlling the experience and simultaneously enjoy an uncomplicated viewing experience, like it is one creation and not a collection of fragments. Treehouse enables every user to do this without the need to create specific software themselves."
Is this based on an open-source code so people can change it to fit their needs?
"At the moment, no. We are working very hard to develop this tool in the best manner possible."
In order to better understand Interlude's potential it's worth peeking at the company's website, where a slew of interactive clips can be viewed. One is a clip for the ESPN sports network that enables surfers to ask the actor Jon Hamm (Mad Men's Don Draper) various questions. Hamm is sitting in a studio with the interviewee, and viewers are invited to choose a topic on which the two of them will speak, ranging from Don Draper to baseball.
For the clip that promotes the new season of the comic series "The New Girl," starring Zooey Deschanel, viewers are asked to make a series of decisions such as whether to dress Deschanel in a Greek toga, 1960s fashion, swimwear or for a pajama party.
The site also features a clip that lets users create a trailer for a Halloween special for the comic series "Community," an interactive commercial for the car company Subaru and a video clip entitled "One on One: Shimon Peres and you" in which users click on questions and are answered by Israel's president.
In other words, Interlude is offering an in-demand technology in an era when every web user demands 15 seconds of recognition for themselves and the daily possibility to create, write and express themselves online. Accordingly, it also enables them to produce interactive content or repackage existing content, transforming the viewer into an active participant and story-telling web surfer, from passive to active (or at least creates the illusion of being proactive as the content choices are limited and were created in advance by someone else).
Interlude does not just enable users to tell their stories in a more sophisticated manner it also enabled Bloch and other Israelis at the company to reinvent themselves. After a successful career as a musician in Israel, Bloch moved to the Big Apple to become a full-time start-up entrepreneur, and recruited and a number of Israelis. Among the Israelis at Interlude are Tal Zubalsky, a high-tech specialist and musician who played acoustic guitar for Bloch, graphic designer Alizarin Zroob, who starred in the Israeli docu-reality TV show "Mehubarot" ("Connected)," and about 20 employees in the company's Tel Aviv offices.
Nevertheless, Bloch continues to tease with his previous life. In his words, "It's not easy to combine both worlds, but I try to create harmony between them. I recently did a short tour in Israel and a series of performances with Eran Tzur in New York in September. I fly to Israel all the time. Surprisingly, the move to New York has accentuated for me all sorts of things related to Israel, and in a certain respect made me more patriotic."
He adds that most of the time all his anxieties and pressures are focused on managing his company, and appearing on stage and making music relaxes him.
Indeed, Bloch impressively combines his two undertakings. He recently released a new single called "Mita Anakit" ("Giant Bed") and simultaneously launched on his website a competition where fans are invited to create an interactive video clip for the song using Interlude's technology. The first prize in the competition, which closes in January, is NIS 10,000, a flight to New York and participating in the Tribeca Film Festival.
"I love the limelight, but also enjoy pulling strings behind the scenes," says Bloch. He sees no fundamental difference between his stage persona and how he behaves in the office. His stage persona, which is based on a mixture of an affection for hits and a child-like nonsensical spirit, has won him many fans.
About two months ago he appeared with Israeli singer Eran Tzur at the Jewish Community Center on the Upper West Side of Manhattan. "Me no speak English," he said to the audience, and then asked with a smile if he could speak Hebrew. After the audience agreed he pointed to a new ring he was wearing on his finger and said with a smile, "I got married this summer." Minutes after this romantic statement he passionately sang his song "Ahrayut" ("Responsibility") with an entertaining refrain to free love that seeks to forget if only for a minute that such a thing as birth control exists. The Hebrew lyrics include the line "If you ignore / you will enjoy, go with the flow / nothing will happen / I will pull out a second before," which begs to become an interactive clip.
Similarly, web users will need to decide if they take responsibility, or flee to avoid raising and taking responsibility for their virtual offspring.
Click the alert icon to follow topics:
ICYMI
Ken Burns' Brilliant 'The U.S. and the Holocaust' Has Only One Problem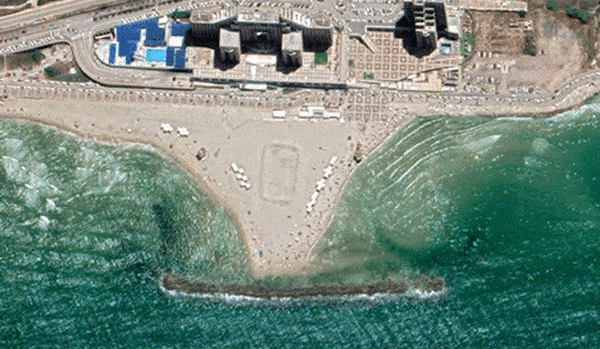 Facing Rapid Rise in Sea Levels, Israel Could Lose Large Parts of Its Coastline by 2050
Lapid to Haaretz: 'I Have Learned to Respect the Left'
The Mossad's Fateful 48 Hours Before the Yom Kippur War
As Israel Reins in Its Cyberarms Industry, an Ex-intel Officer Is Building a New Empire
How the Queen's Death Changes British Jewry's Most Distinctive Prayer