Rock Legend Lou Reed Dies at 71
Cause not reported, but according to Rolling Stone magazine, he underwent a liver transplant in May.
Just two days ago they played the song "Perfect day" on the radio. Who could have imagined that today would be anything but perfect – a sad day for millions of music fans throughout the world. Lou Reed passed away at age 71. Rock and Roll has lost one of its most important contributors, an artist that expanded the boundaries of the genre, took it to the city's darkest alleys, and the soul's darkest corners, and there, in the darkness, managed to produce some of the most beautiful songs of the latter half of the 20th century.
A few months ago, Reed's wife, Laurie Anderson surprised the music world and revealed that Reed underwent a life-saving liver transplant. "It's as serious as it gets. He was dying. You don't get it for fun," Anderson said at the time. "He'll never totally recover from this," she added. She did, however, expect him to be active within a few months.
Then, Reed wrote on his Facebook page: "I am a triumph of modern medicine, physics and chemistry. I am bigger and stronger than ever. My Chen Taiji and health regimen has served me well all of these years, thanks to Master Ren Guang-yi. I look forward to being on stage performing, and writing more songs to connect with your hearts and spirits and the universe well into the future."
Reed will, of course, continue to do this, but without his actual presence, which was mesmerizing, if eccentric. Whoever was fortunate enough to see Reed at Tel Aviv's Heichal Hatarbut five years ago, when he joined Anderson on stage and sang "I'll be your mirror," the Velvet Underground hit, knows what that means. It felt as if our hearts were going to explode in our chests.
Reed was born to a Jewish family in Brooklyn in 1942. His father Sydney was an accountant. As a boy, the rebellious Reed was a like a virus in his conservative community, which tried its best to restrain him. He underwent electric shock therapy, meant to "cure" him of homosexual tendencies. The treatment lasted eight weeks, and it seems that on some level, it shaped his creative personality, and led him to the darkest of places. But despite his preoccupation with mental wounds, there is quite a bit of optimism to be found in Reed's songs. Love and beauty always surface next to the self-hate, and that is why over the years, many found solace in Reed's work.
At age 20, a few years after a few premature attempts at folk, Reed founded his first rock band, called "L.A. and the Eldorados." He and his friends played Chuck Berry covers and some of Reed's first original songs, performing at fraternity parties at Syracuse University, where Reed was a student, and the city's black neighborhoods, which as a white band, made for an uncommon sight. It seems that his early experiments with rhythm and blues are part of the reason that all of his songs were always catchy, and had a strong rhythmic backbone. The band broke up in 1963, when Reed, unpredictable as ever, refused to take the stage, and injured himself by punching through a glass window.
In 1965 Reed met John Cale, and the encounter between the two artists in Andy Warhol's creative incubator, the Factory, was responsible for "The Velvet Underground," one of the most influential rock bands of all time. At the time, the band, which included guitarist Sterling Morrison and drummer Maureen Tucker, did not win any recognition. Their first album, now rare, came out in 1967, and completely went against the hippie values of free love. It hardly sold, and when the New York band went to play in San Francisco, it was met with a very hostile welcome.
But as the years went by, it became clear just what "Velvet" was bringing to the table. Reed's preoccupation with alienation, drugs, and S&M broadened rock's horizons, and Velvet's music – tough and yet extremely sensitive – became the mold that later trends like glass rock, punk, and new wave, would aspire to be.
The song "Heroin," from Velvet's first album, is perhaps the most monumental example of Reed's innovation and greatness: Delusions of grandeur and a sense of futility swirling together in perforated veins, showing the way to the ecstasy of destruction. Almost 50 years after it was written, and after countless airplay, this song is still shocking and amazing.
Velvet Underground broke up in 1970, almost without any recognition or commercial success. Reed worked for a short time at his father's office, and later released his first solo album, which was successful. A meeting with his fan, David Bowie, in New York in 1972 changed Reed's career. Bowie, thankful to Reed for the new horizons that he opened for him, flew Reed to London, where almost no one recognized him (not that the situation in New York was any better), and produced his most successful album, "Transformer," which contains his three biggest solo hits, "Walk on the wild side," "Perfect day," and "Satellite of love."
The next step was artistic success and commercial suicide. Reed's record company hoped for another chart topper, but instead got "Berlin," one of the saddest albums in the history of rock, a heartbreaking melodrama about detachment, downfall, and death. Today, "Berlin" is considered a work of genius, but at the time the critics hated it, and the public didn't buy it. Rolling Stone called it "a disaster." Reed asked, ironically, "Who cares about the critics?Berlin is an album for adults." But the truth is that he was hurt, deep down.
The mid seventies were a dark time in Reed's life. He wandered the streets of New York, stoned, thin as a skeleton, his hair dyed a hideous yellow. He continued to write gentle, gorgeous songs, but released one of the most extreme albums in rock history, "Metal Machine Music" – 64 minutes of noise and melody without words, as hardcore as can be. It is impossible to listen to this album from start to finish, but it was a fantastic album, as a punk statement.
In general, although Reed was one of rock's greatest writers, the man who perhaps more than any other brought literature into rock and roll, he was a true believer in the power of sound, and powerful rock. Like Bob Dylan, Reed resented, and justly so, the fact that he was considered a good songwriter, and people seemed to forget that he was an excellent musician as well. Not just a great lyricist, but a thorough sound researcher, and primarily the sound of guitars. A known rule among journalists that had the daunting task of interviewing him was that they must engage him in at least an hour of conversation about amplifiers and effects. Otherwise, Reed would bury the journalist alive. He would usually do it anyway.
Throughout the seventies and eighties, Reed's career experienced ups and downs, dives into the abyss, and albums of redemption. One such album was "The Blue Mask" from 1982, as was "New York" in 1989. In the early nineties, at his creative peak, Reed performed in Park Hayarkon as an opening act (!) for Peter Gabriel. A few years later, he gave an unforgettable performance of his own in Tel Aviv.
In one of his most famous interviews, in 1973, the self-destructive singer was asked when he planned to die. "I would like to live to a ripe old age and raise watermelons in Wyoming," he answered. For such an intense person, who once wrote in an album cover that "my week beats your year," age 71 is indeed a ripe old age. After his death, the wild side of rock and roll will be a much less deep, and interesting place.
ICYMI
Ken Burns' Brilliant 'The U.S. and the Holocaust' Has Only One Problem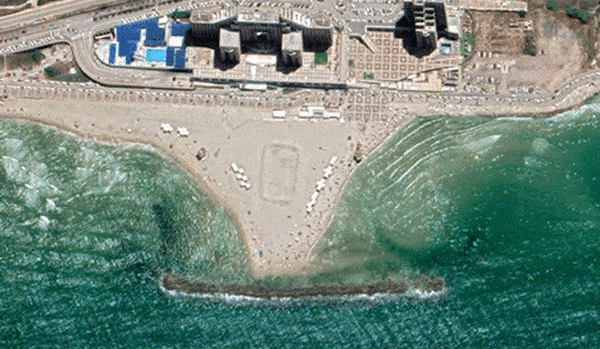 Facing Rapid Rise in Sea Levels, Israel Could Lose Large Parts of Its Coastline by 2050
Lapid to Haaretz: 'I Have Learned to Respect the Left'
The Mossad's Fateful 48 Hours Before the Yom Kippur War
As Israel Reins in Its Cyberarms Industry, an Ex-intel Officer Is Building a New Empire
How the Queen's Death Changes British Jewry's Most Distinctive Prayer