The Hipper the Better: Young, Secular Israelis Reconnect With Jewish Roots
An event organized at a trendy Tel Aviv concert venue celebrates Jewish renewal, especially in the minds of its young and secular organizers.
"Even if you're an atheist, there's no reason not to come and reap some knowledge and enjoyment from this evening," says Lior Zalmanson, the organizer of the event "Yehudim beketa aher" ("Jews in a different light"). It's taking place tomorrow at Tel Aviv's Ozen Bar.
Show up and hear short and unusual lectures. Eran Sabag will talk about blues and mysticism, and Yehudit and Tomer Persico will discuss the importance of foreplay in Kabbala. There will also be performances by The Technicalities (Shira Z. Carmel and Alon Diament ), the soloist of the band Pisuk Rahav, Jeremy Fogel, and Assaf Talmudi doing an accordion solo.
Meanwhile, Oded Carmeli and others will read poetry, and Noam Partom will perform spoken word for Hanukkah. In addition, fringe films will be shown on Jewish fantasy and horror, video and performance art. The night will end with a Yiddish-electro-swing party with deejay Gal Kadan.
Zalmanson, 29, is a doctoral student at Tel Aviv University's business school. Although he grew up in a secular home, "since [Yitzhak] Rabin's murder I've joined a mixed movement of secular and religious people and am involved in Jewish renewal. The average secular Tel Avivian usually stays away from Judaism, for reasons that are usually political such as religious coercion," he says.
"It's a cultural failure. After all, it's a unique quality that we should celebrate rather than hide. We're losing cultural philosophical baggage. I don't say Judaism is the key to everything, but it's certainly another layer, and ignoring it doesn't help solve questions of who we are and what we're doing here."
Still, the event won't deal with Judaism in general, but with the bizarre and the eccentric. "We want to overturn prejudices about what Judaism means," says Zalmanson. "Judaism is a concept that is overwhelmed in Israel by the culture of those who become newly religious, those who are 'strengthening' their Judaism, and New Age. You say Jewish culture to someone and he'll tell you [singers] Ehud Banai, Meir Banai, Evyatar Banai. It's a culture of singing about searching for God and a sense of spirituality. But Judaism doesn't have to deal with the lofty, but also with the everyday, the strange and the extreme."
The Bronfman Alumni Venture Fund is one of the event's sponsors. "The foundation promotes thinking that is quite American in its attitude toward Judaism," says Zalmanson. "It accepts what's different - all the denominations."
He agrees that the foundation's perspective suits a situation in which Judaism is a religion rather than a nationality, and a situation in which the Jews are strangers who don't have autonomy."But in a broader sense, these are values of liberalism that are deeply implanted in religious people," he says. "Not the ultra-Orthodox, but definitely the Orthodox."
Heretical thoughts
When Zalmanson was 18 he joined the Reform Movement youth, with whom he launched the event. Although it's "a multi-denominational event with people of all kinds and types," he makes a point to note that "the initiative came from this community."
Zalmanson asked the participants to talk about subjects that even in liberal batei midrash - study halls - would be unacceptable. That's also the strategy that guided him in choosing musicians.
"They come out against mainstream Judaism, the Judaism of Army Radio. They have strong heretical thoughts," he says. "Jeremy Fogel, for example, is a knowledgeable person and a researcher who has a profound knowledge of Judaism, but he also sings about Jesus and sexual openness and makes comparisons that seem like desecration."
Zalmanson doesn't believe in one Judaism, but "in Judaisms." Today, he says, with the help of the Internet and "our ability to reach all kinds of esoteric movements, we're exposed to traditions and customs that hadn't been exposed."
So will it be an event of secular Tel Aviv hipsters?
"Not at all. I know that graduates of pre-army mekhinot [which combine Torah study with military preparation], formerly religious people, Reform, Conservative and believing Jews who are not affiliated with a denomination will be attending. And others."
Were there singers or speakers who refused to take part for reasons of ideology or modesty?
"Yes. There were speakers who thought that the event wasn't dignified. That's a claim that's important for me to deal with. A person who comes to lecture - and it makes no difference how esoteric the subject - is going to lecture seriously. It's not stand-up comedy. It's no less dignified than a synagogue sermon, but the subjects might be different and embarrassing.
"At the same time, there were speakers who asked that their names not be mentioned, who felt they were being asked to come to a club where there were people a little drunk. A lecturer on Judaism doesn't always want to feel like a rock star."
Yiddish will be represented at the event. But what about Ladino?
"I didn't find anyone. I think the Mizrahi and North African side receives lots of exposure - in liturgical-poems festivals, for example. Sephardi cantorial music has been getting exposure in recent years, and I think that's great. But Yiddish has eroded over the years and has become weird and strange, and that's what suits us."
In Brooklyn they hold "cholent evenings" that include discussions and performances attended by Jews - mainly religious people who have been cast out. People who smoked a joint in the wrong place or asked forbidden questions out loud.
Are there versions of "Yehudim Beketa Aher" in other cities of the world outside New York?
"Yes, Berlin is also a center that attracts many Israelis, including artists who incorporate Jewish identity into their work. And you see a more exciting Jewish arena there than in Israel. In Israel too there has been a cultural awakening, mainly in Jerusalem, where there are many Anglo-Saxons. People say that Tel Aviv is a city without religions, without spirit. I think that's a false and sweeping generalization; that's why it was important to me to hold the event here of all places."
Fogel will play a solo on harmonium and ukulele at the event. Maybe he'll also perform the dance song "The Rambam" with Metatron, his duo with Yovav Arzi. Recently Fogel released the song "I'm the Judeo-Nazi" with his band Pisuk Rahav, in which he enters the shoes of "the religious person who needs a God who justifies and encourages blind and cruel ultranationalism and a sense of himself as a supreme being." Fogel says he wants to take part in the event to show that Judaism isn't stuck "in the days of the Taliban."
The Technicalities, meanwhile, is a project of Yiddish songs written by poets who lived or dreamed of life in Birobidzhan, the province the Soviets set up in eastern Russia; Stalin planned it as an autonomous Jewish state. The songs from the 1930s and 1940s were arranged by the pair, Carmel and Diament, who are also partners in their private lives. The Technicalities are trying to bridge gaps and draw a line between the Israeli reality and what could have been in Birobidzhan.
"It's a kind of a bizarre thing on the margins of Jewish history," says Carmel. "All the poets whose poems we set to music are Jews from Birobidzhan." The project was born at the Le'an exhibition this year at the Israeli Center for Digital Art in Holon, where they showed a video work that followed "another person who tried to invent a state for the Jews, but really didn't succeed," says Carmel. "I sang the anthem of his imaginary state."
According to Rabbi Mordechai Meir, "This evening has no specific agenda. We're not going to present some eclectic mixture of religious opinions as a way of running the country, but rather to expose people to the alternatives in Judaism.
"People are so ignorant. I'm willing to bet that people's general knowledge about other religions is far more extensive than what they know about Judaism. And I say come and hear, and not only about bizarre subjects like at this event, but in general. I won't say 'become stronger in your Judaism,' I won't say 'observe the commandments.' Just listen. People in Tel Aviv aren't willing to be open to anything related to religion."
One of the greatest representatives of old swing, Cab Calloway, has a song called "Utt Da Zay," - That's the way." The song made its way from Jewish culture into swing and jazz. "Some of these songs became jazz standards," says Kadan, the deejay. "For example, 'Bei Mir Bist Du Shein,' a love song in Yiddish sung by a woman to a man, or 'Mein Yiddishe Mama,' which was performed by Frank Sinatra and Dudu Fisher."
As a deejay he plays mainly new music because "it's hard for people under 60 to dance to very ancient strains of swing; the ear isn't used to them. What really excites me is what's happening now; for example, the Canadian Jewish rapper Socalled, who's doing Yiddish hip-hop .... That's a statement."
ICYMI
Ken Burns' Brilliant 'The U.S. and the Holocaust' Has Only One Problem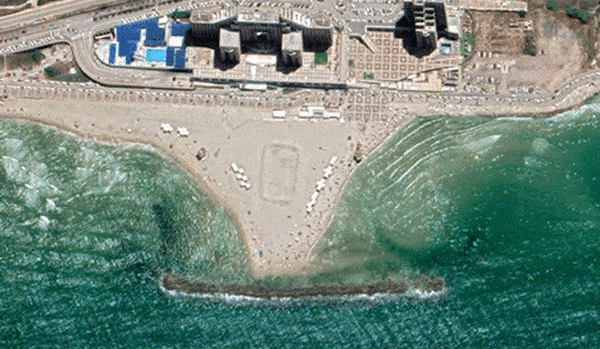 Facing Rapid Rise in Sea Levels, Israel Could Lose Large Parts of Its Coastline by 2050
As Israel Reins in Its Cyberarms Industry, an Ex-intel Officer Is Building a New Empire
How the Queen's Death Changes British Jewry's Most Distinctive Prayer
Chile Community Leaders 'Horrified' by Treatment of Israeli Envoy
Over 120 Countries, but Never Israel: Queen Elizabeth II's Unofficial Boycott