Israeli Outsider Turns Camera on Europe's Muslim Outsiders
The director of a controversial series documenting 'Islam's conquest of Europe' answers his critics.
During a working trip to Europe, somewhere in Marseille's fifteenth arrondissement, director and journalist David Deri got a life-threatening scare. It happened just as he was entering the area with a small crew. The car in which he, a photographer and a local guide/driver were traveling was suddenly surrounded by a gang of jittery youths armed with Kalashnikov rifles, ordering everyone out of the car and demanding the raw footage the crew had just filmed. A week earlier, six young men had been killed by rifle fire in the same neighborhood, which is also no stranger to mass riots: In 2005, it burned during what came to be known as Europe's Intifada. The terrified crew got back into the car. Deri explains how, just a moment before a shrill whistle summoned more gang members to the spot, the driver/guide summoned his wits, stepped on the gas and sped out of the district right through the crowd of armed assailants. "One day, this scene is going to be included in some feature movie I'll direct," says Deri, speaking this week at a Tel Aviv cafe not far from his home. "In those seconds you wonder if it's all worth it. You want to show your viewers the drama, reality as it happens, but you wonder if you've gone too far."
The result of that experience and his subsequent reflections are evident in a new, four-part series Deri created and directed, "Allah Islam," together with journalist Zvi Yehezkeli. The series started to air last week on Channel 10. After the first episode, which deals with Muslim segregation in Europe, the second episode, to be shown tonight, will focus on the status of Muslim women.
As in moments during the opening episode - for example, the ones with young Anwar, who emigrates from Iraq with his mother - this one also features characters who may be controversial because of their opinions, but who have also undergone complex human experiences and arouse empathy. The choice to portray them as such was not accidental. "Anwar touched me deeply and when I met his mother, I sensed the opportunity to tell a story that is much more fundamental than a left-right analysis or an 'Islam versus the world' story," says Deri. "In two particular cases, I found myself identifying and understanding the characters: One was Anwar and the other was Akim, an unemployed guy from a town near Paris, one of the activists who sparked the 2005 protests."
What made you identify with them?
"I think I identified with the grief and distress that give rise to their actions, whether it's someone who created the violent, anti-establishment protest as a zealous adherent of Islam, or a kid who's searching for a path and for himself, but is caught in a situation that doesn't offer him many opportunities to integrate. I saw myself in both of them. Anwar reminded me of myself when I arrived in Tel Aviv from Yeruham, where I grew up. First I found people, first there were smells, shouting, pain. I feel that if I managed to reach these people who move me or whose story, the basis for their scream of anguish, I identify with, then I did something good."
A veritable minefield
It's no coincidence that Deri talks about the human experience as crossing diverse worldviews, and it seems it's no accident that he mentions this first. "Allah Islam" deals with a loaded subject, a veritable minefield to traverse. The scene described above did not make it into the series. What happened seemed like evidence of the tension the series is trying to bring to the small screen, and also of the claims that have already been made about this attempt.
On the one hand, it's about a deep and troubling social, ethical and religious clash between Muslim immigrants having a hard time finding their new place and the masters of the lands to which they moved. The clash is at times violent, extreme and polarizing. Its roots are various and complex, and it is replete with disturbing images of rioting, fire and smashed windows that provoke an emotional response. On the other hand, the discussion of the confrontation is sensitive, both because it seems like a winning argument in the context of another local, Middle Eastern, politically biased conflict, and because it invites counter-claims and accusations of racism, Islamophobia and panic-mongering.
Some of this is inevitable and is in part caused by the full, panic-inducing name given the series: "Allah Islam: On the Heels of Islam's Conquest of Europe." This is a very differently loaded name than the one used when the series was first screened at the Jerusalem Film Festival: "Europe's Backyard: Zvi Yehezkeli in the Footsteps of Muslim Immigrants." In any case, accusations of bias were made immediately after the first episode's screening by some television reviewers who charged Deri with creating a tool to "ramp up the fear" (Ynet ) or "ratify racist fears" (Haaretz ).
Deri nods. "I'm not naive," he says. "It's clear to me that the discussion presented in the series will be projected onto our reality and understood as such. Much of the debate about the series and many reactions I've gotten relate to the same old, tired and exhausting Middle East conflict."
This is not what you had in mind.
"On the one hand, I'm happy about it because it's important to be connected to the here and now, but one of the goals of the series was to create a bubble, a story about a place we don't know and what happens in it. We all know Europe, but we don't know its backyard. In my opinion, the biggest achievement of the series is the ability to treat the subject in-depth and get to hard-to-reach places - to the basis, the very underpinning of the hidden agendas, the segregation, the young generation, the points of conflict and daily confrontations between the separate populations in Europe. It was important to us to create identification, to follow the characters we found into the complexity of their identities and understand what feeds this intricacy on a day-to-day basis, and not just by means of a psychological analysis."
Does a different point of view do injustice to the series?
"I'm not really complaining about the fact that the series is being seen through the perspective of the Israeli left and right and the Israeli-Palestinian conflict. It's only that, for me, it's clear that the so-called nutjob right will take the series and use it to make the points and agenda it's trying to advance. At the same time, you could say the left will attack the series because anything that portrays Islam as problematic is a right-wing political act. I really don't think you can judge the series on that basis alone."
Muslim immigration is one of the hottest and most explosive issues in several European countries. After years of ignoring it, these nations are now confronting weighty social and other questions. In Israel, on the other hand, even though the topic is of interest, it seems it has never before been covered with such intensity.
Memories of Sheldon
The beginning of the project goes back about two years, when Channel 10's news company decided to do a series on this topic. The connection between Deri, Yehezkeli, producer Yonat Dror and the Second Authority for Television and Radio, which funded part of the project, came about after Channel 10's Friday program "The Week" went off the air. Deri was a writer and member of the program's editorial staff when the staff resigned and scattered, after which it was forced by the channel's owner, Ronald Lauder, to make an extraordinary and profuse apology to Sheldon Adelson, who had been the subject of an unflattering profile (even though staffers at the news company claimed the profile could be defended in court ). Even now, exactly one year later, Deri refers to the entire affair as "very painful" and prefers not to talk about it at length. In any event, he calls the connection with Yehezkeli "right and rewarding."
He looks almost like Rambo in the series. You chose to direct the beginning of the first episode like a feature film. Yehezkeli hides his true identity and assumes another one.
Deri smiles. "Totally. Part of it was building a character, someone whose motivation to get in there, to get a story and understand it, is clear to the viewer. Cinematically, it was clear to me that the first scene of the first episode, a look behind the scenes, the camouflage, the subterfuge, had to be like that."
Deri, 37, who lives with his male partner and two-month-old twins, holds an impressive professional record, which, like the current project, touches on questions of identity. A native of the small town of Yeruham in the Negev desert, he lived there until he was 24 with his parents - traditional, conservative Moroccan-born Jews - and nine brothers and sisters. One of his best-known films is a documentary spanning five years, called "Say Amen," about the process of coming out of the closet to his family. He also directed the documentary "No Longer Ahmed," about a Bedouin who becomes a kibbutznik, adopting an Israeli name and identity; the series "Herzl & Refaeli," about icons of Israeli culture; and "Until Tomorrow Comes," which was based on Deri's family and won the Israel Television Academy's award for best original drama of 2005.
It seems that his personal background helped Deri empathize with some of the characters in his current series. "Like Anwar, I too looked right and left, and for long periods of time I saw no other option than living a life of religious extremism or of drugs and criminality," he says. "In Yeruham, the future that I dreamt about was one I knew nothing about. Around me, the choices were to attend a yeshiva for the newly religious or to end up like my drug-addicted neighbors. There was a lot of unemployment and many got mixed up in crime. Many of my friends who grew up with me and stayed in Yeruham ended up exactly in those places. I respect them for their choice, but it wasn't what I wanted for myself."
Did you manage to understand what's happening in Europe politically?
"I'm very careful not to create a bottom line, which someone watching the series may be expecting. It would be too simplistic to do so. We obviously encountered a great many difficult, painful phenomena linked to Islam in Europe. Much of this has to do with the rising power of the extreme right, which drives home a narrative that seeks to exclude Muslims from positions of influence in political, social and everyday life. The series doesn't take an editorial stance. We're not saying whether or not things are headed for a confrontation."
Maternity leave
These days, Deri is confronting a whole different set of challenges, as evidenced by his tired look and somewhat glassy eyes. Smiling, he explains: "My current project is maternity leave." A lot of work on the series, especially the last stages of editing, were done by remote control. Deri and his partner had twins through a South African egg donor and Indian surrogate mother who bore them. The twins were born two months premature and so "a significant part of the concluding stage of the series was done from the preemie ward in Mumbai." The new family returned to Israel only about two weeks ago. Deri documented the new family throughout - in the meantime for personal and family use only. "These have been two fascinating, exciting and moving months. I filmed while looking at myself undergoing difficult experiences. It was clear to me that the ability to cope with seeing two-pound babies who still can't breathe on their own had to come through the camera lens, a tool I am used to relying on."
No matter what, it's a tough experience, and certainly in the context of your family, considering what you documented in "Say Amen." How has your family taken it?
"I come from a family of ten siblings with lots of nieces and nephews, so I always knew I wanted to be a dad, to raise children and give them everything I got and didn't get. When I came out of the closet, one of the most difficult things I had to deal with was this issue: Would I find a way to realize this desire, which was very much alive in me. My mother was horrified by the idea that I would never be able to be a father. For people who live religious lives, it really didn't seem possible."
And now that the seemingly impossible has happened?
"In the final analysis, I experienced - even from the state of pregnancy, to be honest - heartwarming acceptance into the core of Israeli identity. It's really obvious: When you operate according to Israeli social norms, something changes. It's hard for me to talk about it or to go into detail, because everything is still very new, but - yes, when you bring kids into the world, into this society, you're forgiven. I also notice something in myself I never knew was there. We're sitting here, in the cafe, and it's so rare for me to leave the house these days, but right now I can't wait to go home and take part in the next feeding and diaper change."
ICYMI
Ken Burns' Brilliant 'The U.S. and the Holocaust' Has Only One Problem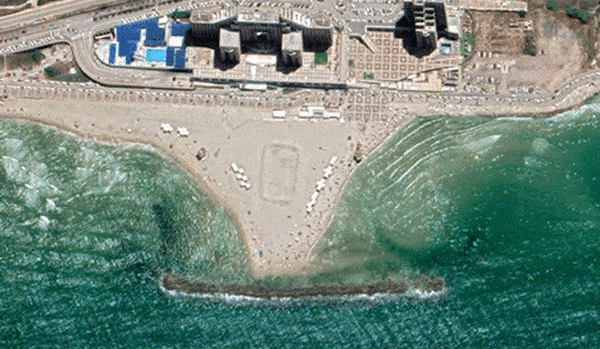 Facing Rapid Rise in Sea Levels, Israel Could Lose Large Parts of Its Coastline by 2050
As Israel Reins in Its Cyberarms Industry, an Ex-intel Officer Is Building a New Empire
How the Queen's Death Changes British Jewry's Most Distinctive Prayer
Chile Community Leaders 'Horrified' by Treatment of Israeli Envoy
Over 120 Countries, but Never Israel: Queen Elizabeth II's Unofficial Boycott