Poetic License
Singer-songwriter Yarona Caspi sets the powerful words of poets to music on her latest album.
Yarona Caspi's interest in poetry "is a meeting of souls," says the singer and artist in a conversation about her fourth and latest album, "Mafia Shel Isha Ahat" ("One-Woman Mafia" ). It is an album on which she manages to bring together her intense personality and her awareness of the pop audience through 12 texts by various poets for which she has composed music. Tonight she will launch the album with a live concert at Tel Aviv's Levontin 7 venue.
Caspi is not only a talented composer but also a rocker in her soul and an esteemed musician who has been operating on the fringes of the Israeli music scene since the 1990s. She appeared with Eran Zur's band Carmela Gross Wagner around the time of the album "Iver Balev Yam" ("Blind Man in the Middle of the Sea," 1995 ) and was a member of the band Gvanim Kehim with Itai Balter. Her third album, "Ego," which features the lovely song "Shir Shel Hat'hala" ("Song of Beginning" ), came out around two years ago and immediately, and rightfully, earned critics' praises.
Caspi's interest in poetry began long before and continued alongside her career as a singer-songwriter. "I happen to participate in many literary evenings where poets invite me to come and compose music for their poems," she says. When Ronny Someck's book "Mahteret Hehalav" ("The Milk Underground" ) came out in 2005, Caspi composed music for two of his poems, "Tel Aviv Balaila" ("Tel Aviv at Night" ) and "Mafia Shel Ish Ehad" ("One-Man Mafia" - from which Caspi took inspiration for her album's title ). "I was just waiting for an opportunity to record these songs on an album," she says. The same was true for "Hof" ("Beach" ), a poem by Rafi Weichert, who invited her to the event launching his book "Sha'ah Lo Tzefuya" ("Unexpected Hour" ). Yael Halfi also invited her to compose music for her when Halfi released her book "Makhshefot" ("Witches" ).
Over time, Caspi accumulated a large body of poetry set to music. "I had to do something with them," she says. "I said to myself, why not take the ones that move me, that translate me, who I am, and release them on an album?"
From then on, the whole project gained momentum. Caspi met with Yariv Etzion, the director of the music school BPM College who did the mastering for the album, and he introduced her to musician Amit Magen, who produced the album. "Amit brought the electronic side and the programming that he is an expert in," explains Caspi.
"One-Woman Mafia" is the first album by Caspi to be comprised entirely of other people's lyrics and it also takes her to new places musically, too. "The words on the album required a different kind of composition than what I've done until now," she says, adding that she is sure she will continue in the future with the new musical directions she explored here. On her first solo album, "Tnu Lashtika Liv'or" ("Let the Silence Burn" ), which came out in 2005, she was already trying her hand at composing music for poetry: "I dove in when I composed music for the American poet Walt Whitman's 'Are You the New Person Drawn Toward Me?' and for a poem by the Polish poet Wislawa Szymborska. Now, on the new album, I went all the way with it."
How did you hear about Szymborska?
Caspi: "In 2003 I was strolling on the street and found myself in a bookstore. I was drawn in by a poem by a Polish poet I didn't know. Her name was odd enough to make me open up the book and read." The encounter with that book led Caspi to a meeting with Weichert, who translates Szymborska's books in Israel. "I contacted him before I set the poem to music for my first solo album," she says.
What was the first poem you composed music for?
"'Questions' by Bertolt Brecht some time in 1999. All the other songs were composed over the last few years."
It sounds like a poem that describes an early-morning, sterile, SMS correspondence. Something very modern, considering the century in which it was written.
"Exactly. It's a very contemporary poem. The poem 'Kishuf' ['Spell'] by Raquel Chalfi talks about places of self-destruction.
Places that you are personally acquainted with?
"Look, an artist sometimes has to clash with places that are on the very dark side of life and sometimes has to extricate himself from there in order to rise up a level and somehow win. It's a tendency to be sensitive and also curious and you have to be careful with that. The poem 'Kishuf' is an example of those moments when the spirit is not strong enough and gets swept up into a situation that you don't know how you'll get out of in the end. It's important to understand and to be aware of this. Too much intense self-awareness is not a good recipe for interesting creations, but it is still important."
Intense self-awareness is something that castrates art.
"That was my next line. But on the other hand, awareness means knowing the weakness and letting yourself sometimes be exposed and vulnerable. It's okay to allow a crack in the wall call to you. Ewa Lipska's 'Shitafon' ['Flood'] is a poem that is appropriate for those situations in which you unravel. The poem talks of the sea and a crack in the wall and falling inward. It's a kind of weakness that you need to be aware of in order to successfully climb back up."
One of the nicest things about your album is the lightness of its transitions between the work of poets who lived in different countries and even in different eras. The ideas that move through a poem by an Arab poet (Aziza Ahdia Omar Chaqwari ) to Israeli poetry (David Avidan, Yehuda Amichai and others ) and then to poets from Poland and Russia (Lipska, Yelena Schwartz ) all communicate with each other in a universal way. What mood were you trying to convey in the album through the poems you chose and which, as you said, "translate" you?
"Feminine strength that says things fearlessly. The first song on the album says, look at me, through the filter. Don't be scared, storm into me. It's in a spiritual sense and not necessarily in the other sense, even though there is sexiness in it. The idea is clear in the words of the poem [by Chaqwari]: 'If you rebel against the rule of the others, you will manage to get to me.' I think it's a very courageous poem."
Through the filter of stereotypes it's very clear there is a sharp social commentary in this song, especially against the backdrop of the current uproar over "the licentiousness of a woman's voice."
"The protest in the poems is indeed personal but it is connected to the collective. The old poem 'Questions' by Bertolt Brecht, for example, talks about how cheap words are. He asks [the poem's protagonist] all kinds of questions about some worry he has about her but in actuality doesn't really mean it. These are just questions that are asked."
Despite the strong declaration of female independence that is present from the beginning of the album, the theme linking the songs is not necessarily familiar feminist talk. What does come to mind as a common thread is the painful, sobering realization of a love that has reached its end - for example, in Someck's poem "Mahsan Yashan shel Kelim" ("An Old Storeroom of Tools" ).
"It really is a song of pain. It is often with me when I pass through Tel Aviv and see the entire contents of apartments tossed out on the street and then say to myself, these are not just random objects - there was love there. It's something that I find very easy to identify with. I don't just come with some distant, universal perspective but from personal experience, of things that have happened to me. After all, if it wasn't something from my life, I wouldn't have the urge to sing the songs."
Caspi's album has a contemporary sound and not the kind that is searching for something retro, the Israeli rock that supposedly was lost in the late 1990s. The dominant style of "One-Woman Mafia" is more electronic than music that places the electronic guitar center stage. Caspi plays keyboard, Yoni Poliker plays bouzouki and Or Bahir (from the band Eatliz who also produced the previous album, "Ego" ) is on lead guitar. "We invited Or Bahir to play guitar and suddenly he took out his iPad and found some terrible and cool sounds that we used," Caspi explains. "The main instrument I play is assorted keyboards but on most of my albums, which are more guitar-bass-drum based, the role of the keyboards is less central and more defined. Here, however, I led the songs on the keyboard and only after did I pour the ideas into the computer, and then Amit Magen came and started added drum programming and assorted rhythmic beats. But the basic harmony comes from the keyboards."
The song format makes the texts much more accessible to an audience that is less connected to poetry. Caspi's voice is clear and dominant and the poems are not hard on the ear. "I certainly see this as a work aimed at the mainstream," she says. "After all, it's popular music.
"The work on the album was like a playing field where the songs told me the musical direction and that's how it came out," she adds. "Maybe it's easy for the listener to connect to them because it's easy for me and I'm the one conveying them. In other words, this is a music album above anything else - not something that comes to sanctify the works of poets. The musical statement in it is not any less broad and deep, but the words of the songs are just really good. I believe in any word I sing."
ICYMI
Ken Burns' Brilliant 'The U.S. and the Holocaust' Has Only One Problem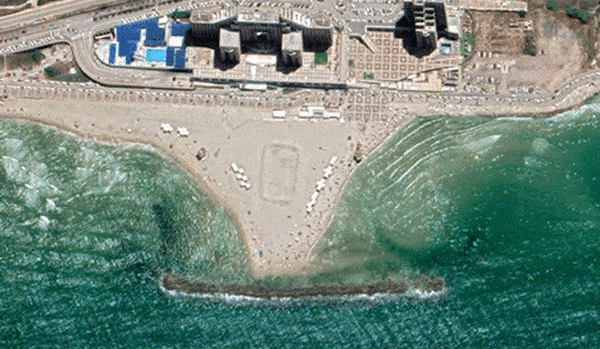 Facing Rapid Rise in Sea Levels, Israel Could Lose Large Parts of Its Coastline by 2050
As Israel Reins in Its Cyberarms Industry, an Ex-intel Officer Is Building a New Empire
How the Queen's Death Changes British Jewry's Most Distinctive Prayer
Chile Community Leaders 'Horrified' by Treatment of Israeli Envoy
Over 120 Countries, but Never Israel: Queen Elizabeth II's Unofficial Boycott