Science Friction
Fantasy and science fiction are blowing up once again, but ossified publishers here are still afraid to put the genre label on their books.
Uri Aviv wonders who could imagine a science fiction film coming out of Israel. Yet among the country's film buffs and science fiction geeks, expectations are high for Ari Folman's upcoming adaptation of Stanislaw Lem's book "The Futurological Congress."
The movie is not a one-off. After years of wandering in the desert, science fiction and fantasy are once again taking off in Israel. The film "Twilight 4," for example, was a tremendous box office success and sales of fantasy books in Israel have increased fourfold in the past five years. Leprechaun, a new journal of science fiction and fantasy, began coming out on the first of November this year.
Aviv, 31, studied physics at Tel Aviv University and is a founder of the Icon TLV fantasy and science fiction festival. In addition, he holds movie screenings, conferences, meetings with Israeli writers and more throughout the year.
"The audience here has grown in an impressive way," he says. "Ten years ago it was only for cognoscenti. Today there is more openness to the field in this country and this is manifested in literature written here and in young people's great interest."
But even if the genre has caught on among some, establishment publishers are still reportedly suspicious about labeling books as science fiction.
"The readers' market in Israel is fossilized and the book publishers are very cautious," says Henry Harel of the niche Kedmat Eden publishing house. "It used to be that every publishing house nurtured a sci-fi series. Keter, Kinneret Zmora, Am Oved Ma'ariv. All of them published wonderful books. Today they don't dare touch anything classified as science fiction."
Harel blames the situation on the book market, which has no room for short stories or little-known authors.
"When I was teen," he says, "once every two weeks a new book would come out. The books were small and thin and people bought a lot of them. The Asimov series at Massada and the brilliant White Series at Am Oved were very successful. There were fewer wars for the audience's attention. Now an absurd situation has developed: Today there are more active sci-fi fans, who also buy books, but the conditions of the Israeli book market have degenerated. In order to sell 1,500 copies you need a lot of luck."
Aviv believes that "what has been pushing the genre in recent years are the films. The average person is exposed mainly to sci-fi films and television series and less to the literature."
Yet a number of publishers, like Kedmat Eden, Eli Herstein's Moby Dick, Ron Yaniv's house Yaniv and the Odyssey publishing house (which has issued classics like Ray Bradbury's "Farenheit 451" ) are putting niche writers' fiction out, in ever-increasing numbers.
"Fifteen years ago there were fans who wrote on Internet sites, like Vered Tochterman, Nir Yaniv and Guy Hasson. Now they are publishing books," says Aviv. "Mainstream writers have also suddenly seen there is scope to develop and nurture fantasy in Hebrew, among them Asaf Asheri, Assaf Gavron, Sahara Blau, Hagar Yanai, Yoav Avni, and Shimon Adaf. Yoav Katz has published 'Natbag' at Am Oved - a book about zombies, and Nava Semel has written an alternative history of the state of Israel. It's fascinating what is happening here."
Kobi Kaman is the proprietor of the long-established Tel Aviv bookshop Kidmat Eden, which specializes in science fiction and fantasy books. During the past past five years he has published five books in Hebrew. He says a number of factors have led to the resurgence of the genre.
"Our generation has taken up the reins at all the veteran publishing houses and people of 30 and 40 are beginning to retranslate classics in all fields and promote the things they loved, and this is also the case in the field of of sci-fi," he says. "Add to this the fact that there is a whole generation of young people that has grown up on the Harry Potter craze, which has created tremendous interest in the field."
This is completely different from what there was here in the past.
"My first book got a reaction from a large and prestigious publishing house here: 'The book is very good but there is not a chance that we are going to publish it.' Therefore I published it at my own publishing house. Today, too, the big publishers hide the sci-fi and don't take pride in it, solely out of fear and commercial considerations."
Sexy vampires
Vered Tochterman, whom Kamin calls a pioneer, has recently released her novel "Blue Blood" (in Hebrew ) at Yaniv Publishing, about a vampire agency that fulfills vampire lovers' secret erotic fantasies. In return, the vampires get their portion of blood, in order to exist in this world. The heroine of the book meets a real vampire and embarks on an unforgettable journey in which she discovers that vampires are a lot more than she wants to know.
Why did you choose to write a novel about erotica and vampires?
"Several years ago, when I broke up with the most important man in my life and was sitting at home depressed, I decided to do something cool that would improve my mood and write a book in which there would be suspense, sex and vampires," she says.
Why are vampires always connected to sex?
"There is sexual symbolism in the penetration of the vampire's fangs. This is also the gay side in 'Blue Blood' or in 'Buffy the Vampire Slayer - those who are outside of society are the ones who need to come out of the closet in both cases. The parallel developed because there is a similarity between their status in society."
Is it mainly women and gays who are interested in vampires and the erotica of vampires?
"It could be that it's the whole issue of the power vampires have over humans, the enslavement to sex, or to the fresh blood, the symbolic penetration of the fangs into the body. I assume that straight men are maybe a bit afraid of this or find it hard to identify."
Is the Israeli audience conservative?
"The Israeli audience is not especially conservative, not more than the American or the British audience, but the readers of Hebrew are simply few in number. Sci-fi and fantasy is a niche everywhere in the world but in the United States it is a niche of a million readers and here it's an especially small niche."
Tochterman, 41, lives in Haifa. When she was 16 she left school and got involved in the sci-fi community in Israel ("It's a community made up of brilliant, exciting, curious and intellectual people," she says ).
She has organized writing contests, has conducted forums on science fiction and fantasy and has judged contests held by the Israeli Society for Science Fiction and Fantasy. She has also published more than 50 stories and she has won the Geffen Prize for her short story collection "Sometimes It's Different" (Opus, 2002 ).
She is one of the founders of the magazine Halomot Be'aspamia (Idle Dreams ) and she has also written a number of daring erotic stories, one of which has been published in the Hebrw anthology "There are Roses There: Women Write Erotica."
The anthology was edited by Hagar Yanai, who is also a writer in the current science fiction wave in Israel. Tochterman is also a big collector and has a library with about 2,000 sci-fi and fantasy titles.
"I have loved the genre for as long as I can remember," she says. "I am a proud nerd. I've always loved science fiction and it seems more interesting to me than anything else."
Cosmic blink
The founding of the new journal Leprechaun is yet another manifestation of the genre's flourishing here. It is a quarterly edited by Rami Shalhevet, who also edits the Internet magazine Bli Panika.
"Up until 10 years ago," he says, "you'd have a hard time finding Israeli sci-fi but today there are Israel novels with fantasy motifs. I believe this will also come to the Israeli cinema."
Shalhevet, 39, believes that relative to how well genre movies do, authors are struggling, even if they get more play than 10 years ago.
"Most of the books don't make a living for the person who is engaged in them," he says. He has a large collection of books, "But I am not a freak. I have a nice collection, which I love, but anything I know I will not read any more I sell or give as a present." He is aware than many sci-fi and fantasy fans are collectors. "Collecting is something that characterizes people in the community. The community is large. There are people who don't read anything - you see them at the Icon festival. They come for the games, the meetings, the films."
The golden age of science fiction in Israel was between the mid-1970s and the early 1980s. The Massada publishing house translated works of Arthur C. Clarke and Isaac Asimov; the White Series at Am Oved brought the Israeli reader Clifford Simak's "City," Clarke's "Childhood's End," Bradbury's "The Martian Chronicles," Alfred Bester's "The Stars My Destination," Frank Herbert's "Dune" and dozens more significant and important works.
During that period, in 1978, the science fiction magazine Fantasy 2000 started coming out; it was published without a break until 1984.
In 1978, Dr. Aharon Hauptman, currently an engineer and a senior researcher at the Interdisciplinary Center for Technology Analysis and Forecasting at Tel Aviv University, was one of the founders of Fantasy 2000 and for several years was editor-in-chief.
He translated Stanislaw Lem's "Solaris" from Polish and in 1996 was among the founders of the Israeli Society for Science Fiction and Fantasy. In 2008 he returned on a one-time basis to the Fantasy 2000 editor's chair in order to produce a souvenir issue of the magazine to mark the 30th anniversary of he publication of the first issue.
"Thirty years had gone by," he says, "and maybe 30 years is a lot in terms of a human lifetime or a society but it's the blink of an eye in cosmic terms. Remember that in 1978 the Internet, the personal computer in every home and the mobile telephone in every pocket were something completely futuristic. The existence of planets outside the solar system was also nothing more than a hypothesis. Since then more than 300 of them have been discovered, the human genome was cracked and the Berlin Wall fell, the Soviet Union collapsed, peace agreements were signed, a prime minister was assassinated and the Twin Towers were toppled. The world changes."
Over the years the issues of Fantasy 2000 have become collectors' items, with prices reaching into the hundreds of shekels. The special issue that came out in 2008 preserved the mix and the style of the original magazine - translated stories, original stories, scientific articles revealing the crude seams between science fiction and science and also a collection of personal essays by people from the entire spectrum between science and art - scientists like Prof. Ehud Gazit alongside literary people like Prof. Ortzion Bartana, writing about how the issues of the magazine had affected their lives.
Like Hauptman, Dr. Isaac Lubelsky, a lecturer in the comparative religion program in the East Asia department at Tel Aviv University and the Open University, thinks that fantasy flourishes in a place where technology is galloping ahead.
"We have been experiencing insane technological acceleration since the end of the 20th century," he says. "The reality is getting faster, the institution of the family is changing shape, old frameworks are falling apart and the old world as we knew it no longer exists. There is a sense of the loss of the connection among people and a feeling of alienation and insecurity. In such a political and technological reality, fantasy always raises the banner of the war between light and darkness, between good and evil, with a lot of religious elements. It is not by chance that at a time when the Western world is becoming more atheistic and materialistic, religion is in fact becoming very much stronger in other places. There is something very religious in fantasy."
ICYMI
Ken Burns' Brilliant 'The U.S. and the Holocaust' Has Only One Problem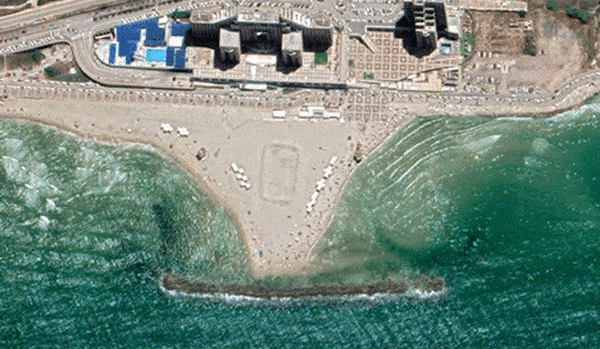 Facing Rapid Rise in Sea Levels, Israel Could Lose Large Parts of Its Coastline by 2050
As Israel Reins in Its Cyberarms Industry, an Ex-intel Officer Is Building a New Empire
How the Queen's Death Changes British Jewry's Most Distinctive Prayer
Chile Community Leaders 'Horrified' by Treatment of Israeli Envoy
Over 120 Countries, but Never Israel: Queen Elizabeth II's Unofficial Boycott