Dirty Pop
Israeli artist Riff Cohen gets set to release her first album, inspired by her roots.
Riff Cohen's sweet and infectious new French pop song, "A Paris," has been gaining popularity and radio exposure, mostly thanks to the video clip Cohen directed herself in Paris in collaboration with Ravid Kahalani, founder of the "Yemen Blues" project.
Cohen, 27, is a francophone Tel Avivian. She is the daughter of a Jewish-Algerian mother who has been writing poems, unpublished, for years. Most of Cohen's premier album - in its final stages of production - will consist of her mother's French poems set to the artist's music.
Cohen's charm is enchanting and her style interesting, free, and up-to-date in the European sense, strongly influenced by immigrant cultures. Her songs are Mizrahi just as much as they are European. Judging by Cohen's energetic performance at Barby last weekend, we can expect her album to feature eclectic, catchy French pop that makes you want to dance.
"I'm originally from Ramat Aviv Gimmel, but my entire family is from Jaffa," says Cohen in an interview that takes place in a Jaffa hummus eatery. She emerged on the scene in 2008 and was considered a promising artist, but she moved to Paris for two years after winning an artistic scholarship. "I got a huge room for myself, with a grand piano, and nothing was demanded of me except to live and create," says the artist of the generous scholarship on which she lived in Paris. "It wasn't an obligatory structure; no studies were involved. The only demand was to hold one performance on the ground floor of a building housing 700 artists from around the world."
About a year ago she returned to Israel, got married, and moved to the French Hill neighborhood in Jerusalem. "It's been a four-year-long pregnancy now, and believe me, that's not much fun," she says when asked again about the release date of her expected album.
Cohen has been playing piano since she was four. She studied music in high school and later musicology at Tel Aviv University. Before going to Paris she was active in the fringe music scene, creating electronic music with a band she formed with musician Asaf Korman. She also wrote and recorded songs in English, whose style was completely different from that of "A Paris." Those song were heavy and melancholic, music that brought to mind the band Anthony and the Johnsons.
Cohen also had classical voice training, but she says the classical approach is less relevant to the music she writes. "I looked for training in throat-based singing that's like talking, and the closest thing I found in Israel was Indian voice training lessons," she says. "That's a technique that's completely different from the classical one I studied earlier."
Cohen also studied dance, as well as composition for film soundtracks. A film in which she stars is set to be released in France, loosely translated as "A Bottle in the Gazan Sea."
Asked about the Parisian style that permeates everything from her music to her clothes, Cohen responds, "Actually there's not that much of a style there, contrary to what people think. Sometimes I think that Paris is stuck in the eighties. All the cars still have manual transmissions and everybody wears All Star sneakers. I have a feeling they're really doing it unconsciously. Even the cafes aren't as stylishly designed as in Tel Aviv or Berlin. There are places that haven't been renovated in 100 years and their toilets are totally hardcore. Yes, I know there are people who like that sort of thing, but as an Israeli I feel I'm more spoiled than the Parisians."
Despite numerous attempts, Cohen failed in securing a serious offer from a recording company in France. A short romance with the French branch of EMI Music ended in disappointment: "The contract I almost signed with EMI didn't include funding for an album I would record. It was just me paying money for the song being played," she says, and adds that "the time I spent in Paris mostly improved my understanding of how the whole music business works. I learned what publishing means, what a distribution contract is and what an artist's contract is. I learned that in order to reach key players in the music industry you need to talk to insiders. Like, for example, the guard at the entrance to the company's offices - because he probably knows the manager who comes out to smoke a cigarette, so he can help you."
Cohen has yet to meet a guard like the one she describes, and does not yet have a contract. But she doesn't feel she's come back from Paris empty-handed. "I met some good friends and played with some excellent musicians," she says, and recalls the artist Tricky (a well-known hip hop artist from Bristol, England ): "I hung out with him for a whole month and he really likes me. We would eat out in restaurants with another friend of his. We were like a threesome, anyone who wanted to move on with us from bar to bar, Tricky would just tell him to fuck off."
"I grew up on his music," Cohen goes on excitedly, "and it was just an amazing experience, although at some point I began to feel awkward that he was paying for me all the time," she says with an embarrassed laugh. "One day you'll be famous and then you'll treat me to dinner, he said."
In describing what it was like living in a building with 700 musicians, Cohen explains, "Well actually it was totally not the good vibes it might sound like. There was a long hallway, and people would wait for whoever was walking down the hall to go into his or her room, and only then they would come out themselves. Neighbors didn't see each other. I didn't talk to anybody for a month, it took time until I made some real friends."
Your old music, which appears on your Myspace page, includes songs in English with a melancholic feel and a dramatic piano sound. Unlike the songs about to be released on your album, which are the complete opposite: they're lighthearted, fun to dance to, and are in French.
"Yes. That's the concept. I used to be all over the place in what I wrote, so I decided to focus on the two styles you're describing."
Throughout most of her creative life, says Cohen, she created alternative music, but in the last two years she's changed direction. "For years I wasn't sure which to choose. I was afraid I would be asked to sing 'A Paris' over and over again until I got sick of it."
But I guess that's what's been happening to you now, isn't it? Especially since it's the only song you've released so far from the album you've been working on.
"It has been happening, but I don't care as much. I'm fine with it," the artist explains. "I decided to make a disk whose goal is more commercial, more pop in style, and I'm committed to it," she says, adding, just in case, that "behind the scenes there's a lot of avant-garde."
What's avant-garde in what you're doing today?
"It's a lot of things, even if it's just checking how it will sound to place the microphone opposite to the way you're supposed to. Sometimes putting it in the corner of the room gives a dirty sound that I like. This album is not just a blind pop production."
Seems like you're really fond of microphones.
"That's true! I don't like the really expensive ones. The recording studios are always on my case because of that. They can't understand why I insist on using simple microphones when I can use ones that cost thousands of dollars." She adds with a smile: "They just work better for me."
There used to be a style of record covers with close-ups of the singer in front of an elegant metal microphone. You don't see that anymore.
"Today microphones are really ugly; there's no point being photographed with them anymore."
Songs from my mother
Most of the songs on the album were composed by Cohen, with lyrics by her mother, Patricia Cohen. "I think she's a genius," says the artist. "My mom's poems are full of interesting and colorful concepts."
To explain, she gives "A Paris" as an example. "It's written in an unorthodox idiom, and when I sing it in bars in Tel Aviv sometimes something funny happens: the audience doesn't understand the words, but the Nigerian cleaners and workers, who know French, laugh. The lyrics have a lot of word play that's hard to translate into Hebrew."
Does the album contain any songs with your own lyrics?
"Yes, I did write one song - in Hebrew - and my mother translated it to French. It's the most intense song I have. It's about a woman sitting on a carpet, and that's what it's called: 'Woman on a Carpet.' That's my grandmother. It describes the blue in her eyes, the gold bracelets and the burn scars on her hands."
That doesn't sound so bad.
"There's something warm and pleasant about it, but also something traumatic, like a baby rolling on a carpet in a room where a teapot stands on a rickety stool. Look, my grandmother instilled in me lots of fears and superstitions that over the years I've learned to remove with the help of Lithuanian Ashkenazi rabbis."
What about the band you had with Asaf Korman for eight years, playing electronic music and songs in Hebrew?
"At the time we had no one to talk to about an album. We would often perform at the 'Left Bank' political club. Maybe someday I'll come to Asaf and say, 'Listen, I have a budget, let's go make an album.' I can promise you that we would make an incredible album."
She recorded the present album with Uzi (Remirez ) Feinerman on guitar and Hagai Fershtman on drums, though she performs with guitarist Assa Raviv and bassist Itamar Pintzi (both members of the Monti Fiori band ). Her drummer is Itai Matos, who "helped with the production and directed me toward the sound I'm looking for."
Acquired wisdom
What Cohen takes from the Tuareg music of bands such as Tinariwen and the guitarist Bombino, who appeared in Israel recently, is "the sound of the guitar, not the heavy, complex rhythms," she says. "It's great music and I really like it, but I only take a small part of it and make it into pop because I like the pop approach that's addressed to everybody and doesn't require any previous knowledge."
Did you go to a show in France that had a profound effect on you?
"Yes, a Gnawa show (an Algerian style ) in Paris. It was like rock 'n' roll in which you shake your head like in a trance. I danced with them and it's something ritualistic, like release from possession by a spirit. I really felt it was doing some kind of purification work."
What was the common denominator of the songs on the album, if there was one?
"The idea was being on the side of a postcard," says Cohen, adding, "it's not world music."
World music is an annoying concept.
"World music is everything that's not us."
In that case, my "world music," as an Israeli, is supposed to come from America, not from Africa.
"That's right. We still don't have enough balls to put things that way." She likes the burst of orientalism of recent years and says, "Let's forgive ourselves and become more confident."
The Paris you present in the clip you directed for "A Paris" doesn't show the classical stereotype of a European city, but rather a diverse place full of immigrants.
"Yes, I chose shooting locations that are in Paris but look more like Algiers. There are quite a few places like that. And it's true I chose mostly foreigners for the shootings. The truth is, during my entire time there I didn't meet one 'pure' French person. That was really rare. The only one I met was over fifty."
You come from a traditional Jewish home and it seems as if you are closely attached to Jewish spirituality.
"I've always believed in God. I used to pray as a little girl."
But Cohen also studied Kabbalah when she was 16, and today participates in classes and workshops with rebbetzins in Jerusalem that are only advertised by word of mouth. "It's a wisdom you acquire. A way of thinking, like a technique," she explains of her studies. "I like mathematical philosophy. I mean the kind of philosophy that deals with practical things that help in your daily life. I study Torah on a more poetic level and don't really like the Halakhah, although there's a lot to be learned there as well."
The famous director David Lynch liked your show on his visit to Israel a few years ago. Now he's releasing his first solo album and you also have an album on the way. Maybe now's the time to call him up?
"I'd love to act in one of his movies but I think he's not into film anymore and spends most of his time meditating."
On November 24th Riff Cohen will appear at Barby with songs from her new album. Her show, which offers a fun, simple experience, is also suited to an audience of hipsters, like her parents. Go see her, she's sweet.
ICYMI
Ken Burns' Brilliant 'The U.S. and the Holocaust' Has Only One Problem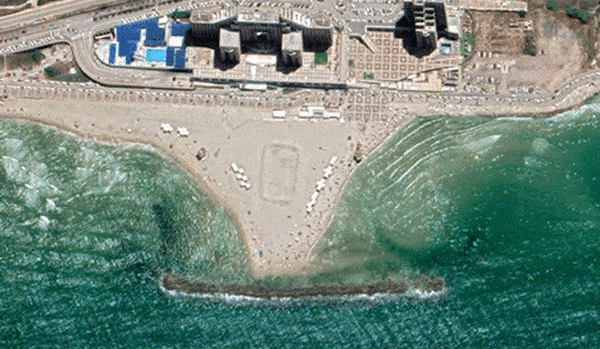 Facing Rapid Rise in Sea Levels, Israel Could Lose Large Parts of Its Coastline by 2050
As Israel Reins in Its Cyberarms Industry, an Ex-intel Officer Is Building a New Empire
How the Queen's Death Changes British Jewry's Most Distinctive Prayer
Chile Community Leaders 'Horrified' by Treatment of Israeli Envoy
Over 120 Countries, but Never Israel: Queen Elizabeth II's Unofficial Boycott