'Between Sound and Image'
Israeli-born composer Armand Amar taps his unconventional roots to create surprising French film scores.
Armand Amar's name can be found on ads in the Paris metro, on round billboard signs throughout the capital, and on movie house posters. But the Israeli-born French musician and composer is listed at the bottom, in small print, underneath the films' leading actors and directors.
As a film composer, Amar is something of an anomaly in the French film industry. The self-taught expert on Indian music, who previously composed music primarily for dance pieces, has become a leading film composer in France over the past 10 years. Since 2002, he has been responsible for the soundtracks of 24 films, and he is currently at the center of the French commercial film world. Last year, he won his first Cesar - the French Oscar - for his musical work on Radu Mihaileanu's "Le Concert."
Amar sat down recently for an interview in the Parisian suburb of Montreuil, where he lives and works. A few blocks from his home, his studio peeks out from between kebab eateries and African churches. A large iron door leads from the street to an inner courtyard, at the center of which stands a three-story house.
Inside, the studio appears more like a museum of exotic cultures than a workspace. On the walls hang percussion, wind and string instruments, ancient and new, from all over the world, which Amar has collected on his journeys. In a large screening room on the ground floor, two video editors work on the final cut of "War of the Buttons," the upcoming film for which Amar has composed the music.
The top floor of the house contains a large meeting room, work stations, coffee machines and a veranda. Another room is filled with the quiet hum of dozens of screens and Mac computers equipped with music editing programs.
"These are my musical instruments," explains Amar. "When doing major films, I work with a team of up to eight people. I'm in charge of composing, and alongside me work producers, editors and players. Work on a soundtrack for a two-hour-long film can last up to four or five months, though sometimes there are unusual time constraints."
There were indeed time constraints for "War of the Buttons," which is currently at the center of an uproar in the French film world. This cinematic adaption of a children's book, published at the beginning of the last century, is due to be released in France next week along with another film with the same title. As a result of the copyright expiration date (60 years after the death of the copyright holder ), Amar and his team are racing to complete the film in time and to compete for the money of French children returning to school.
Amar owes his start as a film composer to French-Greek director Costa-Gavras, who asked him to compose the music for the 2002 film "Amen." The film, which garnered commercial success, addressed the ties between the Vatican and Nazi Europe under Pope Pius XII.
"Gavras contacted me through his wife [film producer Michele Ray-Gavras], whom I met while working together on a film project," Amar said. "He gave me his edited version of the film and asked me to compose a score. After 10 days of work I gave him a soundtrack version. He laughed and said it was exactly the opposite of what he was looking for. I had never made music for a film before, especially not a film of such magnitude. I felt I was not up to the task and asked to leave. That's how my career in the film world began."
Eventually, on Gavras' insistence, Amar did compose the film score, which instantly led to a series of commissions from other directors. "Amen" quickly became the subject of intense debate because of the Vatican's indignation at its leaders being portrayed as having apparently known about the Auschwitz horrors.
"Gavras taught me the connection between sound and image," said Amar. "It's a subtle one. 'Amen' is not a Holocaust film; it is a film about the meaning of responsibility. The music should suggest deeper connotations. Its role is not just to accompany the scene or the picture and provide a dark or happy atmosphere. It should liberate itself from an automatic approach."
"The soundtrack is a critical element of the total work and should therefore be made to fit," Amar added. "But sometimes it is not original compositions that gain recognition. Judges vote on a film, not on its music. That's how it was at the 2003 Cesar, for which I was a candidate for 'Amen.' Despite the honor of being a candidate for my very first film work, I lost to Polanski's 'The Pianist,' which was accompanied mostly by known works by Chopin."
Amar was nominated for the Cesar again in 2006 for his work on "Live and Become," a joint Israeli-French production on which he worked with Romanian director Radu Mihaileanu. Despite losing again, Amar's collaboration with Mihaileanu eventually did bring him the award in the same category three years later for "The Concert." The film - starring Melanie Laurent as the daughter of Russian musicians, who becomes a concert-hall sensation in France - is a classic example of a recent French film. The score brings together sweet Eastern European and gypsy-style compositions and classical music. Amar's hand is clearly felt throughout.
Amar's musical journey spans continents. He was born in Jerusalem in 1953 to an Israeli mother and a Jewish-Moroccan father with a French passport. As a child, he immigrated with his father to Morocco, where he was raised. He refuses to speak of his relationship with his mother, though after years without contact that relationship has recently been renewed.
It was in Morocco that he first discovered and became enchanted by Arabic music.
"In the 1960s, francophone Morocco considered this type of music vulgar," Amar recalls. "At home, people listened to classical music. Right away I understood that my heart was elsewhere. I wasn't interested in European music, which was very didactic and static, far from being folkloristic and full of life. Some three-fourths of Arabic rhythms and melodies were lost in the attempt to fix them in systems of laws and notes, following the decision reached at the Cairo music convention in the 1930s; but growing up in Morocco in those years, that music was still very much alive. Musicians played only based on oral tradition, without notes or official tutoring. The music breathed."
At 15, Amar moved with his father to France, following the wave of anti-Semitism that swept North Africa in the wake of the Six-Day War. There, in the early 1970s, he began to take an interest in Indian music. A visit in 1976 by a famous Indian musician to Europe convinced Amar to leave for the sub-continent for several years.
"Indian music, like Arabic music, interested me because of its existence as part of a tradition of listening," he said. "In order to play Indian music, one needs to understand it, crack its code, penetrate it. It is in an ongoing evolutionary process. It cannot be summed up in notes."
A musical journey
After returning to France, Amar met South African choreographer and anthropologist Peter Goss, under whose influence he became involved in dance. Suddenly his musical improvisations received physical expression in movement. Over the years, Amar gained renown in this field. He composed music for numerous dance works and collaborated with leading choreographers from different schools, including Marie-Claude Pietragalla and Carolyn Carlson. In 1998 he even took part in an Israeli project bringing together Israeli musicians from different backgrounds.
Amar's ability to combine instruments and styles also defines his current work as a film composer. He combines the North African oud with classical harmonies, the Armenian duduk with a cello, Chinese percussion instruments with symphony orchestras. His music is dramatic or minimal, depending on the image, but it is almost always surprising, sometimes even strange.
"I don't try to create exotic music," Amar explains. "I don't like the concept of 'world music.' It is too all-encompassing and overused. I prefer speaking of 'non-European' music, a definition that is also Europocentric but more correct."
"La Source Des Femmes" ("The Fountain of Women" ), also directed by Mihaileanu, is the last project for which Amar composed the score. The film, recently screened at the Cannes Film Festival, tells the story of a group of women from a North African village who, in an attempt to convince their husbands to provide water for the village and break the female tradition of bringing water there in jugs, declare a sex strike.
As part of his work on the soundtrack, Amar traveled to familiar territory - Morocco - where he stayed for six weeks searching for sounds. The film was not well-received at Cannes. Nevertheless, along with the cliched scenes, the film was mentioned by critics as a rare chance to hear Moroccan music and hymns, brought together by Amar.
"My special connection to Morocco has its roots in my biography, of course. As a Moroccan Jew, I belong to an Arabic culture. You could say I'm a Jewish Arab," said Amar, pointing out a historical link to his community's predecessors. "The Maghreb Jews always enjoyed special status as musicians in their countries."
During another trip to Morocco, Amar went looking for a singer whose voice could be "glued" on to the lead actor in the new film by Ismael Ferroukhi, "Les Hommes Libres" ("Free Men" ). The Moroccan-French director's film recreates a real-life World War II drama. Younes, an Algerian immigrant in Nazi-occupied Paris, is arrested and sent to spy on the the city's main mosque. At the mosque, Younes meets Salim, a talented singer who, as it quickly turns out, is a Jew living under a borrowed identity provided to him by the head of the mosque. In the background, talk of joining the partisan underground grows stronger.
"At first I couldn't find a singer who fit the role, until finally I found a Jew in Morocco with the perfect singing intonation," Amar said. "Cultural differences influence the quality of the music, and it is important not to compromise."
"Les Hommes Libres," due to be released in France at the end of this month, is already arousing plenty of interest. It may well land Amar another Cesar nomination in the music category. But successful as he may become, Amar's name will always appear beneath that of the filmmaker.
"Your degree of freedom as a film score composer is defined by the director," he said. "It is important for me always to remain as free as I can, but that is not always possible. The director needs you, he can't do what I can do, but the natural inclination of directors is to control the final product as much as they can, and that includes intervening in my work."
ICYMI
Ken Burns' Brilliant 'The U.S. and the Holocaust' Has Only One Problem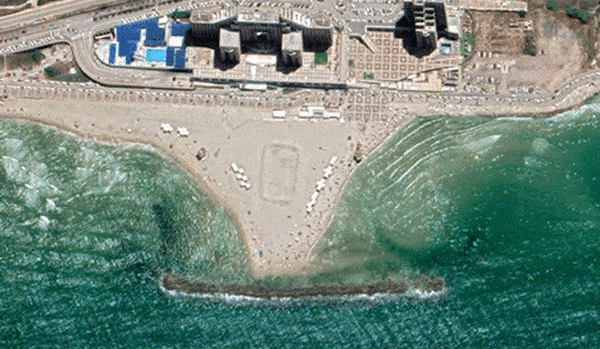 Facing Rapid Rise in Sea Levels, Israel Could Lose Large Parts of Its Coastline by 2050
As Israel Reins in Its Cyberarms Industry, an Ex-intel Officer Is Building a New Empire
How the Queen's Death Changes British Jewry's Most Distinctive Prayer
Chile Community Leaders 'Horrified' by Treatment of Israeli Envoy
Over 120 Countries, but Never Israel: Queen Elizabeth II's Unofficial Boycott