'When to Tell, How to Tell, Whether to Tell'
A new documentary offers a thought-provoking view of the way children and grandchildren of survivors deal with complex memories - and each other.
"Hadira" ("The Flat" ), a documentary by film director Arnon Goldfinger, opens with a situation that is familiar to many: The director and members of his family are gathered in the apartment of his grandmother, a short while after her death, in order to clear out the contents. They are opening closets, rummaging in drawers, searching through piles of books and documents, and trying to decide what to do what the huge amount of possessions that Kurt and Gerda Tuchler accumulated in the years they lived in the Tel Aviv apartment after arriving in Palestine from Germany.
"When I was a young boy, I loved to come here," Goldfinger says as the film opens. "Once a week, I'd cross Tel Aviv, climb up three flights and arrive in Berlin. Grandmother Gerda lived here for 70 years as if she had never left Germany. Despite all her years in Israel, she did not know Hebrew well, and I didn't want to learn German. So we sat and spoke in English as if we were in a cafe in Europe - with apple strudel and Swiss chocolates. But when I grew up, I thought to myself that there was always a silence about the really important things."
At this stage, Goldfinger does not explain what silence he is referring to. Meanwhile his camera focuses on the family members as they devote themselves to the task of evacuating the apartment - sorting and packing, throwing away and removing things. The atmosphere for the most part is jovial. Indeed, there is surprise mixed with laughter when out of one closet tumble dozens of pairs of fancy women's gloves, tens of handbags and purses that were carefully preserved, and even pelts from a few lifeless foxes with shiny fur, which for some reason were considered a fashionable and luxurious item of clothing many years ago.
It is not long, however, before Goldfinger finds in his grandmother's house various items that reveal an astonishing chapter in the family's history - a chapter that had been kept under wraps for decades. The director began collect the dusty splinters of information, and embarked on an emotionally stormy and truly amazing detective project, complex and full of twists and turns, which led him across several borders.
But "The Flat" - which won its creator the prize for best documentary film at the recent Jerusalem Film Festival, and is now being screened in the Cinematheques of Tel Aviv and Jerusalem - is not merely a stirring film. It constitutes intriguing documentation, offering a fresh and thought-provoking view of the way the second and third generations of Holocaust victims deal with historic memories, of the difficulties and complexities that characterize the ties between these generations, and the complexity of relationships between Israelis and Germans after World War II. In addition, it also touches on questions of identity, belonging, repression and creation of memories, and above all, it succeeds in bringing out the great complexity that is typical of all these issues.
In order not to spoil the film for viewers, we shall reveal only a small part of the developments that take place in it. But anyway, whoever prefers to avoid spoilers totally, should stop reading now.
"At first, I went to the apartment and started filming just by myself. I wanted to do something, but I didn't know what exactly," Goldfinger related in an interview in Tel Aviv last week. "My grandmother's apartment had significance for me, even as a child, and I was fascinated by that world that was disappearing. That was the first idea for the film. The whole 'Yekke' [German-Jewish] atmosphere, the European 'codes' - the very cultured but narrow world which engaged me, during my whole life, in a sort of game of yearning and recoiling. I understood this was the last moment I could do something with it and thought I'd make a short film, not anything more."
By chance Goldfinger met the photographer Talya (Tuli ) Gal'on, who lives not far from his grandmother's apartment, in the street, and told her about the apartment; she helped with the photography (Philip Balaish shot the film alongside her ). They filmed the family rummaging through closets, the items with their old-fashioned European flavor that were pulled out one after another - and the dozens of garbage bags that were filled up quickly. But Goldfinger and the others did not know exactly what they were looking for.
"There were terribly funny situations but nothing that could keep a film going," Goldfinger explained. "One day, Tuli said to me: 'Listen, this is a film about nothing. It's 'Seinfeld,' what's happening here.' We didn't know where it was leading to. I told her I felt like a fisherman who was standing with his fishing rod and waiting for something to happen. We waited."
And then it happened: Suddenly among the cartons of gloves and shoes, the fox furs and the purses, the books and the boxes with letters - a pile of old German newspapers appeared. Goldfinger did not imagine that this would be the first clue that would lead him on an emotional journey that would be both upsetting and confusing, and that would reveal a family history that for years had been repressed and hidden. His mother looked through the newspapers with surprise, and it became clear that all of them dealt with the same story. She translated the contents into Hebrew for her director-son, as he turned the camera on her.
"A Nazi Goes to Palestine," she read the headline from the front page of Der Angriff, a Nazi newspaper, from 1934. Below it was a large map of Palestine. In the accompanying article, a member of the Nazi Party named Leopold Von Mildenstein - who eventually became a senior officer in the SS and was responsible for enlisting Adolf Eichmann in the Gestapo's Jewish division - described in detail his impressions of a trip he took to the part of the world where the Zionist enterprise planned to set up a Jewish state. The scenes of Jews working the land, draining the swamps and realizing the Zionist dream made a very big impression on the Nazi tourist.
Alongside this bunch of newspapers, the Goldfinger family members found some papers on which both a swastika and a Star of David were drawn.
"What is Nazi propaganda doing in the apartment of my grandmother and grandfather?" Goldfinger asks in amazement in the film. He then decides to begin what turns out to be a prolonged journey to find the lost, silenced past of his family history.
"The key point for me was finding the newspaper, but it took me time to understand that," he admitted. "It was indeed hair-raising to see that newspaper, but not very much more than that, then. Because at that point, I didn't have any concept of a film that would deal with Nazis, Holocaust and World War II. That was not the film I wanted to make in any way. It took me time to understand that that was a turning point in the film: Only then did I begin to ask, to read, to investigate and to delve into the subject, and suddenly everything began to be very interesting."
To his surprise, the director found out very soon that the German tourist had been accompanied during his visit to Palestine by none other than his grandfather and grandmother, a few short years before they immigrated to Israel.
Arnon Goldfinger, 47, studied cinema and philosophy at Tel Aviv University, and when cable television and commercial Channel 2 began their broadcasts, he worked as a director of scripts on various programs. His previous, much acclaimed documentary, "The Komediant," is about the Burstein family of Yiddish vaudeville artists - Mike Burstein [whose stage name is spelled Burstyn], his parents and twin sister - and touches on the enthralling history of Yiddish theater. In 1999, the film won the prize for the best documentary from the Israeli Academy of Film, and the equivalent prize at the Haifa Film Festival. It was shown in dozens of film festivals the world over, and was also screened commercially in Israel and the United States. Since then, Goldfinger has taught cinema locally at a number of schools and at present teaches directing and script-writing in Tel Aviv University's film and television department.
Why did he have to wait 12 years until his second film was released? "That is complicated. I'm still trying to explain it to myself," Goldfinger explained. "'The Komediant' was very successful and I went around the world with it for two years, and then two things became very clear to me: The first, when I came out of one of the screenings, I thought to myself that I know many things about the Burstein family, but I don't know a thing about my own family. I think that led me to do something in that direction.
"And the second thing was that the journey involved in making the film was so exhausting that I understood I was not a person that could make one every year. I understood that any movie I would make had to be extremely meaningful. I received a lot of offers, but nothing moved me. I thought about making a feature film, not a documentary. I sat down and wrote, and as usual I got into a bind - and then suddenly, this film ('The Flat' ) happened."
Both of his films investigate the saga of a family, dives deep inside it, and simultaneously sends out feelers to a far-off and lost past, which it tries to study, to understand, with a sober glance backward.
"At some stage, I said to the editor, Tali Halter Shenkar, that 'The Flat' is actually 'The Komediant,' but with two differences: It is about my family, which comes from Yekke-land, and not about the Bursteins who came from Poland, and secondly, unlike with 'The Komediant' - only the beginning is funny. Afterward, it just gets worse," Goldfinger chuckled.
In "The Flat," which received funding from Channel 8 and the New Fund for Cinema and Television, Goldfinger's mother, Hannah, is followed as she journeys into her family's past. It transpires in the film that she did not know a thing about the chapter her parents had chosen to hide from the entire world - even from their only daughter. When the Goldfingers encounter an old picture album, which documents some of that mysterious period, Hannah admits that she had seen it at some point, but never asked her mother about its contents. "I didn't ask and she didn't tell. It didn't interest me," she tells her surprised son, who finds it difficult to understand and cross-questions her.
"I had never had a conversation with my mother like the conversations in the film," Goldfinger explained. "This film gave me the courage to speak with her in that way. It was a challenge. The film gave me the strength and the reason to raise it. Only when I started making it, did I understand how many things in fact we hadn't done in our family. During the work on the film, I understood that it was possible we were a family without a past. There was always a feeling in our home that our family had had no connection with the Holocaust. After this film, there won't be a feeling like that," he added.
While making the film, Goldfinger says, he was forced to deal with many moral conflicts.
"On the personal level, it was a big shake-up for me, which prompted a great many misgivings over what to tell, when to tell, how to tell, whether to tell, and to whom to tell. Whether or not to tell my mother, to film something or not, to tell my brother about it or not. That is how it was until the final stages of the filming, and of course during the editing. There was a big mix-up here, because I was both a son and a grandson, and a father, but also a director who wanted to tell a story. During the editing stage, I would meet my mother every morning at 8 in the editing room; and as a director, obviously it was not simple like that to remain objective," he noted.
In addition, as a Yekke who is the son of Yekkes, he said he found time and again that reality would confuse his plans. "I went with one concept but then everything went against it," he said.
Goldfinger said he was convinced that he knew in which direction the story was going to unfold, but then reality would come along and change all his plans. Among other things, this experience showed him how many stereotypes and preconceived conceptions he, like many others, often have concerning the Holocaust. Mood swings, some of which are concealed or not always clear, and are tied to curiosity, fear, worry and pain, characterize many of those who participate in the film.
"I think that one of the most obvious things among the figures in the film is that many of them act out of unconscious motives. And in general, the apartment was for me our family's unconscious," Goldfinger explained. "It is a kind of symbol that [shows that] up there on the third floor, an invisible thing, the unconscious, can be found. That there inside the closets is something that has a great influence on our family, but no one is aware of it, and no one will admit it."
ICYMI
Ken Burns' Brilliant 'The U.S. and the Holocaust' Has Only One Problem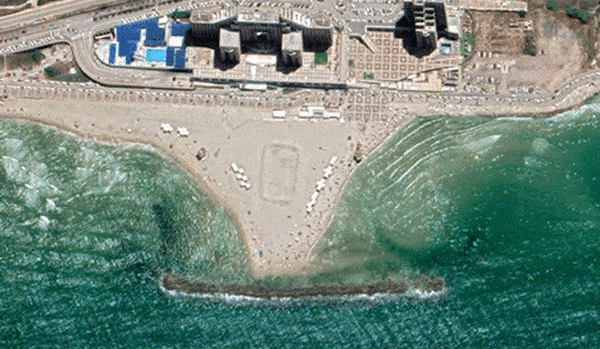 Facing Rapid Rise in Sea Levels, Israel Could Lose Large Parts of Its Coastline by 2050
As Israel Reins in Its Cyberarms Industry, an Ex-intel Officer Is Building a New Empire
How the Queen's Death Changes British Jewry's Most Distinctive Prayer
Chile Community Leaders 'Horrified' by Treatment of Israeli Envoy
Over 120 Countries, but Never Israel: Queen Elizabeth II's Unofficial Boycott