Off the Air and Onto the Net
Podcasts and online broadcasts are spreading, aiming to move listeners off the FM dial and onto their iPhones.
A few weeks ago the Israeli media elite assembled in Tel Aviv's Hayarkon Park to celebrate the 60th anniversary of Army Radio. For them, the radio station was a sweet throwback to the past. It is hard to compare the achievements of 60 years to those of just four months, but the internet radio station / real life bar Teder that operated on Har Sinai Street in Tel Aviv closed Saturday with a big party in the plaza opposite the Great Synagogue. That venture is already a sweet memory too.
Teder (The Hebrew word means "frequency" ) was established by the Hargol and Tabac groups, which previously engaged in spinning records, producing events and bringing performers from abroad. One of the founders, Itai Walter, said when they set up shop they didn't have high aspirations. "We just wanted there to be a place for us and our friends to play music and we hoped a few people would come and drink beer," he said. "We expected 10 listeners and four paying customers but from the first moment we went on the air, but the listeners meter on the computer screen just kept going up."
Maybe the mass flocking was a result of the foreknowledge that the place, called a pop-up bar by its owners, would be open for only four months.
"The bar became too successful," complains Walter, "and took a lot of time and energy from us we had planned to invest in a radio station and in the end was invested in pouring beer."
The music on Teder ranged from hip-hop to electronic to indie. Many musicians received an opportunity to DJ the music they love. The Ramirez Brothers, Ram Orion, Soliko and Cohen@Mushon were all given the mic, along with experienced broadcasters like Dori Ben Zeev, Nadav Ravid, Leon Feldman and Quami, all of whom went on the air as volunteers.
"At Radio Teder there wasn't a uniform format of presentation or of music," Quami said, "and really most of the broadcasters didn't have any professional training. There were some who became professional as they went along and others who broadcast in a sloppy way the whole time, and that too is part of the charm of this place. ... The very fact that something like Teder happened only proves how powerful radio is. So many people who had never done radio before want to come and broadcast. This means radio still enchants people."
Broadcast still tops
The real question is whether online radio is poised to replace stations broadcasting over the airwaves. Alon Uziel, the content manager at the ICAST site for podcasts, which feature on-demand radio shows, believes it will. "There is no need for the old radio; the future is on the Internet," he declares. "Most people I know don't even have a radio set at home. If they like to listen to radio, they will download radio apps to their iPhone. There is already a huge selection of podcasts, so why should I listen to Galgalatz when I can hear what I want whenever I want?" Despite the revolution Uziel sees, the most popular program on his site is still Sharon Teicher and Eran Zarchowitz's "Evening Show," also broadcast over the airwaves on Radio Tel Aviv.
The duo's satirical sketches were listened to a total of about 813,000 times and the competitors - independent broadcasters who broadcast from home and present wonderful shows weekly on topics like history (Ron Levy, 217,00 hits ) or computer games (Hamishakia, 68,000 ) - remain far behind.
Uziel explains that the "do it yourself" spirit also has an economic advantage. "On FM-103 they bring stars and on Galgalatz they play a lot of hits they think people want to hear. When you are less concerned about how to make money, and when the budget is so low, the audience shrinks and becomes more segmented and specific. If I like Saudi reggae and I only want to hear Saudi reggae then I'll look for the podcasts specializing in that music."
One of the most prominent Internet radio stations is Click FM, which has been operating since 2006 though does not have a spot on the FM dial, broadcasts live every evening to a devoted audience of listeners.
It has everything a standard radio station in Israel has: a regular broadcast schedule including entertainment and gossip shows, chat with local personalities and a hit parade topped at the moment by Eyal Golan's new single.
Uri Less and Efi Berkovich host the program "Layla" (Night ) on the station every Saturday at 10:00 P.M. "We are two 40-something men who escape from their families every Saturday and set out to do an interesting radio program without any budget at all," explains Berkovich. "Before that, we wanted to broadcast on 102 FM, Radio Tel Aviv. We'd already got a date and a time when we were supposed to go on the air and then it was postponed and faded away. Uri is glad this happened because on real radio we would never have been able to go wild and say what we say on the Internet."
The program is broadcast live to listeners via the site and like traditional radio, is not available on demand. According to Berkovich, "Internet radio is indeed an alternative to the old radio but there is nothing like listening habits. It's a lot easier to get people when there is a regular program at a regular time."
Yaniv Morozovsky, who was at Army Radio for the past decade, recently left to try his hand at Internet radio and established Click2dance on FM Click - "The first dance station in Israel," he says.
"The radio station is gathering momentum because more people are learning to listen to Internet radio by means of the mobile phone, and in the car," he says.
Morozovsky believes in the small station he has established because it provides his favorite music 24 hours a day. "That's it. I listen only to Internet radio. The big radio stations don't satisfy me. The pleasure of listening to quality and precise Internet radio, without reception problems, without advertisements and from all over the world while you are in a traffic jam on the Ayalon Freeway takes the radio experience to new heights. Therefore we are producing podcasts from our broadcasts and acting in all the usual Internet arenas."
Radio ventures also don't necessarily need to be counter establishment. Radio Mahut Hahaim (Essence of Life Radio ) operates under the sponsorship of Bank Hapoalim owner Shari Arison and therefore has sufficient resources to support a fleet of surprising broadcasters like musicians Amir Lev, Yossi Babliki, Yair Dalal and Sharon Moldavi and radio people like Dalik Volonitz and Boaz Cohen.
Not just music
When Noa Lev, a veteran media person and one of the founders of Essence of Life Radio, retired from radio she found a new niche for herself. "With the help of my experience in radio and television broadcasting, I am instructing lecturers who want to work in the webinar field. A webinar is a cross between a seminar or business lecture and a radio program. The webinars are broadcast live to an audience of listeners who want to specialize in a popular field, mostly social media."
Despite the advantages of digital, the belief in podcasts, the ability to broadcast live to the entire world and the total independence in the format and spirit, it took a vote of confidence from the old guard for Teder to feel it had made it. The farewell party, broadcast live on FM 106, marked a peak for the station/bar.
"I said to myself, 'I don't believe Teder's on the radio!'" recalls Walter. "That was our dream from the very beginning and if it weren't dangerous we'd do pirate radio. Because that's a crime, we decided to refrain from doing that. At some stage in the evening I admit I went out of the bar into the parking lot, I got into the car and I listened to it happening, live! After that it was even more fun to get out of the car and hear the music from the bar."
The last word, incidentally, was had by the police, which shut down Teder and its farewell party at around 1:30 A.M., after noise complaints.
Quami, at least, doesn't care how people listen to him.
"Radio is radio. And people listen to radio," he said. "It doesn't matter whether they hear it online or in a bar, over the television or on a transistor in the office or at home. Radio's function, despite all the predictions, isn't disappearing from the world. It's still significant and important."
ICYMI
Ken Burns' Brilliant 'The U.S. and the Holocaust' Has Only One Problem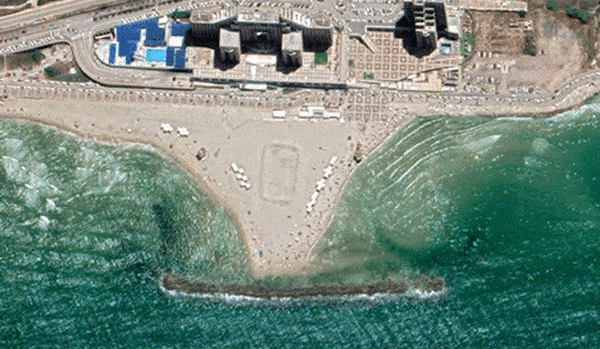 Facing Rapid Rise in Sea Levels, Israel Could Lose Large Parts of Its Coastline by 2050
Lapid to Haaretz: 'I Have Learned to Respect the Left'
The Mossad's Fateful 48 Hours Before the Yom Kippur War
As Israel Reins in Its Cyberarms Industry, an Ex-intel Officer Is Building a New Empire
How the Queen's Death Changes British Jewry's Most Distinctive Prayer