Photographs of the work "Concentration Camp," by Polish artist Zbigniew Libera, are part of the exhibition "Demons," now on at the Bat Yam Museum (until December 20). The work is made up of seven boxes that look identical to the packages in which Lego plastic construction toys come - down to the firm's logo. The largest carton depicts a comprehensive overview of a concentration camp: the buildings, the gallows (on which an inmate is being executed), prisoners behind barbed-wire fences, others marching in a line into and out of the camp. The entry gate is reminiscent in shape of the entrance that greeted arrivals at Auschwitz, though without the inscription "Arbeit macht frei." The guards wear shiny black uniforms, and the inmates striped ones.
The other boxes focus on specific sites in the camp, for example, a crematorium that spews smoke from three chimneys and a group of Sonderkommandos dragging corpses from a gas chamber; a guard bludgeoning a prisoner; a laboratory for medical experiments and a hanging.
Nearly all the pieces that make up the work were actually ordered from the Lego company catalog. The SS men for example, are from a policemen series, and the prisoners came from a hospital series. The only additions made by Libera, apart from the design of the packages, are the barbed-wire fences, gates, and small changes in the structure of the roofs.
Libera's work, from 1996, belongs to a new breed of works that began emerging in the 1990s, which began to deal with the Holocaust in a completely new manner. Ceasing to regard the topic in a sacred and solemn manner, artists like Libera began to employ a humoristic, even macabre language, with a free use of symbols from the Nazi regime and mass culture. Most significantly, the change showed the emphasis moving from the victims to the murderers. This change could also be seen in Israel during those years in Roee Rosen's "Live and Die as Eva Braun" exhibition at the Israel Museum in 1997.
Libera's artwork suggested to consumers the possibility of building their own concentration camp from a Lego kit. Cultural critic Stephen C. Feinstein commented on it that, "The elements for such atrocity ... exist within civilization. All that is needed is the right person to 'assemble' the pieces correctly."
Rosen offered his viewers the opportunity to enter into the character of Eva Braun, Hitler's mistress. Both works invited the viewer to experience the murderer's perspective. The peak of this process can be seen in Jonathan Littell's blockbuster book "Les Bienveillantes" (published in French two years ago, and due out in English next March, with the title "The Kindly Ones"), which is narrated entirely from the point of view of an SS officer. The voice of the victim is not heard on any of its 900-plus pages.
Libera, who was born in 1959, belongs to an unpopular generation of Polish artists who have become known as the "Critical Artists."
"These are artists of the 1980s and 1990s who dared to depict to society its own situation, something it cannot tolerate having to see, and then becomes indifferent to," says Libera. "This is a Catholic and intolerant society. We have a rightist government, and Warsaw has become a police state. I fought for freedom in Poland, I spent a year in prison, and it turns out that it has become worse than in the communist period." So bad, he explains, that "I couldn't live like that any longer and I left two years ago for Prague."
There is no doubt that Libera's "Concentration Camp" asked Polish society to reflect on one of its biggest secrets, one it has gone to lengths to keep secret. "I remember that when I was 10 years old, they took us from school to a concentration camp for the first time," he says. "At that time they didn't use the word 'Holocaust' in Poland. The camps were 'the camps,' and the people who died in them were 'Poles.' There was no division into Jews and Poles and people really didn't want to talk about it. On the one hand there was huge, terrible silence, and on the other you could sense something very heavy in the air, like a ton of steel."
Didn't you try to ask your parents?
"No, my father died when I was 3 years old, my grandmother died in the 1980s, my mother died in 1993, and anyway, a child can't ask about things that he senses aren't allowed to be discussed. Of course I knew that there used to be Jews in Poland. I was born in a small town near Lodz. I remember that when I was small they renovated the house. The workers scraped the paint from the walls and behind it I saw more and more layers, strange, very light colors. This looked amazing to me. I asked my mother, and she said it had been a Jewish quarter. But they didn't like to talk about it. If we pressed a bit, they would send us outside. I think that they, too, were very, very hurt."
By what?
"You can't be a witness to murder and feel good about it. I understand why they maintained silence, but I felt that I had to say something. That is why years later I decided to make this work of art. I felt that perhaps it was the first word that could get the discussion going."
"Concentration Camp" was made as part of a series of works by Libera mocking the icons of the democratic-capitalist world that began appearing in the Polish consumer world after the fall of communism. It was made in three copies. One was purchased by the Jewish Museum in New York, and a second by a museum in Bonn (neither of which are prepared to lend the work, with no exceptions). The third, which is currently on display at the Pergamon Museum in Berlin, belongs to a private collector, and Libera says he has "heard that it is for sale."
What's its price?
"He bought it for 7,000 euros and he is offering it for sale at 150,000 euros." Libera relates that when he began to plan the work, he didn't really know what it would look like. "I knew that I wanted to create a plaything based on a social-architectural structure like a hospital, a prison or a military camp, one of those public institutions Michel Foucault talks about in which everyone is under surveillance. At that time I was working with the Center for Contemporary Art in Warsaw, and they offered artists a list of sponsors that could donate materials. A branch of the Lego company in Denmark appeared on the list and I felt this could be suitable."
Libera relates that he came prepared to his meeting with the Lego people: "I brought the initial sketches of the work, in which there were already elements like guard towers," he says. "This didn't interest the director of the company. He said, 'I don't want to see sketches, I'm not an expert on art. You're an artist, you know what you want to do, go wild,' and that's what I did. They gave me a catalog of their products and I ordered pieces."
When did you realize that you were going to create a concentration camp from a children's plaything?
"I ordered quantities of items from the catalog, and while I was waiting for the shipment I started to imagine what I could do with it. I thought to myself that Lego had made a plastic copy of everything in the world, but it hadn't included one very important thing in it - a concentration camp."
Of course Libera did not inform the Lego company of this development in his thought. He notes that as long as the work was exhibited only in Poland, Lego said nothing. However, after reports of it were published in the international press and aroused a scandal, the company tried to stop him by going to court. Since the three copies had already been sold and, in addition, copyright law in Europe, unlike in the United States, allows the use of a company's logo for artistic purposes, Lego withdrew the suit. However, everywhere the work is displayed, it is noted that this is an item that has been produced without its permission or agreement.
Why was it so important to create it with the cooperation of Lego?
"I couldn't have funded this work with my own money. It was very expensive."
And could you have wanted to say something about the collaboration between war and giant corporations?
"It is clear to everyone that concentration camps, the Holocaust, money, capitalism and business all have something in common, but it is very difficult to explain this in words. Perhaps works of art do this better."
You in fact managed to turn things around - you exploited them.
"Yes. I was lucky. From time to time this is possible. I didn't want to use Lego only as a material. It was important to me to use their name and image. But it's a complex situation. Every time you see my work you also see the company's logo. I am not certain that my work isn't advertising them."
But not only the Lego company objected to the product. The work has been subjected to a great deal of criticism everywhere it has been displayed. Art critics have accused Libera of trivializing the Holocaust, and certainly a large number of the objectors to it have been Holocaust survivors.
"I've been asked many times how I dare to hurt survivors," he says, "but I have great respect for them and also know many of them. A few years ago, I participated in a conference in Brussels that was organized by the Auschwitz Foundation. I went because I felt it was my obligation. The proceedings were translated into three languages and everyone was sitting there with earphones. I screened materials connected to the work, I took off the earphones, I started to talk and all of a sudden I felt a strange stir in the audience. I put the earphones back on and the first thing I heard was, 'Burn this work and hang him.' I didn't know what to do. To stop, or to carry on.
"After my lecture, they decided to cancel the rest of the conference. The day before they had spoken about [Theodor] Adorno, about how it is impossible to make art after the Holocaust, and how art is too weak to say anything, and the next day everything stopped because of a work of art," says Libera.
"I can understand that the survivors' memory is like an open wound, but there is something more important than your wound - the world's future. The new generation. The Holocaust isn't just a historical event that has vanished from the world, never to return. I agree entirely with Italian philosopher Giorgio Agamben, who said that the concentration camps are the hidden structure of modern society. We are living in one big camp and we are subjugated at every moment. Since the Holocaust, not even a single year has gone by without a concentration camp being built somewhere in the world aimed at killing: in Rwanda, Darfur or Yugoslavia."
Twelve years later, do you have any criticism of this work of yours?
"I'm one of those artists who create from intuition. Over the years I have become more aware, almost an expert on the subject. I can say that today I am more certain that I was right. Art that dealt with the Holocaust in the past always presented the victims' point of view, one that automatically gives you the feeling that you can't be guilty, and what I want to say is that every one of us can be the executioner."
ICYMI
Ken Burns' Brilliant 'The U.S. and the Holocaust' Has Only One Problem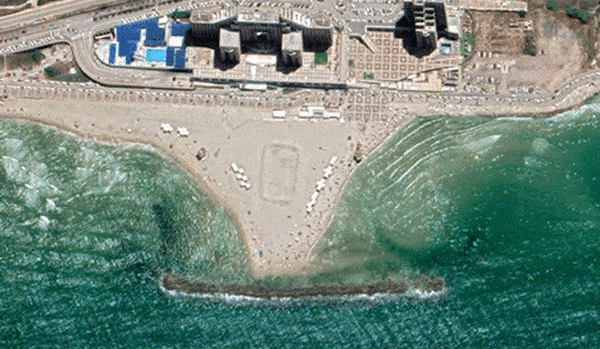 Facing Rapid Rise in Sea Levels, Israel Could Lose Large Parts of Its Coastline by 2050
Lapid to Haaretz: 'I Have Learned to Respect the Left'
The Mossad's Fateful 48 Hours Before the Yom Kippur War
As Israel Reins in Its Cyberarms Industry, an Ex-intel Officer Is Building a New Empire
How the Queen's Death Changes British Jewry's Most Distinctive Prayer