In the wake of 12 years of alienation from the art world, photographer Tiranit Barzilay is holding an exhibition, which will open at Tel Aviv's Sommer Art Gallery on Thursday. It is tempting to explain Barzilay's departure and return to the art world in terms of a moral about the dangers of swiftly crowning young artists: After their sudden rise, they collapse under the burden and the expectations and drop out.
The local art world crowned Barzilay a star immediately after she completed her studies at Bezalel Academy of Arts and Design. She made her breakthrough in 1993, in the one-woman exhibit Ariella Azoulay curated for her at Bograshov Gallery. Sarah Breitberg-Semel - who served as the editor of the Studio Art Magazine at the time and is considered an authority in the art world - conducted a first comprehensive interview with Barzilay and wrote: "An undoubted talent has been born." At the tender age of 28, Barzilay was given a one-woman show at the Tel Aviv Museum. A short while later she disappeared.
But Barzilay, now 40 and the mother of two children, refuses to identify with this story. "I was so naive back then that I didn't even know I was a star," she says. "I wasn't under any pressure, I wasn't scared of expectations and I also didn't feel a need to exhibit again. My alienation was the result of a chain of events that succeeded one another: I got married [to actor Yaakov Cohen - D.G.], I became a mother, I lost my mother and I became religiously observant." Thus, according to her, the alienation was the result of a prolonged reflection on her life and "part of turning inward, an essential process in spiritual development."
It is possible to discern a certain continuity between the photographs for which she initially became famous and the latest ones. Her early works were large, staged photographs of groups of people, both men and women, engaged in various activities in closed spaces. Some of them were dressed in underwear. Each of them was absorbed in a world of his or her own. It was not clear where their gaze was directed but the feeling imparted was one of a lack of intimacy and great alienation, on the brink of despair.
What was so special about your work?
"I don't really have any answers," says Barzilay. "I imagine that at the beginning of the 1990s, photography was suffering from an inferiority complex. Overseas there were already staged photographs by Cindy Sherman and others. But here it hadn't really arrived yet, and all of a sudden I was offering this kind of photograph, which even those unfamiliar with photography can read.
"This was staged photography and not a fleeting moment captured by the camera. Why do people think photography is not an art? Because it is as though the photograph is a matter of chance, you happen to take a picture of something. Someone who really has a deep understanding of the medium, to which I am addicted, and sees successive series of a creative artist, can understand that this is not the case."
It was thanks to that chance moment that she went to study photography. "I saw an exhibition of photographer Henri Cartier-Bresson's works when I was in the army," she recalls. "I walked out of the Tel Aviv Museum in tears and said to myself: 'Photography.'"
It was already during her first year of study that she realized she loved to photograph people. She began to create the group portraits in her second year. "I posted the result for criticism and they told me it was no good," she recalls. "They suggested that I photograph just one person. I said I couldn't. I spoke to photographer Yigal Shem-Tov, who wasn't one of my teachers but was teaching at Bezalel. I showed him all the materials and he told me: 'Take pictures like that.' And that's the whole story. I remember that in my second year at Bezalel I was already taking planned and painstaking photographs in my friends' apartments. I started to look for my moment, to invent it."
It is surprising that you had so much self-confidence as a young student.
"It's not a matter of self-confidence, but of confidence in a truth. Truth is my motivation. Maybe this is also the reason why I arrived at religious observance. This ambition to constantly seek the moment that is both truthful and right, again and again. That doesn't leave me, and that's it. This is who I am, and it is really painful and difficult."
The question of when she returned to doing creative work surprises her.
"When you are a creative person, there is no point in time when you start being creative. I live it, I'm with the children and - bingo - I get an idea that I write down in a notebook or on a little pad. It's like when people ask me: 'Tell me, is Yaakov also funny at home?' In his essence, Yaakov is an actor. Period."
During her years away from the scene, she created many series. "But each time it wasn't right enough, not truthful enough, not precise enough," she says. "If you look carefully, in the old pictures there was a sense of alienation and a search for a substitute. You can see that these are works by a girl who is beginning her path in life. They are all standing there and performing the same actions, the same ritual, and all the time I was asking why. Since then I got married, I had children, I became a woman with religious faith and new questions are arising, as though what we had asked until now wasn't enough. Suddenly I realized that a new formula had to be found."
Because answers had been found or because the questions had become different?
"The questions had changed, my way of life had changed. Suddenly there's an answer. If I don't know everything, then above me there is someone who does know, who has the answers. That in itself is already a kind of comfort. And so I think, 'Let's see how I can do something that will stimulate me and the viewer in the same direction, so we will more or less think about the same thing without me giving my answers. So you will arrive at your own answer.' Today, too, I don't provide answers, I'm not a missionary."
Many people thought that Barzilay became more religious in the wake of her mother's sudden death about five years ago. Barzilay was nine months pregnant with her eldest son when her mother passed away. "For three weeks I lay on the bench at Ichilov, outside her room, until I had to give birth," she relates. "She congratulated me over the phone and that was my last conversation with her."
But she says that her mother's death was not the reason why she turned to religion. "I had been a student of Yemima [an Israeli spiritual teacher] a lot earlier. That's when the change happened." Without a doubt, this development is very present in her current series of works.
This time, too, Barzilay photographs groups of people, mostly women and girls, but the activities have become less important, there is more emphasis on feeling. The detachment and the lack of connection remain, but everything is even flatter, nearly lifeless, like something from a laboratory. Women lie on the ground as if dead, two girls hold a white blanket over a recumbent woman, a woman and a girl lie like strangers next to each other, a birthday girl stands holding a birthday cake, waiting.
Ariella Azoulay, who has written the exhibition's catalog, has identified the death of Barzilay's mother as a crucial factor in the new series. "The entire series deals with mourning for the mother," she wrote.
And according to Barzilay, "Relly [Azoulay] told me that all the women look as though they have no mother, that they are disconnected. Maybe from that I understood that there is a sense of loss, that there is this hole. It never really begins only once your mother dies. It's there a lot earlier. If you are asking me about the differences between then and now, I can say that this series came from a much more personal place. I am a mother and also the daughter of a mother who isn't here."
ICYMI
Ken Burns' Brilliant 'The U.S. and the Holocaust' Has Only One Problem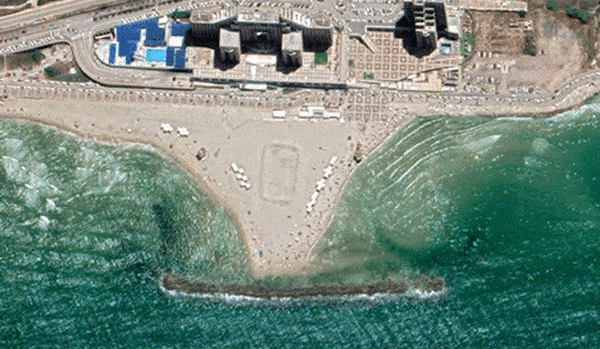 Facing Rapid Rise in Sea Levels, Israel Could Lose Large Parts of Its Coastline by 2050
Lapid to Haaretz: 'I Have Learned to Respect the Left'
The Mossad's Fateful 48 Hours Before the Yom Kippur War
As Israel Reins in Its Cyberarms Industry, an Ex-intel Officer Is Building a New Empire
How the Queen's Death Changes British Jewry's Most Distinctive Prayer