When a High-tech Hub Becomes a Ghost Town, Many Pay the Price
Herzliya Pituah's Shenkar Street is normally a hive of eating, shopping and schmoozing. Then the coronavirus came and the offices emptied out, damaging businesses that rely on worker clientele badly
Herzliya Pituah's Shenkar Street during the coronavirus pandemic.
Credit: Eyal Toueg
The scene is Shenkar Street in Herzliya Pituah, Sunday at 12:30 P.M., a few days before the new coronavirus restrictions went into force. The parking lot at the far end of the street still had a lot of empty spaces, but there was really no need to use it. You could easily find a spot right on the street.
Until the coronovirus crisis, this street would be filled with workers coming down from their offices for a lunch break at this hour. But now it is quiet except for the sounds of construction at the end of the street, where Microsoft's new campus is being built.
There seemed to be few shoppers in the store that sells colorful Smeg ovens and refrigerators. The company's brand manager for Israel, Gal Shtilviner, says there is actually as sense of economic recovery. "The shopper traffic disappeared two to three months ago, now it's back," he said.
In March, employees of the high-tech companies whose offices line Shenkar Street were told to work from home. Most have not returned. The six buildings used by Microsoft look abandoned. In some of the neighboring offices, like those of the online gaming company Playtika, employees have come back to work. But that doesn't hide the overall sense of desolation. The thousands of people arriving every morning, grabbing a latte at Arcafe and sitting on the bench making small talk before starting work — that scene has vanished. As have the similar lunchtime rituals.
At the entrance to Microsoft's offices, ropes direct visitors to the hand sanitizer, the station for taking your temperature and a desk for filling out forms – before you reach two bored receptionists. The company cafeteria is closed.
When the coronavirus struck and Israel went into lockdown, the tech industry continued business as usual. Staff weren't fired, they just worked from home, held conferences over Zoom and shared documents. Israeli startups raised more capital in the second quarter than they did in a year.
In fact, some of the few techies who come in to work every day appreciate the peace and quiet. "There were almost no traffic jams at the entrance to the street this morning," says one who has worked for years at one of the companies whose offices line Shenkar. "I get a parking place without a problem, come down from the office and pop over to Zozobra [a popular Shenkar eatery] without having to wait in line to eat. It saves me a few hours a week."
But the great migration homeward has left thousands of small businesses in a lurch. And, as the lockdown measures start up again, the situation looks more and more hopeless. Shenkar has become a tale of two streets.
The branch of the Tony Vespa pizza chain on Shenkar Street is almost empty. The sole employee there says it has been like this for a long time. The gourmet restaurant of chef Segev Moshe is closed. A knock on the door, and a young man peeks out. No, he doesn't have time to talk. He must deal with running the restaurant. But, he quickly acknowledges that the restaurant's business since it reopened has dropped by 70%.
A., who has worked for Microsoft for two years, has come in just to get a few things from the office. He looks uncomfortable. "It's very strange. Apocalyptic even," he says. "Everything is empty. There are no people, it's without life. I actually enjoy working from home, but it has disadvantages too. For example, the lack of interaction with people."
Now, with Israel on the cusp of a second coronavirus wave, no one knows when people will be returning to work in offices.
"We see them coming one at a time, coming really fast, taking a monitor and fleeing," says Shtilviner with a smile. Even this traffic has thinned out over time. "At the beginning, they took a lot of screens. We asked if they were holiday gifts from the company, and they said that they had switched to working from home and didn't know when they would return. We don't make a living from them anyway, but all the restaurants and food stores on the street have suffered."
"What is going on today is really simple," says Jacky Mukmel, chairman of the commercial real estate services firm CBRE Israel. "The market has gone into hibernation. The stores next to the high-tech offices are failing. It affects the neighborhood shopping centers, too, because people working from home rely on food deliveries and don't go out. After the first wave people went out to get some air and treated themselves by shopping and everything blossomed, but slowly they began to think it through."
Working from home, in combination with the news on Israel's miserable economic situation and the fear of a pandemic has caused people to stop spending, says Mukmel.
These events are not unique to Shenkar Street. In north Tel Aviv's Ramat Hahayal business district, in the area adjacent to the Alon Towers in Tel Aviv and other big concentrations of office workers, the great emptying out has hurt not only those providing services directly to the companies – cleaning services, catering and equipment – but retailers and restaurants nearby as well.
The biggest fear is of new restrictions, not just those that would directly affect the restaurants. If there are more directives, everyone will go back to working from home and the companies whose workers had been coming to work will no longer work in the offices. If that happens, the street will go completely dead," he says, rushing to close the door and get back to work.
The restaurant next door, The Meat and Wine Company, has not opened since the first lockdown. The tables outside are tied up together and covered with dust. The Etnika restaurant on the other side of the street did not reopen either. Judging by the small number of diners in other places, it seems it was a wise decision.
The local Burger King is almost empty. "We're at 50% capacity. If everyone continues to work from home, I'm worried that we'll be forced to close," says the manager, who preferred not to be named. He tried to switch to deliveries, but it wasn't a success, he says.
At the BBB restaurant across the street, manager Tarek Kabaha laughs when asked whether the fact that workers in nearby offices are working from home has affected his business. "Look around," he says, and gestures with his hand at the almost completely empty restaurant. "Between noon and 2:30 P.M. it was packed all the time, and now they're eating at one table. At the beginning of the coronavirus [outbreak] there was takeout, less so now."
All across Israel restaurants and cafes have suffered, but in business areas that rely almost entirely on worker clientele it's been especially bad, says Shay Berman, CEO of the Restaurants Association. "They are reporting a drop of 50% to 70% in the afternoon," he says.
Hagay Levin, chief strategy officer at the Israel Innovation Authority, says from his observations the situation isn't universally bad. "Last week, I was in the Open Space compound in Tel Aviv," he says "In the afternoon, a long line of delivery people arrived with takeout orders from different restaurants. So maybe the restaurants on Shenkar Street have suffered, but it helps other restaurants."
Knock-on effect
That does not give Berman much consolation. Takeout is less profitable than eat-in dining for restaurants, he says. Even workers who are still coming into the office and used to go out for lunch are now ordering takeout, he says.
Even though high-tech has never employed more than a 10th of Israel's workforce, over the years defenders of the industry's importance hailed its knock-on effects. Tech companies and their employees supported restaurants and cafes, hotels and conference centers and low-tech services such as cleaning and maintenance. Now, the coronavirus is revealing the knock-on effect in reverse.
"There's no direct research that investigated the impact of high-tech on the companies surrounding it," says Levin. "Nevertheless, Israeli high-tech employs 320,000 wage earners at an average salary of 28,000 shekels [$8,210] a month – and that's money that goes into the economy."
Even if many, if not most, of its workers are now working from home, the knock-on effect remains. "It's still a growing industry and creates jobs. Even today, there are job openings. The industry has laid off fewer people than other industries. High-tech workers use a big part of their salaries on services, so they have a big effect on the entire Israeli economy."
Motti Wiesel, CEO of the research company Vcell, sees the situation differently. "If entire floors of workers start working from home all the time or even one day a week, you see a drop in turnover in all the nearby restaurants and stores. I've seen it on Rothschild Boulevard [in Tel Aviv], in Ramat Hahayal and BSR Tower in Bnai Brak, where I work. Even those who are coming to the office don't bother to go out in the afternoon," he says.
Keren Arbib, who has been manager of the Gelateria Siciliana of Shenkar Street for 20 years, remains optimistic despite the quiet. "We're working less every day and focusing more on deliveries and the evening hours. It's more or less balanced out as far as revenues go," she says.
Lower priced offerings
One reason is that she's selling a simple, low-cost product that costs 18 shekels for a cone. "Everyone has 18 shekels to spend on themselves. Our confectionery is constantly creating lower-priced offerings, for example an ice cream snack that cost just 6 shekels," Arbib says, adding that she is actually looking to hire workers.
Across the street, is a large Nike outlet that recently underwent renovations to bring it on par with stores in New York and London. What's missing are customers. The staff has just four young shoppers to attend to. At G-Star, an outlet store, a saleswoman says halfheartedly that traffic isn't what it once was. She is quick to add that the store doesn't depend on the nearby office workers but on shoppers who come from all over the country. The large Fox Home store, which opened just a month before the coronavirus outbreak, is also deserted. The saleswoman says that sometimes shoppers come in the afternoon.
At the far end of Shenkar, a showroom for Jeep vehicles, manager Lev Rapapport, tries to give the impression that it's business as usual.
"Since May, there's been more customer traffic – it's reached pre-coronavirus levels," he says. His customers don't have money worries and are less impacted by the crisis. In fact, he says, if anything, the effect is a boost to business.
"May and June were crazy. When an Israeli is stuck at a home for a month and a half and he knows he can't travel, he says to himself, 'Hey, I need to be nice to myself. Our customers haven't been affected by the crisis and they can't spend money in other ways," Rapport explains.
But even if sales are strong and Rapaport is earning commissions, the money isn't reaching the neighboring restaurants. "I haven't been going out to eat for lunch – I'd rather not sit in a restaurant, so I order takeout. There have been too many sick people in the last few weeks and I want to avoid them."
Click the alert icon to follow topics:
ICYMI
Ken Burns' Brilliant 'The U.S. and the Holocaust' Has Only One Problem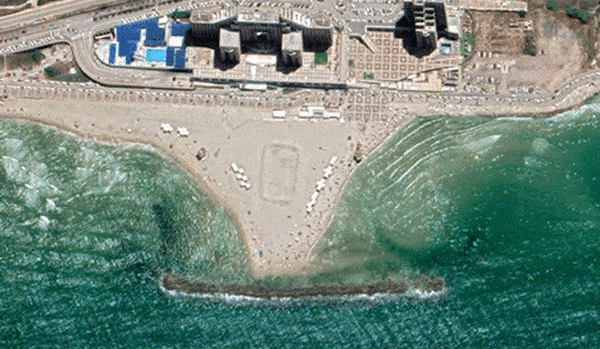 Facing Rapid Rise in Sea Levels, Israel Could Lose Large Parts of Its Coastline by 2050
As Israel Reins in Its Cyberarms Industry, an Ex-intel Officer Is Building a New Empire
How the Queen's Death Changes British Jewry's Most Distinctive Prayer
Chile Community Leaders 'Horrified' by Treatment of Israeli Envoy
Over 120 Countries, but Never Israel: Queen Elizabeth II's Unofficial Boycott