The Coronavirus Lockdown Is Over, but Perilous Economic Uncertainty Lingers
A roundtable of experts breaks down the major issues facing Israel, as government faces pressure to find solutions to the outbreak's economic pain
A Tel Aviv cafe preparing to reopen as Israel exits the coronavirus lockdown, May 19, 2020.
Credit: Tomer Appelbaum
Even as Israel climbs out of its coronavirus lockdown, many households and businesses remain in crisis mode and the overall health of the economy remains cloudy. A telephone roundtable of experts in finance and investment assembled by TheMarker attempted to clear the air.
Are we already in a post-coronavirus era? Has the government done enough?
The participants agreed that it's too early to say that the coronavirus is behind us, primarily because the risk of a second wave of infection remains. Prof. Shmuel Hauser, former vice president for research at Ono Academic College and a former chairman of the Israel Securities Authority, said Israel faces three main problems – uncertainty, employment and corporate finance, in particular for small and medium-sized businesses
"The uncertainty has several sources, first of all, questions pertaining to health, such as how long the pandemic will continue and if there will be a second wave. But the government is contributing to the uncertainty. It promised aid and many businesses and private individuals haven't received it," he said.
Many companies operate on small profit margins, and they will have difficulty recovering from the lockdown, Hauser said. Indices of insolvency risk, based on bonds trading at yields in excess of 8 percentage points over the Bank of Israel interest rate, are running 10 times their pre-coronavirus levels. "There are companies that will find it hard to finance ongoing operations. The government can provide certainty through consistent and planned policies and by avoiding making promises it doesn't keep," he said.
Ori Keren, a partner and chief investment manager at institutional investor More Gemel, said Israel's poor management of the exit from the pandemic lockdown was a lost opportunity to outpace the global recovery. "We succeeded in being among the first countries to exit from a lockdown, but then mismanagement by the authorities became the order of the day, the school system being a case in point," he said.
"The strongest sectors of the economy ensured decisions were made in their favor while the others were left to fend for themselves. Businesses don't like taking risks – for instance by telling employees to return to work, because they don't yet know what will happen. The lack of trust on the part of the self-employed and business owners and the lack of transparency are the biggest problems we face in exiting the crisis," said Keren.
Ran Goldstein, a vice president and head of the real estate team at the credit rating agency Midroog, said the government is taking too long to provide aid to those who need it.
"Hotel companies in the United States tell me that a month ago they had already gotten a significant injection of money from the government, millions of dollars, just to keep their businesses up and running," he said. "In the Netherlands, they're paying 90% of hotel workers' salaries through the hotel companies themselves and not through the mechanism of unpaid leave. In many other countries, we've seen very aggressive support and financial guarantees. In Israel, by contrast, you want to cry every evening when you see business people on the news who have lost faith in the government, even after they got grants. They simply can't hold on to their businesses."
How can we be in a situation where the world is still in crisis, but stock markets are rallying?
World stock markets have been rising in recent weeks, erasing many of the losses they absorbed at the start of the coronavirus crisis. The Tel Aviv Stock Exchange's TA-125 index fell more than 28% at its nadir, but since then has recovered two-third of its losses. The S&P 500 in the United States closed up 35% last week on its low at the peak of the crisis.
Shmuel Hauser said there may be some good reasons for the markets' rally, but they don't explain the huge gap between the real economy and the financial markets. Israel and most of the world's developed economies are forecast to show negative growth this year. In Israel, unemployment will remain high even at the end of the year.
Keren said the markets remain risky and won't stage a real recovery until a coronavirus vaccine is discovered – even if it takes time for the vaccine to be manufactured in large quantities.
"Until then, there will be a tug of war in the markets. On one side will be concerns about the health situation and fears of new lockdown measures, as well as the dismal economic situation, which will push the markets low. On the other side, major recovery programs in most of the world's countries and by central banks will pull the markets higher," he predicted.
Keren added: "I think the markets have had a smaller correction than we expected because the indices have been lifted by a handful of sectors, in particular technology. Sectors like insurance, banks and real estate, not to mention tourism and leisure, are far away from any recovery in the stock market."
What sectors do you expect to recover the most quickly? How important is the answer to that question in creating effective employment policies?
Ilan Arad Keshet, CEO of the Yetsira Investment House, said the tech sector has shown impressive resilience in the face of the crisis. Many companies even benefitted from the move to remote work, a trend that the coronavirus accelerated – such as those in cloud computing, semiconductors and online commerce. Keshet said investors should be looking to take on more risk right now by investing in 5G cellular – infrastructure, equipment and cloud services.
"Many employers had no choice but to have workers work remotely, but in the end, they saw it was for the best," he explained. "Remote work is an evolutionary process that's now gotten a big push. As a rule, I wouldn't try to gamble on which company will win over scores of others in the sector. For an ordinary person managing his own investments, it's best to focus on whole sectors," said Keshet.
Gil Koren, CEO of Epsilon Mutual Funds, said that trying to time the stock market is bound to fail.
"No one can know if we've really exited the crisis, and we could be seeing volatility going forward. As investors, we're avoiding the most badly battered sectors, like aviation and tourism, which will be in trouble for the foreseeable future. We're focusing on service-oriented sectors, like technology and health care. Food retailing could also be interesting in the near term, because people are staying at home more, especially the older population. Israeli banks as a whole seem attractive – they're a lot more stable than they were in 2008 [the global financial crisis]," he said.
Goldstein pointed out that it isn't just travel and tourism that got hit hard and early by the coronavirus. Businesses such as retail apparel and health clubs did, too. Retailers and restaurants are going to suffer higher rates of insolvency and that, he warned, is going to reverberate in the commercial real estate sector.
Do we need to worry about inflation?
Inflation has all but disappeared over the last few years in Israel and much of the developed world, but many economists worry that the coronavirus will change things. While the more widespread fear is for deflation, others worry that inflation will make a comeback.
Koren is one of the latter, who thinks it will be kindled by higher commodity and energy prices. "These prices have reached a nadir – oil has even traded at negative prices – and since then there's been a correction," he said. "As soon as the world returns to normal activity, commodity prices will start rising and that will bring inflation. The shekel seems to be stable, so it won't act as a counterbalancing factor," he explained.
"Longer term, it's worthwhile recalling that accelerated globalization from the 1990s … was one of the factors behind the low inflation we've had in recent years. Now we're experiencing a reversal of the process, of trade wars and attempts to rely more on local production instead of the global supply chain. The coronavirus has sped up the process. Duties on imports will go up, and that could also cause inflation," said Koren.
Not everyone agrees. More Gemel's Ori Keren, for one, termed inflation a "distant dream" because supply and demand have been so badly hurt. "While central banks are praying for inflation, the combination of slow demographic growth and a steep recession will in my opinion ensure that there's no significant inflation in the West," he said.
Arad Keshet agreed. "Certainly there could be short-term effects, but in the last decade, money was injected into economies through quantitative easing and zero interest rates and the money ended going mainly into investments and not into consumption. We didn't make use of zero interest rates to raise our standard of living but rather to increase mortgages to buy a property .… So, I think we'll see an inflationary process, but not a drastic one."
What do policy makers need to do?
Continued concern about the coronavirus and declining household spending may lead to an extended period of low demand. That would stand in sharp contrast to the pre-coronavirus year in Israel, when much of economic growth was driven by household spending.
"This is one of the main things that policy makers need to deal with, so we don't slide into a 1929-style depression," said Keren. "In the 2008 crisis, it took months until the Republicans and Democrats in the U.S. stopped arguing and agreed on a plan, which included for instance rescuing the automobile industry. This time, the U.S. acted quickly on a much, much bigger program, which was enlarged even more later."
"Even after the lockdown ends, consumers will remain cowed because of unemployment and even for those who are working, by lower pay," said Keren. "Over time, government policies for exiting the crisis will be measured by their ability to get people to return to normalcy within a month or two, including spending. If people keep their money in their wallets, the crisis will be a lot longer and more painful."
Arad Keshet warned the government against letting small businesses die or getting swallowed by larger competitors. "In Israel there are a considerable number of monopolies, and if the government doesn't support small businesses, bigger ones will take their places," he said. "Instead of small restaurants, we'll have more fast-food chains and the big developers will replace small building contractors. This process is very risky in terms of exiting the crisis."
Where will the money come from to pay for the recovery?
The government's budget deficit is forecast to swell to 10% or more of gross domestic product this year. Eventually it will have to bring it down by way of higher takes. "When public debt and the deficit begin to shrink, we can start to say that we're exiting the crisis," said Hauser.
Keren believes that the belt-tightening will have to include the public sector workforce, which was largely protected from the coronavirus fallout. "It's intolerable that the public, especially its weakest elements, suffers dramatically while the public sector goes on as if nothing had happened," he asserted.
Until the day arrives that spending begins to be cut, it will have no choice but to finance recovery costs by increasing debt. Israel raised $10 billion in two bond issues at the end of March and the end of April and raised another $3 billion in January, before the crisis.
The treasury expressed pride over the sales, but Keren said they were needlessly costly and that Israel could have priced the issues higher. The proof, he said, is that the price of the bonds climbed soon after they were sold. "It's perfectly fine if the issuer opts not to maximize the price and give investors a little profit, but if they make big profits two or three days or a week after the issue, perhaps we were too generous," he said.
Goldstein thinks otherwise. "The timing of the issue at the end of March wasn't easy in terms of the markets. It was the biggest issue the country has ever made overseas until then. Towards the end of April, Moody's changed its outlook on Israel from Positive to Stable. Israel's [credit] rating is still high, but it may have an impact of the cost of raising money in the future," he said.
Click the alert icon to follow topics:
ICYMI
Ken Burns' Brilliant 'The U.S. and the Holocaust' Has Only One Problem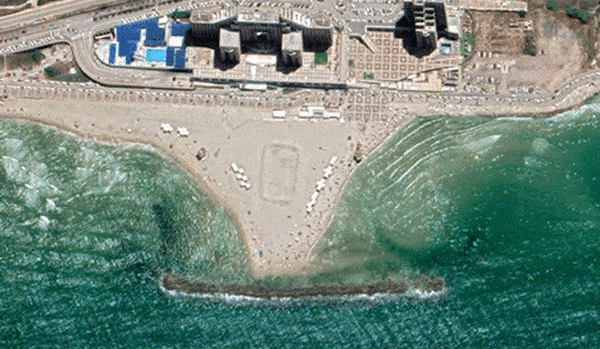 Facing Rapid Rise in Sea Levels, Israel Could Lose Large Parts of Its Coastline by 2050
As Israel Reins in Its Cyberarms Industry, an Ex-intel Officer Is Building a New Empire
How the Queen's Death Changes British Jewry's Most Distinctive Prayer
Chile Community Leaders 'Horrified' by Treatment of Israeli Envoy
Over 120 Countries, but Never Israel: Queen Elizabeth II's Unofficial Boycott