Opinion |
Warning: Israel's Economy Won't Be as Strong in the Decade to Come
The decade of 2010-2019 was the best Israel ever had from the economic perspective, but financial and social trends point to a tougher 10 years ahead
The decade to come looks economically stormy compared with the one that was
Credit: Ilan Assayag
When Mr. and Ms. Average Israeli get out of bed bright and early next Wednesday morning to start the new decade, they should be doing so with trepidation.
What with two elections within months and still no government, regular rocket barrages from Gaza, and the high cost of living, it may have not seemed so, but 2010-19 has arguably been Israel's best decade ever. Our economic metrics are nearly all excellent, Startup Nation is as strong as ever, Tel Aviv is a world capital of cool and emerging world powers like China and India are eager to do business with us.
>> Read more: 2010-2019 - Haaretz review of a tumultuous decade
Looking back, the 1970s and 1980s – characterized by the Yom Kippur War and international isolation, economic stagnation and high inflation – count as the worst decades.
The 1950s were an era of idealism, immigration and spectacular economic growth, but Israel's very existence was still far from assured. The 1990s got off to a strong start with mass immigration and the promise of peace, but by the decade's end Oslo was all but dead and the Second Intifada was just over the horizon.
A decade is a long time and a lot could happen for better or for worse. But if you do a crude straight-line analysis of current trends in Israel, without engaging in any "we'll solve that" speculation, a lot more of those lines are heading lower than heading higher. When the Average Israeli hits the sack on December 31, 2029, I'm not confident he or she will be looking back on the previous 10 years with nearly as much satisfaction.
But before we look at the bad and the ugly straight in the eye, we should give the good its due.
Startup Nation has another 10 good years ahead of it. If you need any evidence, it's the last big tech deal of the current decade – Intel's purchase of Habana Labs last week. The two important features of the deal are Habana Labs' business (artificial intelligence chips) and the amount Intel paid for it ($2 billion in cash).
The first feature, what Habana does, is a testament to Israel's status as a global AI power, which is a nice place to be given that AI is the technology of the coming decade. Even if for some reason the talk of tech turns out to be something else, we need not worry. What has become evident in the 25 years since the rise of Startup Nation is that Israelis aren't good just at specific technologies like telecoms or cybersecurity, they are good at innovating all over, and easily glide from one area of tech to another. AI is just the latest manifestation.
The second feature is the money. Habana Labs was a three-year-old company with about 150 employees when it was acquired. It was the fourth startup that its founder Avigdor Willenz has sold for prices ranging from $370 million and $2.7 billion.
That's the future of Israeli tech in a nutshell: Our business isn't making products and services but making and selling startup companies. It's not a perfect business (as Habana Labs' 150 staff demonstrate, it doesn't create a job of jobs) but, hey, it could be a lot worse.
Natural gas is the second positive development awaiting us in the next decade. The industry has a terrible image in the media after the bitter battle over industry regulation and over environmental issues. But the fact is gas has already given a big boost to the economy by saving us a lot of energy imports, the environment (by replacing coal at power plants) and national security (via exports to Egypt and Jordan).
With the Leviathan field, by far Israel's biggest, due to go into production shortly, the benefits of gas are only going to grow over the decade. If all the obstacles can be overcome, by the end of 2029 Israel could be part of a regional gas hub encompassing Egypt, Jordan and Cyprus producing and exporting gas to the region and to Europe.
The bad relates mainly to the great mass of Israel that is not Startup Nation. Our high level of poverty and income inequality have narrowed somewhat in the second half of this decade, which is inevitable after so many years of non-stop economic growth. But they are almost certainly destined to start widening again in the next decade
The reason is that the kids of Israelis who don't work at Habana Labs don't do their jobs very well. They have poor workplace skills and, compared to their peers in America and Europe, are not very productive. It's likely to get worse. Israel's schools aren't doing their job of teaching. Worse still, Haredim are a growing share of the population and they get little or nothing in the way of an education that imparts much more than basic skills.
If we have schools that perform like those in a Third World country we're going to have a workforce that resembles a Third World country, too.
And the ugly?
In a warming world, Israel's is not in an enviable place. It's part of a region that is experiencing accelerated desertification due to climate change and borders the Mediterranean, a body of water particularly prone to marine heatwaves. Will the Average Israeli wake up the morning of January 1, 2030 to see the Mediterranean lapping up on his bedroom window and a dust storm blowing in from the dining room? Presumably not, although scientists don't have a good grip about the timeframe for climate change to do its damage.
Suffice it to say that Israel the standard forecast to suffer more heatwaves and more droughts, and there's not much we can do it about it. As little as the world or we are doing to address climate change, in the Middle East nothing is being done at all, and the war and general chaos of the region only make things worse.
What is more likely for the Average Israeli is that when he wakes up that morning 10 years from now he'll be looking out the window of his 20th-floor apartment into the window of his neighbor's 20th-floor apartment. Israel's population is growing remarkably quickly – about 2% annually versus 0.5% on average for other developed countries. Over the next decade our population is projected to grow nearly 20% to 10.9 million. By that time we'll be on our way to being the most densely populated place in the developed world.
Realistically, the only way to make room for all this humanity is by building higher and digging lower. In other words, more and more Israelis will be living in apartment towers and spend a lot of their time spent shopping, working and in leisure in underground malls, factories and sports facilities. The idea that you might have to take a Friday outing to see a tree or sit on the grass sounds a little dystopian, but it's that or urban sprawl.
That's the straight-line analysis. Can we do something to make the next decade less bleak?
One important way would be to break the Haredi grip on the government. Reforming Haredi education and integrating the ultra-Orthodox into mainstream Israeli society won't happen until they lose their veto of change. Another solution is to reverse the underspending in infrastructure and government services that's characterized the last decade. Israel's education establishment seems to be impervious to fundamental reform; granting schools and principles more autonomy to decide for themselves how to teach would at least give a chance for some to succeed.
Unfortunately, even if policymakers woke up next Wednesday morning and set to work on them, the impact would take years to be felt. Unlike Joseph and Pharaoh, we've squandered the 10 fat years and we're not ready for the 10 lean ones.
Click the alert icon to follow topics:
ICYMI
Ken Burns' Brilliant 'The U.S. and the Holocaust' Has Only One Problem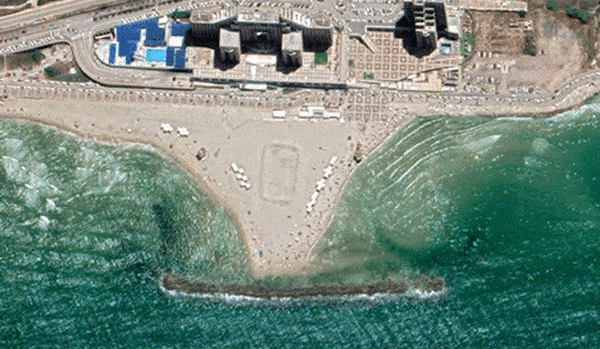 Facing Rapid Rise in Sea Levels, Israel Could Lose Large Parts of Its Coastline by 2050
As Israel Reins in Its Cyberarms Industry, an Ex-intel Officer Is Building a New Empire
How the Queen's Death Changes British Jewry's Most Distinctive Prayer
Chile Community Leaders 'Horrified' by Treatment of Israeli Envoy
Over 120 Countries, but Never Israel: Queen Elizabeth II's Unofficial Boycott