How Startup Nation Could Make Medical Marijuana 'The Next Coca Cola'
The Israeli government's approval of cannabis exports has spurred interest in the sector from the high-tech industry
File photo: Cannabis seedlings are cared for by a worker in a green house of the cannabis cultivating and processing plant of BOL Pharma – Revadim Industrial Center in Lod, Israel, January 23, 2019.
Credit: Bea Kallos/MTI via AP
Last month, on the day the cabinet approved the exporting of medicinal cannabis, attorney Yair Geva got the green light for signing a deal with a foreign company, about to be listed on NASDAQ, which intends to invest in an Israeli company, the valuation of which instantly spiked.
"We're about to see foreign investors here, taking advantage of the momentum, making public offerings overseas," says Geva, head of the high-tech group at the Herzog-Fuchs-Ne'eman law firm, who left a meeting to answer that phone call. "On their way to these offerings these companies 'arm' themselves with blue-and-white technology."
The government's decision has opened the doors of Israel's innovation technology to global markets, which are currently in a fast-growth stage. According to ArcView, a cannabis research company, the global consumption of legal marijuana in 2018 amounted to $12.3 billion. In 2019, it's expected to grow by 38%, reaching $17.1 billion. According to these estimates, in three years, the legal cannabis market, including medicinal cannabis, will cross the $30 billion threshold.
>> Read more: Pot luck: Investing in Israeli medical cannabis stocks is guesswork ■ Is Israel's medical marijuana future a lot of smoke and mirrors? ■ Don't let your money go up in smoke: A guide to investing in medical marijuana in Israel
It seems that everyone wants a slice of that pie, a pie which keeps growing. In Silicon Valley, marijuana has become the common denominator tying senior buttoned-up venture capitalists to more colorful characters from sports and entertainment.
Last month, Joe Montana, one of the greatest football players of all time, participated in a $75 million investment drive at the retail cannabis company Caliva; a year ago rapper Calvin Broadus, a.k.a Snoop Dogg, raised $45 million for the Casa Verde Fund, which specializes in start-up companies dealing in marijuana.
However, in Israel cannabis has not yet reached the high-tech industry's core. According to Israel's IVC Research Center, 68 companies in this area raised only $76.4 million between 2013 and 2017. This year may see a turning point. "Canadian and Australian companies that only grow cannabis want to become the next Coca Cola. For this they need a unique formula. They have to become more sophisticated, possibly by acquiring Israeli know-how," says Geva.
With that, Geva admits that approval for exporting has created a complex legal situation, which has sown confusion in the cannabis market. "Regulation has created incomplete corporate structures, since it deals with Israel and not with the international-based industry. It's unknown whether Israeli companies can use foreign banks, and the question of foreign companies exporting through Israel has not been resolved. Since foreign investors could not be brought into companies that are geared to the local market, complex corporate structures were formed within companies dealing with cannabis. The regulator will now have to clarify who can and who cannot be part of these structures."
'I felt out of place'
Approval for exporting cannabis may serve as a wake-up call for Israeli venture capital funds. There is no shortage of funds currently, but until recently there were surprisingly few risks there either. "I'd come to meetings of the cannabis-tech industry, and in the early years I saw no other venture capitalists there besides myself," remembers Kfir Kahlon, an investment manager who heads the cannabis section at the OurCrowd Fund. "I felt out of place there."
Earlier this year, OurCrowd, a platform for raising funds through crowdfunding, announced the raising of $30 million as an investment exclusively geared to marijuana-related technologies. According to Kahlon, U.S. laws are a crucial factor in placing the cannabis industry under a question mark.
"Even though marijuana is legal in 10 states, the drug is still illegal at the federal level, where it's perceived as a dangerous narcotic. Traditional venture capital funds are facing a legal issue: Can they invest in anything carrying the label cannabis? There's a sword dangling over their heads" says Kahlon.
"At exhibitions of the cannabis industry in the U.S., guests are asked at the entrance what they do and what they've come for," Kahlon says. However, he says, things have changed in Israel and venture capitalists' curiosity has overcome their fears: "I now see more people from venture funds and from start-up accelerators. They went to their legal advisers and asked if they could explore this direction. They got the green light, so they are now looking for their first global investments. This makes me glad, since I see many startups with a huge potential, with interesting technologies that could prove to be ground-breaking. For years, these companies found it hard to raise capital here."
Attorney Meital Stavinsky, a partner at Holland & Knight's Public Policy and Regulation Group, which helps Israeli companies enter the American market, says that it's possible a constitutional amendment in the near future will make it easier for cannabis companies to break into the U.S. market. She notes that "there is agreement in the U.S. that there is a need for further comprehensive studies in this area, and for a regulatory arrangement that will resolve the gap between federal and state legislation. This gap creates problems in inter-state commerce, such as in using banking services."
Cannabis inhaler raises $83 million
At the end of 2018, the largest amount of capital ever raised in the cannabis-related field in Israel was achieved when the Jaffa-based Syqe Medical, in a second round, raised $50 million. "Approval for exporting was part of our plan from the start, and serves us directly," says Perry Davidson, the CEO and founder of the company, which is developing an inhaler for medicinal cannabis. "We were focused on Israel when we first launched the inhaler, but we're now talking to interested parties in Australia, Canada, Germany and Britain. Approving exports will allow us to bring these processes to fruition," says Davidson. He previously described the company's product as the Holy Grail of treatment with marijuana, with the inhaler allowing a change in the dosage of cannabinoids, the active ingredients in cannabis, to a 100-microgram precision level.
According to Davidson, "A very precise dosage of medicinal cannabis is required for alleviating pain and other effects of diseases, without going into a psycho-active stage. Moreover, the company had to develop capabilities of providing electronically-controlled selective dosages, not locking the inhaler into one dosage. If we went for one particular dosage, it may have suited a 5-year-old girl going through chemotherapy, but not a former soldier with post-trauma."
Davidson explains that most of the medicinal inhalers we're familiar with, such as ones for asthma, are not sophisticated enough. In contrast, Syqe's inhaler is connected to the Cloud, allowing a physician to determine the dosage for each patient. "For example, if we have a little girl who needs a certain dosage of some medication, one can plan in advance a suitable range and make sure it's not exceeded. The doctor can remotely lock the inhaler so the child doesn't inhale too much," he explains.
The company dropped prices in Amsterdam
"In terms of growing the plant, we're not sure Israel has an advantage, not in price and not in quality," says Guy Setton, the founder and CEO of GemmaCert, a cannabis-tech Israeli company. He says it's not the growing of medicinal marijuana that will push Israel to stage center.
"The approval of exports is good news, but one has to know how to leverage this. It's nice that Israel has opened its doors to exports, but the largest cannabis market is the U.S., and it's closed to imports. Canada has become an exporter while most European markets are still closed. Moreover, wherever cannabis is legalized, its price drops, which will make it difficult for Israeli growers," he says.
According to Setton, "Ultimately, we're good at innovation generally, which is also true for marijuana. We can lead the global market where we can give added value, either by improving growing, with a product or with research in the area."
The main product at GemmaCert is aimed at solving a deficiency in the cannabis field, both medicinal and recreational. This relates to a lack of standardization. The company has developed a device which can measure in one minute the amount of active ingredients in each cannabis flower, without damaging it or sending samples to an external lab. Since its founding in 2015, with the collaboration of the Faculty of Agriculture at the Hebrew University, the company has raised $5.2 million.
"Each flower is different, even on the same plant," says Setton. "Currently, patients don't know what the content of the active ingredient is in flowers they receive. They only find out retroactively, after using the drug, based on the side-effects they experience."
Setton says that while the company's technology is vital for patients receiving medicinal cannabis, it also helps retailers selling the drug for personal use. "For example, one of the coffee shops in Amsterdam managed with our help to reduce the price of the cannabis it buys. Up to then, the seller would show up and tell them what the content of the active ingredient was," he relates.
GemmaCert is located in Ra'anana, employing 15 people. Setton plans to double that this year after another round of capital raising, aimed at developing the company's next product, which will be able to assess active ingredients in each flower on an industrial scale.
Certainty regarding the content of any compound coming from a natural source is a problem besetting the entire field of medicinal plants. "The Chinese realize that the global potential of such plants is limited since they can't abide by regulatory demands in the West," says Setton. "Therefore, they see our product as a solution."
Food laced with cannbis
Not all cannabis-related developments in Israel are aimed at the global medical market. Some target the U.S., where a retail market is developing that last year it reached a value of $10 billion. It is expected to grow to $23 billion within three years, according to ArcView.
The Israeli company Cannibble stands at the intersection of the food-tech world and the cannabis-tech sector. It develops food laced with cannabis powder, such as popcorn or iced coffee. It chose to raise its initial capital in a non-conventional way. It used crowdfunding on the Pipelbiz website, through which it raised $660,000 from 760 different investors. Every one of these received at least 75 options, at 6 shekels ($1.5) per unit.
"It's hard to raise private funds when investors don't see a future horizon in offerings," says Ziv Turner, vice president for business development at Cannibble. "Investors wanted us to list quickly" he says, adding that "crowdfunding helped us get our name out."
He says that Pipelbiz valuated Cannibble at $7.7 million, before the raising of capital. This is Turner's third sortie into the cannabis world. In 2014 he set up One World Cannabis, an institute in Israel which researches medicinal marijuana. In 2018 he founded, with Asaf Porat, a company called KanaFem, which develops feminine health products based on cannabis. Turner vice president VP for finances, were joined by two others: Elad Barkan, the technology vice-president, and Yoav Bar-Yosef, who serves as the company's CEO. The two have experience in marketing food products to restaurants and cafes. The four developers founded Cannibble in May 2018. The company is about to launch its products in the U.S. "We're past the development stage. Our goal now is to produce this product as fast as possible and put it on shelves," says Turner.
One of Cannibble's unique products is a powder produced from cannabis oil. "At dispensaries for selling cannabis in the U.S. you'll be able to purchase a box for quickly preparing cupcakes, including this powder, to which you add two spoonfuls of water," says Porat. "After heating for one minute in a microwave oven you'll get a cupcake with an exact dose of cannabis, so that anyone consuming the product knows what he's getting," he says, promising that "we're operating under the standards of a food-producing factory."
"If you go to such a dispensary now, you'll find that you're given advice by kids who've barely finished high school," says Porat. "There's no one with medical knowledge there. Therefore, when we deliver precise dosages to patients or customers it's better than what they currently have on the shelf, where they don't know the concentrations of the active ingredients." Porat explains that Cannibble will market two lines of products. One will contain only CBD, at concentrations of 20 to 50 milligrams. The other will include THC, at 20 to 100 milligrams.
Turner is angry that approval was given only for medicinal marijuana.
"I don't understand why Israel doesn't allow the export of recreational cannabis. Ultimately, what does it matter who uses it once it's overseas? The state is losing a lot of money," says Turner. "I understand the need for quality standards, but why just for medicinal products? There should be standards for recreational use as well. There's no point in blocking a target market worth hundreds of millions of dollars a year, let alone the tax revenues which the state could take in."
Click the alert icon to follow topics:
ICYMI
Ken Burns' Brilliant 'The U.S. and the Holocaust' Has Only One Problem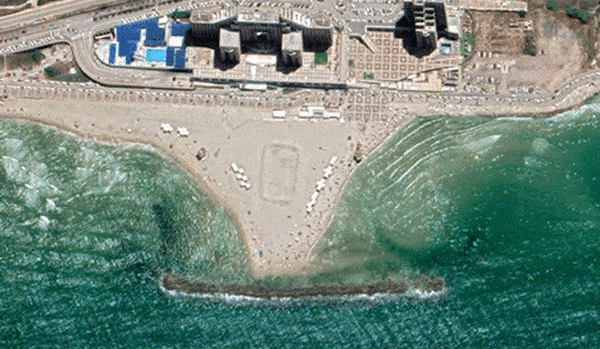 Facing Rapid Rise in Sea Levels, Israel Could Lose Large Parts of Its Coastline by 2050
Lapid to Haaretz: 'I Have Learned to Respect the Left'
The Mossad's Fateful 48 Hours Before the Yom Kippur War
As Israel Reins in Its Cyberarms Industry, an Ex-intel Officer Is Building a New Empire
How the Queen's Death Changes British Jewry's Most Distinctive Prayer