Waze's New Route to World Domination: Carpooling
Gai Berkovich, the development director for the Google-owned company in Israel, tells Haaretz how the new carpool service wants to eliminate traffic, not fight it
What began as a service that would let drivers avoid traffic jams would move on to organizing road travel, and eventually into full traffic management.
If you happened to find yourself three weeks ago in Google's offices in Tel Aviv, you might have wondered about the balloons, fruit-shake stands and revelry on the 25th floor. That day Waze, the Israeli navigation-app firm acquired by Google five years ago, was launching in Brazil the next stage of its young life: a carpool service. The employees were marking a new milestone in the vision that Google has set for them.
"At 3 A.M. we were still awake due to a problem with servers, but when I look at the graph of user growth – it's simply crazy," says the development director for Waze in Israel, Gai Berkovich. "The number of people who signed on with the service yesterday is beyond imaginable."
Is this the future, hitchhiking management?
"Carpool is a perceptual, social and communal change. The generation that will use Carpool isn't mine, but that of my children. I think they won't be happy about standing in traffic jams for two hours, and they won't have the collective memory of the dangers of hitchhiking."
You just shouldn't become Uber by mistake.
"We're not going in the same direction, not at all. Carpool is limited to two trips a day: the morning drive to work and the evening drive back home. We have no intention of making it possible to earn a livelihood from this service. Our objective is not to add more cars to the road."
In July 2013, Google bought Waze for $966 million but didn't plan to leave it as a mere mapping services company. Thus what began as a service that would let drivers avoid traffic jams would move on to organizing road travel, and eventually into full traffic management. The user would use a starting point and destination and receive from Google complete guidance, which in the future will presumably also be offered to local authorities and/or businesses.
"In another five to 10 years I see Waze as a type of ecosystem where we can tell you what time you have to leave home to reach your destination on time, which carpool you should join, which route you should take to a certain point, and at which point you'll take a taxi or scooter," Berkovich says.
Coming soon: recommended lanes
Waze is a colossal success in Israel, where it was born. It prides itself on its 5 million active users – many more than the number of licensed drivers in the country. "Even when you're riding in a taxi you want to make sure the driver isn't cheating you," Berkovich says, adding that thanks to bike riders "the number of users of the app on Yom Kippur is immense." (On Yom Kippur, secular Israelis take to their bikes and ride the empty roads.)
Of its 450 employees around the world, Waze has 260 in Israel. Within a year and a half the company will probably recruit 150 more workers in Israel for Carpool, of whom 30 will be engineers. Although the company employs an inspection team comprising a few dozen employees in Ukraine, the developers are based solely in Israel.
"Only the difficulty in finding engineers is holding me back from growing even faster – and that's in the best possible workplace on a project for serving hundreds of millions of people," Berkovich says. The response to his company's want ads isn't particularly high, and most of the engineers who apply fail the tests.
Despite the popularity of Waze in Israel, its algorithm has given rise to complaints from towns and neighborhoods that had gotten used to the quiet life and woke up one morning to discover they'd become a bypass route to a jammed-up highway.
"As long as a certain road is a public thoroughfare, it's part of the road map in Israel," Berkovich says. His company won't send people onto a road that can only accommodate 20 cars, but two drivers who leave the same point and head to the same destination won't necessarily receive the same route.
"We offer the most correct route for the driver based on variables such as the number of traffic lights, accidents or left turns," he says. "If, based on experience, we notice that the driver is used to driving a certain route – and doesn't heed Waze – we gradually make an adaptation. But the algorithm is universal and is adapted to the traffic laws of each country."
What are the planned innovations in the app?
"Directing drivers to take different lanes. The app will recommend to a driver which lane to take on a multilane highway, and will announce when he should be changing lanes, for instance, before a planned turn off the road. Another innovation is Waze Beacons – a special device that enables GPS reception in tunnels, with the objective of preventing the traffic accidents that occur in tunnels. At present, over 3,000 beacons are installed around the world, and in Israel we've installed it in the Carmel Tunnels."
What would have happened to Waze if Google hadn't bought it?
"Facebook would have bought it." (laughs).
Be honest: If the company had waited two or three years, what do you think the price would have been?
"I think Waze wouldn't exist if it hadn't been sold when it was sold."
What did the sale to Google do for Waze?
"It's a creative, rapid-response umbrella that engages in communities. That's what made it possible for Waze to take the next big jump and gave it the financial backing it needed. Getting into Carpool is like building a new startup. Think of the Waze project ending, and now something else is beginning."
Waze is active around the world, but is there any place the service didn't catch on?
"In Germany. I don't know how to explain it. Maybe the infrastructure situation there meant lower demand for the app to reach the destination faster."
Elon Musk, but in Hebrew
Berkovich, who began his career in research and development at Rafael Advanced Defense Systems, served as a vice president for product development at U.S.-based Verint Systems, and went on to serve as vice president for research and development at Israel's Intercast Networks.
He says that when he received "an offer from Noam [Bardin], Amir Shinar and Ehud Shabtai [Waze's founders] to come to Waze, I asked them what else there was to do here – because this business was already operating, and it was enormous. But after the first meeting I fell in love with what [CEO] Noam was going to do here. I love companies that are in the process of growing, so the scale that was being planned here is what spoke to me. I would describe myself as a 'startupist in the field of processes' because I love to be the one who invents the processes facilitating this sort of growth.
"I was told: 'Listen, we're receiving autonomy from Google, we have the budget – and we're going to change the world, because it's impossible to go on like this and we have to bring about change here.'
"So it's true, everyone seems to be navigating, and it all works. But now is only the start. We came with an app ... and now we have to transition it to a completely different scale and move from tens of millions of users in several communities toward a billion users all over the world. Second, we have to change the world and turn Waze into a 'transportation as a service' company and start the integration of Carpool."
Had you heard of Carpool before your job interview?
"I didn't know what it was. But when Noam spoke with me, his eyes lit up – because when he starts to talk about the future he gets like Elon Musk, but in Hebrew. It took me two meetings to be persuaded. I read a lot of articles and drew graphs that explain that the more you increase the supply of roads, the greater the number of cars using them, so there's no reason to expand the infrastructure, and no reason to invest only in algorithmics, because what's needed here is a societal change."
Berkovich says Waze's big advantage is the wisdom of the masses. "If something happens, it doesn't matter where in the world, within minutes it will find expression in where we are. If with other maps, permits or warnings are required for them to be changed, the Waze method, with its wisdom of the masses, facilitates a more dynamic updating method, and that's very important added value at the local level."
If we give, we'll get
As Berkovich puts it, "Today you can use Waze without identifying yourself. Some of the added features require the user to forfeit his privacy because they require a username and password. At the end of the day, for us to send information back to users, we need information from them."
You're basically saying that someone for whom the conditions aren't suited shouldn't be using the app. That's a legitimate claim at the theoretical level, but it becomes a problem the moment you build an ecosystem where, for me to move through it, I have to be your customer. After all, there isn't room for two road-traffic management systems in one city.
"I think that Google actually encourages competition .... Look at our competitor in Paris [BlaBlaCar]. I think that this was excellent for us, and was already educating the market before we got into it. There will always be a niche for a customer who wants something else."
Urban density actually requires mass transit, not the filling of up of people's cars.
"I completely agree that this is where we should be going, and I think that the ecosystem of Waze will have to tell you to go from point A to point B by light rail, and from there to carpool to point C. You have to look at it as something holistic that will take some more time, and you have to provide a solution for the interim – and that will be our solution. Even when we get to an autonomous vehicle, someone will have to tell users which cars to take, and where.
What will be Carpool's business model?
"We're running advertisements that are relevant to you when the vehicle is standing in place, and in the future, we'll charge a certain percentage of every carpool trip carried out through us."
What about selling information?
"We don't share private information with anyone. At Waze and Google, a religious prohibition applies to that. We work in accordance with the laws in every country, and submit information only when we're obligated to do so by law. We don't sell information to anyone. The only agencies that receive it for certain purposes are municipalities and security forces."
Will you be proposing the transportation management service to local authorities or governments?
"Of course. Our program of collaboration with the cities [known as CCP, or Connected Citizens Program] now encompasses around 600 cities and is one of our most important things. In Israel, we're already collaborating with Tel Aviv, Jerusalem, Haifa and with Ramat Gan, where each morning we show users the locations of the garbage trucks.
"Incidentally, no city or any of the public agencies that collaborate with us, like the police, Magen David Adom and the fire department, are paying us. We share the data so that the emergency services will arrive on the scene faster, and so that the local authorities will better understand the traffic and will plan construction and access roads better.
"The collaboration takes place in the opposite direction, too. There are countries where if you employ over 600 workers, you have to show a reduction each year in the number of employees going to work in private vehicles; otherwise you'll be fined. This employer will actually pay his employees not to go to work by car – for instance, $50 for 10 days in which they go to work by carpool. In this way, collaboration with the authorities carries into Carpool, too."
Click the alert icon to follow topics:
ICYMI
Ken Burns' Brilliant 'The U.S. and the Holocaust' Has Only One Problem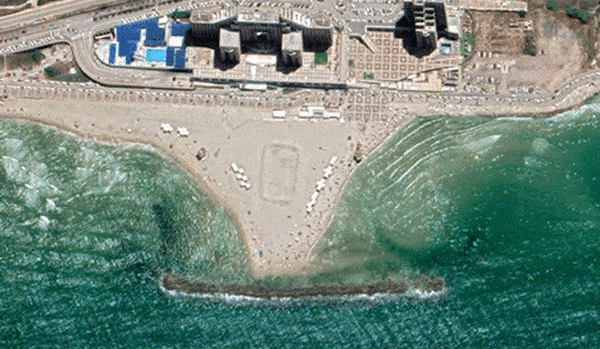 Facing Rapid Rise in Sea Levels, Israel Could Lose Large Parts of Its Coastline by 2050
As Israel Reins in Its Cyberarms Industry, an Ex-intel Officer Is Building a New Empire
How the Queen's Death Changes British Jewry's Most Distinctive Prayer
Chile Community Leaders 'Horrified' by Treatment of Israeli Envoy
Over 120 Countries, but Never Israel: Queen Elizabeth II's Unofficial Boycott