Go Tech, Old Man: The Startup World Doesn't Belong to the Young Alone
Rising life expectancy is leading older entrepreneurs to try to work in their own profitable business rather than answer to a young boss
Illustration of a businessman asleep at the office.
Credit: Image processed by Adi A.
"Young people are just smarter." So goes the quote cited at the start of a recent study from the National Bureau for Economic Research, an American think tank that examined the link between highly successful startups and the age of the entrepreneurs behind them.
The quote comes from Facebook founder Mark Zuckerberg – who happened to say it in 2007 at age 23, three years after he launched the social network from his Harvard dorm room and was fast on his way to becoming a modern icon.
And he has plenty of company, of course. Larry Page and Sergei Brin were 25 when they founded Google; Amazon was founded in 1994 when Jeff Bezos was 30 and the internet was in its infancy; Bill Gates founded his first company in 1972, when he was just 17. There's a reason why the stereotype of the successful high-tech entrepreneur is of a slightly nerdy young fellow from Silicon Valley in a T-shirt or sweatshirt.
But the paper, entitled "Age and High-Growth Entrepreneurship" and written by Pierre Azoulay, Benjamin Jones, J. Daniel Kim and Javier Miranda, looked at whether it was true that the most highly successful entrepreneurs are young, and found this was not in fact the case.
Entrepreneurship is always considered a key growth engine in boosting the standard of living, the authors write. "But successful entrepreneurship is rare, with the vast majority of entrepreneurs failing to provide the major innovations or creative destruction that can drive economic growth."
The notion that young people are particularly apt to develop big ideas – in academic research, entrepreneurship or innovation – is common and long-standing, they say. And this premise also has practical implications. "Venture capital firms appear to emphasize youth as a key criterion in targeting their investments, which has led to charges of 'ageism' in Silicon Valley," say the authors.
One extreme illustration of this thinking: Peter Thiel, founder of PayPal and one of the earliest investors in Facebook, established a fund that awards $100,000 grants to future entrepreneurs – on condition that they are under 23 and drop out of school.
Cognitively sharper
Young entrepreneurs in technology and innovation have certain advantages: They may be cognitively sharper, less burdened with family or other commitments, and perhaps more capable of coming up with transformative, disruptive ideas because they are less beholden to existing paradigms, the authors speculate.
The researchers relied on comprehensive data collected by government agencies. They found that the mean age for a startup founder was 41.9 and the mean founder age for the one-in-a-thousand fastest-growing startups to be 45.
The researchers also did a breakdown of entrepreneurs based on geographic location and industry, among other variables. They found that in certain industries, the average age for an entrepreneur could be quite high, as in the oil industry, where the average was 51.
According to the authors, "The only category where the mean ages appear (modestly) below age 40 is when the firm has VC-backing. The youngest category is VC-backed firms in New York, where the mean founder age was 38.7."
So if the statistics show that an entrepreneur who is at least 40 has a greater chance of succeeding, why are VC funds so keen on young founders?
The authors theorize that young founders need more outside funding in the early stages, as "older entrepreneurs might access greater human capital, social capital or financial capital." VC firms thus have less access to older entrepreneurs' projects.
Danny Crichton of the TechCrunch website has a blunter explanation for this dynamic: "VCs believe they have 'pattern recognition' abilities that they simply don't have. Instead, they rely on suppositions and stereotypes that don't match the underlying data on startup success. The same reason why older founders are ignored by the ecosystem is the same reason why women and other minorities struggle in the Valley: It's really not about what you build, but what you look like while building it."
One outstanding example of a successful entrepreneur who started at a later age is Morris Chang, founder of Taiwan Semiconductor Manufacturing Company, or TSMC. Now 86, Chang spent many years working for Texas Instruments before founding TSMC in 1987 when he was 55. Last year the company's market value approached $250 billion and for the first time surpassed that of industry giant Intel. Chang is due to retire from the company next June.
In Israel, tech is a young man's (and, far less frequently, a young woman's) game. A 2016 survey of 500 tech entrepreneurs by the company Plus Ventures found that 52% of the respondents were 25-35 years old, 29% were ages 35-45 and only 12% over age 45.
Life begins at 40
Dr. Yoram Levanon, who at age 73 is chief science officer at the healthcare startup Beyond Verbal, says older people often suffer a mid-life or even late-life crisis that leaves them with the feeling they haven't done as much with their lives as they could have, and with an urge to do something big and important. "Forty-plus is a very logical age to found a startup," he says.
"I believe we'll see a growing number of older entrepreneurs in Israel, for one simple reason – life expectancy. Women who today are 30 years old and in a reasonably high socioeconomic class will live to age 100, if you take into account that every 10 years life expectancy rises by two-and-a-half to three years. When people start to realize what it means to retire at 65 and then spend 30 years sitting idle, they'll understand that they need to keep on working until they're older than that. But then the question becomes, 'Who will hire me?'"
Levanon contends that many people realize that at age 50, when they are at the peak of their careers, they need to build their own business so that no one can force them into early retirement. They also feel in many cases that their work and life experience puts them ahead of younger people who have just graduated.
As Levanon sees it, many older people reason: "I have rich life experience and it's a crime that [a younger person] is made my boss."
"It happens a lot. People take their pension before age 65 because they don't want a boss who from their perspective is a child. So one of the options they have is to take all those years of experience and turns it into a unique advantage. That's a widespread feeling among people of these ages – the only question is how many of them make that a reality," he said.
Levanon did just that. He had worked as a consultant for many companies and started to think about what he could do with all the knowledge he had accumulated instead of taking hourly fees. He began considering various sectors, one of which he developed with his private physician on the way doctors make decisions.
"Instead of trying to explain to people how they should act, I wanted to understand how they actually make decisions. I spoke with hundreds of doctors and in 1995, when I was 50, I decided I needed to take a step forward. I developed a new theory on the process of making emotional decisions," Levanon recalls.
At the start, he used his idea in a consulting capacity, but at age 60 he decided the time had come to turn into a startup company.
"While building my models I discovered many innovative things but eventually focused on the voice – identifying people's emotional and health situations through their voice," he said. "The voice can be used, for example, to identify dyslexia, autism and Parkinson's. At the time it sounded very illogical, but it was just ahead of his time."
The company he founded eventually folded but the startup he works for now, Beyond Verbal, is founded on models he developed.
"One of the things that happens as you get older is you're often told, 'You're not young anymore,' so you don't have the confidence to do new thing," he said. "You end up doing things like you know."
At Beyond Verbal, Levanon is the grand old man by a factor of decades, but that doesn't bother him. "Most of the employees who come to the company are around 30; the CEO is 20 years younger than me. So I'm really alone at the top. If I did not have a childish character, I would have a very difficult problem."
Click the alert icon to follow topics:
ICYMI
Ken Burns' Brilliant 'The U.S. and the Holocaust' Has Only One Problem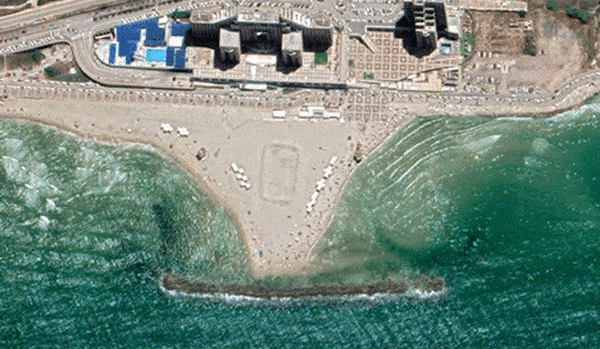 Facing Rapid Rise in Sea Levels, Israel Could Lose Large Parts of Its Coastline by 2050
Lapid to Haaretz: 'I Have Learned to Respect the Left'
The Mossad's Fateful 48 Hours Before the Yom Kippur War
As Israel Reins in Its Cyberarms Industry, an Ex-intel Officer Is Building a New Empire
How the Queen's Death Changes British Jewry's Most Distinctive Prayer