Bitcoin Is No Bubble, Israeli Expert Insists: 'This Thing Is Just Going to Grow'
Eyal Herzog, considered one of Israel's leaders in internet tech, says 'the only thing that surprised me [with Bitcoin] is that it didn't happen sooner'
FILE PHOTO: A copy of bitcoin standing on PC motherboard is seen in this illustration picture, October 26, 2017.
Credit: REUTERS/Dado Ruvic/File Photo
Bitcoin was born on January 3, 2009, the brainchild of an obsessively secretive Japanese software programmer who called himself Satoshi Nakamoto. It isn't even clear if Nakamoto exists; if he does, he's never given an interview or allowed his picture to be taken. Maybe it's a whole group of programmers. Some even claim bitcoin was created by an espionage agency.
Whoever created it, on the day it was issued, one bitcoin was worth 5 cents. Within three months it had climbed 17-fold. Since its launch, bitcoin had fluctuated wildly. In mid-September it was trading at about $3,220. On Thursday, it was trading at about $15,900.
Israeli market players were captivated by the unregulated cryptocurrency from its get-go, and have never stopped arguing over whether it's a scam, a bubble, a money-laundering tool or a real thing. Well, it's still around, swinging crazily in value but never retreating to its starting price, despite scandals like massive thefts by hackers, including in early 2014 at Mt. Gox, the main bitcoin trading arena, which admitted that 850,000 coins had been stolen, worth some $450 million, then collapsed, suspending trading and going into liquidation. Later, as the lawsuits and inquiries unfolded, it transpired that theft from the company had begun in 2011.
So? From mid-August 2016, bitcoin has risen from just over $580 to, as we said, nearly $16,000. I didn't understand bitcoin's behavior at its launch and still don't. Market players involved in cryptocurrency seem to shrug off the doubts and scandals, however. Here we talk with a believer, albeit one who seems to feel the real gain lies in the future.
Eyal Herzog defines himself as an "entrepreneur and product architect." Considered one of Israel's leaders in internet, he co-founded the video-sharing company Metacafe, which competed with Youtube in its early years. He also cofounded Bancor, a nonprofit organization that raised $150 million half a year ago. Bancor is devoted to developing a platform to commercialize cryptocurrencies, making them more liquid. Its platform is designed to cut out the middle man – remove the need for a second party in cryptocurrency trades.
Last week, the cryptocurrency crossed the $11,000 line. At the time, Herzog explained that its value could shoot up so high, gaining 50% in the previous month alone, because Bitcoin's value results from two things.
First, people are getting used to the idea of cryptocurrencies. "It's like when before people understood what the internet was, a lot of nonsense was said about it," he said. "Now, more and more people are starting to get it. The ones who get it tend to get excited by the development of something that could be an alternative to services supplied now by governments."
Once upon a time, telecommunications was entirely the fief of government, from letters to phone lines to TV and radio, but nowadays all comes through a decentralized network that nobody controls, Herzog said. It belongs to no government and works better than government. "By the same token, now we have a new network of cryptocurrencies that enable money to be raised for ventures," he said. "It can't be ignored any more."
If a startup raises funds in cryptocurrencies, it can convert it into real dollars if it wants, Herzog points out. Trade in cryptocurrencies has passed $10 billion a day and converting coins into tens of millions of dollars can be done, if not in an hour, then within a few days, he said.
Calling it a currency is a misnomer, Herzog noted. Currencies are issued by central banks whose job is to keep them steady. Cryptocurrencies aren't currencies as such. Because of their fluctuations in value, they're more like shares, but unlike shares, they don't represent an ownership stake in a company. Cryptocurrencies are used mainly in venture financing, he said.
For every coin like Ether, which gained 150,000% in value since its issue, the market is littered with cryptocurrency issues that flopped, Herzog said. Cryptocurrency isn't supervised by any regulatory body – but in contrast to the past, today anybody with problems can yowl on Facebook and the people behind the industry have to deal with it.
What about theft by hackers? Herzog acknowledged that it happens, but, he pointed out, "That also happens in the real world, that people abscond with money. It's a very small minority. The utter majority of (cryptocurrency) exchanges are reliable and stable," he asserted. "Mt. Gox's collapse was in the beginning. They were just a card-games site that added an option of using bitcoin. They had a lot of money stolen and collapsed, and the litigation and trials continue.
Now the situation is better because cryptocurrencies are stored in "cold wallets" offline, Herzog asserted. "The trading platform CoinDesk is adding 130,000 new user accounts a day."
The market is asymmetric. It's very easy to buy bitcoin and very hard to sell it.
"There's a difference between leaving the money where it is and withdrawing it to take home. Withdrawing it is a lot more complicated, including because it's a new product."
Maybe that's why bitcoin has been climbing so much? People simply can't sell it.
"I'm not sure that's how it is. People don't necessarily get into investment in bitcoin and in other currencies with the thought of getting out. They want to be inside because they think this thing could be very big in the future. I hear mainly people who want more, not to sell."
Why not exit something that gained so much? You could sell part and go on vacation.
"You don't have to sell it Expedia for example already accepts payment in bitcoin."
But bitcoin fluctuates in value. You pay today and tomorrow its value is different.
"They convert it into dollars on the spot. They don't play games there."
He has also heard of cases of people who sold cryptocurrencies for profit and are now fighting with the tax authorities over how much tax they have to pay, Herzog said. "It should be taxed like capital gains," in his opinion, payable to the investor's country of residency. Regulation has not yet tackled the issue.
In your gut, doesn't this feel like a bubble? That something isn't making sense?
"You're asking someone who's been watching this thing since 2011, and emailed everybody he knew and told them, 'Buy – it's the next thing.' The only thing that surprised me is that it didn't happen sooner. I believe what we have here is decentralized data technology. At the moment it only works with currencies. But that's just the beginning. There's much more here. This is technology that enables people to manage their information together, without need for a third party to do it for them. It could change the way we arrange ourselves as a society. The significance of this is so huge that it's hard to take in. It took me a long time to digest it, too. But it's like internet itself: This thing is just going to grow."
Ultimately this technology, based on decentralized data, will affect the giants like Google and Facebook, Herzog predicts. "Everything will be decentralized. Nothing will belong to anybody. Why shouldn't a Paypal that doesn't belong to anybody be possible? Or a Google that doesn't belong to anybody? Or Facebook?"
Asked if he has diversified his holdings, Herzog answered that Bancor is a nonprofit organization, as said, but he does hold coins there. "I don't really have anything to diversify," he said, adding he doesn't have as many assets as some might assume.
ICYMI
Ken Burns' Brilliant 'The U.S. and the Holocaust' Has Only One Problem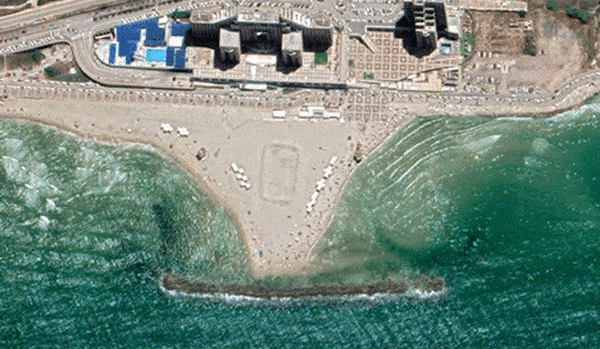 Facing Rapid Rise in Sea Levels, Israel Could Lose Large Parts of Its Coastline by 2050
As Israel Reins in Its Cyberarms Industry, an Ex-intel Officer Is Building a New Empire
How the Queen's Death Changes British Jewry's Most Distinctive Prayer
Chile Community Leaders 'Horrified' by Treatment of Israeli Envoy
Over 120 Countries, but Never Israel: Queen Elizabeth II's Unofficial Boycott