The Five Global Giants That Decide the Fate of Israel's Startups
The tech giants run accelerators, hold conferences and invest locally, but their Israeli activity comes at a price
File photo: Google's office in Tel Aviv on Jan 26, 2011
Credit: Baz Ratner/REUTERS
At the end of 2004, a new video-sharing website appeared. User numbers rose quickly, and at their peak, there were rumors of buyout offers from Yahoo and Microsoft. Metacafe was founded by four Israelis, supported by leading venture capital funds such as Benchmark and Excel, which invested $54 million. But when Google bought its younger competitor YouTube for $1.65 billion, its fate was sealed. YouTube was enormously successful, while Metacafe plodded on until its assets were sold for $1.1 million in 2012.
This almost forgotten story illustrates the huge advantage technological giants have over independent players — they are richer, stronger and enjoy the "network effect," becoming more valuable by dint of having more users.
Google and Facebook control access to the internet — to shopping sites, newspaper content, to information — to such an extent that they make the rules of the road. Google, for example, plans to introduce a built-in ad blocker in its Chrome browser, which will determine which ads users see and which ones they don't. Facebook's new Instant Articles features lets users read news from inside the social network, preventing their exposure to the ads of the original site. That hurts companies such as Outbrain and Taboola, Israeli companies that provide users with paid-for reading recommendations tailored to the content sites they run on. Google's and Facebook's algorithms determine the order of exposure of content we see so that as soon as commercial ventures go online, they can determine the fate of businesses around the world.
Israel, as a laboratory of innovation that creates 1,500 new startups a year, has tweaked the interest of these giants in recent years, making them a very real presence on the local scene. Each of the five largest technological corporations in the world, in terms of market cap, Apple, Google, Microsoft, Amazon and Facebook, has bought companies here, with some of them investing in local startups. They also have accelerator programs here, initiate events and sponsor conferences.
Daniel Meron, the head of technology at Leumi Partners, believes the control these corporations have comes at a heavy cost. They create deterrence and lead to a reduction in the number of startups in areas they're identified with. "When a startup in the field of online commerce or advertising technology looks for investments, it has to show why Amazon or Google won't hurt it," says Meron. "Even when you find an area they're not into, you ask yourself why they're not there."
Aside from areas they're identified with, the big companies' shopping list in Israel reveals that they're eyeing other areas such as cybersecurity, smart watches, layered reality, face recognition and text and voice analysis. There are some less-trivial areas: Google has invested in an insurance company (Lemonade) and in a financial technology company (Gusto). Microsoft has invested in drones (Airobotics). What does Google have to do with insurance or Microsoft with drones? People in the industry believe that this is a reflection of paranoia regarding any competition which may arise in the future.
"Today's giants are different than earlier ones" says Meron. "When Microsoft was alone, it operated in one defined area, but now companies are much more diversified and the large amount of information they have about users allows them to consolidate their dominion, which gives them an advantage over smaller companies. This advantage increases exponentially, since the network effect is crucial in these matters."
Afraid of missing the next wave
The giant corporations have become protective of their rule and have started sending their tentacles into other areas, for among other reasons due to their concerns about missing the next wave of computerization. In the 1990s Microsoft was the sole, uncontested ruler of the technology market. It exploited the fact that its operating system, Windows, was incorporated into most personal computers in order to increase the use of other services it provided, such as its browser and media player.
However, over the last decade Microsoft has lost some of its power, and it is suffering from a drop in sales of its flagship products due to a continued drop in sales of personal computers. In the last two years, it has enjoyed some recovery due to its changing focus to mobile and cloud computing.
Microsoft is a good example of the deep change in the way these giants view the impact of startups on their competitiveness. For years it was considered a conservative company, identified with big organizations and governments. Today it is managing one of the most prestigious accelerator programs in Israel. A model which first proved itself in Israel was adopted by its development centers in India and China, ultimately becoming part of Microsoft's global plan with seven accelerators around the world. In the last four years, Microsoft has bought seven Israeli startups, for $850 million.
Amazon is said to be the biggest threat
Can new ideas survive and flourish in the era of the tech giants? What are the chances of a start-up succeeding in a big way or bringing a giant down? Tal Morgenstern, a partner in Lightspeed Venture Partners, believes that the most important factor that turned these companies into giants was their early adoption of new platforms – first the personal computer, then the internet and then mobile. "Therefore the key question is not if other startups in mobile or the internet business can topple Google or Facebook, just as you wouldn't expect an oil company to topple Shell or a new bank to replace Citibank," he says.
Morgenstern says that "the key question is what the next platform is and whether these companies have a competitive advantage there as well. No one knows the answer to that. In some of the novel areas, the giants gamble early, giving them an advantage. Therefore Amazon has gone into voice interface and Facebook has invested in virtual reality."
"There are many other interesting areas that are unrelated to these companies, areas in which the next decade's Googles and Facebooks will emerge, such as genomics, robotics, space research, logistics, autonomous cars and insurance. If it turns out that blockchain technology is the next big thing, startups will have a chance of beating the big companies since there no one has a competitive edge. These companies have become very good at limiting their risks and at quick acquisition of potential competition. For me, of the five, Amazon poses the biggest threat," Morgenstern says.
Why Amazon?
"Of all these players, Amazon has the most tangible connections. On one hand, it controls the infrastructure which drives most internet companies in the world (the cloud) and on the other hand it reaches every household in the United States. There are currently more subscribers to Amazon Prime than there are cable television subscribers. Amazon has the most developed logistical infrastructure and, in contrast to Facebook and Google, Amazon operates with a narrow profit margin. It's efficient and very aggressive. Google and Facebook tried several times to enter areas that weren't part of their core activities and failed, so they buy their way into new markets. Amazon greatly succeeds time after time, doing it all on its own."
Consumer-focused technologies
In 2012 Facebook purchased the social network Instagram and two years later it bought the WhatsApp messaging application. Between these two acquisitions, Facebook founder Mark Zuckerberg tried to block competition from the social network Snapchat, whose users are mainly young people. Facebook offered to buy it for $3 billion and was turned down. Snap, Snapchat's parent company, is now traded with a valuation of $17 billion and its founders became billionaires. Facebook didn't make their lives easy – it copied features such as video stories on Instagram, trying to hurt Snapchat, and succeeded to some extent.
"One reason Glilot invests in deep technologies is the belief that they have more room for creating a gap with a competitive edge" says Kobi Samboursky, a co-founder and managing partner of Glilot Capital Partners. "If a big company is looking at your technology, you have an option of selling your company. Your product is still worth something, since it will take others time to catch up. If you don't sell, you have time to build something bigger. Many investors in Israel have reached this conclusion," Samboursky says.
Is there an Israeli parallel to the competition between Facebook and Snapchat; a situation in which a gigantic company is trying to bury a startup?
Samboursky: "I can't think of one and I think the reason is that these are areas Israeli investors and entrepreneurs aren't involved in very much. In the world of products for consumers (Business-to-Consumer, or B2C, as opposed to B2B, Business-to-Business), you're judged according to the overall user experience, whether your service is cool, and by how many people want to use it — I think we Israelis don't know how to do this well. There is some B2C activity here, but it's getting smaller."
Houseparty is a local example that illustrates the difficulty for consumer-targeted products of surviving in the marketplace of the giant social network companies. The company, called Meerkat then, was founded in 2011 and developed a platform for live broadcasting of video on Twitter. In March 2015 it raised $14 million through Greylock Partners, a leading Silicon Valley venture capital firm. Behind it stood prominent investors like YouTube's Chad Hurley, and the investment arms of Comcast, Universal Music and Broadway Ventures, as well as the Israeli Aleph venture capital company. A month later, Twitter bought its direct competitor, Periscope, and blocked the use of Meerkat on its website. Facebook then announced it was developing this service independently. Meerkat realized it needed to find a new direction quickly or go under. It decided to dissociate itself from its dependence on social networks and to create an alternative one, calling it Houseparty. These are chat rooms that allow group chats on live video. It enjoyed brief success but the enthusiasm for it waned. Facebook is working on a similar idea.
The competition between tech-giants can be good for Israeli startups
Daniel Cohen, a partner in Viola venture capital fund, is relatively unusual in the field, as he prefers to invest in startups that develop products directly to consumers. Cohen points us to a number of successful Israeli startups who market their products to end-users, and have grown in recent years independently of tech giants: WiX, which develops a platform for building websites easily; Fiverr, which is a freelance services marketplace; and the taxi-hailing app Gett.
If you look at Cohen's investment portfolio, there are a few less familiar names that are gaining momentum: Puls, which provides in-home repair for smartphones through a network of technicians; Tapingo, a mobile shopping platform which operates in American colleges allowing students to purchase from small businesses on campus; And Jerusalem based Lightricks, which developed the photo editing app Facetune. The company received its wide exposure at Facebook's annual developer conference, as most of its market budget was channeled to the social network.
"We are not afraid of investing in competitive areas," says Cohen. "Lightricks is growing nicely in a competitive world, and no matter how much it grows, Facebook and Google make money on it. But my stand is that before Israeli start-ups grow to be like Facebook or Amazon, we have to finish the ninth grade."
So why do Israeli VC's avoid investing in consumer startups (B2C)?
Cohen: "It's not because of the tech giants, but because there are not enough Israeli entrepreneurs doing B2C and there are not enough big successes, except for Waze."
The argument is that the giants have created an ecosystem that enriches them, even if they are not the ones who think of the good ideas before everyone else. How true is this?
Cohen: "There is no altruism here, they are active in the startup community for business reasons: Microsoft wants startups to run on its cloud, and Facebook and Google want them to publish on their platforms."
Some investors believe that the competition between the big companies is actually good for startups. Samboursky and Cohen say that these companies try to convince startups to use their platforms, using their investment branches to fund some startups. The competition also raises the value of some startups before they are acquired by the big players, or in cases where more traditional competitors like Samsung or Walmart provide opportunities for Israeli startups to help themselves stay competitive.
Click the alert icon to follow topics:
ICYMI
Ken Burns' Brilliant 'The U.S. and the Holocaust' Has Only One Problem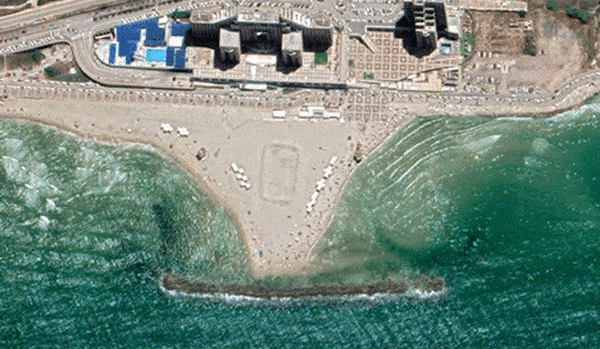 Facing Rapid Rise in Sea Levels, Israel Could Lose Large Parts of Its Coastline by 2050
As Israel Reins in Its Cyberarms Industry, an Ex-intel Officer Is Building a New Empire
How the Queen's Death Changes British Jewry's Most Distinctive Prayer
Chile Community Leaders 'Horrified' by Treatment of Israeli Envoy
Over 120 Countries, but Never Israel: Queen Elizabeth II's Unofficial Boycott