The Man Who Wants All of Israel to Reap Startup Nation's Benefits
Avi Hasson has spent his entire life in high-tech. Now, as chief scientist in the Economy Ministry, he wants to apply what he learned in the field to the rest of the economy.
Avi Hasson
Credit: Tomer Appelbaum
Avi Hasson, chief scientist for the Economy Ministry, is not only the government's point man for high-tech but a denizen par excellence of Startup Nation. He began his career in the army's famed 8200 intelligence unit; worked for ECI Telecom, one of Israel's earliest high-tech success stories; and then as a venture capitalist. Six years ago, at age 40, he became chief scientist.
"It was really not a good career decision. After all, no one starts a government job at age 40, which is the beginning of the decade of 'reaping.' You come to a government job at 20 to 30, or 55 to 60," he says. "But it was clear to me that this was my time to enter government — with a lot of experience, but not at too late an age."
He served in the army for five years with the Intelligence Corps' acclaimed 8200 unit, many of whose alumni went on to found leading high-tech companies .In an interview with TheMarker, Hasson discusses the evolution of Israeli high-tech and where the industry stands today.
Was 8200 a brand back then like it is today?
"Everything was much more secretive and sensitive. They didn't even say the number out loud. My parents didn't know where I served. That's where I met my wife, too. It's nice that [the unit is made up of] about half women and half men who serve in identical jobs."
A matchmaking club?
"A matchmaking club with intelligence work. The day after I was released from the army I started working in high-tech."
Where in high-tech?
"At first I managed part of a $100 million project for Tadiran in South America. Later I worked for ECI Telecom and in the early 2000s I joined the Gemini Israel Ventures fund. If three months earlier you had told me I would leave ECI, I wouldn't have believed you. It was then in its greatness, with sales of $1.2 billion a year."
What happened to ECI, a huge company that has almost disappeared?
"I've been in high-tech for over 20 years, and that is what happened to most of the companies. It's nice to analyze every failure, but it is the standard story. It is more interesting to analyze why Check Point Software Technologies became Check Point. At the most superficial level, ECI didn't exploit the good and rich years enough to prepare for the seven bad years everyone knew would come. It was at its peak when all high-tech was at its peak. In 1999-2000, we all rode the wave in which everyone was great. Many people became confused and started to believe they were really geniuses. You needed to look at it a bit more critically."
You looked at it critically?
"Yes. I think the service in 8200 encourages you to be critical. At age 18 I stood facing the defense minister and told him 'You're wrong.'"
Wrong, Mr. Rabin
Which defense minister?
"Yitzhak Rabin."
Did you argue with him?
"He said something, and you say 'that's wrong.' It is a non-hierarchical system that encourages excellence, being the devil's advocate and original thinking."
What is the importance of 8200 to Israel? To high-tech?
"It is hard to minimize its importance. An incalculable contribution. Count the number of people who came out of there and into high-tech. This is an important unit from the aspect of training manpower and the trickling-down of experience and knowledge, too ... The movement from such military units to the private sector is one of the factors that has led to the blossoming of the high-tech industry, and the contribution of high-tech to the economy is incalculable — 50% of industrial exports and a lot more added value."
On the other hand, less than 9% of the workforce is in high-tech. And there is only a small trickle-down to other sectors.
"It's all true. I'm not embarrassed to say that this is one of the reasons I came to the government. I was and still am a proud citizen in the state of high-tech, but economically it does not pull its weight. They say the high-tech engine is not hooked up to the train cars. The problem is that even if it is attached, it is not pulling its weight."
So what should be done?
"One of the two goals of the National Authority for Technology and Innovation we are establishing now is to connect the various parts of the economy, to bring in the good things we learned in high-tech — such as international cooperation, raising foreign capital, productivity and innovative technology — [and apply them] to the service sector and the government itself; and to integrate more groups into high-tech —- Arabs, ultra-Orthodox Jews and residents of the periphery. Not everyone in the industry needs to be graduates of 8200 or the Technion - Israel Institute of Technology. Human capital is the most important fuel — and we have a clear shortage."
What does that mean, shortage? There are eight million people living here.
"If you look at the number of students in science, at best one can say it has not changed, and the same goes for students who are studying the highest level of math [in high school] which is needed for high-tech professions. This is an across-the-board problem. Every treatment of human capital needs to take a leap forward."
What does it mean to be the chief scientist?
"I have the best job in the government. A large budget, large responsibilities. For decades this institution was very significant in its contribution to the Israeli high-tech ecosystem and the entrepreneurship that we see today. At the end of the 1980s, iconic plans, at an international level, came out of here. They were ground-breaking in their vision. It didn't happen anywhere else in the world. They wrote the bible here — that's no joke. Every week a delegation from around the world comes to learn our system and plans. I just came back from a special visit to Australia. They worked me to death, five days of meetings from 7 a.m. to 10 p.m., including with the prime minister."
Maybe they invited you because of the image of the "startup nation?"
"No, every government in the world that decides it wants to turn their economy into a knowledge economy and build mechanisms for innovation turns to Israel. Every government in the world has already decided to do it."
Except for Israel?
"Israel has been doing it for 40 years already."
What can the world learn from us?
"The Israeli model is seen as very successful. There is the greatest amount of accumulated experience here, things are done right, and what characterizes us is the centralized treatment. In the United States the responsibilities of the chief scientists are scattered between 15 various departments and agencies. Many countries want to have startups. It is a phenomenon unique to Israel."
Going to Australia
So you go to Australia and tell them about Check Point?
"It is not Check Point that is interesting, but rather how you build startups."
So if everything is so great, what is really the problem?
"I discovered that despite what we thought, we are not the most advanced in the world. In recent years, the chief scientist has become less of a leader. In Israel there is something strong and unique on an global scale, but we must say honestly that a lot if it stems from decisions made by the government 20 years ago and from changes in the educational system, academia and the Russian immigration. We needed to absorb a million people, and it turned into an unusual economic gift. The problem is that I spoke to the president of Russia, Vladimir Putin, and he said he is not going to send another million people."
How is the technological innovation authority you are now setting up going to change the situation?
"I believe this is an opportunity that comes once in 20 years — redefining the mission, building the tools, organizational structure, all of this is part of the strategic work we did. My benchmark is to be the best government agency in the world in the area of innovation. For this we need to sow the seeds, in order to guarantee that in 2020 and 2030 we will still be on the medals podium. It is going to be much harder than it has been up until now."
What is the importance of the government in the high-tech sector?
"All economists agree that there's room for government intervention, mostly where the public benefit is greater than the private benefit. Let's assume that I invest in a company and it fails, but out of that failure grow four other companies. As a venture capital investor that is a terrible investment, but as a government it is a wonderful investment. These are risks the government can take on."
So are you optimistic or pessimistic?
"It's a complex mixture of optimism and pessimism. I'm not embarrassed to say I'm the voice of the ecosystem — to worry that the Immigration Authority grants innovation visas, to push for more professional training in order to provide a solution for human capital, to take care of nano-technology centers in academia, to intervene in everything concerning venture capital funds, the world of investors and the universities' applications companies.
My job is to manage the infrastructure of the national resource, to create the best environment in the world for the entrepreneur, inventor or researcher."
Click the alert icon to follow topics:
ICYMI
Ken Burns' Brilliant 'The U.S. and the Holocaust' Has Only One Problem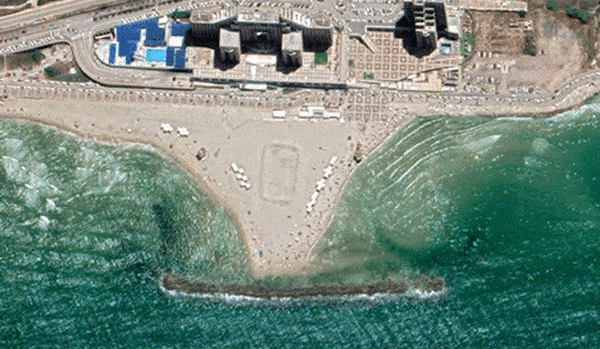 Facing Rapid Rise in Sea Levels, Israel Could Lose Large Parts of Its Coastline by 2050
As Israel Reins in Its Cyberarms Industry, an Ex-intel Officer Is Building a New Empire
How the Queen's Death Changes British Jewry's Most Distinctive Prayer
Chile Community Leaders 'Horrified' by Treatment of Israeli Envoy
Over 120 Countries, but Never Israel: Queen Elizabeth II's Unofficial Boycott