Sex Scandal at Bank Hapoalim: Tycoon Out for Revenge
Bankrupt businessman Motti Zisser has hired private eyes and attorneys in a bid to bring down the bank's CEO.
Bank Hapoalim CEO Zion Kenan, center, and Head of Corporate Banking Shimon Gal, left, and David Karpis.
Credit: Courtesy
The publication in the Hebrew media last week of recorded conversations between the bankrupt Israeli tycoon Motti Zisser and a former senior executive of Bank Hapoalim, Ilan Amir, caught the bank's CEO, Zion Kenan, during a family vacation in Europe.
Colleagues close to Kenan say he was unconcerned by developments – but it's hard to believe them. The alleged sex scandal the recordings relate to – which the bank has been trying to keep quiet for more than two years – is the latest in a long list of scandalous incidents that have happened at the bank over the past decade. It's certainly not an affair appropriate for such a large financial institution, and it has definitively damaged the bank's reputation.
The scandal revolves around accusations that Shimon Gal, while head of the bank's commercial division, had an affair with a female subordinate. The woman was his personal assistant, and was promoted, a few years ago, to the position of sector manager in the commercial division, a post that gave her responsibility for providing credit to some of the country's biggest businesses and private clients. The division has provided large amounts of credit in recent years to such high-profile figures as Eliezer Fishman, Nochi Dankner, Yitzhak Tshuva and Shraga Biran.
In the wake of the affair between Gal and his assistant – the nature of which is still not publicly known: whether it was consensual, or if it included what would legally be considered sexual harassment, or even more serious offenses – Amir left the bank in 2013. The executive was Gal's deputy, and a year later Gal left Hapoalim, too: a retired judge was subsequently appointed to investigate the whole matter.
Zisser is behind last week's publication of the recordings. He is desperate to gain revenge on Bank Hapoalim after he ran into trouble when he was unable to pay off enormous loans of some 1 billion shekels (about $255 million) that he owed to the bank. But even if we put the strong and emotional desire for revenge on Zisser's part aside, and ignore his vested interest in attacking both Kenan and Gal, a large cloud still hangs over Kenan's head, one that may well influence whether he continues as CEO of Israel's largest bank.
Bank Hapoalim only recently succeeded in heading off a lawsuit by the woman at the center of the affair, which would have exposed the entire scandal. The former employee hired a number of lawyers, including Avigdor Feldman, who then negotiated with the bank – an unusual occurrence. In the end, the threat of the lawsuit was lifted and the woman was named CEO of one of Bank Hapoalim's subsidiaries.
In a recording of the conversation between Amir and Zisser, Amir is heard saying, "Zion Kenan is involved in it up to his head ... Shimon Gal said explicitly that Zion is with him, and they are hand in hand. He said it, everything is recorded. She recorded him, gave the tape to Dina Efrati [the retired judge appointed to examine the affair] ... If she hid something, she will be charged with destroying evidence. Do you understand? She can get in trouble, she will have to show everything – and everything will look like one big mafia ... and there are recordings of the drunk [Shimon Gal], saying he is acting with Zion's silence, and that Zion backs him up, and he agrees."
Motti Zisser: "She taped him when he said it?"
Amir: "Yes."
The essence of the problem is whether Kenan knew about the situation between Gal and his subordinate.
Zisser is leaving no stone unturned in his attempts to prove that Kenan knew of the affair. If it's true, the question is: Why has Kenan said for a long time that he had heard rumors but didn't know anything about it? This, at least, is what Kenan told the bank's internal auditor, as well as the banks supervisor at the Bank of Israel.
We can also only wonder why Kenan did nothing after Amir informed him of the affair – as Amit told Zisser in the conversation Zisser recorded without Amir's knowledge.
Revenge is sweet
Zisser opened his coordinated multifront attack against Bank Hapoalim last week. The bankrupt tycoon seems to be motivated mostly by a sense of revenge against those who he claims brought about his downfall: Kenan and Gal. He is seemingly doing everything in his power to force Kenan to lose his job.
It seems the first stage of Zisser's attack is meant to force Kenan's suspension from his duties and force the opening of a criminal investigation into the sex scandal at the bank. It seems that, at a later stage, Zisser will use this as ammunition in his claims that Gal and Kenan had ulterior motives and poor judgment in their dealings with Zisser, after which the bank turned to the courts and forced him in to bankruptcy.
Zisser hired private investigators, who collected information on Kenan and Gal, and secretly recorded Amir – who fell out with his two superiors at the bank before leaving two years ago.
Recently, Zisser hired Ronen Tzur to handle the public relations side of the battle. Zisser also hired attorney Jacob Borovsky, a former high-ranking police officer, in order for him to approach Maj. Gen. Meni Yitzhaki – head of the investigations and intelligence branch of the police – and ask him to open a criminal probe into Kenan, Gal and other senior Bank Hapoalim executives.
Attorney Roni Aloni-Sadovnik, who specializes in sex crimes, was also hired and briefed to approach the central bank's new supervisor of banks, Hedva Bar, and demand that she open an investigation into the bank.
It seems that Zisser, who cannot pay off his debts, is trying to save money when it comes to his battle with the bank.
The broke tycoon says the recordings and letters Borovsky sent to the police, and those Aloni-Sadovnik sent to the Bank of Israel, are just the start. He also turned to Prof. Shmuel Hauser, chairman of the Israel Securities Authority, as well as directly to Bank Hapoalim's board of directors – whose chairman,Yair Seroussi, is reportedly close to Gal and even brought him to the bank from rival Mizrahi Tefahot.
Zisser seems to believe that because of these steps, Kenan could be suspended from the bank within the next few days. He even demanded that the board do so.
Battery of high-powered lawyers
The accusations that Zisser – and the attorneys and PR people he hired – level against Kenan revolve around a few key points, which they say justify an investigation. The claims involve not only Gal and Kenan, but also Seroussi and other senior executives, as well as the bank's legal advisers.
The main claim is that senior management knew of the affair between Gal and his subordinate. Aloni-Sadovnik writes that, legally, it appears the matter is a case of rape and severe sexual harassment, as well as possibly obstruction of justice.
Another issue raised is that the woman not only received a promotion after negotiating with the bank, but also allegedly got several million shekels in compensation. The attorneys ask how such amounts were approved and reported – and whether this process was proper and legal.
In addition, paying the woman such compensation could be viewed as buying her silence to hide a criminal matter – which could also be considered bribery, along with conspiracy to commit obstruction of justice, writes Borovsky. He also claims that the bank, as a publicly traded company, was required to report the matter to shareholders and the stock exchange.
As for the bank's board of directors, Zisser has another lever to apply to them, in addition to all the claims he made to the regulators and police. He says the board members could face personal responsibility for either knowing and not taking proper action, or for not knowing – in which case they didn't properly carry out their oversight responsibilities.
It seems Zisser's timing is also related to the changing of the guard at the Bank of Israel. Previous Banks Supervisor David Zaken, who had done nothing about the matter, was officially replaced last Friday by Hedva Bar. Zisser presumably hopes Bar will choose to order an investigation. For now, though, the Bank of Israel is repeating its response from the past few years: namely, it's a matter for the police to investigate, not the central bank.
If neither the Bank of Israel or the police open an investigation, Zisser then plans to turn to the courts – in order to show, among other things, that Gal's judgment was unbalanced when he made decisions about Zisser's loans, since he was open to blackmail because of his affair at the time with his subordinate.
As for Amir, the situation is also problematic. Since he left Bank Hapoalim, he has remained silent on the matter. He has avoided speaking to the press and, even though he's spoken to the media occasionally as part of his work in the capital markets, he's never addressed the subject of what led him to leave Hapoalim, even off the record – and even though the press has never ceased asking him about it.
Today, Amir is a senior partner in financial consulting firm Giza Singer Even, and is one of those managing it on a day-to-day basis. The firm also works with Bank Hapoalim, and the firm is now said to be informally examining the possibility of "moving Amir aside" because of the sensitivity of the matter. Having his private, personal conversations broadcast on the news will certainly create business problems for him in the future.
Despite repeated requests, Bank Hapoalim declined to comment for this story.
Click the alert icon to follow topics:
ICYMI
Ken Burns' Brilliant 'The U.S. and the Holocaust' Has Only One Problem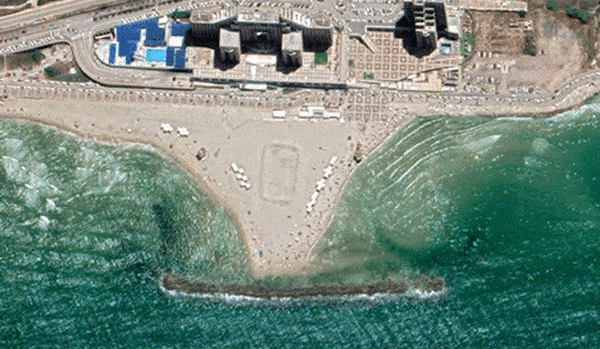 Facing Rapid Rise in Sea Levels, Israel Could Lose Large Parts of Its Coastline by 2050
As Israel Reins in Its Cyberarms Industry, an Ex-intel Officer Is Building a New Empire
How the Queen's Death Changes British Jewry's Most Distinctive Prayer
Chile Community Leaders 'Horrified' by Treatment of Israeli Envoy
Over 120 Countries, but Never Israel: Queen Elizabeth II's Unofficial Boycott