Digging Into the Lobbying Efforts of Natural Gas Partner Noble Energy
Is the Texan energy firm simply after a fair natural gas deal, or is it acting in a 'brutal' manner in order to maintain an unfair monopoly?
Members of the gas monopoly, including Noble Energy's Bini Zomer, right, at the Knesset Economic Affairs Committee on July 6, 2015.
Credit: Emil Salman
Until recently, Houston-based Noble Energy preferred to be the Delek Group's silent partner in the two natural gas sites off Israel's coast. It's the Texas company that's doing the actual drilling at Tamar and the much-larger Leviathan sites, even though it allowed Yitzhak Tshuva's Delek Group to take center stage in the ongoing battle with the Israeli government over tax rates and how much gas the partners can export from the offshore fields.
When Noble has acted, it has been behind the scenes or in the United States, rather than tackling the situation directly in Israel. But last week, in a heated debate in the Knesset Economic Affairs Committee over the government's planned regulatory policy, Noble's manager in Israel, Bini Zomer, clashed head-on with members of the panel.
Following the publication of the government's plan and the understanding that, this time, the company is facing a protracted public battle in which it needs to act independently, the rules have changed. Just last week, in addition to appearing before the Knesset panel, Zomer was interviewed on Army Radio and featured on a panel at a major Tel Aviv economic conference.
The company did mount a failed advertising campaign years earlier, when a public committee headed by Prof. Eytan Sheshinski was developing new policy recommendations on the state's natural resources. Now, though, Noble Energy is back on television with nightly ads that air just before the prime-time 8 P.M. evening newscasts.
Noble's approach is creating some anger, however. "They may look like American nerds, but they are acting in a brutal and aggressive manner," says one person in contact with the gas companies, who preferred not to be identified. "They boast about their U.S. values, of honesty and fairness. But in the United States, they wouldn't have dared do what they are doing here – to be part of a restraint of trade," he added, alluding to Noble and Delek's monopoly in the sector.
According to Yossi Langotsky, the geologist who actually found the Tamar gas reserve, Noble is far-removed from the image its representatives are trying to project. "I assume this was on the advice of their lawyers," he said. There is no disputing the fact that, from a technological and operational standpoint, Noble is a professional company with serious, experienced people, he said. "But from an ethical standpoint, their conduct is problematic. It's a money-hungry, uncultured company."
Developing the image
Noble Energy was established in 1932, in Oklahoma, by an engineer named Lloyd Noble, who started out with a small oil and gas well in the southern part of the state. The firm's headquarters moved to Houston, and in 1972 its shares began trading on the New York Stock Exchange. Now it has operations around the world, including the Gulf of Mexico, Argentina, Nicaragua, Equatorial Guinea and Cameroon. In recent years, it has also gotten into the oil shale business.
Its first foray into Israel was in 1998, with the help of Gideon Tadmor, who was then owner of Avner Gas Exploration and is now chairman of Delek Energy. Delek was looking for partners for drilling at the Tethys Sea offshore drilling site, and Noble was a small company at the time. The large firms had no interest in hearing about Israel. From an Israeli perspective, Noble may have looked like a foreign energy powerhouse, but it actually grew here in Israel.
In an effort to make it easier to accomplish its goals in Israel, a portion of Noble's strategic approach came in developing its image. It made charitable contributions and socially conscious donations, and supported grass-roots sporting events here. Over the past four years, it has contributed some $15 million to Israeli causes, mostly in the field of education. It even took on a consultant to assist its efforts, Lt. Col. (res.) Amit Marom. Among the beneficiaries of its giving have been the Noble Energy Science Park at MadaTech (the national science museum) in Haifa.
"Noble's donation to the national science museum is related to the focus on technology education. The museum established the largest science park in the world at the time and it was, therefore, found to be appropriate to donate to," Marom said. "There is no connection to the issue of its public following."
The company also invests in training teachers for junior high schools, in conjunction with the educational branch of the Manufacturers' Association of Israel. This organization has lent its support to Noble during its gas policy fight: Last week, for example, the association's director general, Amir Hayek, attended a session of the Knesset Economic Affairs Committee and was seen briefing MK Yinon Magal (Habayit Hayehudi) with messages from manufacturers and the gas industry. In addition, Manufacturers Association chairman Shraga Brosh has an ownership interest in Oshrad, which seeks to link industrial plants that need gas with the gas monopoly at Tamar and Leviathan.
When it comes to high school education, Noble has cooperative efforts with an industry nonprofit that provides professional training in outlying areas of the country and provides academic funding. Noble has contributed some $3.5 million to a practical engineering program at the Ruppin Academic Center, Emek Hefer, and has also donated to a number of social service nonprofits, including groups that address the needs of at-risk children.
Turning point
The last two weeks have seen a real turning point in Noble's policies in Israel, and the beginning of a process in which it will seemingly operate more independently. Gradually, its stance on its offshore gas reserves in Israeli economic waters are also becoming clearer – policies that have been shaped in the United States. There, particularly in the south, anyone who finds oil or gas on their own private property can declare it their own, without paying a special tax on it.
The company's mentality also has another aspect. On the one hand, Israelis who have worked with the company say the people at Noble are fair and honest, working by the book and not straying an inch from the rules. As members of staff at a U.S. company, however, they also have no problem with lobbying or links between government and money.
Since the initial period after gas was discovered at the Tamar site in 2009, Noble has employed the services of people with connections to the Israeli government, former regulatory agency officials and ex-politicians. The first was former major general Yaakov Amidror; then came former Energy Minister Moshe Shahal; and former National Infrastructure Minister Eliezer Sandberg was an external adviser to Gilad Government Relations & Lobbying, which in those years was Noble's lobbying firm. At one stage, the company tried to recruit Dror Strum, the former antitrust commissioner, but he ultimately decided not to work with Noble.
Along the way, the company hired other consultants, such as Brig. Gen. (res.) Maharan Frozenfar – the former financial adviser to the Israel Defense Forces chief of staff – who worked at the company for a time; and PR man Amiram Fleisher, who was hired soon after the Tamar gas find. At one point, Fleisher served as media adviser to Noble while at the same time serving as financial adviser to the Prime Minister's Office during Netanyahu's second term (2009 to 2013). Fleisher signed a conflict of interest commitment and was not present at any natural gas meetings. Amidror signed a similar agreement. After working for Noble, he became chairman of the National Security Council. Finally, Shalom Zinger, the former legal adviser to the Interior Ministry, provides planning advice to the company.
The expertise of Noble's Israel director, Zomer, doesn't lie in engineering or operations, but rather government relations and lobbying. He emigrated to the United States with his family at age 2 and grew up in Tulsa, Oklahoma. In the United States, Zomer worked as a lobbyist at the AIPAC pro-Israel lobby, where, among other things, he worked on energy policy. During that period ( 2003-2006), when he lived in Washington, he met senior officials and developed a friendly relationship with Ron Dermer, now Israel's ambassador to the United States. At the time, Dermer was economic attaché at the Israeli embassy, and he and Zomer even attended the same synagogue. "Noble said: Let's take that smart guy, a friend of someone close to the prime minister. That will help us," a former adviser to Noble said in regard to the decision to hire Zomer. "They took him on because of his government connections."
Bill Clinton, too?
Until a few years ago, Gilad Government Relations provided Noble's lobbying services in Israel. Currently, however, the Houston firm has no Israeli lobbyist. A lobbyist familiar with Noble from the period when Gilad represented it said that most of its lobbying focused on the U.S. Congress, where they pulled out all the stops for members of Congress to call Netanyahu on Noble's behalf, the source claimed.
The company's connection to higher-ups in Washington is also reflected in former President Bill Clinton's involvement with the company. During the Sheshinski committee's energy policy hearings, Clinton approached several Israeli cabinet members, asking that they weigh the intention to raise the tax rates paid by gas companies in Israel. This reportedly came in the context of a campaign that was attributed to the gas companies, in which they allegedly attempted to pressure Israeli government officials.
Noble's close ties to the U.S. government also came to light in recent weeks when the Knesset was due to vote on the transfer of responsibility for antitrust policy on the gas sector from Antitrust Commissioner David Gilo to the Israeli cabinet. That same dramatic night, MKs from the Joint Arab List received phone calls from the U.S. embassy in Tel Aviv – including some from Ambassador Dan Shapiro himself – seeking their support for the Israeli government's gas plan. Their support was being sought for geopolitical reasons, in that it was expected to result in gas being sold to Jordan and Egypt, and possibly also later to the Palestinian Authority.
According to a knowledgeable source, the Arab MKs were also contacted by Jordan and the Palestinian Authority, which may have been orchestrated by the U.S. embassy in Tel Aviv. Ultimately, Netanyahu scrapped the vote after he realized he didn't have a majority in favor – in part because coalition MKs had recused themselves over conflicts of interest.
Zomer is said to be in regular contact with Ambassador Shapiro. The support Noble receives from the embassy is consistent, and began before the recent vote was scheduled.
"In the United States, the ambassador and consuls are lobbyists for U.S. companies in the locations at which they are stationed," says former Israeli infrastructure minister Joseph Paritzky. "That explains the telephone calls from the embassy."
This is also what Noble Energy executives say. They acknowledge the embassy staff has helped them meet with Jordanian, Palestinian and Egyptian officials, adding that staff at the Israeli embassy in the United States also tries, for example, to influence legislation that affects an Israeli company such as Teva Pharmaceuticals.
Noble issued a statement in response, saying it is engaged in furthering the Israeli gas industry and will not respond to gossip.
Click the alert icon to follow topics:
ICYMI
Ken Burns' Brilliant 'The U.S. and the Holocaust' Has Only One Problem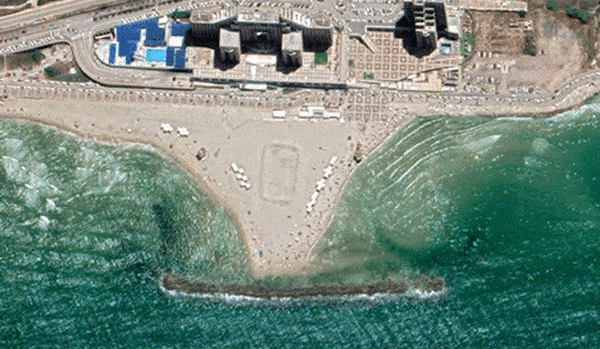 Facing Rapid Rise in Sea Levels, Israel Could Lose Large Parts of Its Coastline by 2050
As Israel Reins in Its Cyberarms Industry, an Ex-intel Officer Is Building a New Empire
How the Queen's Death Changes British Jewry's Most Distinctive Prayer
Chile Community Leaders 'Horrified' by Treatment of Israeli Envoy
Over 120 Countries, but Never Israel: Queen Elizabeth II's Unofficial Boycott