Which Israeli Political Party Plans to Raise Your Taxes?
It's great to have a platform, but politics is all about cooperating to get things done.
Which Israeli political party plans to raise your taxes?
Credit: Moti Milrod, Tomer Appelbaum, Olivier Fitoussi, David Bachar and Emil Salman.
Congratulations. Finally, there is competition in Israel. After years of complaining about the lack of competition, we are suddenly drowning in a surfeit of goods, ideas and producers. At this stage we are only talking about competition in the marketplace of the political parties' ideas and economic plans, but even that is something.
In the last election, party economic platforms were rare commodities, especially ones that promised to tackle pressing problems such as the high cost of living, banking costs, the housing market, socioeconomic inequality, the underground economy, pensions and long wait times in the health system.
So far, four parties — Kulanu, Meretz, Yesh Atid and Zionist Union — have issued some kind of economic program. Prime Minister Benjamin Netanyahu's Likud is dawdling. Maybe they're doing a market survey to determine whether there's a demand for the product.
It's wonderful that the parties are publishing economic programs. Voters need to know exactly where each party stands, and where it's going. And it's great that they've recognized the importance of socioeconomic issues. That's easy to forget in a country where there's a war or smaller military operation every two years on average and something can erupt at almost any moment, whether in the north or the south.
But after all the praise, it's best to put these programs into perspective. The likelihood of any of them being implemented is pretty low. It's all about mathematics. Take Meretz, for example. What are the chances that a party with only five or six Knesset seats and very likely sitting in the opposition, will realize any of its platform?
And Kulanu, the new party established by Moshe Kahlon? True, he famously carried out reforms in Israel's wireless sector, as communications minister from 2009 to 2013. But what are his chances — even if his party were to win eight or even nine seats and he is made finance minister — of successfully tackling the problems in the housing market? Would the prime minister, whoever he or she turns out to be, allow that to happen.
We need look no farther than former finance minister Yair Lapid to understand how problematic this is. In the outgoing government Yesh Atid had 19 seats, and polls give it half that number for the March 17 election. Could Lapid accomplish with nine or 10 MKs what he failed to do with 19?
The main problem with these programs is not their content, but rather the fact that Israel's electoral system, with its multiplicity of small parties and tortured coalition politics, makes it very difficult to get anything done. In addition, few Israeli leaders demonstrate the ability to rise above consideration of their short-term interests. So the issue becomes not only the planks of each party's platforms, but also — and perhaps more important — how they intend to push them through.
Jealousy rules
That was the main problem with the alliance between Netanyahu and Lapid in the outgoing government. Their positions on economic and social issues are fundamentally similar. But instead of cooperating , each saw the other as a threat. Netanyahu, fearing that Lapid's power and popularity might grow, did not let him work. Lapid, arrogant and power-drunk from his election victory, refused to listen to the professionals in the treasury. Even the blood alliance between Lapid and Habayit Hayehudi Chairman Naftali Bennett, which could have produced more than their joint entry into the coalition, soon deteriorated into a battle over credit for their minimal achievements.
The second problem is that the parties' socioeconomic programs address the wonderful ideas they want to advance, but not the predictable obstacles to their being put into effect. One can start off with various ideas and run into problems along the way such as recession, rising unemployment, falling tax revenues and a need for increased defense spending. Then what?
Economic policy is about making difficult decisions: Raising taxes, cutting public services, fighting interest groups are all in a day's work. Behind every great you reform they are trying to sell to us at the moment, whether the property market or the banks, a battle with powerful interests is hiding. Behind every project there is the need to find funding. Behind every wonderful idea to promote economic growth lurks the risk of a recession that could destroy it. Behind every plan to expand social services lurks defense officials who have their own needs and agendas.
The architects of these economic programs are well aware of this. Take, for example Prof. Manuel Trajtenberg, who drafted the Zionist Union's economic plan. He headed the eponymous committee tasked with finding ways to lower the cost of living, after the social protests of the summer of 2011. He wrote a magnificent report, in which he successfully identified the fundamental problems of Israel's economy and society. He understood his place, and published relatively minor recommendations compared to his insightful diagnosis of the Israeli economy.
But these recommendations were not carried out. Excuse me, let me correct myself: He had two ways to finance his plan for expanding social services: One was to reduce the defense budget by 3 billion shekels ($778 million), and the second was to raise the value added tax Guess which of these recommendations was implemented and which was not. You guessed right. I'm impressed.
Not only Trajtenberg failed the test of dealing with the defense establishment and the need to make it more efficient, the entire government failed.
The same goes for the test of the Israel Electric Corporation. There is a long list of other interest groups who at the moment of truth are victorious over every party and government. They know very well how to identify the method, the people and the rifts — and that is how they perpetuate their power against the government and public time after time. You will not find a recipe to deal with these challenges in the party platforms. Not only because you don't publish such recipes before the election, but also because most of our politicians don't have any such recipes.
Let's party less
By the way, it stands to reason that in such a situation of political problems and fragmentation, what can free us from this situation is the establishment of a government with only a few parties. Let's say Likud, Zionist Union and another party. This would be a situation in which only three or four party leaders in the coalition see themselves as candidates for prime minister, not five as in the last government. But that is foolishness. There could be quite a lot of options for the next government: Broad, narrow, right wing, center right or center left. What will determine this is ability to cooperate among its components. That is why the parties that are publishing their socioeconomic platforms now must note alongside these platforms not just what they believe in, but how they intend on selling these ideas to their coalition partners; what is the most important thing they believe in and what they will be willing to give in on if they have no choice.
It would be better for them to state what is their preferred choice of harsh steps to take in case of a crisis: Raising taxes, cutting allowances for the elderly, increasing the defense budget even more, canceling the value added tax exemption on fruits. The important thing is that they talk about the materials that make up the reality of managing an economic policy, and not to lead us on with promises that have a lot of good intentions behind them, but with little ability and power to carry them out.
ICYMI
Ken Burns' Brilliant 'The U.S. and the Holocaust' Has Only One Problem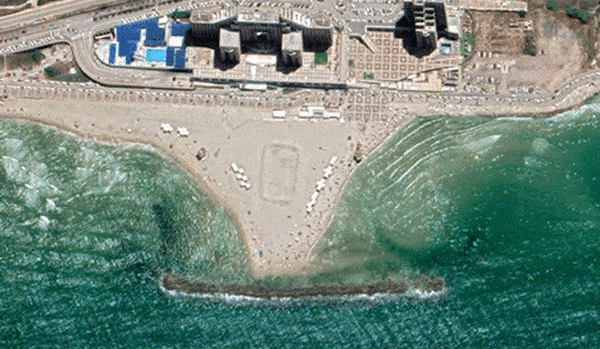 Facing Rapid Rise in Sea Levels, Israel Could Lose Large Parts of Its Coastline by 2050
As Israel Reins in Its Cyberarms Industry, an Ex-intel Officer Is Building a New Empire
How the Queen's Death Changes British Jewry's Most Distinctive Prayer
Chile Community Leaders 'Horrified' by Treatment of Israeli Envoy
Over 120 Countries, but Never Israel: Queen Elizabeth II's Unofficial Boycott