Religious Women in Israel Juggle High-tech Jobs and ultra-Orthodox Life
About 900 Haredi women at Matrix Global have become the breadwinners while their husbands study Torah.
Workers at Matrix Global in Modi'in Ilit, January 2015.
Credit: Eyal Toueg
"Congratulations on 10 years of intensive building of this unique plant, where hundreds of righteous women are working and investing their strength to earn a kosher living for their homes while maintaining concern and responsibility for their households, facing challenges that are not simple day-by-day and who, despite the trials and temptations facing them, have chosen not to glean among the alien corn and place themselves in danger. Certainly this will stand them in good stead for blessings and success in sustaining magnificent homes."
Upon reading this letter of congratulation penned by Modi'in Ilit chief rabbi and Rabbinical Court head Rabbi Meir Kessler, it is hard to find any clue connecting it to technological innovation.
However, the righteous women to whom it is addressed are actually some 900 programmers and code checkers who provide technological services to companies such as NICE Systems, Kenshoo, Teva, eBay, EMC and Texas Instruments, as well as government agencies and financial institutions.
Matrix Global, which was established a decade ago, provides offshore and nearshore services to companies in Israel and Eastern Europe, and can offer services at competitive prices to those in India, China and Eastern Europe – thanks to its reliance on the employment of ultra-Orthodox (Haredi) women. It is part of the Matrix IT services firm that employs 7,000 workers.
Rabbi Kessler's blessing was published on the front page of Talpiot, an internal Matrix Global publication. In its special edition celebrating its 10-year anniversary, there also are other texts that would be perceived as being at odds with the usually secular high-tech scene – like a ranking of the most fertile months of the year for births and a list of the company's recently engaged women.
A visit to Matrix Global in Modi'in Ilit is like entering a bubble, less than an hour's drive from Tel Aviv or Jerusalem. In the commercial center where the company's offices are located, there are branches of chains familiar only to the ultra-Orthodox sector – you won't find a Mega supermarket or branch of Toys "R" Us here.
The commercial center has expanded in line with the company and town, which has grown rapidly in its two decades (it's situated across the Green Line, in the West Bank). At Matrix Global, they say the rental paid for the space is almost equivalent to that at the Azrieli Towers in Tel Aviv. Across the road, there is a kindergarten packed with toddlers, who run around while their mothers write lines of code for innovative international companies.
In the afternoon, the fathers will pick up the kindergartners as the women continue working. The birthrate in Modi'in Ilit is very high: About 50 babies are born every week – more than 2,500 a year.
Pioneers in integrating Haredi women into workforce
The first group of workers at Global Matrix consisted of 29 women. Ten years later, eight of the workers are still employed there and, with only one or two exceptions, all have remained in the high-tech field. The first group had six months' training, but subsequently the course was made shorter to make it economically worthwhile. The new work opportunity encouraged other women in the ultra-Orthodox sector to learn computing professions. This past year, the firm hired about 150 more women and total workforce growth was 40.
Following the establishment of the center in Modi'in Ilit, other centers were established around the country – in proximity to Haredi population centers and closer to the companies for which the projects are carried out. In 2006, a call center employing about 100 workers was set up in Beit Shemesh. In 2010, Matrix Global opened offices in Petah Tikva and Haifa; a center was opened in Tel Aviv in 2012, and a year later a center also followed in Jerusalem. In addition, Matrix has opened a center in northern Israel that employs about 50 Druze women.
Altogether, the division numbers some 1,000 employees. Moreover, the company employs 240 workers in Bulgaria and Macedonia who complement the service from Israel and help Israeli companies that want to enter the European market.
A decade ago, when Matrix Global embarked on its activity under the name Talpiot, it was a pioneer in the integration of ultra-Orthodox Jews in general – and ultra-Orthodox women in particular – into the employment market. Nowadays, it is common to see ultra-Orthodox employees in high-tech company offices, even if they are not located in the heart of a Haredi population center, and more and more Haredim are to be found at conferences and startup events.
At Matrix, they say other companies have begun to compete in the ultra-Orthodox arena, and a number of their workers have even moved to government offices – where there is a comfortable work environment for them. They also say the programmers' prestige has increased, and the women are considered a very desirable match for potential husbands.
The women at Matrix join the workforce at age 20, after completing their studies at the ultra-Orthodox Bais Yaakov chain of seminaries for girls and after two additional years of vocational training as programming technicians.
The workers come into the firm without employment experience and, mostly, before they have married. There are also women with bachelor's degrees in computer studies from ultra-Orthodox institutions like Machon Tal or the Kiryat Ono Haredi Academic Campus.
Wife's the breadwinner, husband studies Torah
Matrix Global has two proud mothers: chief operating officer Libby Affen and human resources vice president Hila Tal. Affen is an extraordinary figure in the Israeli programming world. She was born into an ultra-Orthodox home in the United States, completed a degree in computer science in 1975 and, she says, is the only woman in her family not in the field of education. She immigrated to Israel in 1980 and came to Matrix from the Foreign Ministry, where she worked as a manager.
"A little more than 10 years ago, the world became global and companies looked for ways to become more efficient and outsource jobs to overseas," says Tal. "People contacted Moti Gutman, the CEO of Matrix, and said to him, 'Our girls study computers, but ultra-Orthodox women can't integrate into the labor market because they don't have experience and they can't work in an ordinary secular environment.'"
Affen and Tal thought first of establishing the workplace in Bnei Brak [a Haredi city near Tel Aviv], but Modi'in Illit was ultimately chosen. Affen explains that the numerous ultra-Orthodox sects of Bnei Brak made it too complicated for the company.
"Our idea was to set up a workplace close to home that, on the one hand, would be technological, competitive and professional; and, on the other, based on certain values so that our public and rabbis would go along with us," adds Tal.
"The rabbis decide what trajectories are appropriate for the Haredi world, and examine them," explains Affen. "The aim is that the wife will support her husband – so that he can study Torah for as many years as possible."
Before the workers join the company, they go through a selection procedure, which begins while they are still at the seminary. Their first two years at the company are a training period, during which all employees receive the same pay.
Among other things, the workers undergo a training program given by John Bryce College, a school for the computing profession that is also owned by Matrix. The first year is devoted mostly to studies, including generic subjects and specializations determined by the client's needs – and sometimes part of the training is done on the client's premises. After two years, the workers become experienced programmers or checkers, and continue to work on the project on which they began or move onto other projects.
Matrix offers professional advancement and management trajectories to qualified women, including training in the field, and their pay is determined by their progress and success. According to Tal, only a handful of women leave the company after the first two years.
The employees come to Modi'in Ilit from Jerusalem, Elad, Bnei Brak and Rehovot. The workday at Global Matrix is eight hours long, but the offices are open between 8 A.M. and 11 P.M., so the women can leave in the middle of the day to take care of their children and then return to work.
"There are employees who keep a 'kosher laptop' at home hooked up to the 'kosher Internet,'" says Affen. "None of our projects has ever failed because of the flexible hours, and if it is necessary to take the women home at night, we have transportation services."
Tal notes that during the intake process, the candidates are asked if they are prepared to have a computer in their home. "If that doesn't suit someone or her family, she will not be accepted into the project," says Tal.
A rabbi and human resources
At Matrix Global, there are indicators that this is no ordinary programming house. For example, the local rabbi meets with the company's new clients and explains how to conduct themselves with the women who work there; Rosh Hodesh – the beginning of every month on the Jewish calendar – is marked; and notices about wigs for sale are displayed on bulletin boards.
"There is a committee of rabbis, and the women can ask them any question," says Affen. "I myself am a rabbi's wife, but here I am only a professional. We have our own rabbi here – just like we have human resources."
About 50 of the Haredi women employed by the company hold leading management or professional positions. Sometimes, external heads of projects come to meet with the women in the team. In these cases, a male team leader sits in a room separated by a door within the room where the programmers sit.
Do clients see any special advantage in the employment of ultra-Orthodox women? Are they prepared to pay for the social value? At Matrix, they believe this is not the case. "They choose us with a professional eye, along with considerations about money. They tell us, 'Zionism is good – it will give you a percentage point or two, but you need to do the work," says Ram Yonish, Matrix Global's codirector and VP Sales.
"The bottom line is that this is a programming house," adds Affen. "It's nice that it's Zionist, but this place is flourishing because we do excellent work here."
Tal notes that, sometimes, clients are prepared to take inexperienced technicians onto the teams working for them at Matrix.
The integration of Haredi women into high-tech has enabled them to raise their economic status but, according to Affen, "While this does improve the family's economic situation, the balance of power in the home has not changed."
In the 10 years since the establishment of Matrix, the ultra-Orthodox women who do its programming have become an integral part of Israeli high-tech. Today, there are also Haredi women working outside the closed employment ghettoes in the centers of the ultra-Orthodox locales – some of the women are directors of development at high-tech firms or government companies.
As the breadwinners for large families, the programmers are an important economic force. It is for good reason that programmers are sought-after brides in the Haredi matchmaking world. Also, it is not hard to make the connection between the entrance of ultra-Orthodox workers – both men and women – into the world of secular employment and the call that is being heard to integrate women into ultra-Orthodox slates in the upcoming election. At Matrix, however, they prefer to avoid political issues and Affen is not interested in commenting on the initiative to integrate women into Haredi parties' slates.
Another hot topic in the ultra-Orthodox sector these days is employment for men, but at Matrix Global they do not intend to expand into that niche. According to Affen, "The starting point among men is completely different. They don't have any core studies. Usually, straight from the yeshiva they go on for degree studies after a one-year preparatory program. They build them up to go outside [the Haredi world] – they don't need the hothouse. There are a lot of startup initiatives for Haredi men. The moment a Haredi man goes out to work, he can't earn two-thirds – he has to earn a lot of money. The market is changing but gradually, with the timing of the ultra-Orthodox world – not in a single stroke."
Criticism of low pay
Over the years, Matrix has been subject to criticism that it exploits the ultra-Orthodox women it employs and pays them low salaries compared to market rates. At Matrix, they say the pay is two-thirds the usual industry rate. Sources outside the company say rates are even lower, and Global Matrix is exploiting the Haredi women's inability to work outside the community (with respect to distance from home and in an environment that is not adapted to their needs).
Matrix justifies the low pay with the argument that it hires inexperienced workers and invests in training them, and by the fact that workdays are shorter than is customary in the industry. Moreover, Matrix stresses that it encourages its workers to take jobs outside and earn more money.
"I live in the Haredi world," says Affen. "A mother says, 'In high-tech, my daughter can earn 15,000 shekels ($3,800) a month.' She doesn't know that her daughter can't make that much money right after high school. But after two years they earn more than their mothers. They want to earn a lot of money and support the family. There are some who stay here and they will earn a third less. I say to them, 'Why are you staying here after six years? You can go to clients in Jerusalem or Tel Aviv and earn more.' As a Haredi woman she would be earning like a man. The moment she goes out to work for another company, she gets more than 20,000 shekels."
According to Affen, "An ultra-Orthodox woman who decides to work at a startup earns just as much as anyone else, unless there's a reason. All these years, I've lived in Jerusalem and there were places I couldn't work – because I had six children and didn't want to go home at 10 P.M. every day."
Another criticism of Global Matrix's low pay stems from the fact that the company receives a government subsidy, through the Investment Center, of about 1,000 shekels per month for every female employee. The condition for this support is a steady increase in the size of the workforce. At Matrix, they say that without the government funding, they would not be able to offer competitive rates compared to other countries in Asia, Eastern Europe and Latin America.
"The Matrix model is based on this. Without support, I don't know if we could continue to exist," says Affen. "The subsidy makes us feasible. It is a lot of money and it helps with the training programs."
According to Tal, the subsidy makes it possible to take on inexperienced workers who otherwise would have difficulty entering the market.
Click the alert icon to follow topics:
ICYMI
Ken Burns' Brilliant 'The U.S. and the Holocaust' Has Only One Problem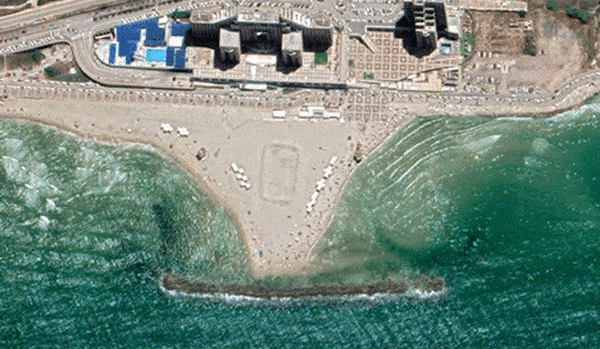 Facing Rapid Rise in Sea Levels, Israel Could Lose Large Parts of Its Coastline by 2050
As Israel Reins in Its Cyberarms Industry, an Ex-intel Officer Is Building a New Empire
How the Queen's Death Changes British Jewry's Most Distinctive Prayer
Chile Community Leaders 'Horrified' by Treatment of Israeli Envoy
Over 120 Countries, but Never Israel: Queen Elizabeth II's Unofficial Boycott