Floored Thinking: The Stratospheric Cost of High Living
How much would you be willing to pay to live in the upper floors of a high-rise? For some, the ability to look down (in every sense) on their neighbors means no price is too high.
A high-rise being built in Netanya.
Credit: Nimrod Glickman
In a nutshell, here is the story of how upper-floor apartments have been priced in Israel. Until about the end of the 1960s, people were prepared to scale steps to get to apartments on higher floors, and were also prepared to pay more for the privilege. In return, they got better views from their balconies. During that time, elevators were considered a luxury that only the wealthy could afford, or were found only in particularly tall buildings.
In the 1970s, however, when elevators began to be more widespread in residential buildings with four or more stories, the real estate market began to differentiate when it came to apartments on high floors with elevator access. They began to sell for more than comparable units on high floors without an elevator. Indeed, even units on low floors in buildings without an elevator began to go for more than their upstairs neighbors' apartments due to the burden of climbing stairs. That has remained true to this day.
The real question now is how much it costs to buy an apartment on a high floor. Staff at the Yad2 realtor website did a comprehensive survey of sales involving 3,400 apartments built over the past decade. They found that the price disparity for lower and moderately priced apartments averaged 65 shekels ($17) per square meter for each ascending floor up to the 21st floor. This means that for 100-square-meter apartments (about 1,075 square feet), units sell, on average, for 6,500 shekels more for each floor one goes up. The disparities are even greater – 550 shekels per square meter per floor – in luxury apartment buildings, some of which are 40 stories tall or more.
Wide disparities
"When dealing with a secondhand apartment, arriving at an average figure isn't simple," says Gal Ofarim, marketing VP at Yad2. While for new apartments there is a standard rule of thumb regarding the price differential per floor, in the secondhand market there are many other factors to consider that blur the situation, she says.
A refurbished apartment one floor up from the street level, for example, will usually cost more than an unrenovated one on the fourth or fifth floor. When it comes to comparable refurbished apartments, however, the unit on the higher floor will command a higher price, particularly in locales with a view.
The extent to which units on higher floors go for higher prices is, in large measure, also related to the basics of the apartment itself, and efforts to come up with a statistical formula are difficult due to various differences in apartment prices even within a single city. Even in cities where the results were clearer, there are wide disparities in the influence that a higher-floor location plays.
On Eilat Street in central Tel Aviv, for example, a three-room, 72-square-meter apartment on the fifth floor was sold for 1.85 million shekels ($490,000), while an identical apartment one floor up sold for 1.88 million – a difference of 389 shekels per square meter. At a building on Beit El Street in Neveh Sharett in North Tel Aviv, a 128-square-meter unit on the seventh floor went for 2.657 million shekels, while a comparable apartment on the eighth floor of the building sold for 2.673 million, a differential of 125 shekels per square meter. This demonstrates the difficulty in quantifying the height factor.
On Gershon Street in the Tel Aviv suburb of Ramat Gan, four rooms in a 100-square-meter unit on the fourth floor fetched 1.715 million shekels, while an identically sized apartment on the fifth floor went for 1.740 million. A 100-square-meter unit on the seventh floor of the same building sold for 1.768 million shekels, putting the price disparities at 250 to 280 shekels per square meter.
On Gilboa Street in the northern town of Afula, a four-room, 105-square-meter unit on the third floor sold for 727,000 shekels, while an identically sized apartment on the sixth floor sold for 730,000 shekels and another on the eighth floor for 740,000 shekels, which translates into disparities of between 1,000 and 5,000 shekels per floor.
Among the other examples, this year two apartments in a building put up in 2007 on Shalom Ifergan Street in Netanya changed hands. A 113-square-meter unit on the fourth floor sold for 1.5 million shekels, whereas a slightly smaller 107-square-meter apartment on the sixth floor sold for substantially more – 1.64 million; a difference of 70,000 shekels per floor. And in a four-year-old building on Herzog Street, one four-room, 96-square-meter apartment on the third floor sold this year for 1.55 million shekels, while a 104-square-meter unit on the sixth floor went for 1.74 million – a 190,000 shekel difference for two floors apart. Under such circumstances, however, there were other factors in play, in addition to the floor on which the units were located.
But then there was this example, where there were no other apparent influences involved: The building, constructed in 2010, is on Lohamei Hageta'ot Street in Ashkelon. This year, a 120-square-meter, five-room, first floor apartment was sold there for 1.05 million shekels, while a comparable apartment on the third floor fetched 1.06 million, a difference of about 5,000 shekels per floor, which appears reasonable.
Roni Cohen, the CEO of Eldar Marketing, which currently represents about 70 new residential projects around the country, notes that, to the extent that buyers' budgets permit, they will generally prefer buying an apartment on a higher floor, with the exception of the limited number of home purchasers who have a fear of heights or elevators.
When it comes to new construction at popularly priced developments at which four-room units sell in the 1.5-million-shekel range, the disparity from one floor to the next is about 10,000 shekels. At projects in which four-room apartments sell for about 2 million to 2.5 million shekels, the price difference per floor comes to 25,000 to 35,000 shekels. In cities such as Netanya, the differential in projects by the sea can amount to 30,000 shekels per floor, while at luxury developments in Tel Aviv it can range to 50,000 shekels or higher.
Not just the view
If an apartment has an attractive view – which is generally also related to which floor it is located on – that, too, greatly affects its value. And the greater the extent to which a building is in an attractive location, the greater the disparities in price from one floor to the next.
Sales promotion recently began for the Shechter Group's Nof Yam Club project, on the outskirts of Or Akiva, south of Haifa. The 270-unit project features three 21-story apartment towers. The price difference from one floor to the next is 15,000 shekels up to the 10th floor. From there up, the differential grows to 25,000 shekels. "You have a view of the sea from the third floor," notes Shechter Group CEO Dedi Riesel. "The differential from the 10th floor up is due to the open view that you see from those floors over the Caesarea golf course, the Caesarea archaeological park and the sea."
All this prompts the question as to what motivates people to seek living space on higher and higher floors, and to pay tens of thousands of shekels for the privilege. A better view is a common explanation, along with reduced levels of noise and pollution that can be a problem on lower floors. One could also argue that higher floors have more of a breeze and more light. Nine years ago, however, economists Danny Ben-Shahar and Eyal Solganik found that the issue also involves a psychological component. Living on a higher floor implies higher status, for which people are willing to pay.
"In a great many buildings, you'll find that the residents don't have a view – whether they're on the first floor or the top floor. The feeling of airiness on the upper floor is not all that different from the feeling on the ground floor," says Solganik, "and the noise that residents on the first floor suffer is not much different from the upper floors, [if] it's in a quiet area. Nonetheless, they want apartments on the top floor and are even prepared to pay more. We simply asked why."
The pair developed a formula to measure price differentials that would reflect differences in status among the various floors. The formula explains, in part, why an apartment on the 10th of 15 stories is usually more valuable than a 10th-floor unit in a 25-story building with the same technical specifications. The reason, of course, is a matter of the relative height of the unit – its relation to the total building height.
The researchers came up with a theoretical formula that quantified this feeling of status in average increments of 3% between the price on one floor and the floor below it. Because the real market doesn't measure those differences in terms of the percent of an apartment's value, and because of other factors – such as the view and apartment's physical condition – also come into play, it's hard to test the formula against reality.
At least from Yad2's findings, however, one can see that in certain locations, you get similar results. And everywhere we should be able to draw the conclusion that part of our desire to living on higher floors is a desire to feel a sense of superiority over our more lowly neighbors.
The research results, however, also raise an entirely different question regarding city planning trends in Israel. One major aspect of the current trend involves building substantial amounts of higher-residential construction, with the number of high-rises constantly on the increase. Ironically, however, the increased height of the buildings also boosts the average price these higher-floor apartments can command, sometimes by tens of thousands of shekels. It has also been found that high-rises are much more expensive to maintain than low-rise buildings.
So the trend toward living in the stratosphere delivers a double whammy to the apartment buyer – once upon acquiring the apartment, and then again in paying for maintenance fees. For these reasons and due to city planning considerations – relating to the disconnect of high-rise neighborhoods from their urban context – there are a number of planners who have reservations about the trend, preferring 3- to 6-story buildings instead.
Click the alert icon to follow topics:
ICYMI
Ken Burns' Brilliant 'The U.S. and the Holocaust' Has Only One Problem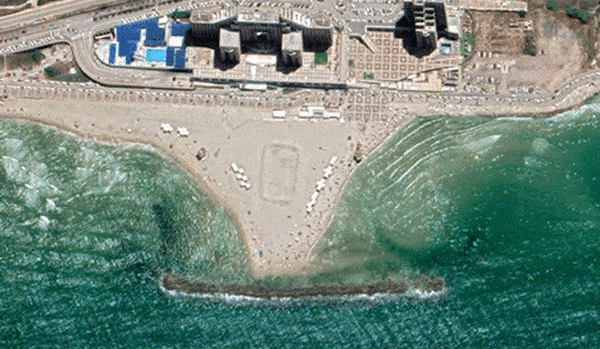 Facing Rapid Rise in Sea Levels, Israel Could Lose Large Parts of Its Coastline by 2050
As Israel Reins in Its Cyberarms Industry, an Ex-intel Officer Is Building a New Empire
How the Queen's Death Changes British Jewry's Most Distinctive Prayer
Chile Community Leaders 'Horrified' by Treatment of Israeli Envoy
Over 120 Countries, but Never Israel: Queen Elizabeth II's Unofficial Boycott