How Much Jewish Guilt Can Be Shoved Into Two Shekels?
The 'Milky protest' has turned the minds of many Knesset members into whipped cream, judging by some of their soft-headed reactions to Israel's latest dairy-based social movement.
Yesh Atid chairman Yair Lapid on the stump before he became finance minister.
Credit: Daniel Bar On
In a Facebook post on Wednesday, MK Yifat Kariv (Yesh Atid) described the 2015 state budget approved by the cabinet just a few hours earlier as a "victory for the social protests." She went on to relate her participation in the demonstrations of the summer of 2011 ("I went out into the streets, together we demanded social justice"), and how she left it all behind ("membership on a city council and a government job") and went into politics in order to create change ("I went to the Knesset, I wasn't willing to give up or to despair").
"For years, Israeli cabinets were not at all social-welfare oriented and they passed budgets that mainly took care of defense," Kariv wrote. "They abandoned education and welfare and forgot the individual, the citizen. That's why we're fed up, we said 'Enough!' Tonight the voices of the protest won. Tonight the cabinet led by Finance Minister Yair Lapid passed a social budget, not a defense budget!! A budget that takes care of the backbone of Israeli society, a budget that changes the national priorities and puts the individual and society at the center, and not just defense."
In the second part of her Facebook post Kariv uses pretty words such as "change," "economic growth engine," "education," "health" and "welfare." Then, following accepted practice in Yesh Atid, she adds some Bible and Jewish tradition — Sukkot, Simhat Torah and selections from the Book of Ecclesiastes — before finishing off with a few more empty turns of phrase like "hope," "meaning," "happiness," "aspirations," "empowered living" and "our land."
It's hard to take seriously the mess spewed out by Kariv's keyboard when defense spending leaped by 14 billion shekels ($3.75 billion) within months, and everyone knows the cabinet passed a deficit budget with no reforms and no creativity, an insult in terms of social welfare.
So what brings a serious woman such as Kariv to write something so arrogant, childish and detached from reality? We can guess: Acting either on orders from on high or her own initiative, Kariv is trying to help Lapid force the budget down the public's throat.
The protest that swelled last week after the revelation that in Berlin a German product similar to the Milky can be had for less than a third of the Israeli price of the popular ready-to-eat pudding with whipped cream led quite a number of Knesset members to say some crazy things.
It was convenient for them that, unlike cottage cheese three years ago, the product involved isn't very important, isn't particularly healthy and involves a city with a historic burden. It's easy to talk about touring Israel, Jewish holidays and Hebrew songs while taking pot shots at complainers and other traitors. In short, go to Berlin and enjoy its fleshpots, and your betters will remain here to wrestle with the problems.
"Maybe you will have a cheap Milky, but what will you tell your grandchildren," one commentator wrote in Ma'ariv.
MK Aliza Lavie, also from Yesh Atid, cooked up for her Facebook dish a bit of the Sukkot holiday, a bit of the love of the Land of Israel, a touch of clichés from Hebrew songs and party slogans about revolutions taking time. "Because of a Milky you don't leave Israel for Berlin. It's easier in London, too, and in San Francisco you can sit by the bay — We're not leaving Israel! We'll change, influence, enter political life or join social organizations."
Likud figures did not praise Lapid's budget. Instead, they shifted the focus to nationalist issues. Take MK Ofir Akunis, a deputy minister and a self-proclaimed candidate for communications minister after Gilad Erdan leaves for the Interior Ministry. "Anyone who doesn't yet understand the meaning of Germany in the recent past of the Jewish people should learn. They should stop preaching. We're sick of it!. Berlin? It's a crazy conversation. I don't intend to feel ashamed or apologize for my love of land and country."
Of course he did not neglect to urge us to travel around Israel. "The intermediate days of Sukkot are an excellent opportunity to see Israel's beauty and its fine people, its scenic views, from the north to the south. Take advantage of the coming days to tour our country, and keep loving it. Because it is ours!"
Defense Minister Moshe Ya'alon joined in: "The Jewish national home is not tested by the price of a Milky or where is most fun to live."
The picture is clear: The politicians are happy to ignore the fact that the debate is not over the price of a Milky in Berlin, that it's just a symbol. They prefer to ignore the public's anger over the high cost of living and the meager purchasing power their salaries give them.
Most Israelis are not considering emigration, but they believe they deserve a better life. Most Israelis loves their country. Their friends and family are here. They serve in the army, they study and they want to advance. They even sing Israeli songs and hike all over the country during the holidays.
Most Israelis realize that security has a cost that translates into higher taxes. They are willing to pay a premium for "Zionism," the "Jewish national home," the "Holocaust" and all the rest.
How much is this premium? It's hard to determine, but certainly not three times the cost of living elsewhere. When a Milky, say, is so expensive, Israelis feel that they are getting screwed and someone else is not doing his job.
True, some Israelis do try to change their future by leaving the country, but there is no point in attacking them either. Their emigration is usually accompanied by tears, problems and even trauma. It's no fun leaving, even though sometimes there is no choice. Even Lapid and Prime Minister Benjamin Netanyahu tried their luck abroad for a time.
But our elected representatives have forgotten what it's like to get a call from the bank to say you've exceeded your permitted overdraft. Their responses to the average person's grievances only reinforce the sense that the leaders are detached and insensitive and the conclusion that they are highly unlikely to do anything that will change the situation for the better. Kariv marched in the streets in 2011 and now she sits in the Knesset. That is the only difference.
In 2005, after being finance minister for two years, Netanyahu said his vision was to turn Israel, within a decade, into one of the world's 10 countries in terms of standard of living, that is per-capita GDP. That decade ends next year, but Netanyahu is "busy for now," as he said in recent interviews from New York, and he has no time for trivialities. He leaves that to Lapid.
Lapid, for his part, has been careful in his comments about Berlin: Exactly one year ago, during the first Berlin tempest, he reacted just like everyone else. "I have little patience for people who are willing to throw into the garbage the only country the Jews have, because it's more comfortable in Berlin." The response was harsh.
This time he actually condoned the protest: "These guys are right. I understand those who leave for Berlin and even agree with them," Lapid wrote. The problem is that his words were not translated into next year's state budget, so they disappeared into the air.
Click the alert icon to follow topics:
ICYMI
Ken Burns' Brilliant 'The U.S. and the Holocaust' Has Only One Problem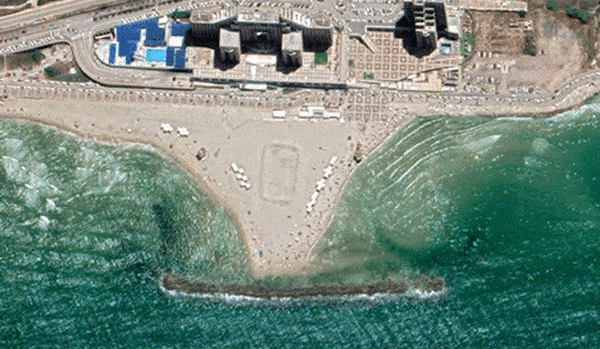 Facing Rapid Rise in Sea Levels, Israel Could Lose Large Parts of Its Coastline by 2050
Lapid to Haaretz: 'I Have Learned to Respect the Left'
The Mossad's Fateful 48 Hours Before the Yom Kippur War
As Israel Reins in Its Cyberarms Industry, an Ex-intel Officer Is Building a New Empire
How the Queen's Death Changes British Jewry's Most Distinctive Prayer