Israel's Brain Drain Is a Call to Arms - Let's Be the Best
The only way to maintain a good life here is a revolution in values. We have no choice.
Students in Jerusalem using their tablets at school, May 11, 2013.
Credit: Emil Salman
It's hard to hold a serious, pragmatic discussion on the issue. Before long somebody will snarl: Who needs them here? Let them go! Someone else will sneer: They'll be back on all fours! Another will shrug: Anybody who'd leave Israel isn't worth fighting for.
Enough. Israel is a normal country by most economic parameters. GDP per capita approaches that of the developed nations. We have ample foreign currency reserves, natural gas, a surplus in foreign currency assets, a strong financial balance and no inflation. We're pretty normal.
It's time to normalize the tone of the emigration debate and stop slinging mud at Israelis who leave Israel.
A month ago at a conference on the West Coast, I met a well-known professor who left Israel 30 years ago. He did well at Stanford University, founded high-tech companies, sold them for hundreds of millions of dollars and recently returned to Israel. "It's paradise," he told me. "My children love every minute. There really is no place like Israel."
We were overheard by a startup entrepreneur who'd left Israel seven years ago, who chimed in cynically. "Sure, Israel's paradise. From the ghetto you built yourself on 10 streets in Tel Aviv and the great school – among the few in Israel – to which you send your kids, everything looks great." The professor smiled understandingly.
Let's start at the end: Most Israelis have no other country but this narrow strip on the Mediterranean, surrounded by Jordan, the Palestinian Authority, Egypt, the Gaza Strip, Lebanon and Syria. It is our family, our culture. This is where we grew up and this is where our friends and contacts are. Here, we never feel alien.
But it would be a mistake to see these advantages as cause for complacency. Israel must constantly work at improving its status relative to the rest of the world and position itself as the best, not only for the average Israeli but for the most skilled, the most educated and mobile.
The danger is clear and present: the loss of our best and most creative young brains, who can make themselves a new life abroad.
The challenge is enormous. The West in general and United States in particular have huge advantages over Israel: We can never compete with the sheer size of the market, the universities, the research institutes, the R&D budgets and the business opportunities. Our best people can always realize their potential elsewhere better than they could in this little market.
We must accept that we will always lose some of our best talents. It's a normal part of the flow of information, talent and manpower in any free economy.
The question is how to retain the rest and return the ones who left, and attract brilliant minds too. Here are some ideas:
1. We can't sell ourselves or anyone else either the idea that the solution to all our problems lies in some new Middle East or peace arrangement. Peace can't be at the top of our working agenda, for the simple reason that it isn't under our control. Peace has many sides to it and Israel is just one of them, not necessarily the dominant one.
The map of political and economic interests in the Middle East is more complex than ever and the chance that the Israeli government, public or society will manage to shape a new Middle East is infinitesimally small. Even a unilateral withdrawal from the territories, which had once looked like an option, now looks otherwise after the bloodbath in Gaza, which happened almost a decade after Israel disengaged.
We have to continue aspiring toward peace and ending the occupation, but understand that it isn't the basis for our plan to make Israel more attractive. The diplomatic process and left-right struggle served as a smokescreen that spared politicians the necessity of tackling Israel's social and economic challenges.
2. We have to stop this "Startup Nation" lie. Less than 10 percent of workers in Israel are inside Startup Nation and that isn't about to change. If we want to raise the standard of living, quality of life, and cultural and social capital we have to make the economy attractive to all the workforce – the other 90 percent too, the hundreds of thousands of Israelis who work in services, commerce, education, health care and welfare. That's where most of the jobs are in a modern economy. We can never raise living standards in Israel if hundreds of thousands of people work in a job market that looks like the Third World. The walls of the ghetto in which the haves are ensconcing themselves will eventually fall.
3. We have to accept that even though our economic and social diseases are remarkably similar to those elsewhere in the world, we have to be much better. The fact that other countries have more corrupt systems, worse cost-of-living problems and higher unemployment shouldn't comfort us. Israel needs to spearhead rehabilitation of its social capital, the battle against legal corruption, public sector reform, competition in the business sector and education. Yes, the Jews in Zion have to be better than the goyim in order to survive. That isn't the road we're following right now.
4. Jobs can't be confined to the well-connected, to people born to the right families, but must be based on skill. That means breaking down the concentration in the business sector and invigorating and opening up the public sector.
We need a revolution in the public sector that enables it to absorb the best young talents; to open its ranks not only to cronies and the sons-of, but to all talents, the ones in Israel who are thinking of leaving and the hundreds of Israelis who studied at the best institutions abroad and are considering whether to return but are deterred, among other things, by seeing the best jobs in the public sector reserved for insiders and not open based on talent and abilities.
5. We have to create a revolution in the cost of living in Israel and quality of social services. They're interrelated: Either we slash the cost of goods and services, or dramatically improve safety networks and social services, foremost education, municipal infrastructure and transportation. Israel's young are trapped in a vise of a sky-high cost of living and taxes that they don't get back in the form of good public services.
To revolutionize the cost of living, we need strategic answers to improving the professionalism, independence and effectiveness of regulators and release them from captivity by the very elements they regulate. We can't revolutionize anything if initiative gets strangled in red tape and we don't simultaneously encourage competition, efficiency and dilution of the economic concentration.
6. We must lower housing prices by at least 30% in the next three years. Housing prices in Israel are among the world's highest in terms of the number of monthly salaries it takes to buy (or rent) a home, which prevents the young from economic advancement. Housing prices perpetuate the caste system and widen social gaps. A couple starting life with a home that cost a half-million dollars paid for by their parents is at a huge advantage compared with a couple that has to save for 20 years or take a huge mortgage, whose children will pay the price.
7. We need to revolutionize Israeli education, get rid of the bad and mediocre teachers and hire the best. We need to improve the status of the teacher in Israel and make it an attractive profession. The reforms in the last five years began to correct pay, but it needs raising further – for the good teachers. Pay shouldn't be a function of seniority but of talent. The education system needs to be achievement-oriented, excellent and prestigious, the opposite of what it is today.
8. We must stamp out violence in the schools, which is lowering the level of education and spreading throughout society. Many Israelis considering relocation from Europe or the U.S. are astonished to discover the level of violence in schools here.
9. The regime of bankers and business families, the oligarchy that developed here in the last 10 years, must be brought down. We must end the concentration in the finance system, which ripples throughout the economy and threatens democracy itself. Not just in order to lower the cost of living or because concentration leads to corruption, crushes the free press, stifles competition and hamstrings regulation, but because it corrupts social capital and makes talented young people feel they have nowhere to advance in Israel unless they're connected. If we don't revive the sense of hopeful opportunity that existed here 15 or 20 years ago – a period of economic reforms, the high-tech surge, the peace process and globalization – more and more talented Israelis will leave. Problems of networks and corruption exist there too, but there are a lot more opportunities for the unconnected.
10. We must slash the cost of transportation and improve the infrastructure. Owning a car costs double and triple as much as in the U.S., and public transport is usually not an option. Either we slash the cost of owning a car, through taxation and opening up the imports and spare parts market, or we use tens of billions of shekels collected in vehicle-related taxes to build advanced transportation infrastructure.
11. We must declare war on corruption in local government and the real-estate market, which has created despair, alienation and anger among young people trying to buy a home, who encounter poor services at most of the local authorities – in education, culture and the roads. Dirt, violence, poor maintenance versus the closed compounds of the rich just exacerbate the alienation. The differences in hygiene, design and new dwellings' maintenance cannot remain this obvious in a small country with an ethos of solidarity like Israel.
12. We must set a national goal of lowering defense costs by tens of percent and eradicating corruption in the public sector, without which we will not have the resources for civilian spending and reforms.
It bears mention that the budget being cooked up by Prime Minister Benjamin Netanyahu and Finance Minister Yair Lapid achieves the opposite. It is a political compromise that advances mainly their survival. Netanyahu is counting on Israelis' yearning for a leader strong on security and Lapid is counting on charisma and his connections with the central media channels. Both assume the public will give them credit come the next election, though neither has demonstrated genuine leadership.
13. Corruption, racism and cronyism exist in most of the places Israelis emigrate to. But Israelis living on the West Coast in the U.S., Berlin or London don't care because it's other people's corruption, people they don't know and with whom they have no historic and cultural ties. But the West offers things Israel never will: size, green vistas, variety, quiet, tranquility, hygiene.
The corruption and erosion of social capital in Israel are glaring, and are an intolerable weight. We need politicians who don't take these things for granted, who will fight them and the hollow slogans, shallowness and inadequacy of the commercial television channels, and the sense that vast areas of public life in Israel have become brutalized.
We need a strong civil society that demands dramatic change in the path that Israel's economy, society and values are following, that understands that the only way to maintain a good life here is a revolution in values. We have no choice.
Click the alert icon to follow topics:
ICYMI
Ken Burns' Brilliant 'The U.S. and the Holocaust' Has Only One Problem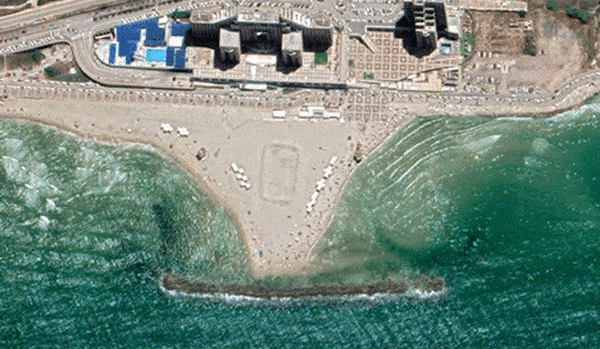 Facing Rapid Rise in Sea Levels, Israel Could Lose Large Parts of Its Coastline by 2050
As Israel Reins in Its Cyberarms Industry, an Ex-intel Officer Is Building a New Empire
How the Queen's Death Changes British Jewry's Most Distinctive Prayer
Chile Community Leaders 'Horrified' by Treatment of Israeli Envoy
Over 120 Countries, but Never Israel: Queen Elizabeth II's Unofficial Boycott